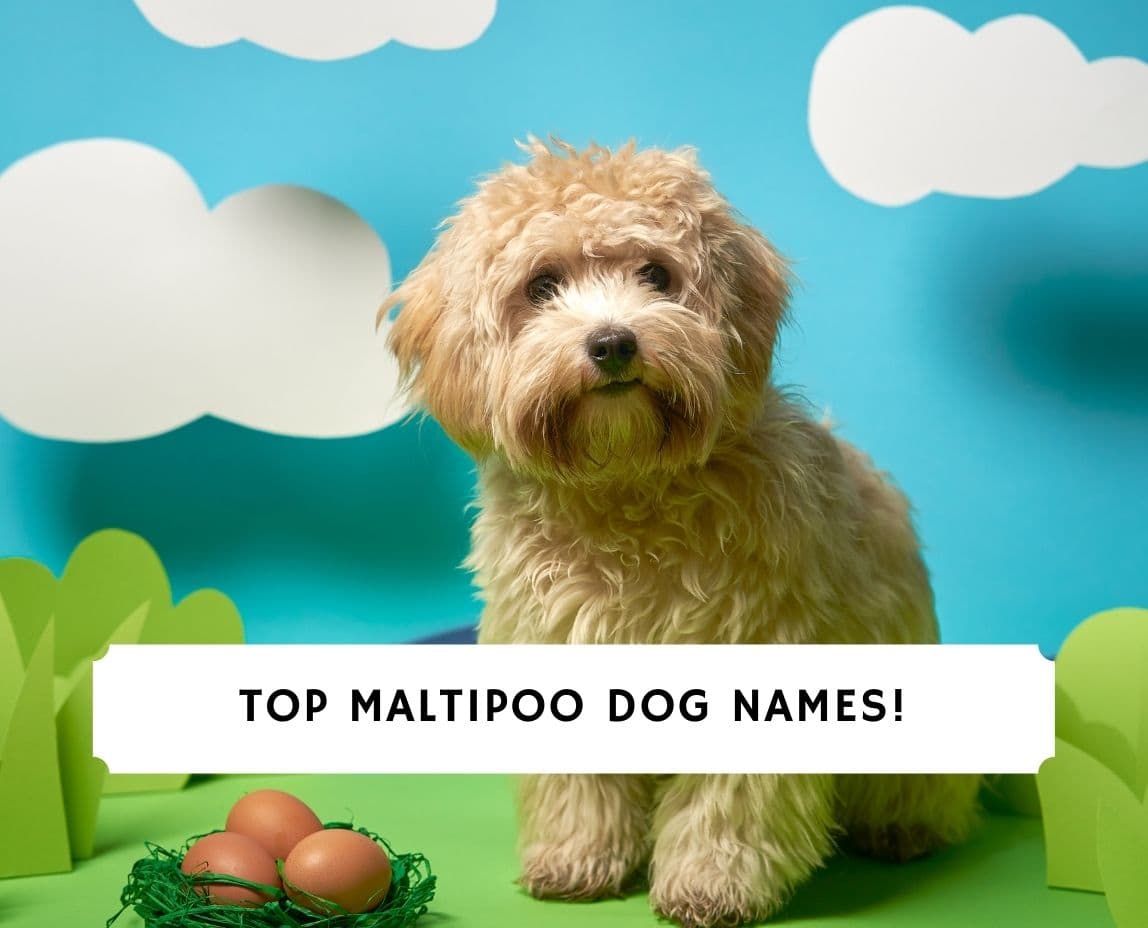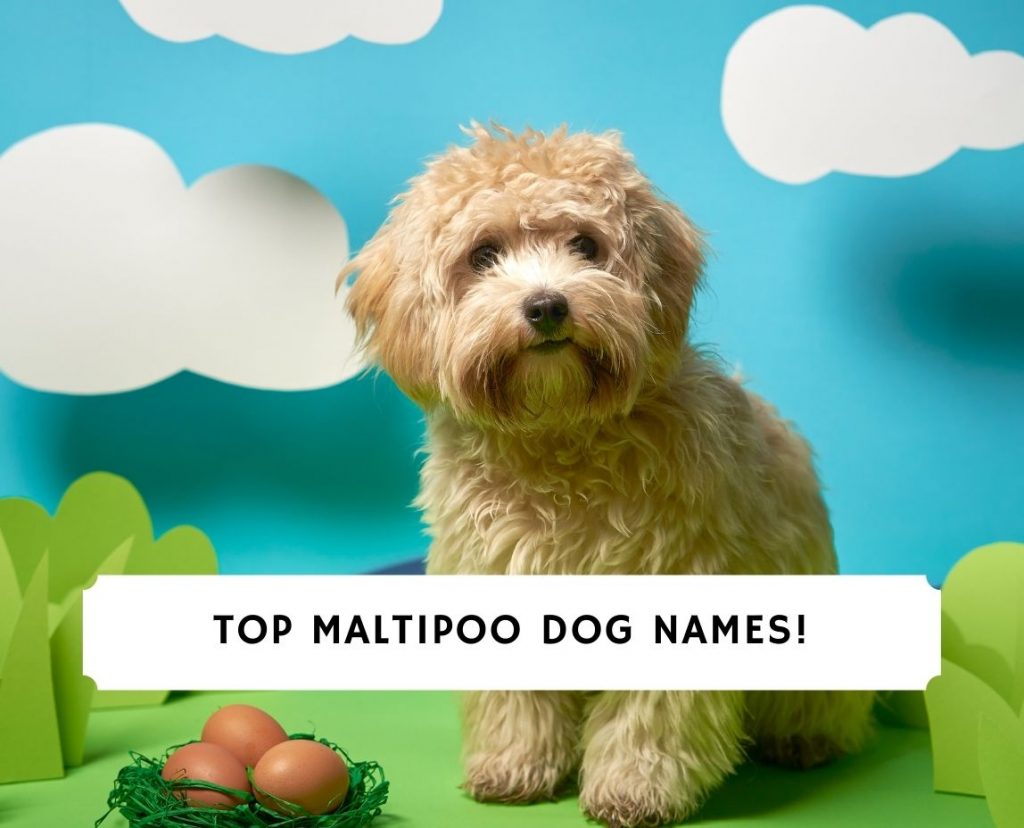 In this guide, we'll be covering the top 100 Maltipoo dog names for you to choose from. For many people, choosing the perfect dog name for a Maltipoo can be quite a difficult task. Before you bring home a Maltipoo puppy whether alone or with a family member, there has to be a name where both sides could easily agree on. After all, choosing the right name is important because it'll reflect who they are for the rest of their lives.
Similar to humans, we become personally attached to our own names as toddlers growing up. Names are important. You want a Maltipoo dog name that'll stand out from the rest of the pack and unique in its own way. Of course, choosing a Maltipoo dog name is another journey within itself. The purpose of this guide is to help you with ideas and boost your creativity into finding the perfect Maltipoo dog name. Before you scroll down to the list of names, here's a summary of the Maltipoo dog breed to help you brainstorm for ideas.
Other articles you would like: Best Maltipoo Dog Food and How Long Does a Maltipoo Live?
Top 100 Maltipoo Dog Names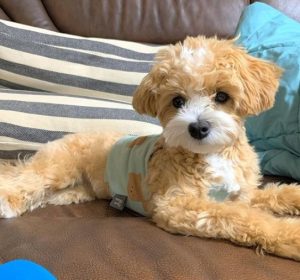 Misha
Rocco
Benji
Maple
Morty
Maggie
Gatsby
Puffy
Snowy
Kiki
Prince
Jojo
Mandy
Cooper
Mango
Tofu
Daisy
April
Sky
Mika
Milo
Rocky
Teddy
Louie
Yoda
Luke
Dexter
Bruno
Riley
Marco
Sesame
Penny
Lulu
Remy
Cece
Bella
Rosie
Luna
Molly
Chloe
Coco
Wall-e
Ruby
Mia
Hayley
Oliver
Olivia
Sasha
Connie
Annie
Cookie
Mickey
Winnie
Mocha
Shadow
Delilah
Pixie
Noodle
Jazzy
Rex
Waffles
Jackson
Harley
Meatball
Yankee
Brooklyn
Sophie
Finley
Dasha
Bonbon
Powei
Trini
Loki
Fall
Summer
Winter
Autumn
Yona
Dalena
Lui
Lea
Tessie
Billy
Robin
Lisa
Walter
Sushi
Kali
Ava
Georgi
Uma
Kappa
Gracey
Beverly
Mako
Asami
Korra
Katelina
Christy
Paris
For some of these names, it could be used for both genders. You can utilize this list to brainstorm more ideas. You can use Disney character names, food names, or whichever sounds right to you.
Tips To Choose Your Maltipoo Dog Name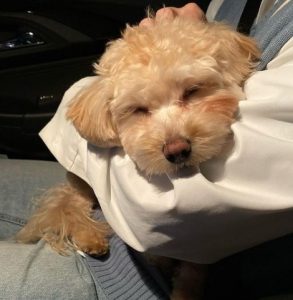 Brainstorming for a Maltipoo dog name could take days to weeks before and after bringing your companion home. We recommend brainstorming before bringing your Maltipoo puppy home, so that way – you could start calling your dog by its name immediately. While you're brainstorming, we created a list of name tips and advice to ease the name selection process.
The more basic the name, the better. It's better to choose a name that's under 3 syllables. If your Maltipoo's name is too long, imagine the number of times you have to repeat it during training and giving commands. In a scenario where you find the perfect name but it's too long, you could find a shorter version of the name to call it by. For example, if you named your Maltipoo "Elizabeth," you could shorten the name to 'Eli' instead.
Don't name your Maltipoo puppy with names that will rhyme with your commands. One perfect example is the command "stay." If you named your Maltipoo 'Jay,' then your dog could get confused since both words sound really similar to each other. You want a name that's easy to distinguish.
Choose a Maltipoo name that's easy for you to say. You want to be able to pronounce it perfectly every time. If the name is difficult to pronounce for you, it could be difficult for others. With a Maltipoo name that's easy for people to pronounce, it'll cause less confusion for your dog.
Don't name your Maltipoo with names that sound similar to people around you. If you have a friend or family member with the names "Kim or Jim," naming your dog 'Tim' will confuse it. You don't want the names to sound similar to the people around you.
Choosing The Appropriate Maltipoo Name
Before bringing home a Maltipoo puppy from a breeder or rescue, chances are – you've seen images of the dog. With Maltipoo breeders, you have to make a deposit and wait several weeks before being able to bring your companion home. During this time, you can learn all about your dog and brainstorm the best possible names. Here's what you could do:
Your Maltipoo's features. What does your Maltipoo look like? Look at the colors of your Maltipoo, eyes, shape, and see what stands out. If your Maltipoo is brown, you could brainstorm names of things that are brown (Chocolate, Choco, Cocoa, etc.).
Keep a list of names you like. While searching and brainstorming for the best Maltipoo dog names, try to keep track of the names you like. By doing this, you can scale down and eliminate the names you don't like. After having a couple of names left, you can ask your friends or family what they think of these names.
Maltipoo Dog Breed
Mixed between the Maltese and the Poodle, the Maltipoo is known to be an intelligent and affectionate dog. With their intelligence, they're easy to teach when it comes to training and exercising. Maltipoos love attention and could easily adapt to new environments. If you're introducing your Maltipoo puppy into a home with family members or other pets, your Maltipoo will learn to get along with them. They love to socialize, which means that they could suffer from separation anxiety if left alone for too long.
Throughout the dog community, Maltipoos have the unfortunate status of a "designer breed" dog. Regardless, the interest in raising a Maltipoo has drastically increased within the last several decades. For its size, the Maltipoo is quite an energetic and playful dog. Whether you live in a house or an apartment, you can believe that this Doodle breed will make an excellent watchdog. They're considered "low-shedding" dogs because they come in wavy to curly coats with a variety of colors to choose from. From what we know about this Doodle breed, our team at WeLoveDoodles have come together to bring you the best Maltipoo dog names!
Conclusion For The Best Maltipoo Dog Names
You must choose the right Maltipoo dog name because it'll stick with your companion for the rest of its life. We recommend you choose a name that's easily recognizable to your dog. Don't choose names that rhyme with people around you or commands. After all, the name you choose will associate your Maltipoo with things throughout its journey. Imagine calling your Maltipoo before giving it dinner, going for walks at night, and coming to you in the middle of distraction.
You should think of all of the possible scenarios and eliminate the names on your list until you find the perfect one. Eventually, as your Maltipoo puppy grows up, it'll learn to pay attention to you all because you called its name. The journey of finding a dog and bringing it home can be draining. The journey of naming one is another journey within itself. Finding the perfect name isn't an easy task but once you do find it, you'd be one proud parent.
For more dog names, you might enjoy:
For more ideas on Maltipoo dog names, you might enjoy this video:
Garrett loves animals and is a huge advocate for all Doodle dog breeds. He owns his own Goldendoodle named Kona. In addition, he volunteers at the Humane Society of Silicon Valley, where he fosters dogs and helps animals. Garrett enjoys writing about Doodles and believes that dogs can teach humans more about how to live than humans can teach a dog.
Why Trust We Love Doodles?
At We Love Doodles, we're a team of writers, veterinarians, and puppy trainers that love dogs. Our team of qualified experts researches and provides reliable information on a wide range of dog topics. Our reviews are based on customer feedback, hands-on testing, and in-depth analysis. We are fully transparent and honest to our community of dog owners and future owners.