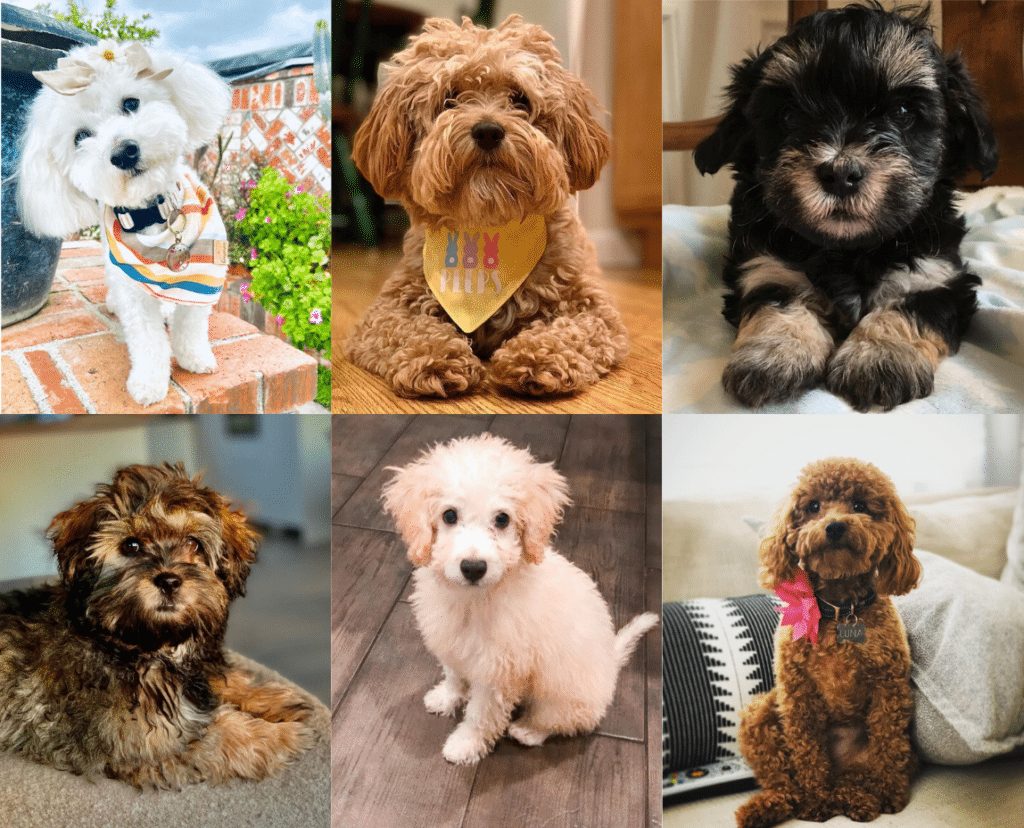 There are many Maltipoo colors that you can buy from a breeder since both the Maltese and Poodle are common dogs. With the surging popularity of Maltipoo breed thanks to their hypoallergenic, nonshedding, and loving temperaments they're being bred in all different sizes and colors. The most common colors you will see are going to be a White Maltipoo, Cream Maltipoo, Black Maltipoo, Apricot Maltipoo, Red Maltipoo, Grey Maltipoo or Brown Maltipoo.
Breeders are becoming fancier with their colors and you will even see some multicolored Maltipoos like the Parti Maltipoo or Phantom Maltipoo. With the advancement in DNA tests, Maltipoo breeders have the potential to virtually create any color coat.
The ultimate question becomes how does one choose which Maltipoo color is best?  Coat color is just personal preference and doesn't have much effect on temperament or personality.  In general, Maltipoos will always be friendly, affectionate, and playful dogs. We Love Doodles has compiled the complete range of Maltipoo colors to assist you in choosing your favorite coat color so you can figure out what your future dog may look like. So let's study all the various sorts of Maltipoo colors and admire many cute pictures!
Why are there Numerous Maltipoo Colors?
There are three standard Maltese coat colors that the American Kennel Club (AKC) officially recognizes: white, white with lemon, and white with tan. On the opposite hand, the AKC recognizes ten different types of Poodle coat colors: Apricot, Black, Blue, Brown, Cream, Gray, Red, Silver, Silver Beige, and White. Mixing the Maltese and Poodle colors results in many different types of Maltipoo coat colors.
Despite not being recognized by the AKC, there also are several "parti" Poodles (two colored Poodles) that can be passed on to Maltipoo offspring. Additionally, there are unique colored dogs like black Golden Retrievers and golden colored Poodles that aren't officially recognized. Since all these Maltipoo colors exist, the variation of Maltipoo coat colors is virtually infinite.
White Maltipoo
A white Maltipoo is going to be the default color as this is a standard color between the Maltese and Poodle.  Lighter colors also tend to be more of a dominant gene which is why a white Maltipoo is the most common color of this dog breed.  White is also going to be the most common color in a Parti Maltipoo because of this dominant trait. We consider the white Maltipoo the most standard color and common dog when people think of a "Maltipoo."
Cream Maltipoo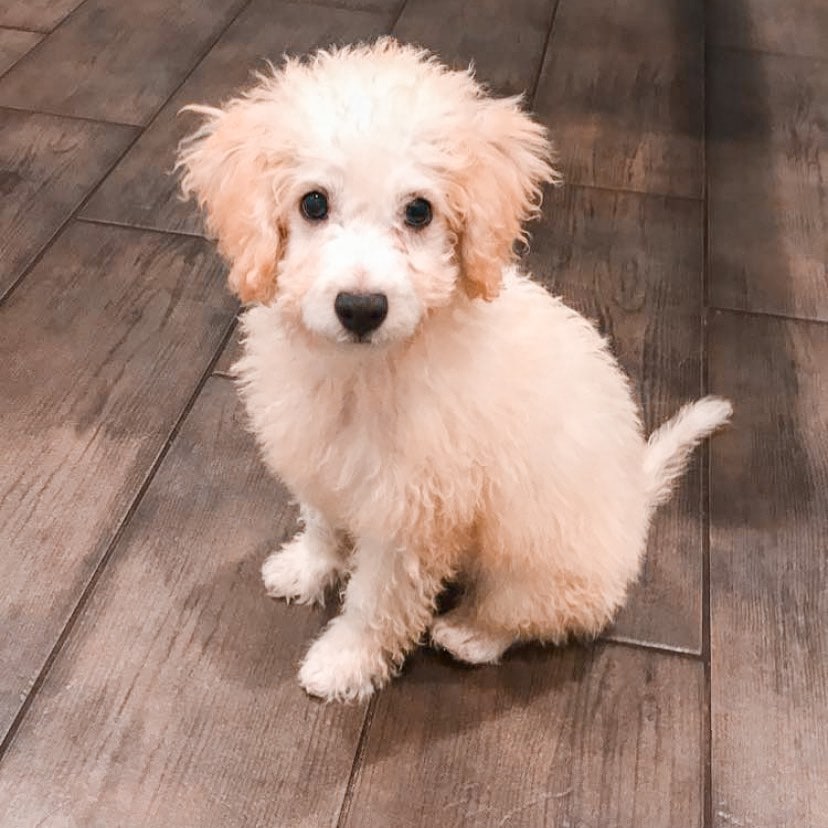 Some breeders will not use a pure white Poodle and there are several off-white colors that will be a cream Maltipoo.  A cream Maltipoo is also relatively common since it's basically the white color gene taking over the coat color. You can think of a Cream Maltipoo as almost a "grey" or "light tan" color.  It's a dog that looks white, but you can tell it isn't completely pure white. A cream Maltipoo also has the most diverse physical traits with brown noses, lighter eye colors, and lighter toenails. You'll also notice that a cream Maltipoo has a pinkish skin underneath their coat. This color has the most diverse variety of physical attributes.
Black Maltipoo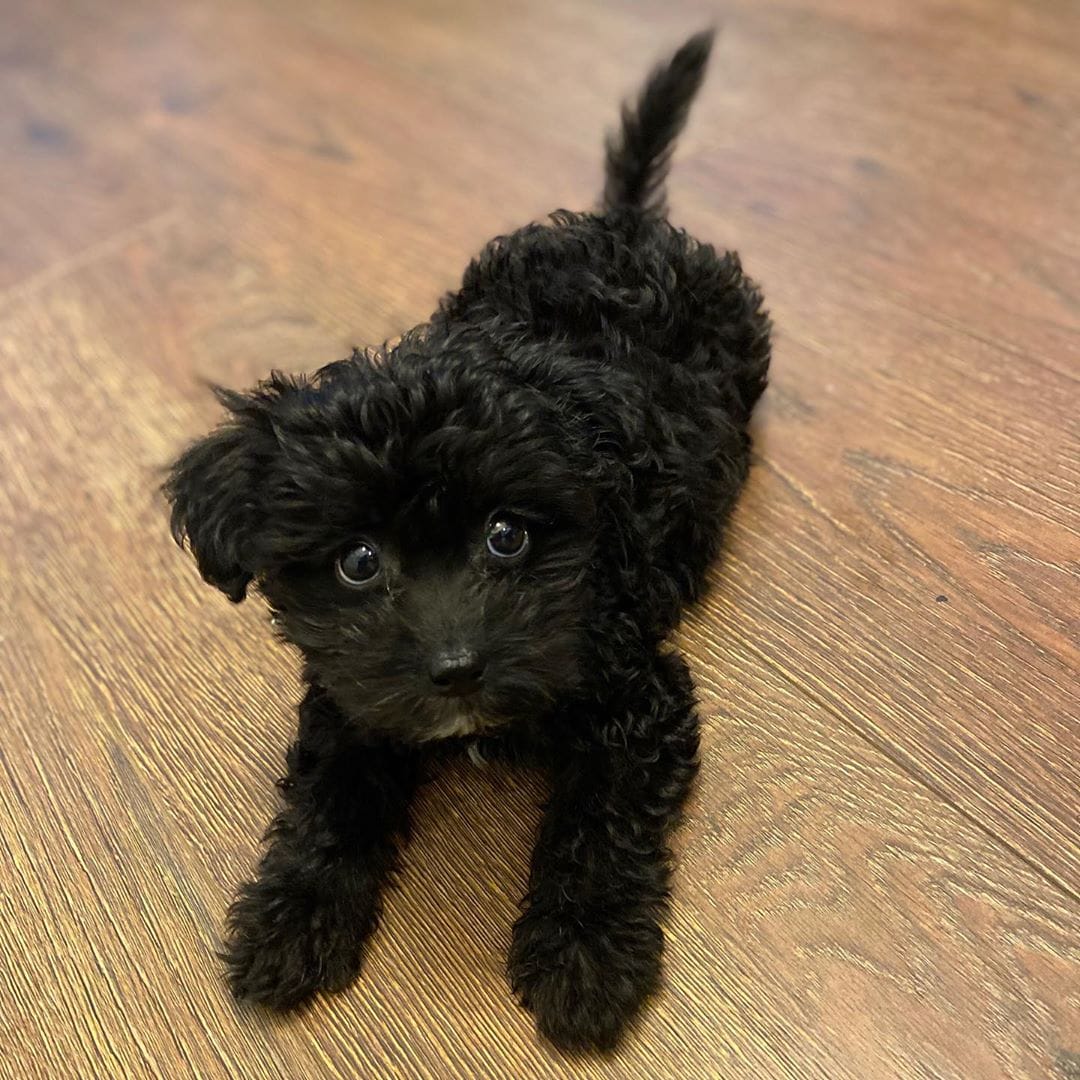 A pure black Maltipoo is among the more unique colors for a Maltipoo because black is considered a recessive gene that frequently doesn't show up. Yes, black Maltipoos do exist, and they are equally as playful and smart as the other colors of Maltipoo. A pure black Maltipoo is typically a genetic rarity because a recessive trait needs to be dominant in order to show on coat color.
To make a black Maltipoo, both the Maltese and the Poodle got to carry this recessive black gene.  Since black is not common at all in Maltese dogs, the pure Black Maltipoo is relatively rare compared to an apricot Maltipoos or white Maltipoos.  A black Maltipoo is most likely always going to be bred with a black toy poodle and a darker colored Maltese that isn't a standard color.
If you do find a pure black Maltipoo, they are almost always all black including their noses, paws, eyes, and other physical attributes. In other Maltipoo colors, you'll see tons more variation in their physical traits, but black Maltipoos tend to nearly always be pure black.  Black is also a color that can be found in a Parti Maltipoo.
Apricot Maltipoo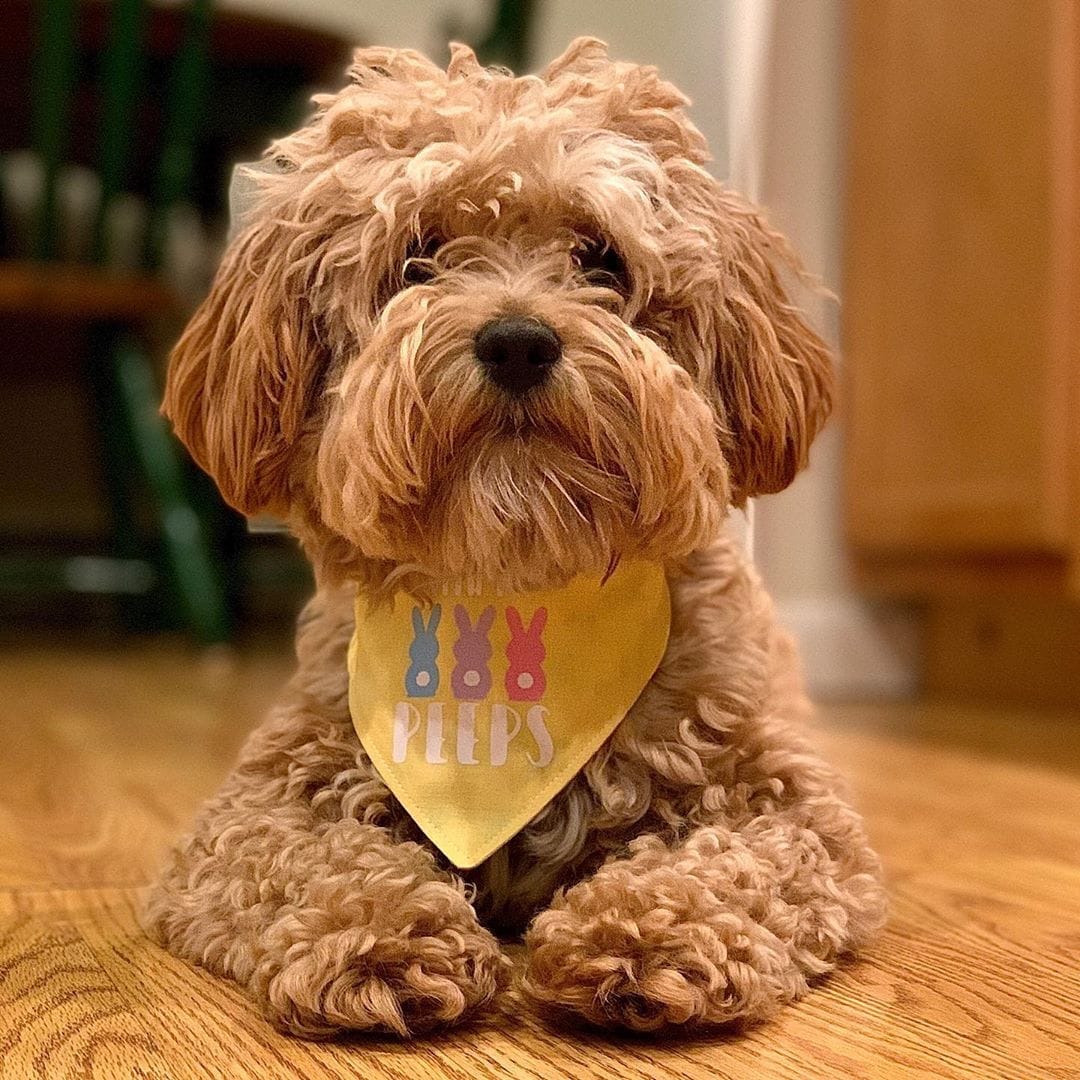 The apricot Maltipoo is among the top wanted colors of Maltipoo because they appear like a sweet little teddy. The AKC recognizes the apricot Poodle as an official color and it's relatively common to find a white and tan Maltipoo.  Thus, the Apricot Maltipoo is usually created from an apricot toy Poodle and white and tan Maltipoo.
Almost always, you'll see apricot Maltipoos contain black characteristics throughout their body including their nose color, eye color, toenail color, and eye rim color. Additionally, there tends to almost always be some white color on the apricot Maltipoo which makes this a multicoloredMaltipoo.  Very rarely will you see a fully apricot Maltipoo without additional white colors. The apricot Maltipoo coat color does tend to lighten a little bit over time so you should choose a darker colored Apricot.
The apricot Poodle color was the last official Poodle color to be accepted by the AKC in 1898. It's highly suspected that the apricot Poodle color happened as a rare combination of recessive genetics including blue, brown, and silver genes.
Red Maltipoo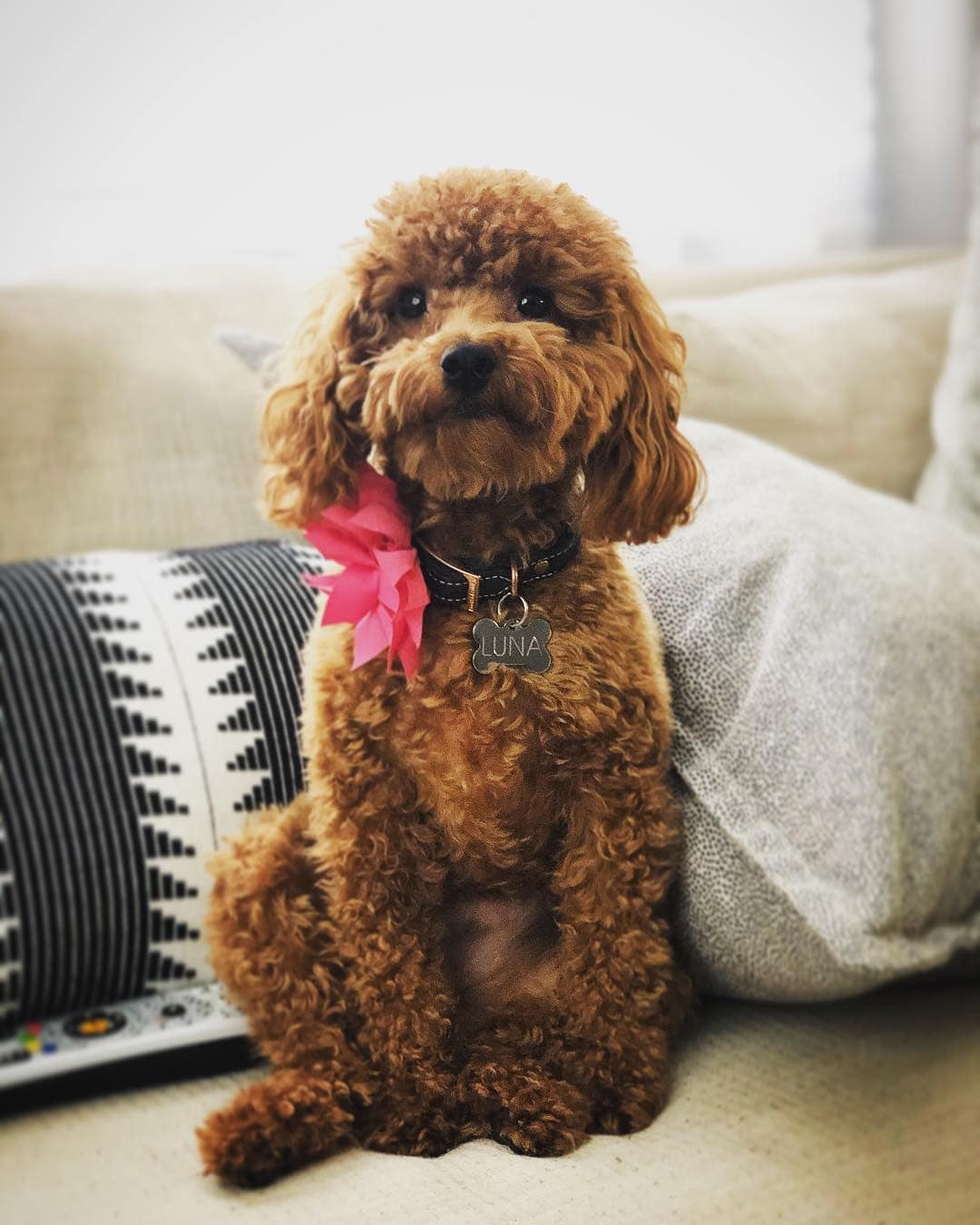 Like the apricot Maltipoo, the red Maltipoo is among the most wanted coat colors for a Maltipoo. Again, this is because red Maltipoos resemble that of a small teddy bear. The red colored Maltipoo is a red mahogany color that the brightest brown of all the Maltipoo coat colors.  You can think of a Red Maltipoo as a much brighter Apricot Maltipoo.
Red is a standard Poodle color as recognized by the AKC, but it's not found in the Maltipoo.  This makes the Red Maltipoo relatively rare.  The Red Maltipoo is usually conceived by breeding a tan-colored Maltipoo with a red or darker colored Poodle. Typically a litter of Maltipoo's will only have 1 or 2 red Maltipoo puppies. 
Brown Maltipoo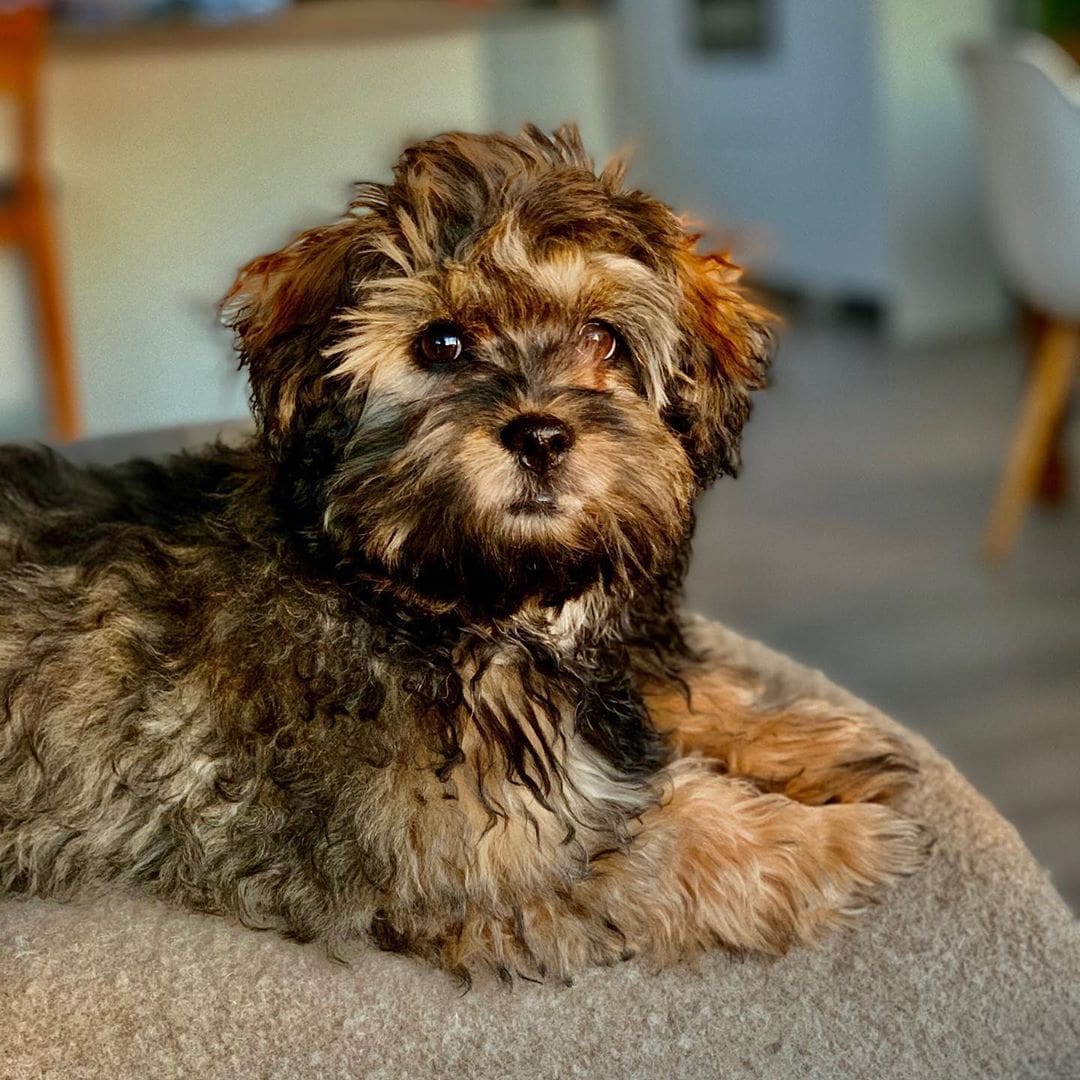 Brown Maltipoos are extremely rare and you'll likely only see this color in a Parti Maltipoo. Brown is described as a dark walnut color which is neither that common in the Poodle or the Maltese. The AKC does recognize a brown Poodle, but you'll have to mix this dog with a white and tan Maltese.  It's not common to get a pure Brown Maltipoo. You'll more likely see them more as an apricot Maltipoo or Red Maltipoo.
The brown coloring in Maltipoos has to come from the Poodle. However, the color brown often carries a gene color of black or silver as well as brown which is why it is difficult to produce a brown Maltipoo. In addition, it's not that uncommon to breed two brown Maltipoos together and obtain a black Maltipoo or silver Maltipoo when the brown coloring is masked by two recessive genes. You don't always get the same color of Maltipoo once you breed the same two colors together!
Grey Maltipoo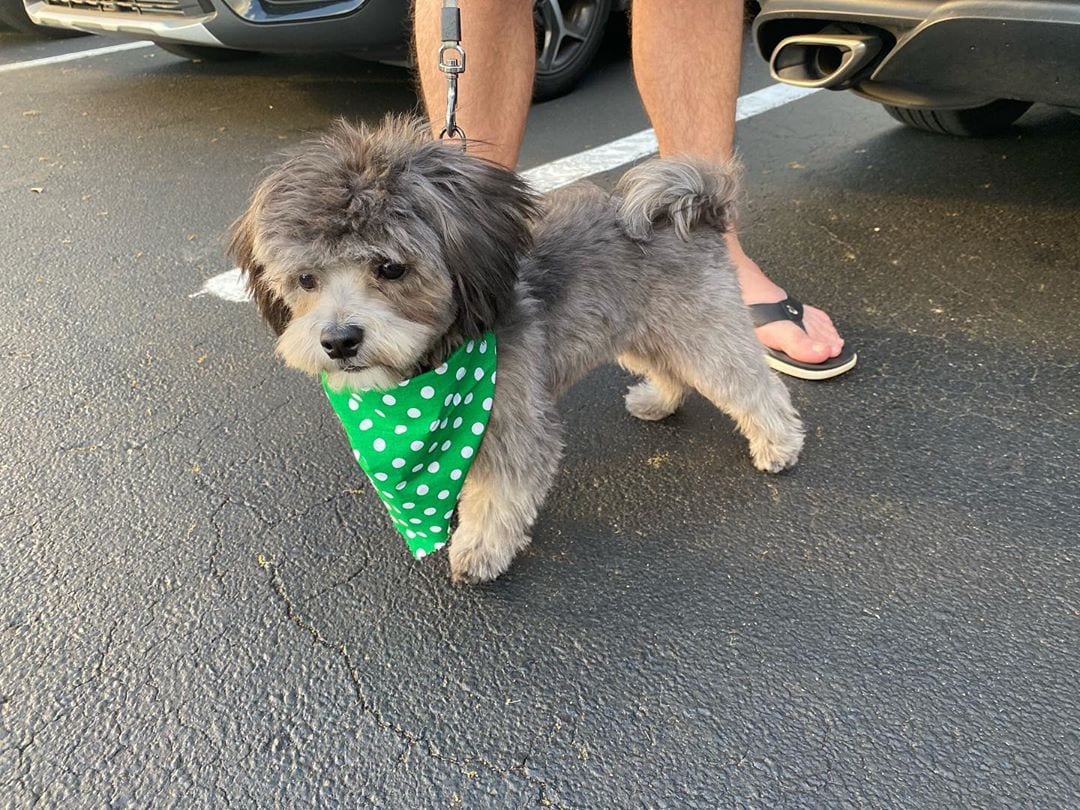 A Grey Maltipoo is unique in that they are usually born a dark black color and their hair clears or lightens by the age of two.  After the coat clears, it turns into a grey Maltipoo, but also leaves darker colored spots in which the coat didn't fade. As time passes, grey Maltipoos typically appear as a silver color and are no longer a dark color colored coat. You'll typically know after 6 weeks whether your Maltipoo hair will clear up to be a grey Maltipoo.  A grey Maltipoo is a rare coat color.
Parti Maltipoo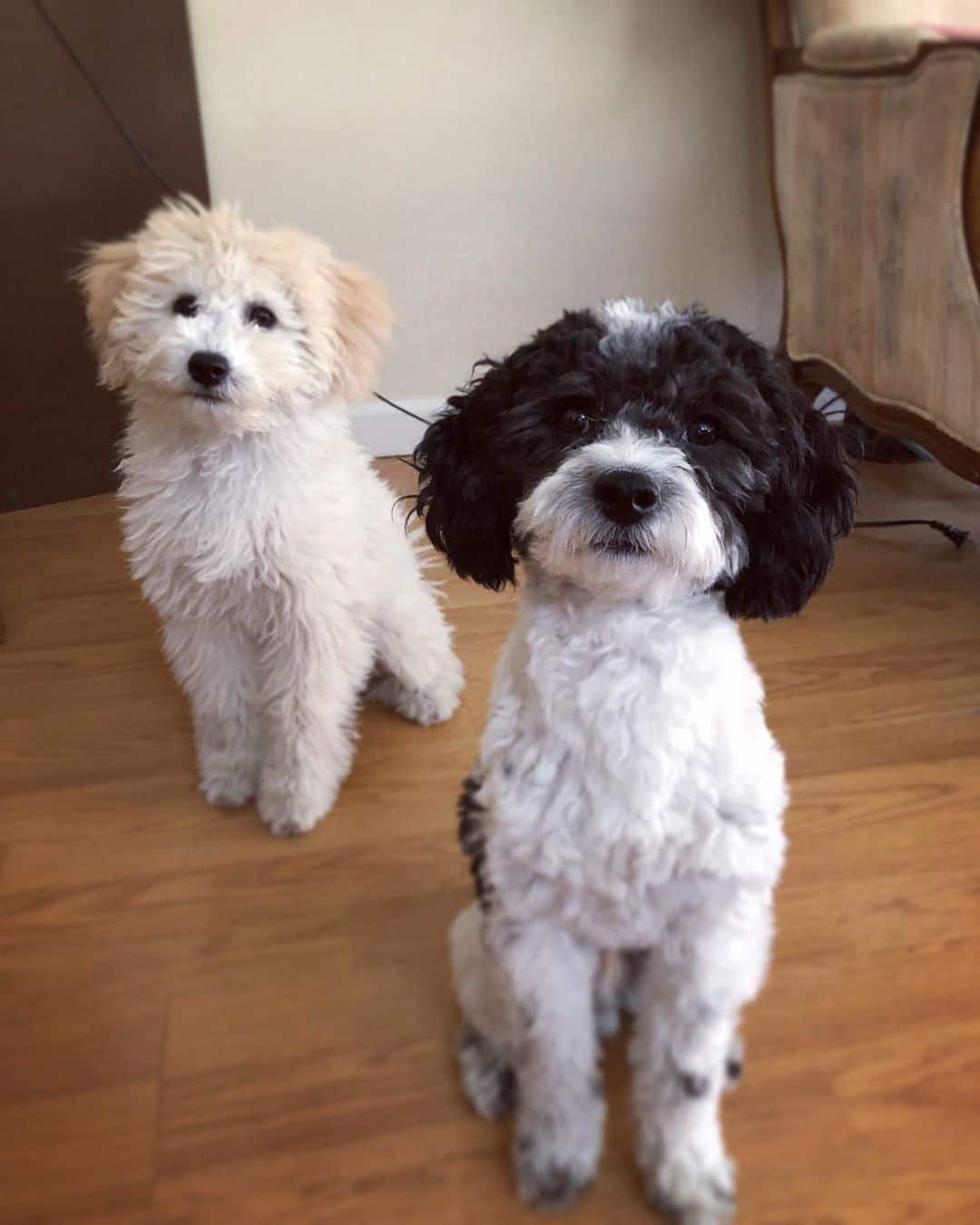 A parti Maltipoo is one that contains two different coat colors with one of the colors being a minimum of 50% white. The secondary color of a parti Maltipoo can be any color, but common colors for a parti Maltipoo are black, apricot, tan, and cream.
Recessive genes are the ones that make the parti Maltipoo two colors, which overrides a solid coat color. However, the Maltese comes standard in white / lemon and white / tan colors so it's somewhat common to get a parti Maltipoo. Oftentimes in a parti Maltipoo the body will be a solid white color and the chest and head will another color mixed with white.
Black and White Maltipoo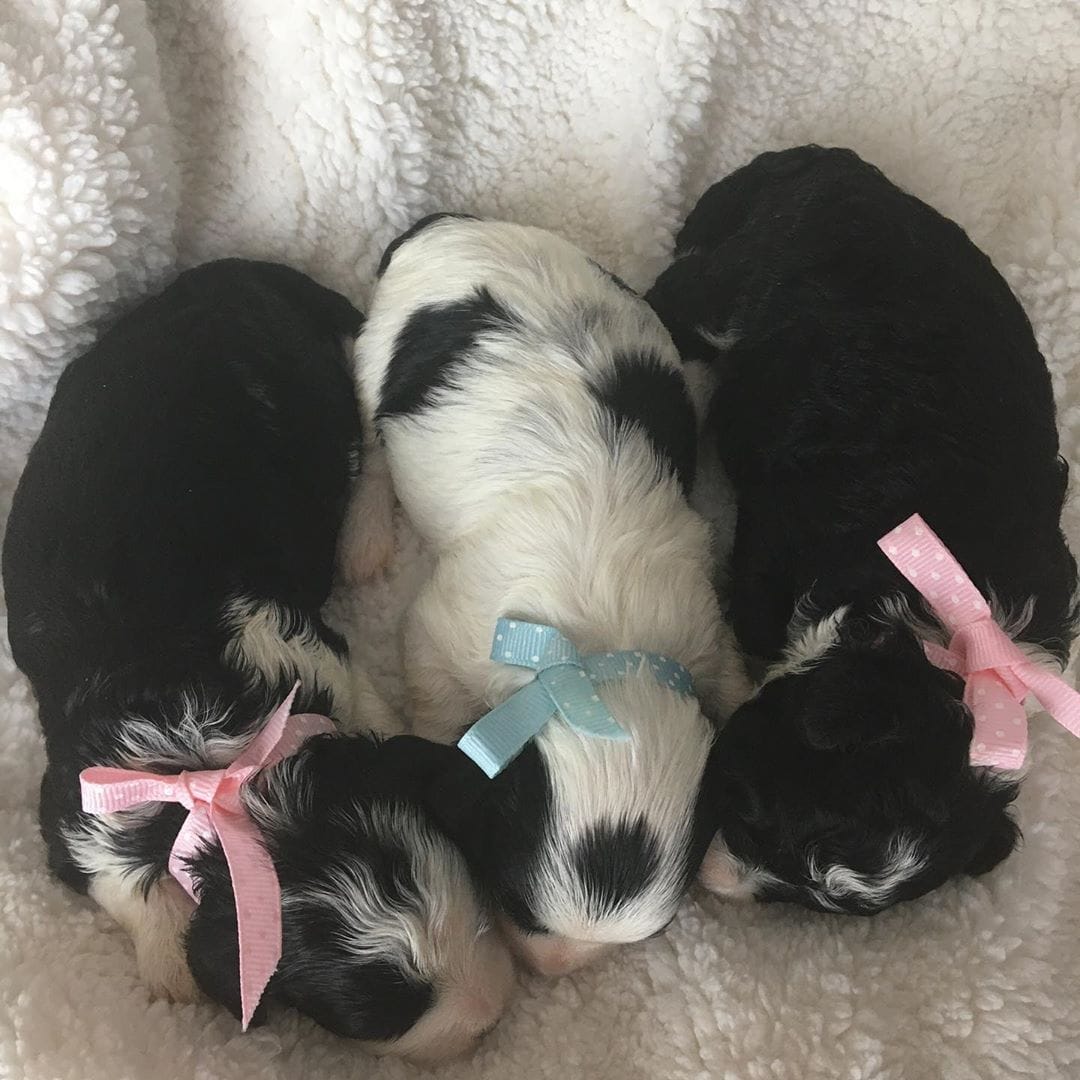 The black and white Maltipoo is a type of Parti Maltipoo. The black and white Maltipoo has specific traits that usually include a white chest, white nose, and a streak of white on the highest part of their head. The results of a black and white Maltipoo usually come from breeding a parti Poodle with a white Maltese.  Alternatively, you can breed a black Poodle with a parti Maltese.
Phantom Maltipoo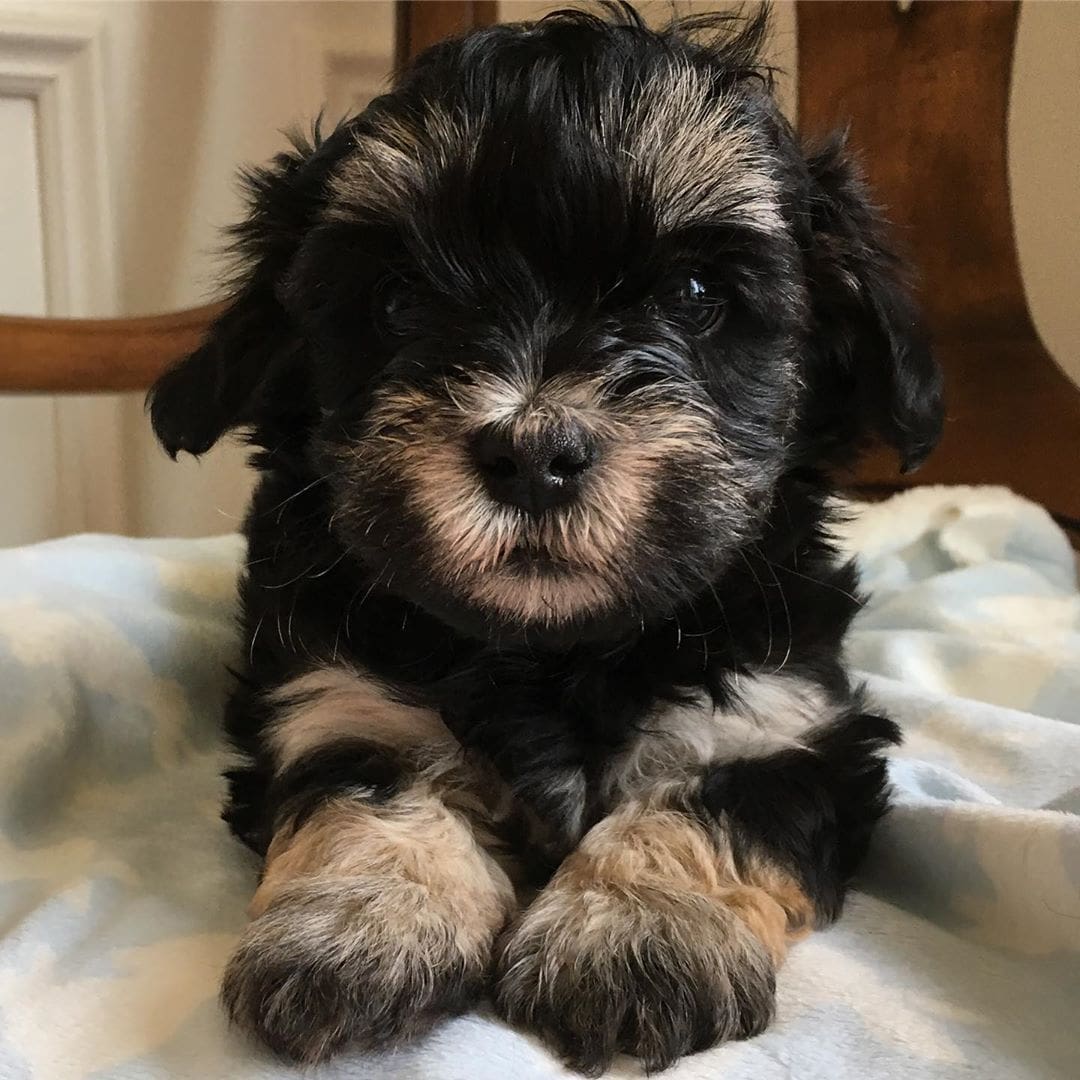 A phantom Maltipoo is rare, but not as rare as they may seem for a Maltipoo because the Poodle can come in two colors as well as the Maltese. What makes a Phantom Maltipoo rare is that, unlike the parti Maltipoo, phantom Maltipoos must have two colors that are in very specific locations of the dogs body. The coloring of a Phantom Maltipoo is analogous to that of a Yorkie or a Manchester. A phantom Maltipoo must have a primary color that covers a majority of the body. The second color will appear around the eyes, on the muzzle of the nose, and lower parts of the legs.
Phantom Maltipoos are commonly colored black and tan or black and white, but the results may often times vary. We have seen several mixes of silver, red, and black for a phantom Maltipoo. It's rare that two phantom Maltipoos will ever look the same.
A phantom Maltipoo is born with the coloring so it's to tell if your dog will be a Phantom Maltipoo or not.  Unlike the grey Maltipoo, you can't develop the colorings of a phantom Maltipoo over time. In terms of temperament and other traits, the phantom Maltipoo is equivalent to the other Maltipoo colors, but their coat is harder to come by.
Rare Maltipoo Colors
Maltipoos can are available in basically an infinite amount of colors. . The rarest Maltipoo colors are going to be from multiple generations of Maltipoos bred together where their recessive coat color traits are present rather than dominant genes like a white Maltipoo or cream Maltipoo. The rarest Maltipoo colors will include grey, phantom, brown, and black.  Keep in mind that rarer colored Maltipoos do tend to cost at least three times as much as a common colored Maltipoo. 
Conclusion for Maltipoo Colors with Pictures! (White, Black, Apricot, Red, etc.)
We hope that you learned all about the different types of Maltipoo colors.  To recap, the most common Maltipoo colors are going to be white, cream, and apricot.  Rarer Maltipoo colors are going to be phantom, black, grey, and brown. Choosing a Maltipoo color comes down to personal preference, because coat color typically doesn't dictate personality of temperament.
Other articles to read:
Do Maltipoo Puppies Change Colors?
In general, you can expect that your Maltipoo's coat color will lighten at least a little bit during this lifetime. For instance, if you have a red Maltipoo, then they may look like an Apricot Maltipoo two years later.
Are Black Maltipoo's rare?
Black Maltipoo's are one of the more rare colors because black is considered a recessive trait. Thus, it's more rare to get the black Maltipoo colors.
Garrett loves animals and is a huge advocate for all Doodle dog breeds. He owns his own Goldendoodle named Kona. In addition, he volunteers at the Humane Society of Silicon Valley, where he fosters dogs and helps animals. Garrett enjoys writing about Doodles and believes that dogs can teach humans more about how to live than humans can teach a dog.
Why Trust We Love Doodles?
At We Love Doodles, we're a team of writers, veterinarians, and puppy trainers that love dogs. Our team of qualified experts researches and provides reliable information on a wide range of dog topics. Our reviews are based on customer feedback, hands-on testing, and in-depth analysis. We are fully transparent and honest to our community of dog owners and future owners.