With their unique appearances and lovable personalities, there are plenty of creative name ideas out there for Weiner dogs. 
Their German origins provide a lot of opportunities for unique cultural names. Or if you'd like a name inspired by their appearance, their sausage-like body shape, and floppy ears can also provide some inspiration. 
No matter what type of name you're looking for, there's something out there that'll be the perfect fit for your new dog. Each wiener dog has a unique personality and appearance, so they deserve a name to reflect their individuality. 
Here are 100 of the best wiener dog names to get you started!
Before scrolling down this guide, check out these related topics: 200+ Black Dog Names
Boy Wiener Dog Names 
Need some cool wiener dog names for a male dachshund? There are plenty of creative ideas out there that are sure to suit him. 
When choosing a name for your male Weiner dog, there are a variety of ways you could go about it. Some people opt for regular human names like "Toby" or "Max," while others may want to go with a fictional character name like "Snoopy" or "Scooby." 
And if none of these upcoming names appeal to you, keep reading–the perfect name might lie in a later section. 
Toby 

Winston 

Max 

Scooby 

Odie 

Ollie 

Buddy 

Mac 

Rocky 

Snoopy 

Benny 

Buster 

Chester 

Watson  

Milo 
Girl Wiener Dog Names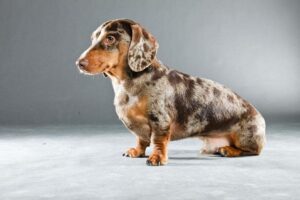 Do you have a lady dachshund? She deserves a name that'll fit her well. 
A lot of people with female dogs go for more feminine names like "Princess" or "Angel." Or if your dog likes the great outdoors, you may also like some nature-themed names such as "Maple" or "Daisy." 
Regardless of your female dog's personality, there are sure to be some good wiener dog names on this list that'll click. 
Daisy 

Bailey 

Dixie 

Duchess 

Princess 

Aspen 

Angel 

Maple 

Holly 

Lola 

Lady 

Rosie 

Winnie 

Willow 

Zoe 
Funny Wiener Dog Names 
These lovable dogs often come with goofy personalities. When you have a dachshund in your home, you can expect them to be a huge source of smiles and laughter. 
So if you want a name to reflect your wiener dog's silly nature, here are a few ideas to consider! 
Floppy 

Barkley 

Popsie 

Jellybean 

Bean 

Goofy 

Curly 

Pancake 

Santa Paws 

Waffle 

Zipper  

Banjo 

Kibbles 
Cute Wiener Dog Names 
Wiener dogs are as precious as they come. Their stubby little bodies and long snouts make them simply irresistible, and their affectionate personalities only add to their cuteness! 
If you want a name to reflect your adorable dachshund's qualities, you have a lot to choose from. Here are a few cute wiener dog names to try out.  
Luna  

Cupcake 

Pumpkin 

Sugar 

Honey 

Bella 

Cookie 

Bunny 

Teddy 

Wiggles 

Sunny 

Sprinkles 

Sweetheart 
German Wiener Dog Names 
The German origins of the dachshund makes way for some unique name opportunities. Since the 15th century, these lovable dogs have been dedicated companions to German rodent hunters. 
Even if you don't speak a word of German, these upcoming names can make some appropriate titles for your dachshund. 
Elsa 

Hilda 

Augustus 

Beethoven 

Matilda 

Zelda 

Dieter 

Einstein 

Mischa 

Schnitzel 

Sigmund 

Berlin 

Wolfgang 
Mini Wiener Dog Names 
A standard wiener dog is small as is, but the mini wiener dog is as tiny as a dachshund can get. 
These adorable little canines stand at no more than six inches tall, and they generally weigh under eleven pounds. So if you want a weenie dog that'll fit in your purse, this is the type you'll want to get. 
Here are a few mini dachshund names that will suit your fun-sized friend! 
Minnie 

Bubbles 

Pip 

Tiny 

Peanut 

Tater Tot 

Thumbelina 

Tic-Tac 

Nugget 

Butterball 

Munchkin

Pebbles 
Brown Weiner Dog Names 
While Weiner dogs can come in a variety of colors, you'll usually find these dogs with some beautiful brown fur. And sometimes, an appearance-based name can be the most creative, not to mention easy to remember. 
From chocolate-inspired names to precious gemstones, there are plenty of creative brown dachshund names that might be perfect for your dog. 
Cinnamon 

Cocoa 

Cookie 

Biscuit 

Jasper 

Walnut 

Goomba 

Pretzel 

Chai 

Pecan 

Pepsi 

Autumn 

Mushroom 
Another article you would like: 150+ Brown Dog Names
Sausage-Themed Weiner Dog Names 
We'll admit they are somewhat predictable, but they're popular for a reason! The sausage-like shape of the dachshund makes way for a variety of simply adorable names. 
If you'd like your canine friend to have a sausage-inspired title, here are some of the top sausage dog names you can find! 
Frank 

Vienna 

Oscar 

Chorizo 

Salami 

Pepperoni 

Link 

Smokie 

Weenie 

Jimmy Dean 
Choosing the Best Wiener Dog Names for Your Dachshund 
Because there are so many names to choose from, narrowing down the best for your dachshund can be a bit of a challenge. Here are some tips to help you choose the best possible name for your new Weiner dog. 
Practice Saying the Names 
Before you settle on a name, you should practice saying them aloud a few times. Do they roll off the tongue with ease, or could they be a potential tongue twister? 
Try saying a few different names and compare them. And if you have anyone in your family, be sure to involve them as well–especially your kids, as little ones may struggle with more complex names. 
Finding something that's easy to say is key–otherwise, you may end up going for a nickname instead, which defeats the purpose of giving your dog a clever name in the first place. 
Consider Their Appearance 
Your wiener dog's appearance is an important factor to consider when choosing a name. After all, their unique body shapes, floppy ears, and long snouts can inspire a lot of unique titles. 
Their fur may be another factor to keep in mind. You could go for a name inspired by their pelt, like "Speckles" for a wiener dog with spots, or "Luna" for a black doxie. 
Consider Their Personality 
Your dog's personality is another important factor in choosing the perfect name. Consider getting to know your beloved wiener dog before settling on an official title. 
A shy dachshund may deserve a soft name like "Teddy," while a name like "Zipper" could reflect a wiener dog with an energetic personality. 
Don't Be Afraid of Using Common Names 
Common names are popular for a reason, so if none of the eccentric names on this list jump out at you, consider going with one of the classics! 
Typical dog names like "Max" and "Angel" are not only fitting, but they'll be pretty easy to remember, too. You'll also have an easier time finding collars or accessories with their names already engraved, so it's a win-win! 
Dachshund Names to Avoid 
While the decision ultimately comes down to your preferences, there are a few things you may want to avoid when naming your dachshund. 
Avoid Long Names 
Unless you don't mind people shortening it, you should avoid giving your dog a long name. One to three syllables is generally the best when it comes to naming dogs, with two syllables being the most common for dog names. 
Long dog names can not only be confusing, but they may also be a little more difficult for your dog to learn, too. So for the best experience, try to keep your wiener dog's name under three syllables. 
Avoid Confusing Names 
There are a few ways a dog name could potentially lead to confusion, so make sure to choose carefully! 
For example, you might want to avoid giving your dog a name that sounds too similar to another pet you have in the household. So if you already have a pet named "Winnie," you'll want to avoid naming your new dachshund "Minnie". 
For this same reason, you will probably want to avoid giving your dog the same name as someone in your household, or even someone outside your household that visits often. 
You should also be careful about names that sound similar to commands. Something like "Mitt" could sound too similar to "Sit," or "Beau" may be hard for your dog to discern from "no." 
Avoid Negative Names 
Giving your dog a name with negative connotations could lead to some uncomfortable situations. A name like "Doofus" may seem funny in theory, but could potentially result in some unpleasant looks when you have to call his name at the dog park. 
Conclusion for Weiner Dog Names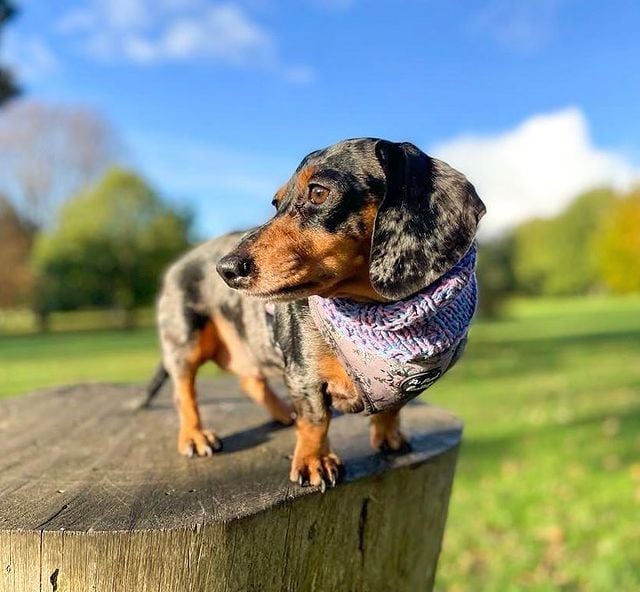 Dachshunds are some truly lovable canine companions. They're one of the more affectionate dog breeds on the market, and anyone who brings one of these dogs into their home will fall in love immediately. 
They are a breed full of personality, so as you get to know your new furry friend, choosing the right name for them may be easier than you think. They also come in a variety of colors, and their elongated body shape often provides plenty of name inspiration. It's safe to say there is no shortage of unique names for this lovable dog breed! 
Some people go for the predictable sausage-inspired names because of their appearance, while others feel that more sophisticated names are appropriate for their wiener dog. But no matter what type of name you're looking for, the right title for your wiener dog is out there!
You will also like:
Garrett loves animals and is a huge advocate for all Doodle dog breeds. He owns his own Goldendoodle named Kona. In addition, he volunteers at the Humane Society of Silicon Valley, where he fosters dogs and helps animals. Garrett enjoys writing about Doodles and believes that dogs can teach humans more about how to live than humans can teach a dog.
Why Trust We Love Doodles?
At We Love Doodles, we're a team of writers, veterinarians, and puppy trainers that love dogs. Our team of qualified experts researches and provides reliable information on a wide range of dog topics. Our reviews are based on customer feedback, hands-on testing, and in-depth analysis. We are fully transparent and honest to our community of dog owners and future owners.