Black is one of the most preferred colors when it comes to choosing a dog's fur color. There's something about the sheen and how it makes the dog's most prominent features stand out. For pugs, it's the little squinched-up face. And for larger dogs, such as Great Danes, it's their stature. Black is one of the most popular dog coat colors.
However, what people love the most about having a dog with black fur, is that you have a wide variety of options when it comes to selecting a name. For instance, "Blackberry" wouldn't make sense for a cream-colored dog.
The black coat allows you to get as creative as you want! Therefore, we've compiled over 200 dog names to get your creativity flowing; the names are listed from the most common to the least common for each section.
Before scrolling down this list, you might like: Demon Dog Names
Top 25 Most Popular Names For Black Dogs
Here are some of the most popular names for black dogs.
Smokey
Jet
Batman
Midnight
Oreo
Shadow
Stormy
Ash
Pepper
Onyx
Galaxy
Carbon
Salem
Magic
Twilight
Morticia
Nebula
Blackout
Graphite
Rock
Related Article: Unique Male Dog Names
Female Black Dog Names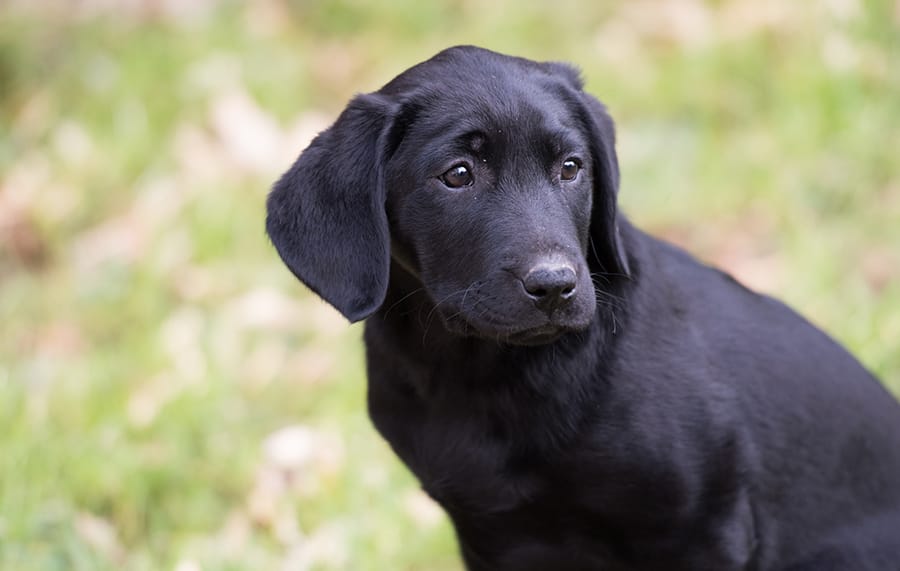 Now some people prefer to name their dogs according to their sex. So here is a list of some beautiful, feminine names that you can choose for your gorgeous girl.
Coco
Riley
Xena
Annie
Evie
Boots
Ink
Trixie
Brownie
Harriet
Sugar
Nova
Daisy
Lady
Ellie
Elsa
Freda
Gina
Godiva
Greta
Honey
Opal
Iris
Sky
Tilly
Lily
Penny
Lolita
Vilma
Noir
Related Article: Sassy Girl Dog Names
Male Black Dog Names
Just as we've included names for black female dogs, it's only fair that you're provided a list of masculine dog names that you can use for your furry friend.
Buddy
Spot
Cooper
Rocket
Whiskers
Charlie
George
Kodiak
Oliver
Rocky
Asher
Franklin
Rex
Ford
Merlin
Orion
Micky
Jimmy
Patrick
Moon
Crow
Andy
Flint
Felix
Liam
Luke
Hale
Dusk
Miner
Zenith
Related Article: Manly Dog Names
Funny Names For Black Dogs
If you're looking to make people smile or you want a conversation starter, you can always find a funny name for your dog. Here are just a few examples, but the possibilities are endless!
50 Scent
Darth Pawtens
Black Sabbath
Pepsi
Cocoa-Cola
Bark Griswold
Jabba The Pup
Pepper
Jurassic Bark
Chew-Barka
Droolius Caesar
Hairy Paw-ter
L. Drool J
Post Mabone
Luke Highbarker
Jimmy Chew
Bark Twain
Taco
Bacon
Kitty
Tough Black Dog Names
Whether your dog is tough, or you want them to sound tough is your business and yours only. We won't tell anyone. Here's a list of black dog names that will have people second guess about welcoming themselves into your territory.
Tundra
Diesel
Killer
Phantom
Razor
Knight Rider
Danger
Tank
Hunter
Damien
Rebel
Spade
Arrow
Mustang
Renegade
Domino
Soldier
Thunder
Breaker
Racer
Falcon
Stallion
Lightning
Flash
Bullet
Raven
Pounce
Bolt
Jaguar
Shock
Black Dog Names According To Natural Occurrences
Because of their black coats, time and weather elements seem great to use as inspiration when naming your black dog.
Nightshade
Nocturne
Storm
Dusk
Fog
Mist
Nightfall
Dark
Shade
Mountain
Black Dog Names By Animal
Sometimes, the name of another animal fits perfectly with your black-coated canine friend.
Shamu
Orca
Bear
Momba
Bat
Angus
Seal
Raven
Starling
Panther
Organic Substances For Black Dog Names
Are you going organic? Why not take it a step further and name your black dog after an organic substance. Yes, this might sound ridiculous. However, there are some fantastic name ideas you cannot miss out on.
Asphalt
Indigo
Velvet
Steam
Iron
Diamond
Pearl
Cinder
Ore
Smudge
Ember
Metal
Agate
Satin
Stone
Muddy
Soot
Charcoal
Lava
Char
Ember
Mildew
Magma
Obsidian
Pit
Dust
Tar
Slag
Coal
Cloud
Black Dog Names By Food And Cooking
As humans, we all love to eat. That's something that we have in common with our canine friends, so why not name them after your favorite food, beverage, or cooking method? Creativity has no boundaries.
Fudge
Chocolate
Espresso
Caviar
Blackberry
Whiskey
Licorice
Roast
Forge
Burnt
Kettle
Pibb
Cocoa Puff
Bosco
Anise
Bourbon
Grit
Hershey
Smelt
Rum
Choosing A Name For Your Black Dog
While the process of naming your black dog seems to like it should be cut and dry, naming your dog may be a bit more complicated than you initially thought. So, what do you do if you feel like you can't choose? Below are a few tips to help get you started.
Wait for a couple of days. If you want something more than just 'Blacky' or 'Blackjack,' it's a good idea to wait for a couple of days. Learn your dog's personality before choosing a name that he or she will have forever.
Let the dog choose its name. You can create a list of names you like, and try calling your dog over, using various names. Sometimes, they will surprise you by responding to one of the names, which you can then begin using.
Make it a family event. You would be surprised by the names that even little humans can come up with. Some of the cutest names have been thought up by a five-year-old. Get the input from your family, and then vote on a name together. After all, it's going to be a family dog.
Use an online name generator. Some name generators allow you to put the color of the object or animal you want to name. From there, they will produce names that are associated with that color. For instance, "Dark" or "Midnight."
Do a name trial. Dogs who are adopted out later in life get renamed all the time. These creatures are smart and adaptable to their environment. If you decide you don't like a name after a week or two, change it up.
Conclusion for Black Dog Names
Black dogs are lovely not only because they're beautiful but because they're relatively easy to name. When choosing a name for your beloved black canine, there is no right or wrong answer.
You can take this time to get as creative as you want. Or, if you wish, name it after your favorite characters, such as Batman or Venom. Regardless of the dog name, what matters the most is the love and the bond that lasts a lifetime.
You will also like:
Garrett loves animals and is a huge advocate for all Doodle dog breeds. He owns his own Goldendoodle named Kona. In addition, he volunteers at the Humane Society of Silicon Valley, where he fosters dogs and helps animals. Garrett enjoys writing about Doodles and believes that dogs can teach humans more about how to live than humans can teach a dog.
Why Trust We Love Doodles?
At We Love Doodles, we're a team of writers, veterinarians, and puppy trainers that love dogs. Our team of qualified experts researches and provides reliable information on a wide range of dog topics. Our reviews are based on customer feedback, hands-on testing, and in-depth analysis. We are fully transparent and honest to our community of dog owners and future owners.