We all relate to the cartoon dogs like Pongo and Purty. Those Dalmatians are probably among some of our favorite memories growing up. There are so many other types of black and white dogs out there, though. When it comes to naming a black and white dog, do you keep it simple with a name like Spot or do you prefer something more unique? There are a lot of classic black and white dog names that can work really well and in some way, each name is very fitting for such a dog.
If you're getting a dog or maybe just recently got a dog that is black and white, or maybe it's white and black, we've got some great naming ideas for you! We've put together a guide to give you some inspiration for black and white dog names.
You are sure to find something here that you can use for your black and white dog whether they are a boy or girl!
Before scrolling down this list, you might like: Top 100 Brown and White Dog Names!
Top Names for Black and White Dogs
We've chosen some select names for black and white dogs to share with you. Rather than give you a never-ending list, we've narrowed it down to our favorites, with a short description of why each name might be an ideal choice.
Let's check it out!
1. Domino
Forget the classic Spot name for a black and white dog and go with something a bit more fun. Domino is a fun name and the classic Domino style was always a black tile with white spots or sometimes a white tile with black spots. This name might work best for a spotted dog but it can work for any black and white dog really.
2. Cookie
We would say use the name Cookies and Cream for black and white but it just is too long. So take that inspiration and name your black and white dog Cookie instead. Cookies may not be exactly black and white but it's still a fitting color combination.
3. Cupcake
We bet your dog is just as sweet as a cupcake. Cupcakes can be black and white if they are chocolate with vanilla frosting or perhaps vanilla with chocolate frosting. Sometimes, they are chocolate with a cream center. Cupcake is super sweet and a fun name that can certainly work as a name for black and white dogs.
4. Almond Joy
We promise that not all of our names will fall into a food theme. Almond Joy is another great name for a black and white dog. This is a delectable candy bar full of white coconut deliciousness and covered with a chocolate exterior. Any mix of black and white on your dog can make this name a fit.
5. Garbo
If you want some inspiration that might not be immediately identifiable, why not go with something like Garbo? We took Garbo from the name of Greta Garbo, who was a famous actress in black and white films at one time. She often played tragic characters but this name is a subtle black and white connotation that can be used for male or female dogs.
6. Mittens
If your dog is mostly one color and then has paws of another color, Mittens is the perfect name! We love the name Mittens, especially when it fits the description. This one is not necessarily unique but if your dog really has mittens, it fits a unique style and is still fitting for sure!
7. Pepper
We all love a bit of salt and pepper. A black and white dog can definitely be given the name Pepper. We love this name, particularly if your dog has more black than white on them. It's a fun name, with a little bit of spice and it might just fit your dog's personality too.
8. Skunk
Here's a fun one! Name your dog Skunk after that classic black and white animal that we all try to stay far away from! Skunk is a good name and the perfect fit for a black and white dog. The only thing to be mindful of is to not confuse them if you see a skunk out and about.
9. Tux
A black and white-colored coat might make you feel like your dog is wearing a tuxedo. We think this could be a pretty snazzy name for black and white dogs that are male. Sort for a tuxedo, Tux is classy and smooth and can make your dog feel like a million bucks.
10. Penguin
That's right, another animal inspiration. You're also not likely to see a penguin running across the road or through your yard so there is less likely to be any name confusion there. Penguins are black and white so it seems fitting that a black and white dog could have the name Penguin.
11. Oreo
Oreos are black and white cookies. The traditional Oreo has chocolate cookies with a creamy center. This is a light-hearted name that could work quite well for any black and white dog and the description is perfect! Besides, who doesn't love a good Oreo?
12. Panda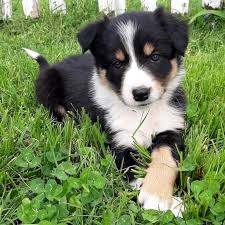 The panda is another black and white animal. We see Panda working as a great black and white dog name for big dogs who are a bit on the fluffy side. Those dogs that look or act like giant teddy bears and have the right coloring would definitely resemble a Panda in name and style.
13. Jazz
Jazz may not immediately strike you as a black and white object but it's a sleek and classy name for a stylish and classy dog. It just seems to fit right for a black and white dog name option.
14. Holstein
Finally, we leave you with Holstein. A Holstein is a black and white cow. We love this name because it doesn't immediately give away as a black and white title. It sounds like a dapper name and fits a dog perfectly. Not everyone will know that your dog is named after a cow.
Other Black and White Dog Names for Males or Females
Peppermint
Piano
Chess
Dottie
Merle
Peppa
Ace
Milo
Barcode
Bear
Cookies N Cream
Cow
Zebra
Dice
Eight Ball
Doodle
Inky
Grayson
Onyx
Oreo
Panda
Polka Dot
Raccoon
Raven
Snow owl
Sushi
Tux
Yin & Yang
Black and White Dog Breeds
When we say black and white dogs, this is a pretty broad category. Just about any breed of dog can produce black and white dogs. Of course, there are some breeds in which black and white are more common. Here are a few of those breeds.
Border collie
Boston terrier
Japanese Chin
Old English Sheepdog
Australian Shepherd
Siberian Husky
Tibetan Terrier
French Bulldog
Bulldog
Boxer
Alaskan Malamute
Mini Schnauzer
Great Dane
Chihuahua
Corgi
These are just the tip of the iceberg. Certainly don't think that you are limited to these names only if you have one of these breeds. If you're looking specifically for a black and white dog, you might be able to find them easier with these breeds but there are plenty of other breeds out there with black and white dog options as well.
You will also like:
Garrett loves animals and is a huge advocate for all Doodle dog breeds. He owns his own Goldendoodle named Kona. In addition, he volunteers at the Humane Society of Silicon Valley, where he fosters dogs and helps animals. Garrett enjoys writing about Doodles and believes that dogs can teach humans more about how to live than humans can teach a dog.
Why Trust We Love Doodles?
At We Love Doodles, we're a team of writers, veterinarians, and puppy trainers that love dogs. Our team of qualified experts researches and provides reliable information on a wide range of dog topics. Our reviews are based on customer feedback, hands-on testing, and in-depth analysis. We are fully transparent and honest to our community of dog owners and future owners.