Vizslas are highly active, and whether you're training one or just playing, you'll be saying your dog's name a lot! For that reason, we recommend that you choose a short, easy to remember name that's only one or two syllables long. Curious about the options? We've got you covered with our list of the best Vizsla dog names!
The Vizsla has Hungarian roots, so we've included some names with those origins here. In addition, you'll find monikers inspired by movies, cartoons, pop culture, and more! Ready to choose a name for your Vizsla puppy or rescue? Let's get started! 
Male Vizsla Dog Names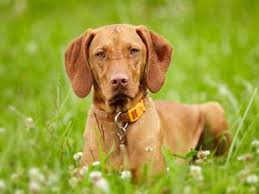 Wyatt: This Vizsla dog name means "little warrior" in French.
Nando: This is another word for the word "brave" in Hungarian.
Leon: Your Vizsla may not be as ferocious as a lion, but it's brave! Leon can be roughly translated from French to "brave as a lion."
Sandor: For a dog that is attached to his humans, this name feels quite appropriate. It means "defender of mankind" in Hungarian.
Rudi: The name has its origins in Hungary and means both "strong" and "wise" in Hungarian.
Odon: Another name that traces to the Hungarian language and means "prosperous protector."
Casey: Casey means "brave" in Celtic and is a proper fit for a breed of dog that has been known to hunt with humans.
Arpad: This is perhaps the most descriptive Vizsla dog name. It Means both "brave" and "adventurous" in Hungarian.
Bernat: The word Means "brave as a bear" in Hungarian.
Vitez: A sparkling name for a breed that has been tested and trusted. It means "valiant" in Hungarian
Brooklyn
Captain
Bailey
Billy
Bluey
Bruno
Chase
Dexter
Pluto
Remy
Riley
Rusty
Simba
Scout
Shadow
Whisky
Copper
Freddie
Hunter
Rufus
Strider
Tanner
Victor
Jesse
Mickey
Simba
Gus
Dylan
Ben
Felix
Murphy
Rufus
Chaos
Jett
Jinx
Bruno
Rocky
Bailey
Winston
Rudy
Buster
Duke
Bobby
Jake
Sammy
Riley
Oscar
Bandit
Pepper
Beau
Sparky
Lucky
Pluto
Pax
Caesar
Duke
Teddy
Gizmo
Samson
Scout
Max
Buddy
Female Vizsla Dog Names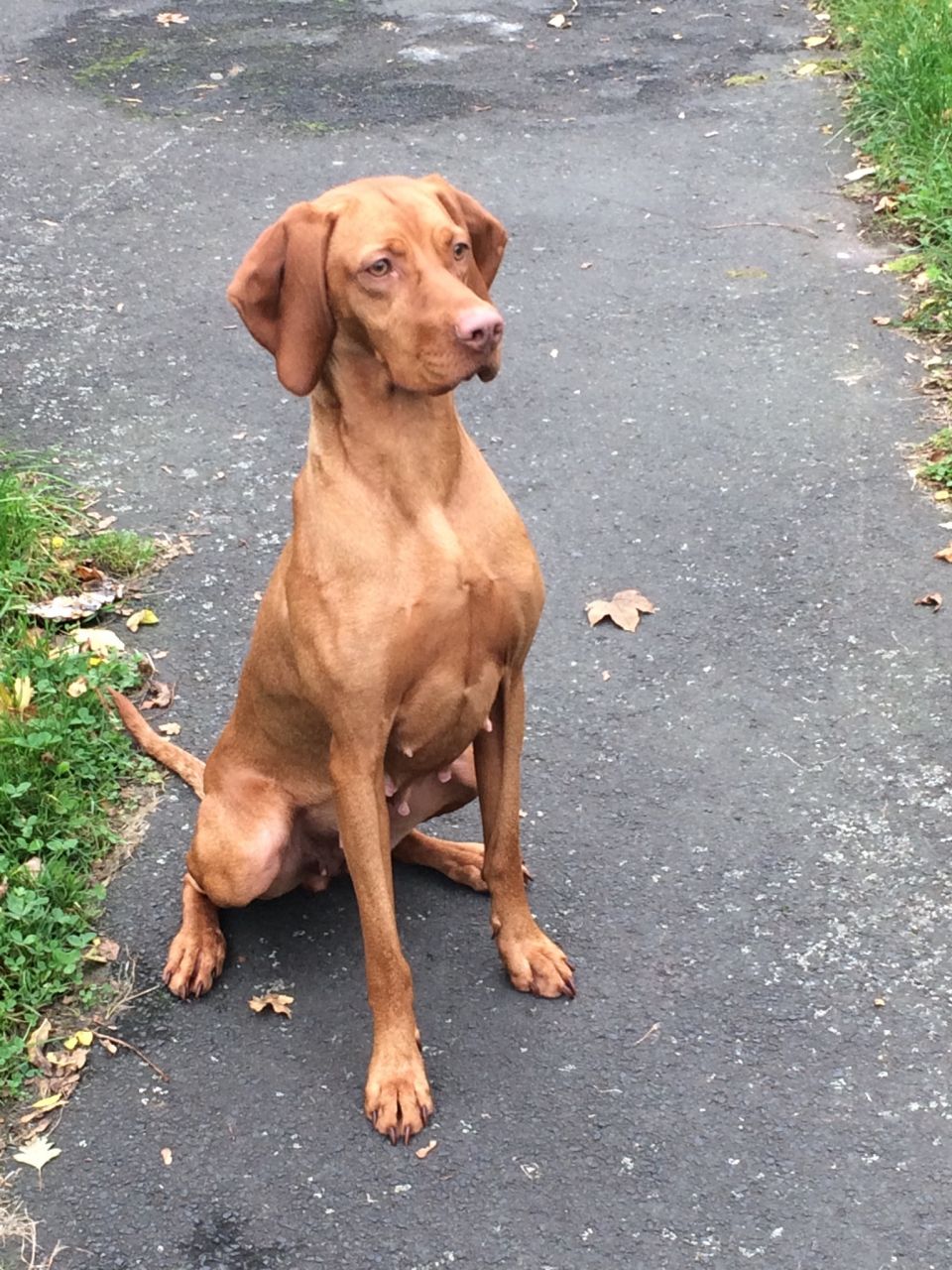 Edith (Eadie)
Elsie
Empress
Esther (Esty)
Amber
Bella
Coco
Daisy
Ginger
Holly
Maggie
Mimi
Minnie
Natasha
Penny
Pepper
Poppy
Sasha
Willow
Winifred (Winny)
Ginny
Gretal
Juno
Kata
Kimba
Magda
Mali
Maple
Mischa
Pumpkin
Stella
Lily
Penny
Pepper
Sheba
Missy
Brandy
Coco
Annie
Molly
Maggie
Daisy
Lucy
Sadie
Ginger
Sassy
Bella
Angel
Leah
Vicki
Flora
Tasha
Baby
Cleo
Sammy
Juno
Misty
Lady
Sasha
Abby
Roxy
Abby
Candy
Princess
Kishi
Rosie
Misty
Sugar
Zara
Lola
Honey
Bella

Kinga

Bobbi
More Information About Vizla Dogs
The Vizsla is a breed of dog that traces its origins to Hungary. Vizslas fall under the category of pointer dogs; these are dogs that and were bred to work with hunters while hunting in the field. It is often believed that the attachment between this breed of dog (Vizsla) and humans come from the first Vizslas that were being used by Hungary's hordes and barons many centuries ago century were always beside their human owners.
They are also referred to as "velcro dogs" because they are extremely loving, clingy, and want to be with their family almost every time. You should therefore be expecting your puppy to try and tag along wherever you go. This is why it's important to choose a good Vizsla dog name that will grab his attention.
Due to their genetic construct as hunting dogs, the breed is easily trained which makes for a more lovable pet. The popular story of Kubrick the Dog by Sean Ellis documents the lovable nature of the Vizladog breed and is highly recommended if you're getting one! They are ranked by the American Kennel Club #31 in popularity out of 197 breeds.
Vizslas are not your typical fancy or lap dog as they are relatively high energy. This is why, if you are looking to buy one, make sure you have someone who will keep the dog busy and active for you if you wouldn't be able to do so yourself. This dog needs to be exercised regularly!
These days, Vizlas often are used either as watchdogs or personal companions. Their genetics plays a very vital role in how they act and should be treated. They love attention so will do anything to get it and they love to run and work out (which can be good for you if you love to take runs) and finally, Vizslas are easily trained in comparison to some other dog breeds.
According to dogtime.com "By the 19th and early 20th century, the Vizsla was a distinct breed with excellent scenting powers who worked closely with its handler. During World War I, the talented hunting dog was used to deliver messages".
After surviving World War I,  the ravages of World War II nearly brought an end to the breed. Fortunately, the Vizsla managed to survive, and the first members of the breed were imported to the United States in the early 1950s.
Frequently Asked Questions
Want to know a little more about Vizsla dogs? Here are some commonly asked questions from our readers.
Does the Vizsla have a nickname?
Yep! Sometimes Vizslas are referred to as "velcro dogs" because they have a tendency to latch on to their humans. By sharing the pet-related responsibilities, you can help mitigate your dog's separation anxiety when his "favorite parent" leaves the home. Walks, feeding, and grooming all count as pet-related activities!
Should I get a male or a female Vizsla?
That depends upon your preferences! Families with children might prefer a low-key, laid-back female while active individuals may prefer the energy of a male. Males typically demand more of your attention than females, while females have a higher likelihood to be more easily trained than males. 
Should you have questions about training these dogs, or about which sex is best for your family, speak to the breeder in depth! A reputable breeder will be able to match you with a puppy that fits your household and your lifestyle. 
What is the lifespan of a Vizsla?
Vizslas tend to be quite healthy when they're brought to the vet regularly, exercised appropriately, and fed a quality food. Your Vizsla has a life expectancy of between 12 and 15 years. 
Conclusion for Vizsla Dog Names
For a breed of dog with a number of unique attributes, finding unique Vizsla dog names shouldn't be difficult. With their deep Hungarian roots and active lifestyle, there are tons of names for your future puppy. We hope that you found our list of male and female names to be helpful!
Other articles you might like:
Garrett loves animals and is a huge advocate for all Doodle dog breeds. He owns his own Goldendoodle named Kona. In addition, he volunteers at the Humane Society of Silicon Valley, where he fosters dogs and helps animals. Garrett enjoys writing about Doodles and believes that dogs can teach humans more about how to live than humans can teach a dog.
Why Trust We Love Doodles?
At We Love Doodles, we're a team of writers, veterinarians, and puppy trainers that love dogs. Our team of qualified experts researches and provides reliable information on a wide range of dog topics. Our reviews are based on customer feedback, hands-on testing, and in-depth analysis. We are fully transparent and honest to our community of dog owners and future owners.