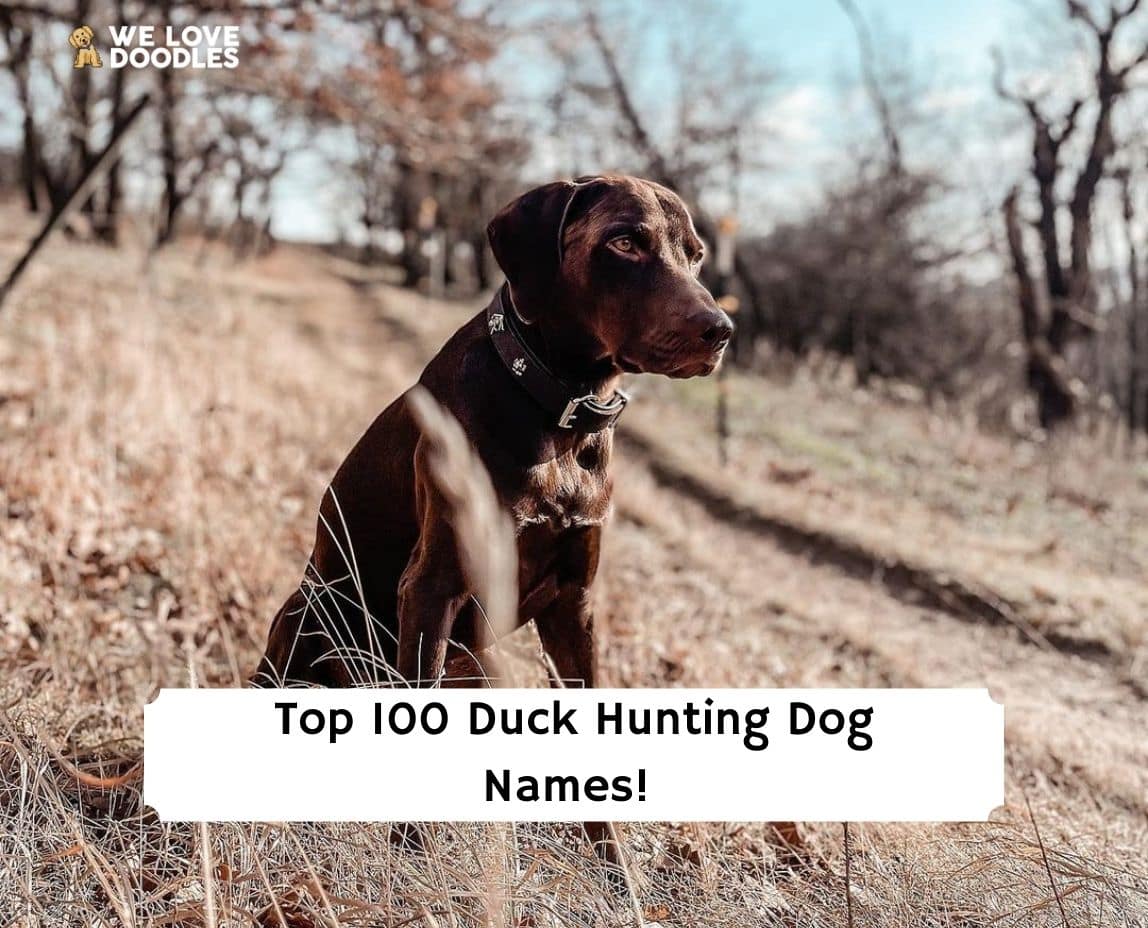 Duck hunting dogs, also called gun or bird dogs, are truly set apart from other dogs. Bred and raised specifically for duck hunting, these dogs have different personalities from other dogs–and fittingly, they should have different names from other dogs!
But the tricky question is: what should you name your duck hunting dog? In this article, we'll break down 100 of the best dog hunting dog names for your hunting companion.
Check out these other articles: 10 Hunting Dogs That Don't Shed and Strong Female Dog Names.
Boy Duck Hunting Dog Names
Whether you're looking for pointer, golden retriever, or black lab duck hunting dog names, there are many available options for male duck hunting dogs. This list reflects the variety of names for boy duck hunting dogs, from the fierce to the friendly.
Ace – First on our list of duck dog names, this is a great name for a dog who seems adept at just about everything.
Captain – For a natural-born leader.
Trooper – For a dog who can weather any storm.
Dodger – Great for a dextrous and agile dog.
Hunter – An on-the-nose name for an excellent duck dog.
Killer – For a dog that seems extra eager about duck hunting.
Trapper – For a clever and witty hunting dog.
General – For an older dog who can lead a pack.
Commander – For a dog with a naturally commanding presence.
Marshall – Great when a dog exudes power and authority.
Leader – Ideal if your dog is ready to take the helm on a hunting trip.
Stalwart – For a dog that's loyal to you to the end.
Speed – One of many cool duck hunting dog names for agile dogs.
Bourbon – Great if your favorite thing after a hunt is to kick back with your dog and a drink.
Bud – For a true friend–or a dog who likes to drink Bud Light.
Charger – For a dog who's maybe a little more enthusiastic than intelligent.
Coffee – A great name for a dog who'll be with you at the crack of dawn.
Bull – One of many great duck dog names for labs.
Scout – For a hunting dog with stamina and agility.
Sport – For a young, enthusiastic dog.
Rogue – Best suited to a dog that follows its own rules.
Ranger – Ideal for a dog that seems completely at home in the wilderness.
Glory – If you think your dog is poised for success, this name could be a good luck charm.
Bolt – For a dog that can speed off and bring back a duck in no time.
Fighter – For a dog with spunk.
Girl Duck Hunting Dog Names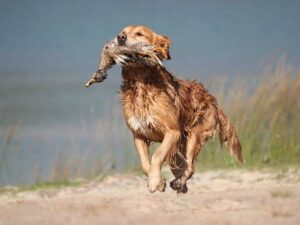 There's an equally rich cache of cute hunting dog names for female duck hunting dogs.
Dancer – Ideal for a graceful and agile dog.
Fidelity – For a dog who will always stay by your side.
Loyalty – Another name for a duck dog that is your ultimate partner.
Faith – A name for a duck hunting dog that you can trust.
Freedom – A dog that seems to belong in the wild deserves this name.
Mistress – For a dog with an air of authority.
Lady – For a dog that seems like she could be a royal.
Huntress – For a dog that is perfectly suited to her job.
Amazon – For a dog that's commanding, authoritative, and a master hunter.
Grace – For a dog that is poised and in control.
Rose – A great name for a dog that's beautiful as well as deadly.
Liberty – A patriotic name for a hunting dog.
Luster – For a dog with a shimmering coat.
Vixen – For a dog well-suited to the wild.
Willow – A name for a dog as sturdy as a tree.
Goldenrod – For a dog whose fur is light and shiny.
Hope – When all else seems lost, this dog will come through for you.
Rebel – For a dog who you can't get under control.
Witch – For a dog who's rambunctious–for ducks and you!
Enchantress – For the dog who always attracts everyone's attention.
Bard – For a dog that's extra vocal.
Tulip – Great for a younger, more delicate hunting dog.
Angel – For a dog that's always on the ball–or an ironic name for a perpetual troublemaker.
Kestrel – For a dog that's a natural-born hunter.
Glamor – A great name for a pooch with pride.
Hunting Dog Names Based on Nature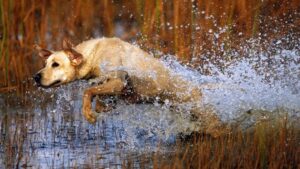 Do you want to give your duck hunting dog a name that draws on the rich symbolism of the natural world while still evoking their hunting vocation? Check out this list.
Thunder – To reflect a booming presence.
Lightning – If they can run this way and that in a flash.
Peak – For a dog that's the pinnacle of hunting.
Cloud – For a light-colored or mysterious dog.
River – If your dog moves fluidly like running water.
Sunburst – For a bombastic and excitable dog.
Bear – For a big, furry dog.
Wolf – To remind you of their wild heritage.
Birch – To reflect the stalwart integrity of the tree.
Acorn – For a smaller dog you're nourishing since birth.
Basil – For a dog with a little spice.
Tiger – A feline name that connotes wildness and ferocity.
Falcon – Great for a fast, graceful dog.
Thistle – Beautiful, but dangerous.
Shark – For a dog that's out for blood–duck blood.
Hammerhead – For a dog that loves to hunt but maybe isn't the smartest.
Sawgrass – If you're hunting in Florida, this botanical name is perfect.
Oak – For a dog that's big, dark, and sturdy.
Rainbow – For a dog that seems to lighten up the place wherever they go.
Typhoon – For a dog that's an unstoppable force of nature.
Bramblepelt – Good name for a dog that's not afraid to get down and dirty.
Briar – For a dog ready to dive into the depths to get its quarry.
Snow – Great for a pale, mysterious hunter.
Midnight – Ideal for a dog that moves in silence.
Storm – The opposite: for a dog that loves to make noise.
Names for Hunting Dogs Based on History and Culture
One of the best ways to decide on a dog name is to draw from hunters (or the hunted) in history and culture). Check out some of these:
Nimrod – Despite the connotation of stupidity, this is actually the name of a famed biblical hunter.
Elmer – After dopey-but-eager hunter Elmer Fudd.
Orion – After the constellation and the Greek mythological hunter on which it's based.
Rexxar – Perfect for fans of the Warcraft franchise.
Daffy – An ironic name based on the Looney Tunes duck.
Herne – A ghost hunter from English folklore.
Geralt – The legendary monster hunter from the Witcher books, video games, and TV series.
Artemis – After the Greek goddess of the hunt, who notably turned the hunter Actaeon into a stag and had her dogs hunt him.
Diana – Named after the Roman counterpart to Artemis.
Robin – After the bird and folkloric bowman Robin Hood, or the DC Comics superhero Robin.
Pan – After the Greek god of wilderness and hunters.
Hubertus – After the patron saint of hunters.
Thor – After the superhero and Norse mythological powerhouse.
Bloodsport – The gun-toting hero of The Suicide Squad.
Daisy – Another ironic name: Daisy Duck.
Donald – Based on Disney's Donald Duck. Especially great if you aren't a particular fan of Disney or have a sense of humor.
Scrooge – Based on the character from Disney comics and DuckTales.
Huey – The first of three brothers in DuckTales.
Dewey – The blue-hat-wearing brother in DuckTales.
Louie – The DuckTales brother who rocks a green outfit.
Davy – Based on the folk hero and real-life man Davy Crocket.
Teddy – Based on American president and naturalist Theodore Roosevelt.
Mighty – After the film The Mighty Ducks and the corresponding hockey team.
Wolverine – After Marvel Comics' famous wildman superhero.
Lon – Named after Lon Chaney, star of The Wolfman.
Conclusion for Duck Hunting Dog Names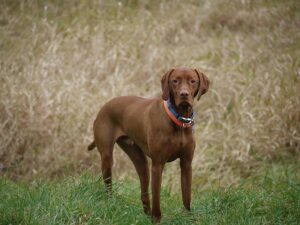 If your dog is going to be a duck hunter, you'll want to give them an appropriate name. Remember to keep their name short, easy to pronounce, and not similar to any of your family. We hope you enjoyed our list of the best duck hunting dog names and found something for your puppy!
Other articles you would like: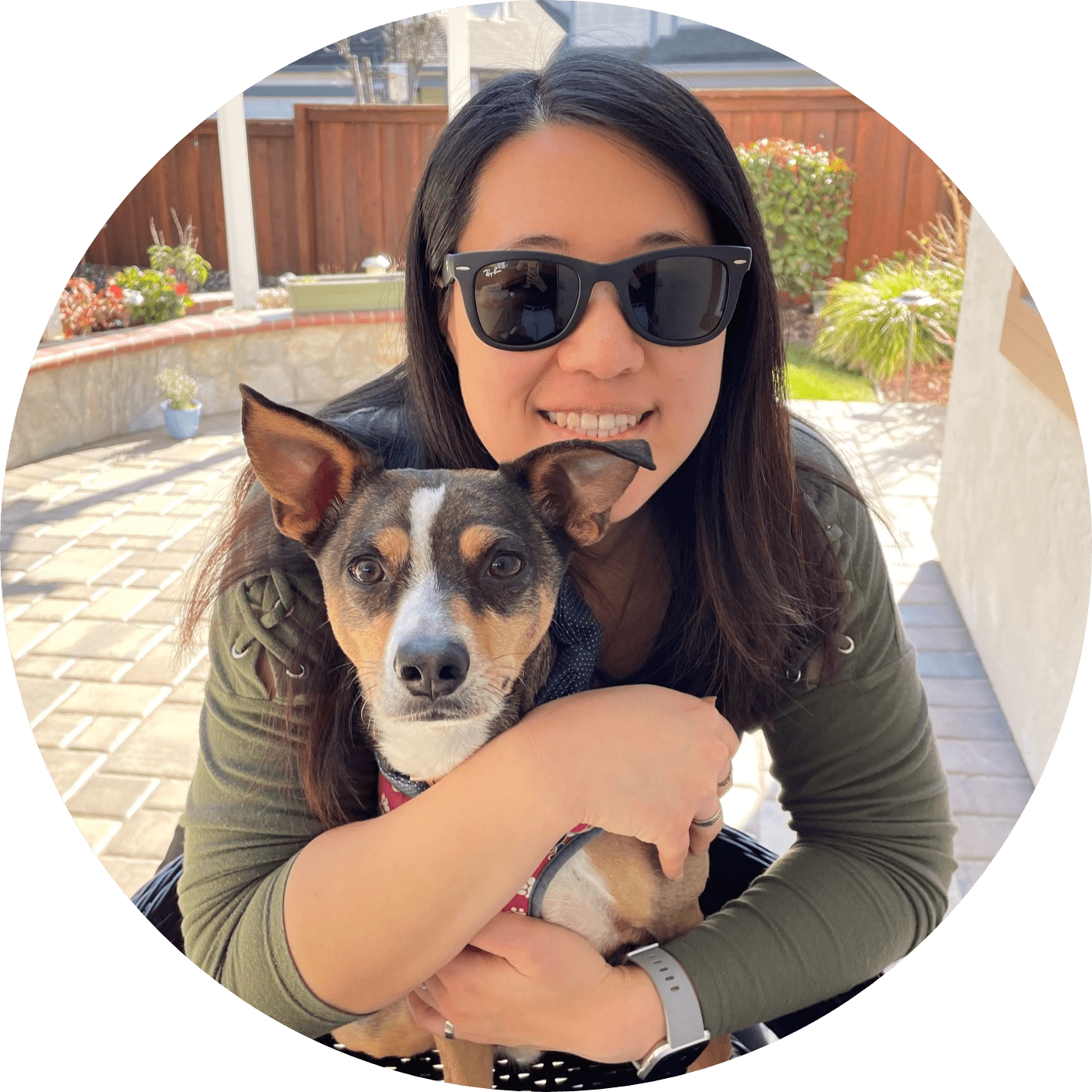 Dr. Sabrina Kong graduated from the Royal Veterinary College in England in 2016 and has been working at a small animal clinic in Northern California since then. She grew up in the Bay Area and got her bachelor's degree from Cal Poly San Luis Obispo. She also became a Certified Canine Rehabilitation Practitioner through a program at the University of Tennessee.
When she isn't in the clinic taking care of her four-legged patients, she enjoys traveling and trying new foods with her friends and her three-legged dog, Apollo. She adopted Apollo from her clinic when he was a puppy with numerous health issues. Dr. Kong truly cares about taking care of animals.