So, you're the owner of a Westie puppy. Congratulations! Now the fun part comes – picking out Westie dog names!
Westies, otherwise known as West Highland White Terriers, are friendly, spunky companions. With their reputation for being loyal and confident, these lovable furballs are sure to provide a lifetime of fun.
Beneath that cute exterior, Westies are quite tough. Bred to hunt rats and underground rodents, Westies will often chase anything that moves. That certainly doesn't make them any less popular, though. According to the American Kennel Club, they are the most popular of the small terrier breeds!
Smart and adventurous, Westies love to play. Their independent nature makes them great dogs for both singles and families alike. Whether they're zipping around or napping peacefully, Westies will steal your heart.
Coming up with a Westie dog name can be a lot of fun. One look at your sweet puppy probably brings to mind a plethora of adorable names. It'll probably be tough to narrow them down!
No matter if you go for traditional, cute, or cool, remember that your puppy will have their name for life. So choose wisely and pick a name that truly reflects their personality. Here are great Westie dog names to get you started!
Other articles you would like: White and Brown Dog Names and Black and White Dog Names!
28 Female Westie Dog Names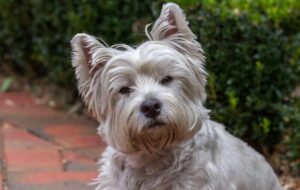 Female Westies look like little princesses, but they consider themselves leaders of the pack. These tough sweeties know what they want, and they have no problem telling you!
Always up for play and adventure, female Westies are also independent. They aren't usually lap dogs, but they tend to bond with all family members versus only one person, making them particularly desirable for multi-person households.
When considering names for your female Westie, picture yourself calling out to her over and over. Does the name fit? Does it have the right ring to it? Is it something you can live with for a very long time?
Do you prefer a super feminine name like Daisy, or do you want something more neutral like Chloe? Does she give off a sophisticated, old-fashioned vibe like a Victoria? Or maybe she feels more like a Billie, a spunky little tomboy.
Whatever your taste, you're sure to get some great ideas with our list of 28 female Westie dog names.
Annie
Billie
Chloe
Cleo
Daisy
Cricket
Daphne
Ellie
Hattie
Jessie
Jillian (Jilly)
Josie
Lainey
Lola
Lucy
Lulu
Maggie
Maisy
Maxie
Missy
Poppy
Princess
Rosie
Roxy
Stella
Suzie
Sylvie
Victoria (Tori)
27 Westie Boy Dog Names
Male Westies take longer to mature than females. They have tons of puppy energy and want to play all the time!
Male Westies also tend to be territorial. These tough little cookies can get aggressive if they feel threatened, so tread carefully. That said, male Westies are delightful and friendly dogs. With training, socialization and patience, your male Westie will grow into a fine young man.
If your male Westie is the definition of cuteness overload, a name like Ollie might suit him well. If he's more of the distinguished type, perhaps Archie fits the bill. If he's super high energy with no signs of slowing down, maybe you'll want a name like Wiley.
No matter which name you ultimately choose for your Westie male, you really can't go wrong with any of our 27 choices.
Alfie
Archie
Auggie
Beau
Buster
Calvin
Carlos
Darcy
Dax
Heath
Jasper
Joey
Johnny
Kevin
Mikey
Milo
Mo
Niko
Otis
Ollie
Quentin
Rocko
Romeo
Sammy
Toby
Tucker
Wiley
29 Cool Westie Dog Names
Hold on, dude! Is your Westie prince or princess more of a suave and sophisticated type? Or maybe they give off a hipster vibe. If so, you're probably looking for a name with a unique ring to it.
What makes a name cool? Well, cool names have a certain "it" factor that makes them special. Your tough cookie might feel like an Everleigh. Or your upbeat boy might be a Dash. Then again, maybe you have a little guy who just might be a Bones.
Picture your little guy wearing his Moto jacket and bandana. Is he a Cash? Or how about your little girl with her flowered hair bow: A Destiny perhaps?
Cool names never go out of style! Check out our list of 29 cool Westie puppy names to get your motor running.
Ari
Ashton
Axel
Baxley
Bones
Cash
Cosmo
Cruz
Dash
Destiny
Dresden
Enzo
Everleigh
Genevieve
Indigo
Kai
Luca
Luna
Mikayla
Nika
Paisley
Paxton
Phoebe
Sawyer
Slick
Topher
Zander
Zane
Zorro
27 Famous Westie Dog Names
Watch out, Hollywood! If you can picture your Westie strutting across the red carpet, maybe you want to give him or her a name fit for a king or queen. Certainly, your baby is royalty!
Naming your dog after a famous person or thing (like a KitKat bar) can be a blast. It certainly will be a conversation starter. You know the saying: There's a story behind every name!
Just be careful if you pick a celebrity name. You want to adore that person and be sure you will never tire of them, or you'll be stuck hearing their name for life!
We know you'll be your puppy's biggest fan. If she's tough as nails, you might want to name her Britney. If he's laid back, perhaps he's a Dr. Dre. If he's crazy as all get out, perhaps Ozzy fits the bill.
Here are 27 of our top famous name pics.
Britney
Buddy Holly (Buddy)
Cardi B
Coco Chanel (Coco)
Dr. Dre (Dre)
Drake
Harry
JLo
James Dean  (Jimmy)
Jethro Tull (Jethro)
Kate
KitKat
Meghan
Lisbet
Lincoln
Madonna (Madge)
Mick Jagger (Micky/Jagger)
Ozzy
Pippa
Punky Brewster (Punky)
Presley
Princess Peach
Sandra Dee (Dee Dee)
Santana
Snickers
William (Wills)
Zeppelin
28 Cute Westie Dog Names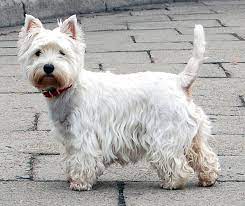 Awww, we know all about Westie cuteness overload. With a face that sweet, it's tough not to want to name your Westie something cute.
It shouldn't be that hard to come up with darling names for your fur baby. Just spend a few hours with your little one, and you will no doubt be engaging in some sweet talk!
Is your puppy a little on the small side? Maybe Lil'Bit is the perfect name. Is he fast as lightning? Maybe Bolt fits the bill. Got a little yapper? Maybe, you'll want to name her KiKi.
As you can see, cute names are about more than a pretty face or cuddly snuggle! You can match them to your fur kid's other personality characteristics, too!
Here are 28 Westie dog names to consider.
Baby
Birdie
Biscuit
Bolt
BooBoo
Boops
ChiChi
Cutie
Fluff
Gigi
Juju
KiKi
Lil'Bit
Lulu
Muffin
Munchkin
Peanut
Pebbles
Pippy
Puff
Pumpkin
Scout
Snoopy
Sugar
Sweet Pea
Sweetie
Winnie
Zippy
Conclusion for Westie Dog Names
Got enough ideas yet? We hope so! Naming your Westie is such a fun part of puppy parenthood that we hope you'll enjoy every moment.
When choosing a name for your Westie, get creative. It's not every day that we get to name a pet! Naming our pets is one of the biggest opportunities we have to flex those creative thinking muscles.
Naming your love bug doesn't have to be frustrating. Simply narrow down whether you want to go for classic, cool, cute – or famous! Match the choices to your puppy's personality, and, bingo, you've come this much closer to picking the perfect name.
And remember: Your little furball will be with you for a long time, so make sure you pick a name you'll both love forever.
Other articles you would like:
Garrett loves animals and is a huge advocate for all Doodle dog breeds. He owns his own Goldendoodle named Kona. In addition, he volunteers at the Humane Society of Silicon Valley, where he fosters dogs and helps animals. Garrett enjoys writing about Doodles and believes that dogs can teach humans more about how to live than humans can teach a dog.
Why Trust We Love Doodles?
At We Love Doodles, we're a team of writers, veterinarians, and puppy trainers that love dogs. Our team of qualified experts researches and provides reliable information on a wide range of dog topics. Our reviews are based on customer feedback, hands-on testing, and in-depth analysis. We are fully transparent and honest to our community of dog owners and future owners.