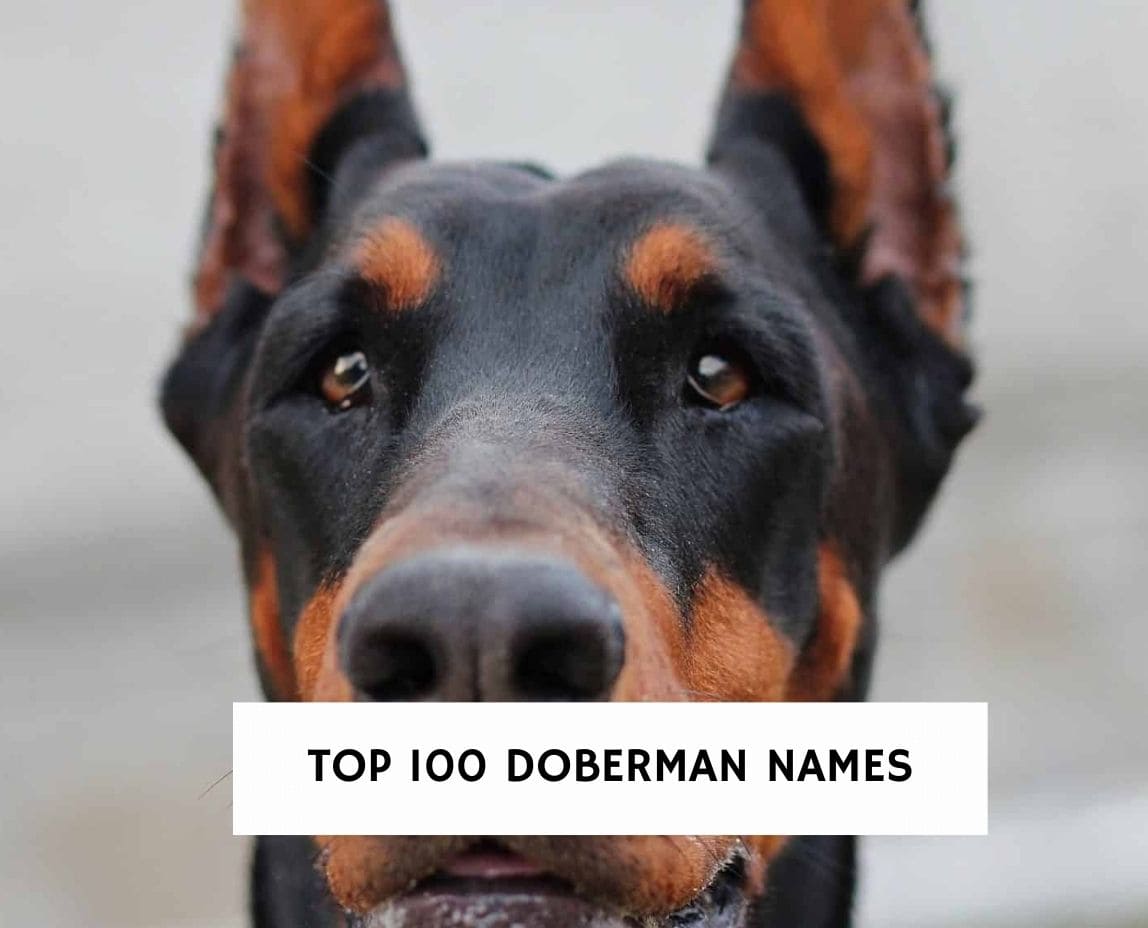 Naming your new Doberman can be fun and challenging. You want a name that fits as well as one that everyone in your family likes. When naming a Doberman pinscher or Doberman mix, there are several directions you can go.
There are so many great names out there for Dobermans, but you'll ultimately have to choose just one. Looking at lists of popular dog names and popular Doberman names, as well as ones from mythology and pop culture, can give you a feel for names you can use. Even if you don't end up using one from our list, we hope that our list fires your imagination.
Check out these related topics: 200+ Black Dog Names and 150+ Brown Dog Names.
Doberman Boy Names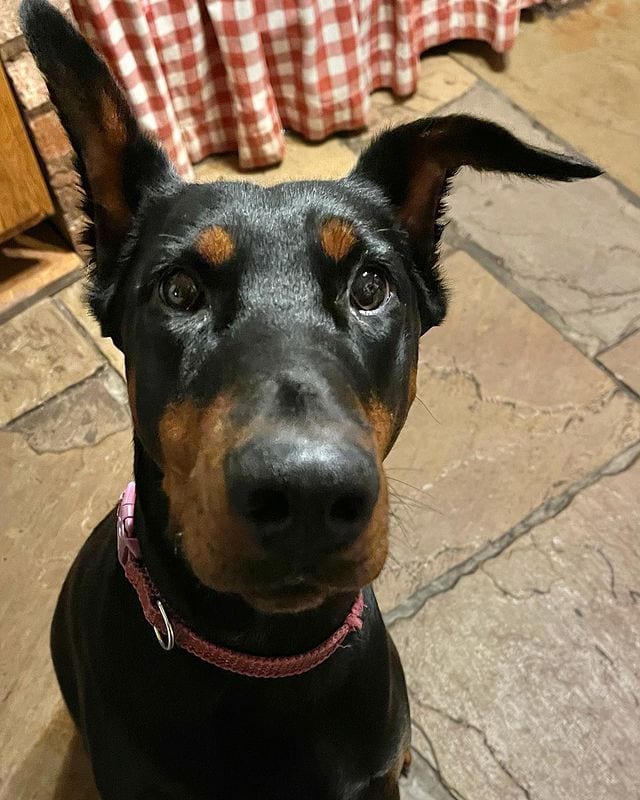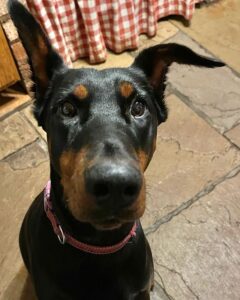 When choosing a Doberman boy name, you can go wrong with one of these top names for boy dogs, based on a top pet insurance company's records:
Charlie
Cooper
Max
Milo
Oliver
Buddy
Teddy
Bently
Tucker
Leo
Doberman Girl Names
We also used a top pet insurance company's records to find some of the top girl dog names that you might like:
Bella
Lucy
Molly
Maggie
Lola
Sophie
Chloe
Sadie
Bailey
Lily
Cool Doberman Names
Doberman pinschers are intelligent, alert, loyal, obedient, and fearless. As such, their cool demeanor makes them deserving of a cool name. Here are some cool names that will work perfectly with your canine companion's composed attitude:
Duke
Max
Prince
Beau
Ace
Ronan
Terra
Olive
Popular Doberman Pinscher Names
Many popular Doberman Pinscher names come from world religious mythologies, celebrity names, and fiction.
Popular Doberman Names from Mythologies
A lot of popular Doberman names come from religious mythology:
Apollo: A Greek and Roman Olympian god
Loki: Norse god of mischief
Thor: Norse god of thunder
Dante: Dante Alighieri depicted hell, purgatory, and heaven in his book The Divine Comedy
Atlas: The Titan condemned to eternally hold up the heavens on his shoulders in Greek mythology
Titan: The name of the pre-Olympian gods in Greek mythology
Samson: Samson was a man whose long hair gave him extraordinary strength in the Hebrew Torah and the Christian Old Testament
Popular Celebrity Doberman Names
Other popular Doberman names come from celebrities:
Rocky: The name of the famous boxer in the 1980s Rocky movies
Diesel: Brings to mind the large truck or the movie star Vin Diesel
Kobe: Can bring to mind a great steak or the basketball player Kobe Bryant
Tyson: Mike Tyson is a former professional boxer, competing from 1985 to 2005
Axel: Axel Rose is the lead vocalist and lyricist of the hard rock band Guns N' Roses
Bruce: Bruce Lee was a famous martial artist who acted in numerous martial arts movies from 1941 to 1973. His legacy has continued with many posthumous film appearances and awards.
Popular Doberman Names From Fiction
Many people choose names for their big dogs based on large fictional dogs or other regal animal protagonists:
Clifford: While the cartoon character Clifford the Big Red Dog was probably a giant Vizsla, lots of big dogs get their name from him.
Simba: Simba was the lion who had the main role in the 1994 film The Lion King.
Scooby: While Scooby from the cartoon Scooby-Doo was a Great Dane, Scooby is still a great name for any large dog.
Buck: The name of the St. Bernard-Scotch collie mix protagonist in Jack London's Call of the Wild
Cute Doberman Names
While fierce names are popular for Dobermans, it's always fun to give big dogs cute names, too. Try some of these cute names:
Daisy
Sparkles
Cupcake
Mister Cuddles (or Miss Cuddles)
Cherry
Brandy
Famous Doberman Pinscher Names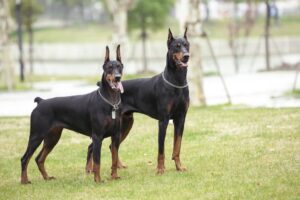 There are several famous Doberman Pinschers from movies and tv. We've collected a few of them here for your perusal.
Doberman Names from TV and Movies
Famous Dobermans in television and film can inspire a name for your new pet:
Rodney: The Doberman's name in the 1946 movie It Shouldn't Happen to a Dog (possibly the first Doberman movie star)
Moonraker: The name of the 1979 James Bond film starring two Dobermans
Zeus: The name of one of Higgins' dogs in the 1980-1988 Magnum PI tv series
Apollo: The name of the other Doberman in Magnum PI
Cerberus: The Doberman's name in the 2002 film Resident Evil
Munch: The bounty hunter's canine partner from the 1990 movie Street Hunter
Diablo: The name of the Doberman in the 2008 animated movie Beverly Hills Chihuahua
Crippler: One of Mr. Burns' guard dogs in The Simpsons
Doberman Bank Robber Names
The 1972 film The Doberman Gang is about an animal trainer who used six Dobermans to rob a bank. The bank robber names that the animal trainer used for his dogs in the movie may inspire a name for your new pooch:
Dillinger: Named after John Dillinger, who was accused of robbing banks and police stations during the Great Depression with his Dillinger Gang
Bonnie: Named after Bonnie Parker, who robbed banks, small stores, and funeral homes during the Great Depression, along with her husband Clyde Barrow
Clyde: Named after Clyde Barrow, who made up the Bonnie and Clyde bank robbery team along with Bonnie Parker
Pretty Boy Floyd: A bank robber from the 1920s-1930s who the public liked because he burned mortgage documents, freeing people from their debts
Baby Face Nelson: A Great Depression bank robber with a handsome face who was one of John Dillinger's partners
Ma Barker: Ma Barker was the mother of several criminals in the Barker-Karpis gang and traveled with them as their criminal brain from the 1900s to the 1940s.
Doberman Color Names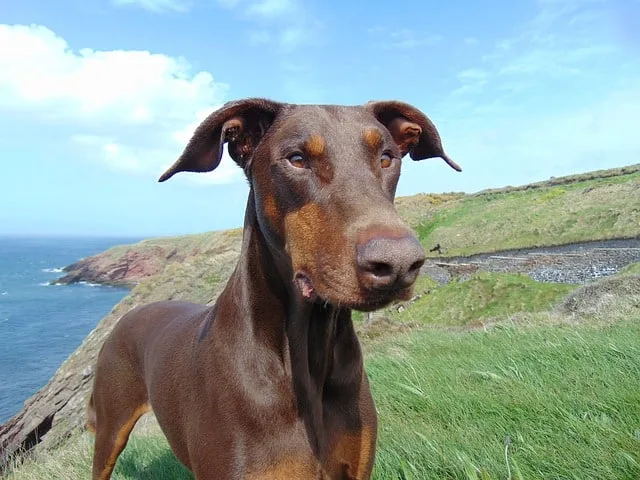 Color names are always popular when naming dogs. According to the AKC, there are four standard colors for Dobermans and one non-standard:
Black and rust
Blue and rust
Red and rust
Fawn and rust
White (non-standard)
Black Doberman Names
These names work perfectly for black and rust Dobermans as well as blue and rust Dobermans:
Blu
Ebony
Cosmos
Tux
Raven
Brown Doberman Names
These names are great for fawn and rust Dobermans:
Willow
Cocoa
Graham
Ginger
Sable
Red Doberman Names
If you have a red and rust Doberman, these names may suit it:
Copper
Cinnamon
Ruby
Rufus
Blaze
White Doberman Names
If you have a rare white Doberman born with albinism, here are some names to consider:
Sheba: The first spontaneously-born albino Doberman was named Padula's Queen Sheba in 1976.
Swan
Casper
Everest
Nova
Mean Doberman Names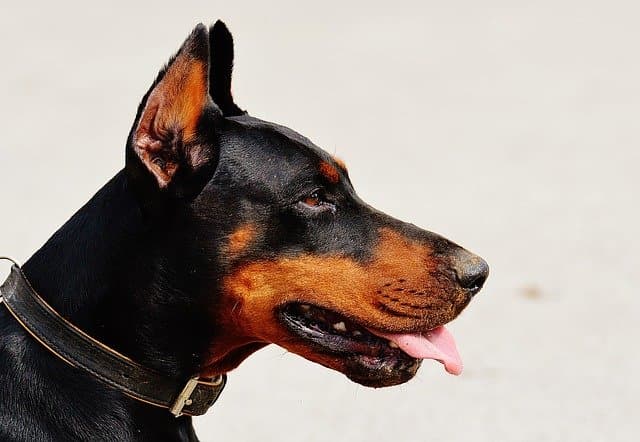 Doberman pinschers have a reputation for being strong watchdogs with a vicious reaction to intruders on your property. Thus, it's common for Doberman owners to choose mean names for their dogs. Choose from names that have brutal connotations, the names of fictional villains, or the names of historical villains.
Brutal Doberman Names
Choose from names that imply brutality, such as:
Brutus
Mutilator
Rampage
Felon
Shark
Fictional Villain Doberman Names
Fictional villains are a great resource for mean Doberman names:
Hannibal Lecter: The villain in The Silence of the Lambs
Darth Vader: The main villain in the Star Wars series
Corleone: Al Pacino's character in The Godfather
The Terminator: Arnold Schwarzenegger's character in The Terminator
Freddy Krueger: The villain of your nightmares in A Nightmare on Elm Street
Historical Villain Doberman Names
If you're looking for a mean Doberman name, you can also choose from among historical villains:
Vlad: Barm Stoker loosely based his Dracula character on Vlad the Impaler, who killed 20% of the population of Wallachia between 1448 and 1462.
Genghis Khan: 20-50 million people died under Khan's reign in Mongolia between 1206 and 1227.
Ivan: Ivan the Terrible of Russia tortured over 60,000 people to death during the Novgorod Massacre in 1570.
Robespierre: Maximilien Robespierre'sReign of Terror during the French Revolution resulted in 140,000 deaths.
Nero: Roman emperor Nero famously fiddled while burning down Roman cities. He also brutally murdered thousands and killed every member of his family between 59 and 68 AD.
Doberman Pinscher Naming Tips
Your dog will have its name for years to come, so it's a good idea to give naming your dog careful consideration.
Tip 1: Don't Name Your Dog Right Away
While you think you know what a Doberman should act like, an individual may surprise you. Your regal Sheba may turn out to be a doofus you wish you'd named Waffles.
Tip 2: Choose a Name You'd Like To Hear on Repeat
Dobermans live for 10-13 years, so you'll be saying your dog's name a lot. Call out the names that you like several times in a row. Then, choose from among the ones that you don't mind hearing repeatedly.
Tip 3: Change the Name if It Doesn't Fit
If you named your dog something that doesn't really seem to fit after a few days, it's okay to change it. Your dog won't care as long as you do something fun like giving it treats and belly rubs when you call it.
Conclusion for Doberman Names
Every dog is unique, and naming it can be fun. We hope this list of popular dog names, popular Doberman names, and names that will suit your dog in other ways has provided a name for your new pet or at least inspired you with ideas for a good naming direction.
You will also like:
Garrett loves animals and is a huge advocate for all Doodle dog breeds. He owns his own Goldendoodle named Kona. In addition, he volunteers at the Humane Society of Silicon Valley, where he fosters dogs and helps animals. Garrett enjoys writing about Doodles and believes that dogs can teach humans more about how to live than humans can teach a dog.
Why Trust We Love Doodles?
At We Love Doodles, we're a team of writers, veterinarians, and puppy trainers that love dogs. Our team of qualified experts researches and provides reliable information on a wide range of dog topics. Our reviews are based on customer feedback, hands-on testing, and in-depth analysis. We are fully transparent and honest to our community of dog owners and future owners.