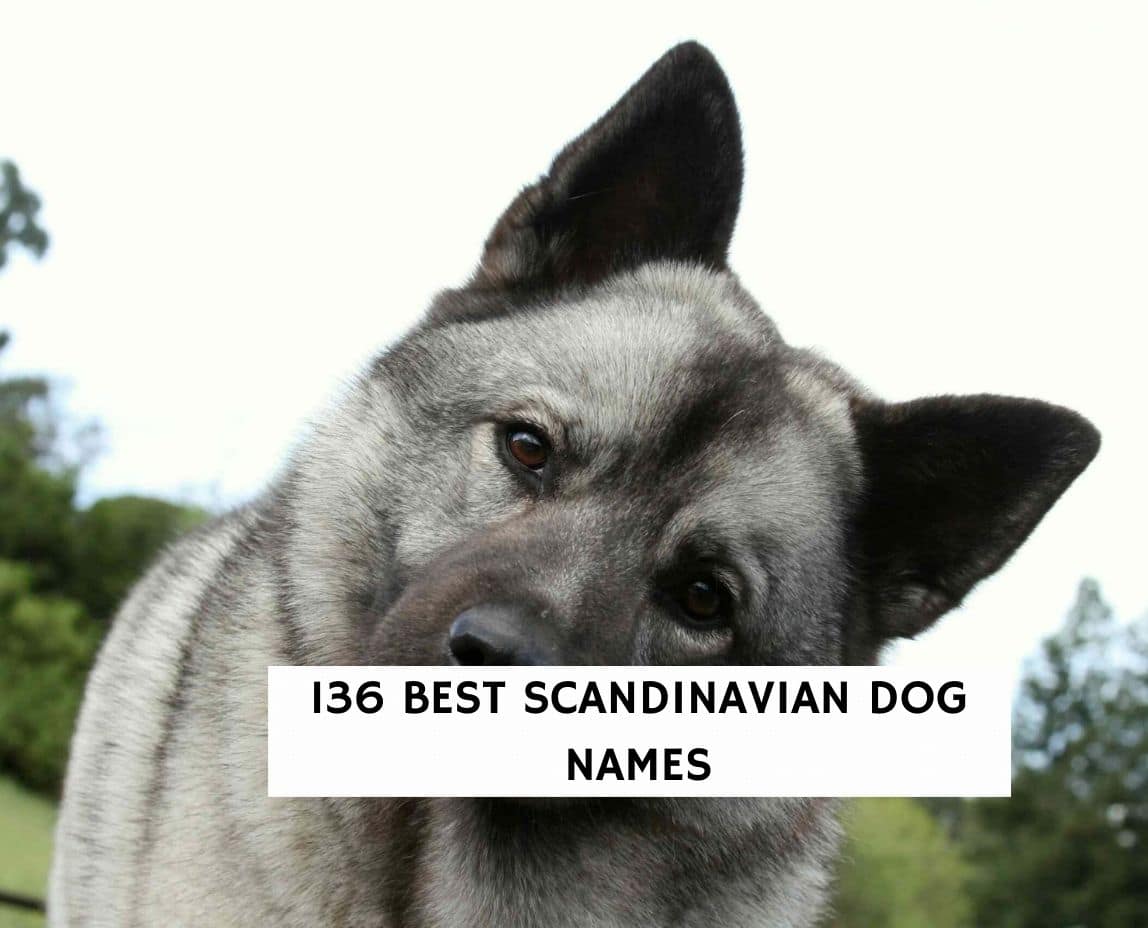 Bringing home a new dog is a life-changing experience for many families or owners. Although gathering your pet supplies is something to prioritize, choosing their name is even more essential. However, you might find it overwhelming trying to pick the best name for your pooch. Typical dog names like "Fido," "Spot," and "Daisy" might not cut it for you. So, why not give your pup a Nordic name worthy of his stature or nature?
We compiled a list of the 136 best Scandanavian dog names to help you narrow down what you want to call your new furry friend. If you don't have a lot of time on your hands, you can use some of our name ideas to simplify the process. Norway, Sweden, and Denmark are the primary countries that come to mind when most people talk about Scandinavian countries, so it would be best to take inspiration from their most popular names. 
Before scrolling down, here a some related article: Best Manly Dog Names
Male Scandinavian Dog Names
Many dog owners search for dog names that match their pet's strength, size, and personality. Thankfully, several Scandinavian and Nordic names encapsulate strength and courage. When in doubt, choose a Scandinavian name that humans might use. Here are some of our favorite picks for Scandinavian dog names for your male pup.
Anders – manly or brave

Bergen – mountain dweller

Brodrick – brother

Einar

Anton 

Dag

Alf

Arkin

Axel

Sigmund – protector

Olaf

Carrson

Sven

Asmund – divine protection

Bjorn – bear

Calder – harsh/cold waters

Gustav

Gunther

Magnus

Ulf – wolf

Hendrik

Jakob

Tove – beautiful

Ingrid

Erik

Kristoff

Kai

Lars

Baldar – prince

Jarle – nobleman

Kirkwood
Scandinavian Dog Names Female
Suppose you're bringing home a beautiful Norwegian Elkhound and want to give her the best name possible. They're formidable hunters and need a name that defines their regal power as much as their male counterparts. Luckily, we compiled a list of several beautiful female Scandinavian dog names for you to use. Many of them are popular names, while others take inspiration from cultural words.
Brenna – sword

Astrid – beautiful

Freya – lady

Helga

Maiken

Saga

Tanja

Margrete

Nissa

Dahlia

Selma

Annika

Aurora

Asta

Emilie

Elsa

Sophia

Frida

Kelda

Elia

Juni 

Solveig

Hortensia

Norna

Tiril
Scandinavian Dog Names Based on Nature
The northern parts of the Scandinavian region tend to have heavy winters. If you're in the winter mood, why not consider giving your dog a Scandinavian name indicative of the lush snow or the holiday season? Several owners like naming their dogs after flowers or plants; perhaps a forest-themed name may suit them better. Check out this list to get a head start.
Elin – light

Mjöll – fresh, powdery snow

Revna – raven

Snæbjörn – snow bear

Flykra – snowflake

Brede – glacier

Linnea – light pink flower

Lumi – light

Kari – gust of wind

Embla – elm tree

Lea – meadow

Fýrr – fire

Esya – a type of clay

Aska – ashes

Sten – stone

Halle – rock

Guido – forest

Lilja – lily

Begonia – a perennial flowering plant

Aalto – wave

Marna – the sea

Vicia – flowering plant

Steiner – small rock

Vern – of the alder tree

Ylva – female wolf

Arne – eagle
Scandinavian Dog Names Based on Norse Mythology
Another naming trend many people follow when picking out the best Scandinavian dog names is referencing Norse mythology. Naming your dog after one of the Norse gods is an excellent way to emphasize a large dog's massive stature or give your smaller pup an ironic name that matches their moody attitude. 
However, if you think "Thor" is too mainstream for your dog, consider a few name variants that reference this icon. 
Check out this list of the 28 best Scandinavian dog names based on Norse mythology. While many of these choices reference the Norse gods, they have a few name options for mystical objects and creatures.
Mjöllnir – Thor's hammer

Bestla – mother of Odin, Vili, and Ve

Nidhogg – a dragon that dwells, eats, and lives inside the roots of Yggdrasil

Asgard – one of the Nine Worlds in Norse mythology

Baldur – god of light and joy; a son of Odin

Valhalla – Norse mythology's afterlife concept

Loki – God of mischief

Fafnir

Fenrir – Odin's wolf

Gandalf

Skoll – a wolf that chases the sun

Torsten

Valkyrie – a female warrior

Ymir – the first giant

Tyr – god of war

Aegir – god of the sea

Heimdal

Magni – god of brute force and strength

Ingimar

Vale

Thora – like thunder; variant of Thor

Thurman – protection of Thor

Skadi – Goddess of winters, skiing, and hunting

Eydis – goddess of good luck

Gustav – staff of the gods

Huldra – a forest-dwelling creature

Mare – monsters that give people bad dreams

Jormungand – a sea serpent
Scandinavian Dog Names Based on Famous Vikings
Another naming theme you should consider when picking a name for your dog is names connected to Vikings. As dominant forces on the seas, many people picture them as big, powerful, and fierce; perhaps one of these historical names might be fitting for a giant Mastiff or a spunky little terrier puppy. 
These names take inspiration from their language, legends, or from the most significant Vikings who traveled the seas. While many people associate Viking names with large and burly warriors, several names are befitting for girls. Here's a list of the 26 best Scandinavian dog names based on famous Vikings
Ragnar

Ironside

Leif

Jomsborg

Halfdan

Gunnar

Bloodaxe

Boneless

Rollo

Forkbeard

Sigrid – beautiful woman who leads to victory

Freydis

Sigurd

Ubba Ragnarson

Canute – a Viking king

Bjarni

Oskar

Dottir

Olga of Kiev

Brynhild

Lagertha

Hervor – daughter of the Viking warrior Heidrek

Veborg – daughter of King Harald

Gudrun

Svanhvit

Olrun
Frequently Asked Questions
What is a good Viking name for a dog?
There are many great Viking names for dogs. Some of our favorites include:
Bjorn – meaning "bear."
Erik – meaning "ever-ruler."
Gunnar – meaning "warrior."
Ivar – meaning "bow warrior."
Leif – meaning "heir" or "descendant."
Sven – meaning "boy" or "lad."
Ulf – meaning "wolf."
Viggo – meaning "warrior."
Thor – meaning "God of thunder."
Freya – meaning "lady" in Norse
Hela – meaning "goddess of death" in Norse
Inga – meaning "beautiful."
Loki – meaning "trickster god" in Norse
Odin – meaning "the all-father" in Norse
Ran – meaning "goddess of the sea" in Norse
Saga – meaning "storyteller" or "history"
Sif – meaning "wife of Thor" in Norse
Tyra – meaning "goddess of battle" in Norse
Vala – meaning "prophetess" in Norse
Dag- meaning "day"
Heimdallr- meaning "watchman."
Hel- meaning "queen of the underworld."
What is the luckiest name for a dog?
Male Dog Names Meaning Lucky
Asher means fortunate
Aiden – Irish name meaning little fire
Barron means lucky and valiant
Blaze means a lucky omen
Baruch – Hebrew for blessed
Etan – Hebrew for safe
Caden – Irish name meaning "spirit of battle."
Chance – English name meaning "luck, fortune."
What do Norwegians name their dog?
There are many great Norwegian names for dogs. Some of our favorites include:
Bjorn – meaning "bear."
Erik – meaning "ever-ruler."
Gunnar – meaning "warrior."
Ivar – meaning "bow warrior."
Leif – meaning "heir" or "descendant."
Sven – meaning "boy" or "lad."
Ulf – meaning "wolf."
Viggo – meaning "warrior."
Thor – meaning "God of thunder."
Freya – meaning "lady" in Norse
Hela – meaning "goddess of death" in Norse
Inga – meaning "beautiful."
Loki – meaning "trickster god" in Norse
Odin – meaning "the all-father."
What is a Nordic mix dog?
Nordic mixes include the following dog breeds:
Alaskan Malamute
Broholmer
Finish Lapphund
Samoyed
Swedish Vallhund
Finnish Spitz
Norwegian Buhund
Norwegian Elkhound
Norwegian Lundehund
Danish-Swedish Farmdog
Karelian Bear Dog
Lapponian Herder
Icelandic Sheepdog
Hokkaido
Kai Ken
What is the biggest fluffy dog breed?
Below are 10 big fluffy dog breeds:
Bichon Frise
Samoyed
Chow Chow
Pomeranian
American Eskimo Dog
Old English Sheepdog
Komondor
Newfoundland
Leonberger
Great Pyrenees
Conclusion Best Scandinavian Dog Names
Finding the perfect name for your new dog may sound daunting, but as long as you narrow down your top ten or so names, you won't have to worry about any last-minute naming troubles when bringing your dog home. 
You can also consult your friends or family about your name selections and vote on which one sounds the best. It's an excellent solution that gets everyone involved with the new dog and an opportunity to find new names you hadn't thought about. 
Regardless of what you pick from our list of the 136 best Scandinavian dog names, your top choice should resonate with you and reflect how you see your dog. It may also be wise to call your dog a few times with each of your name choices; the one they respond to the most should be the one that sticks. The sooner you decide on your dog's name, the more time you can spend building your bond with them.
You will also like:
Garrett loves animals and is a huge advocate for all Doodle dog breeds. He owns his own Goldendoodle named Kona. In addition, he volunteers at the Humane Society of Silicon Valley, where he fosters dogs and helps animals. Garrett enjoys writing about Doodles and believes that dogs can teach humans more about how to live than humans can teach a dog.
Why Trust We Love Doodles?
At We Love Doodles, we're a team of writers, veterinarians, and puppy trainers that love dogs. Our team of qualified experts researches and provides reliable information on a wide range of dog topics. Our reviews are based on customer feedback, hands-on testing, and in-depth analysis. We are fully transparent and honest to our community of dog owners and future owners.