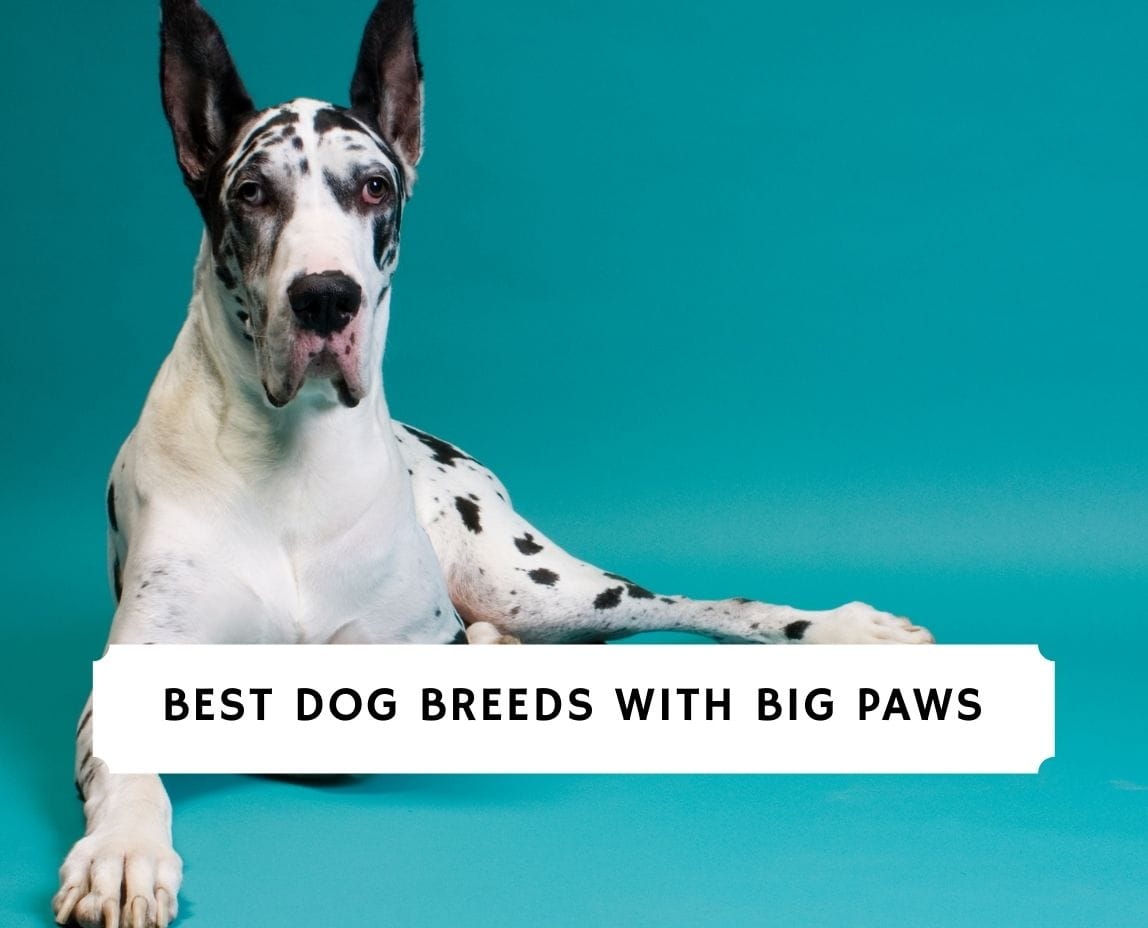 Are you searching for dog breeds with big paws? Have you ever looked at your dog and thought, "wow, what big paws you have." Well, there are many dog breeds with big paws.
Some of these breeds are big overall, while others have small bodies but disproportionately large paws. Below we will discuss what breeds have the biggest paws and why they have them.
Before scrolling down this list of dog breeds with big paws, check out these other dog lists: Best Barn Dog Breeds and Most Popular Dog Breeds in Nigeria.
1. the Great Pyrenees
The Great Pyrenees are known for being gentle giants. These dogs have appearances akin to a polar bear but with the gentleness of a newborn baby. With their vast size, there should be no surprise that these dogs have some of the largest paws among dogs.
These dogs were initially bred in the snowy mountains of Europe. This rough terrain meant that Great Pyrenees needed large paws that provided them with traction. Additionally, at the time, the Great Pyrenees were used to protect sheep from being attacked by wolves.
Therefore, their large size, including their paws, was needed to fight. The Great Pyrenees are known to use their paws as a method of expression. This is referred to as the Pyr Paw.
The Pyr Paw is used when your dog wants to get your attention. Commonly you will notice your Great Pyrenees have a seat, then the next thing you know, one of these huge paws ends up in your lap.
2. Great Dane
Another "great" dog on our list, Great Danes, are known for their huge paws to support their huge bodies. Great Danes are considered one of the largest dog breeds in the world. The average Great Dane stands between 28-32 inches tall and weighs between 110-175 lbs.
Therefore, these dogs need their large paws to support their size and weight. Great Danes originated in Germany, where they hunted wild boars. Therefore, their large paws provided stability while chasing and hunting these animals.
Some Great Danes have developed webbed feet over time. This means some Great Danes are better equipped for the water than others. Webbed paws also help Great Danes travel through mud and snow more efficiently.
One of the key identifying factors of Great Dane puppies is their huge paws. These paws are designed to support their future adult bodies, so they look comically large compared to their puppy-sized bodies.
Don't worry; this is only true for a few months as your Great Dane will grow larger and larger by the day. These dogs eventually develop into massive animals proportionate to their paws. However, their puppy days are often spent tripping over their feet.
3. Newfoundland
Another recognizably large dog on our list, Newfoundlands, has huge paws to match their massive bodies. These dogs are skilled swimmers, and their feet play a vital role in this activity.
Newfoundland paws are webbed, which helps propel them through the water easier. As their name suggests, these dogs are native to the Canadian province of Newfoundland.
These large working dogs were used to assist in loading ships and retrieving fishing materials from the water. Therefore, their large paws helped them be the best workers possible. Newfoundlands are known for their huge stature. Standing 26-28 inches tall and weighing between 100-150 lbs, their paws are proportionate to their massive body.
So, they need these large paws to support their own body weight. However, the feet look even more prominent on these dogs because of the dense fur found all over their bodies.
4. Saint Bernard
Originating in the mountains of Switzerland and Italy, Saint Bernards are colossal canines with the paws to match. The cold temperatures of these areas meant these dogs needed to be large and hardy.
These dogs can weigh up to 180 lbs, so they need these massive paws to support their heavy bodies. Saint Bernards were used for search and rescue missions in the Italian and Swiss Alps. This frequent exposure to snow and ice required large paws with lots of traction.
Therefore, Saint Bernards have paws that span over six inches in width. In addition to their sheer size, Saint Bernard's paws also have large paw pads and webbed toes. Both of these aspects help Saint Bernards to stay afoot on the icy, mountainous terrain.
5. English Mastiff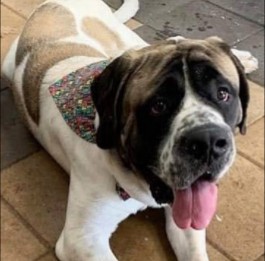 Crowned the largest dog breed globally, it's no surprise English Mastiffs would make it onto our list. Weighing in at a whopping 230lbs, English Mastiffs require paws to support their enormous size and weight.
English Mastiffs are an ancient breed that has fought against lions, tigers, and bears in Ancient Roman times. As time wore on, these dogs accompanied battalions into war. But, regardless of their ferocious past and huge stature, English Mastiffs, are gentle and affectionate dogs.
Unlike other Mastiff breeds (such as the Bullmastiff), English Mastiffs do not have webbed paws. However, they still love to play in the water. English Mastiffs use their big feet and immense strength to keep themselves afloat regardless of their lack of webbing.
6. Old English Sheepdog
Old English Sheepdogs are known for their fluffy fur and their bubbly personality. Although you cannot see the body under all its fur, these dogs are large and muscular. This includes their paws. As their name suggests, these dogs got their beginnings in England.
Falling into the herding category of dogs, Old English Sheepdogs were originally bred to assist in transporting sheep to the marketplace. Therefore, these dogs need large, strong paws to keep them steady as they run alongside the sheep.
Their fluffy hair is one of their most distinguishing factors. Even Sheepdog puppies have this lush hair that typically covers their whole body, including their eyes. This hair makes their already large paws look even bigger. However, this is one of the most endearing traits of these beautiful dogs.
Related: Best Old English Sheepdog Names.
7. Portuguese Water Dog
As their name suggests, Portuguese Water Dogs spend a lot of time in the water. Therefore, they have developed large, webbed paws that help them to swim gracefully. Not only are these dogs are known for the webbed nature of their paws, but also the width of them.
Their paws act in a similar way to paddles, making them fast and efficient swimmers. Portuguese Water Dogs originate from the Algarve region of Portugal, which is known for its fishing villages and beaches.
These dogs helped with many different fishing duties, such as herding fish into nets and retrieving fishing gear. Therefore, their large paws have always been an asset to this breed.
Unlike most of the dogs on this list, Portuguese Water Dogs are considered medium-sized. However, their paws are large. So, you may notice their paws seem slightly disproportionate.
Some people even groom their Portuguese Water Dog in a way that accentuates the size of the front paws by shaving only the back half of the dog. This pays homage to the dog's strong swimming roots as it was the haircut used to reduce the shock a dog might feel when jumping into cold water.
Related: Best Portuguese Water Dog Breeders in the United States.
8. Akita
Akitas are another dog breed with big paws. These dogs are considered a national treasure of Japan, where they view them as a symbol of happiness, health, and longevity.
Despite the high status that these dogs hold, they were initially bred to be working dogs in the mountainous regions of Japan. Therefore, these dogs developed large paws to give them sturdy traction in the snow.
Additionally, Akita's paws are unique for reasons other than their large size. Like many of the dogs on our list, Akita's feet are webbed so they can keep on top of the snow. These act as a sort of natural snowshoe. More uniquely, these dogs have prominent dewclaws that help them gain traction while traversing ice.
Because of this, these dewclaws are often referred to as "ice picks." Many breeds have their dewclaws removed at a young age, but Akitas are historically known for keeping dewclaws intact.
Related: Best Akita Breeders in the United States.
9. Boxer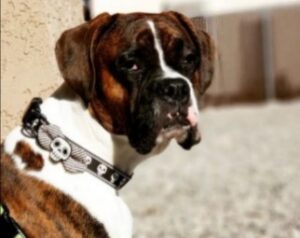 Another dog breed known for its massive paws is Boxers. Even their name conjures the image of a dog with boxing gloves on, and rightly so. It's believed that these dogs got their name from standing on their hind legs and using their large front paws to push each other as boxers do.
You may even see your Boxer do this to get your attention. As puppies, Boxers have disproportionately large feet that they are likely to trip over once in a while. However, as your Boxer gets older, its body will begin to catch up to the size of its paws, making it more proportionate.
Boxers are considered working dogs with ties back to 19th century Germany where they helped control cattle in slaughterhouses. Therefore, these dogs need large paws to keep them steady on their feet as they manage the large farm animals.
Related: Best Boxer Breeders in the United States.
10. Basset Hound
Lastly, we have reached the smallest dog on our list: the Basset Hound. These dogs weigh between 40-65 lbs and stand at approximately 15 inches tall. Despite these compact bodies, Basset Hounds have huge paws.
These dogs were bred to hunt, specifically using the scent of their prey. Therefore, these dogs have short legs that keep them close to the ground to detect odors easily. But at the bottom of these short legs are enormous paws.
Although short, these dogs are highly muscular, so they need these large paws to keep them steady while hunting. Additionally, Basset Hound paws turn outwards. This is because Basset Hounds have broad shoulders that can throw off their balance. Therefore, their feet naturally point outward to keep themselves stable.
Conclusion For The "Best Dog Breeds with Big Paws"
As you can see, there are a variety of reasons your dog might have big paws. Our list encompasses only some of the dog breeds with big paws in this world. However, these are the most common.
Remember, with big paws comes big responsibility. You should always make sure your dog's paws are taken care of and protected from extreme elements such as heat or cold.
You can discover many other dog breeds by checking some of our lists:
Learn more about the different types of dog breeds by watching "List of 100 Most Popular Dog Breeds in the World" down below: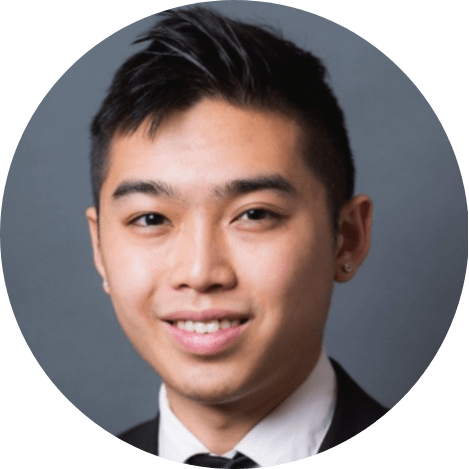 Andy is a full-time animal rescuer and owner of a toy doodle. When he's not saving dogs, Andy is one of our core writers and editors. He has been writing about dogs for over a decade. Andy joined our team because he believes that words are powerful tools that can change a dog's life for the better.
Why Trust We Love Doodles?
At We Love Doodles, we're a team of writers, veterinarians, and puppy trainers that love dogs. Our team of qualified experts researches and provides reliable information on a wide range of dog topics. Our reviews are based on customer feedback, hands-on testing, and in-depth analysis. We are fully transparent and honest to our community of dog owners and future owners.