If you're in search of the best Cockapoo dog names, you've come to the right place. Picking the perfect name for a companion can be a difficult task for many new dog owners. Whether you purchased a Cockapoo with a partner or you live in a house with a large family, one obstacle is choosing a name where both parties can agree on.
You should decide on a name as soon as possible so that your Cockapoo could be conditioned at an early age. Whether you're an experienced dog owner or a beginner, the process of choosing a name isn't an easygoing task. Fortunately, this guide will help you with name ideas along with a list of the best 100 Cockapoo names picked by our team.
Before you scroll down, we recommend checking out these guides to help you prepare for the arrival of your companion: Best Dog Food For a Cockapoo and Best Brush For a Cockapoo.
Girl Cockapoo Dog Names
Annie

Becca

Bea

Brooklyn

Eva

Aubrey

Ava

Bella

Chloe

Elsa

Harper

Hazel

Kayla

Lily

Maggie

Mia

Molly

Nova

Winter

Autumn

Summer

Piper

Ruby

Scarlett

Skylar

Stella

Zoey

Missy

Emma

Charlotte

Abi

Maila

Violet

Leah

Aubrey

Hailey

Gabi

Lydia

Jackie

Melody

Reenie

Iris

Ariel

Morgan

Kali

Cece

Mary

Kendall

Zuri

Elaine
Boy Cockapoo Dog Names
Vinny

Stefan

Rohan

Pablo

Teddy

Marcelo

Lorenzo

Lucca

Alan

Colin

Conner

Corey

Damien

Derrick

Gary

Gavin

Mitchell

Noel

Robin

Carter

Eli

Evan

Jonah

Landon

Parker

Benji

Cooper

Max

Milo

Rocky

Bentley

Winston

Ollie

Finn

Murphy

Bruno

Gunner

Hunter

Simba

Baymax

Theo

Odin

Frankie

Bubba

Remy

Jimmy

Sparky

Chewy

Coco

Otis
Cockapoo Food and Drink Names
Peanut

Sushi

Sesame

Nacho

Muffin

Cookie

Oreo

Cinnamon

Coconut

Cupcake

Meatball

Berry

Jello

Butterscotch

Nutella

Peachy

Jellybean

Skittles

Tofu

Boba

Miso

Udon

Sashimi

Noodles

Brisket

Siracha

Tapatio

Bulgogi

Kimchi

Japchae

Soda

Tempura

Sausage

Bacon

Apple

Crouton

Popcorn

Donut

Honey

Yogurt

Bagel

Pancake

Pretzel

Cabbage

Taco

Lemon

Cherry

Modelo

Basil

Chestnut
Tips For Choosing Your Cockapoo Dog Name
Finding the perfect name for your Cockapoo can take up weeks of your time. Especially when you're bringing it home to a family, you have to decide on a name where everyone in the household agrees. Try to have your Cockapoo's dog name ready as soon as possible (before it arrives in your home) so your companion can condition and get used to its name. If you're still struggling on finding the perfect Cockapoo dog name, check out our list of name tips below to help ease your process.
Decide on a name that's simple and easy to remember. According to experts, you should choose a Cockapoo's name that's less than 3 syllables. It'll be easier for you and your companion at the same time. If you've already decided on picking a long name for your

Cockapoo

, try to at least shorten it with a nickname. There are several good reasons why your dog's name should be under 3 syllables. It'll be easier for you to call your

Cockapoo

during training, your dog will understand it better, and people that meet your dog won't be confused.
Choose any name that doesn't sound similar to your Cockapoo's commands. Before you decide on choosing a name, think of the commands you'll be teaching your

Cockapoo

. You don't want your Cockapoo's name to rhyme with these commands. It'll cause more confusion for your companion, which could make training more difficult for you.
Your Cockapoo's name should be easy to pronounce. As mentioned above, you want a name that's basic enough for you to pronounce. During training, a long name could confuse your dog. You could be repeating the same name over and over. Another reason why you should choose an easy name to pronounce is to make it easier for people. Imagine introducing your

Cockapoo

to your friends and strangers. With a name that's easy to pronounce, you're making it easier on yourself and everyone.
You don't want a

Cockapoo

name sounding similar to your friends' or family's names.

Just like commands, you don't want your Cockapoo's name to rhyme with your friends' or family member's names. Keep this in mind during your name selection process. When you have your companion's name sounding similar to the people around you, it'll only cause more confusion for your dog.
Choosing The Appropriate Cockapoo Name
At this point, you probably have an idea of your Cockapoo's appearance. Whether you're waiting on your Cockapoo breeder or planning to check out a rescue, try to have that perfect name ready as soon as possible. To help you choose the appropriate Cockapoo dog name, here are a few pieces of advice to help you.
Observe the features of your

Cockapoo

. Once you see what your

Cockapoo

looks like whether online or in person, you can find a name that describes its appearance. You can name it after things based on the Cockapoo's colors or any unique features.
Start with a list and eliminate each name one at a time.

In the beginning, you should have a list of names you like. Write them all down. Once you feel like your list is completed, you can go over the list with friends or family members eliminating one at a time. As you go through each name, think of the pros and cons and whether it'll be easy for people to pronounce or not.
Cockapoo Dog Breed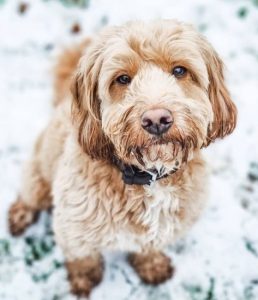 Mixed between the Cocker Spaniel and Poodle, the Cockapoo is an affectionate dog breed that loves the attention of people around them. For a Doodle breed, they're quite the charm and adorable in many ways. While the Cockapoo is generally small in size, they have an enormous personality. People describe them as a "clown" with a big heart. This Doodle breed originated in the 1960s and has been increasing in popularity within the last several decades.
With the intelligence of a Poodle and the colors of a Cocker Spaniel, the Cockapoo could easily be trained whether you're a beginner or expert alike. Perfect as a lap dog, therapy dog, and guard dog – the Cockapoo is appreciated by many people around the world even though they were initially bred as "designer dogs."
Whether you live with family members or with other pets, the Cockapoo is known to be a social dog. They'll find ways to interact in exchange for your attention. Since their social dogs, leaving them alone could lead to separation anxiety. The Cockapoo has a wavy coat, which means that they won't shed as much compare to dog breeds with straight coats. The coat colors of the Cockapoo generally depends on the color of its parent breed, the Cocker Spaniel. Hopefully, this information will help you brainstorm the perfect Cockapoo name for you and your family.
Conclusion For The Best Cockapoo Dog Names
Remember, the name you choose for your Cockapoo companion will stick it forever. It's important that you the appropriate name for your dog. You can ease the process by observing the appearance of your dog and its behavior. To make training and giving commands a little less difficult, try giving your Cockapoo a name that doesn't rhyme with your commands or people around you.
It's going to be the name you'll be calling for breakfast, lunch, and dinner. You'll be calling this name to go on walks or the park. Once you find the perfect name for your Cockapoo, you'll be entering a new chapter in your life with the introduction of a new character in your story. After you find the perfect name, it'll be a name for you to cherish and remember for the rest of your life.
For more guides similar to "Best Cockapoo Dog Names," feel free to check out:
For more Cockapoo dog name ideas, watch this video below: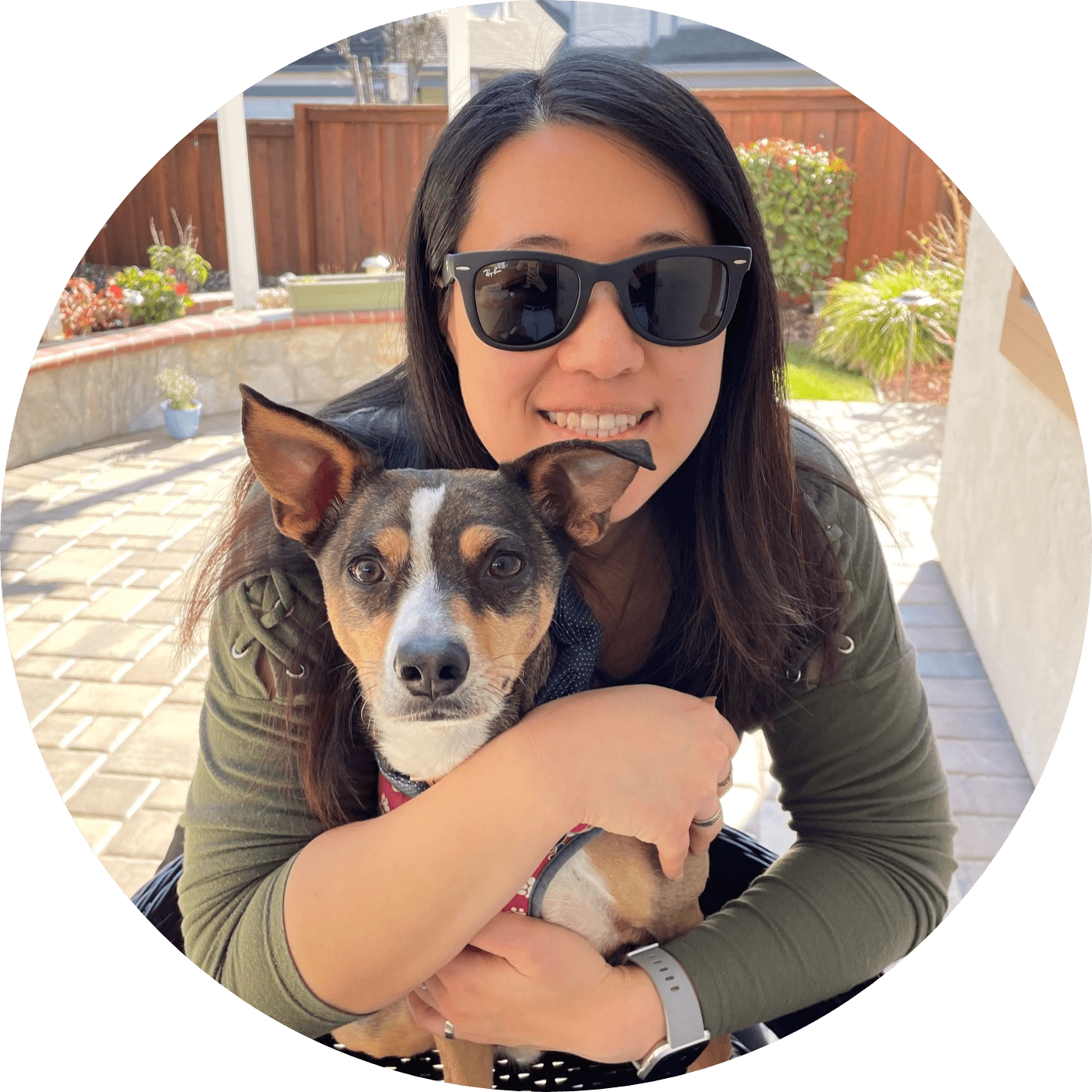 Dr. Sabrina Kong graduated from the Royal Veterinary College in England in 2016 and has been working at a small animal clinic in Northern California since then. She grew up in the Bay Area and got her bachelor's degree from Cal Poly San Luis Obispo. She also became a Certified Canine Rehabilitation Practitioner through a program at the University of Tennessee.
When she isn't in the clinic taking care of her four-legged patients, she enjoys traveling and trying new foods with her friends and her three-legged dog, Apollo. She adopted Apollo from her clinic when he was a puppy with numerous health issues. Dr. Kong truly cares about taking care of animals.