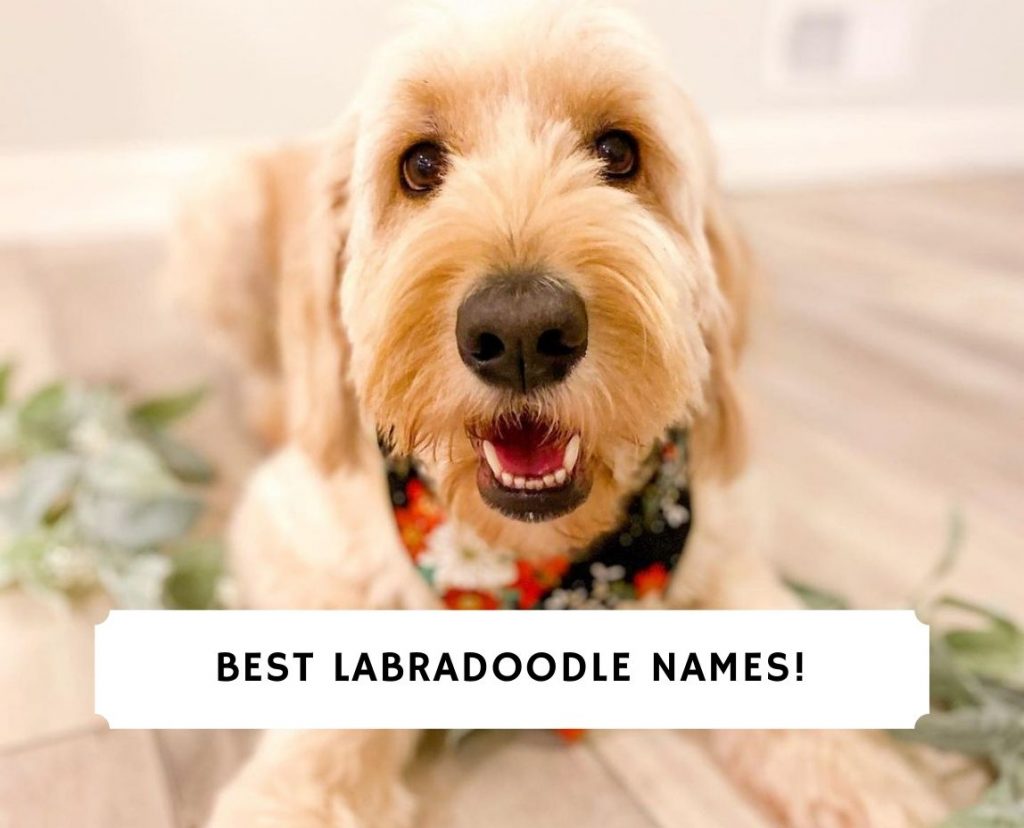 The Labradoodle – a mix of the Labrador and the Poodle is a very popular hybrid of dogs. They are adorable, playful, and easy to train. If you're looking to adopt one, you'll need to think of a name to give it. Luckily, you've come to an excellent place to get inspired. Check out this amazing list of Labradoodle names!
Check out these other articles: Best Dog Food for a Labradoodle and Best Crate for a Labradoodle.
Girl Labradoodle Names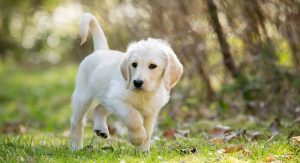 Most of the female Labradoodle names mentioned below are often used, and you may find them familiar. The best names for your dogs the ones that are easy to pronounce, one or two syllables, and don't sound similar to a command. Check these girl Labradoodle names out!
Annie
Janie
Brooke
Kimmy
Lila
Mia
Maddie
Sadie
Penny
Zoey
Stella
Bella
Alice
Bailey
Cali
Phoebe
Piper
Molly
Delia
Gracie
Georgia
Cassidy
Leia
Sage
Nina
Keira
Blair
Holly
Lexi
Kylee
Shelby
Gwen
Millie
Daphne
Nadia
Demi
Sasha
Willa
Tatum
Hattie
Boy Labradoodle Names
If you put a deposit down or recently adopted a boy Labradoodle, you've got to choose the most appropriate name for it. Check out these easy to pronounce names!
Eliot
Alvin
Angus
Arnie
Ash
Barny
Bash
Baxter
Archie
Beck
Alp
Faris
Bo
Floyd
Bowie
Brady
Callan
J
Cam
Chaz
Danny
Eli
Ewan
Basil
Fritz
Gulliver
Izzy
Ford
Frankie
Ike
Henri
Howie
Fynn
Gabe
Gene
Graham
Goro
Harvey
Heath
Huc
Cool Labradoodle Names
If you need more creative theme-based names, we've got you covered. Judging from how energetic Labradoodles are, we were able to come up with some cool names. Keep your puppy in mind while browsing through this list. You will eventually find the perfect name!
Flint
Archer
Dash
Chance
Geo
Cliff
Colt
Swift
Bronco
Derby
Ace
Flash
Hunter
Presley
Sonic
Flip
Gale
Cruz
Phoenix
Cheyenne
Gunner
Aurora
Liberty
Aero
Hermes
Skye
Jagger
Journey
Felix
Aspen
Cute Labradoodle Names
Since Labradoodles are loving and affectionate, you may want to choose a cute name for yours. Feel free to check out the below-given cute names. You might find just what you need.
Angel
Baby
Jewel
Coy
Starry
Dandy
Belle
Joy
Blossom
Flora
Petunia
Lovely
Harmony
Serena
Royal
Fleur
Buddy
Haven
Miracle
Honey
Bean
Dreamy
Sunny
Heaven
Precious
Daisy
Bonny
Candie
Felicity
Darling
Angie
Lily
June
Clementine
Poppy
Unique Labradoodle Names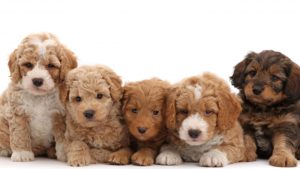 We've compiled a list of unique Labradoodle names that do not readily come to mind. If you want to give your puppy a unique name, then you've got to check this out.
Riley
Aidric
Lotus
Magnolia
Amory
Aeryn
River
Logan
Peyton
Char
Aria
Analise
Paisley
Oaklee
Sienna
Lennox
Skylar
Destiny
Harper
Alora
Zuri
Serenity
Jade
Rayne
Clover
Melody
Emerson
Rainy
Ivy
Faith
London
Parker
Harlow
Carter
Sloan
Reina
Zelda
Crystal
Finley
Samara
Australian Labradoodle Names
You may want to take naming cues from other origins. However, since Labradoodles were first bred in Australia, we've compiled a list of Australian Labradoodle names. Check them out below!
Dainen (Male – A Kindhearted individual)
Aari (Male – Mountain of Strength)
Jokull (Male – Joyful, Jolly)
Daryllyn (Female – Beautiful One)
Centaine (Female – An admirable individual)
Bastian (Male – Venerable, Honored)
Bayu (Male – The Wind)
Ghy (Male – Pond, Pool)
Jimi (Unisex – Independent)
Alisah (Female – Great Happiness)
Keily (Female – Boomerang)
Jondy (Female – Kind, Joyous)
Hastie (Male – Son of Austere Man)
Moona (Female – Gives or Provides Light)
Danian (Male – Famous Warrior)
Alle (Male – Defender, Protector, Helper)
Norin (Male – Honorable, Moral)
Rashtin (Male – Truthful)
Tumai (Male – Trustworthy)
Daynan (Female –Kindhearted Being)
Aayla (Female –Top of the Mountain)
Miao (Male – Delightful, brilliant)
Addi (Male – Noble, Nobility)
Alyne (Female – Endless)
Chocolate Labradoodle Names
You may name your Labradoodle puppy based on its appearance. If you recently adopted a chocolate Labradoodle puppy, you can get naming inspiration from the list below. This list contains names that are associated with sweet things.
Coffee
Fudge
Brownie
Sundae
Chip
Delight
Dulce
Tasty
Coco
Chestnut
Sweetie
Espresso
Cookie
Bean
Mocha
Chocolate-Chip
Truffle
Mud Pie
Sugar
Bonbon
Black Labradoodle Names
If you're looking for the most suitable name for your black Labradoodle puppy, we've got you covered. Our list contains the best black Labradoodle names. Some of them have mystical meanings, and others make references to the night. Feel free to check them out.
Noir
Dusky
Onyx
Luna
Nocturne
Shirina
Galaxy
Atieno
Blackout
Celeste
Charcoal
Orpheus
Jet
Shadow
Nightfall
Midnight
Ajambo
Twilight
Koko
Ilta
Frequently Asked Questions
What should I name my Labradoodle?
The 20 most popular Labradoodles names are the following:
Luna
Bella 
Lucy
Milo
Cooper
Charlie
Ollie
Teddy
Winston
 Tucker
Zoe
Bear
Maggie
Murphy
Bailey
Sadie
Stella
Beau
Bentley
Ellie
What is the rarest Labradoodle color?
The red-coated Labradoodle is one of the rarest and is darker than the apricot or gold Labradoodle coat. The red-coated Labradoodle should have a black nose, and the entire coat should be red from the hair tip to the base of the coat.
What is a unique name for a dog?
When choosing a unique name for a dog, you'll need to choose a name that matches your dog's personality and breed. For example, the American Kennel Club (AKC) has some of the most popular cute unique names.
Colombo 
Frisco
River
Roxie
Blue
Bogey
Body
Rumor
Shiloh
Skye
Karma
Kenzi
Kiver
Chaos
Chase
Chili
Kona
Lark
Laser
Zip
What is the number 1 dog name?
Our top ten list includes male and female most popular dog names such as the following:
Luna
Bella
Charlie
Lucy
Cooper
Max
Bailey
Daisy
Sadie
Lola
What is the coolest dog name?
Here are 20 cool dog names that are fun:
Pepsi
Phantom
Crew
Rex
Griffin
Lucky
Harley
Sable
Shades
Dingo
What is a powerful name for a dog?
There are numerous intimidating dog names that are powerful and unique.
Here are a few options:
Fang
Psycho
Killer
Revenge
Scull
Crusher
Krueger
Rage
Terror
Gremlin
Conclusion for Labradoodle Names
Your new Labradoodle puppy deserves the best name. Don't just name it the first thing that comes to your mind. Choose a name that suits your puppy's appearance and make sure it is easy to pronounce. I hope the list of names above helped in making your decision easier.
Other articles you might like:
Garrett loves animals and is a huge advocate for all Doodle dog breeds. He owns his own Goldendoodle named Kona. In addition, he volunteers at the Humane Society of Silicon Valley, where he fosters dogs and helps animals. Garrett enjoys writing about Doodles and believes that dogs can teach humans more about how to live than humans can teach a dog.
Why Trust We Love Doodles?
At We Love Doodles, we're a team of writers, veterinarians, and puppy trainers that love dogs. Our team of qualified experts researches and provides reliable information on a wide range of dog topics. Our reviews are based on customer feedback, hands-on testing, and in-depth analysis. We are fully transparent and honest to our community of dog owners and future owners.