If you know anything about Vikings, you know that they are a type of Scandinavian pirates who were prolific in northwestern Europe throughout the 8th to 12th centuries. These sea warriors are often cited as being strong, tough, and even dangerous.
As such, anyone or anything named after a Viking should have a solid and outstanding title. Whether you have a Scandinavian breed of dog or simply enjoy the culture behind the Viking era, you may be interested in Viking dog names.
You've come to the right place. We have many Viking dog names for you to check out for your puppy.
Other articles you would like: Evil Dog Names and 3 Letter Dog Names!
What Types of Viking Dog Names Are There?
We've categorized all of our Viking dog names for you to make this list a bit more organized and easier to follow.
First, we have some classics. We've added female Viking names for dogs as well as great male Viking dog names. These categories are pretty clear-cut and include many of the traditional Scandinavian Viking names.
Next, we'll showcase Viking god and goddess names. The Vikings were known for worshiping several gods and goddesses, much like the ancient Greeks or Romans. If you're looking for a great Viking dog name, you can't go wrong with one of these almighty titles.
Finally, we know that we must have some football fans reading this, wondering how they ended up on a page full of Scandinavian Viking names.
All you wanted were some excellent Minnesota Vikings dog names. If you're looking for the names of famous players from the favorite national football team, we've got you covered here as well.
Female Viking Names for Dogs
Let's start with the basics. Here are some cool Viking names for dogs that are female.
Magna
Magna is a name meaning "strong." It's ideal for tough female breeds.
Aina
We all wish our dogs could live forever. While they can't, the name Aina is Scandinavian for "forever" and represents that bond.
Ivana
Ivana is Slavic and means "God is gracious."
Kindra
Kindra means "the greatest champion."
Thora
This female version of the name Thor is perfect for Marvel fans.
Frida
The name means peace, which gives a beautiful image.
Triska
This beautiful name represents the gorgeous and well-known metal, silver.
Humla
Humla has a nice ring to it; it's Scandinavian for bumblebee!
Nanna
A sweet name with a fierce meaning, Nanna, means daring and brave.
Bruna
Latin for brown hair, Bruna is ideal for brown dogs.
More Female Names
Below is a list of additional female Viking names for your female dog.
Astrid
Hella
Ursa
Valkyria
Lagertha
Berthe
Aslaug
Vinga
Norberta
Ingrid
Katla
Mielikki
Lova
Freyja
Alva
Alfhild
Branka
Arne
Bylgia
Dagr
Laufey
Marianne
Gertrud
Gunhild
Ulli
Ulf
Skadi
Sol
Rane
Saga
Erlene
Solveig
Yulla
Svana
Eir
Hilde
Holga
Chara
Fulla
Dangy
This list of names gives you plenty of options for your female pup.
Viking Dog Names for Males
The great thing about male Viking names is that they are all strong, robust, and tough-sounding. They're perfect as a name for a big, muscular dog. However, they can be quite a comical name for a smaller breed.
Arkin
Arkin is a bold and robust name meaning "son of the eternal king."
Magni
Another intense name, Magni, means "brute force and strength."
Finn
Finn is a sweet name for a male dog and perfect for hunting dogs; it means "finder."
Mjollnir
Thor may be a popular male dog name, but Mjollnir is the name of Thor's great hammer.
Revna
Perfect for a sleek, black pup, Revna means "raven."
Garmr
If you're looking for a ferocious Viking name for your dog, go with Garmr. This intense name describes a blood-stained dog that guards the gates of hell.
Alfheim
Alfheim is the word for an elf. It's great for small dogs.
Jotun
Do you have a large dog? Name him Jotun. It means "the giant that fights gods."
Cortie
Cortie is a cute male name that means short.
Kappi
Kappi is Icelandic for a warrior. Plus, it's fun to say.
More Viking Dog Names for Male Dogs
Here are some more of our favorite Viking names for male dogs.
Afi
Alvis
Asgard
Bloodaxe
Kraken
Ivar
Gandalf
Berserker
Fenrir
Bein
Bjorn
Mare
Ander
Burr
Axel
Fasta
Alfoor
Olaf
Buri
Raider
Brann
Aros
Fitch
Hammer
Berg
Sindri
Bodolf
Garth
Susi
Sunna
Ymir
Jarv
Leif
Vi
Ironside
Denny
Vali
Huginn
Hauk
Kari
This list gives you tons of great options for the name of your male dog, whether you're looking for a Slavic classic or a mythological story.
Viking God Names for Dogs
Thanks to the rise in popularity of the Marvel cinematic universe, which features a depiction of the Viking gods, including Thor, Odin, and Loki, Viking god names have become an excellent choice for pets. Check out some below.
Baldur
Baldur was the son of the great god and goddess Odin and Frigg, respectively, and was known as a beautiful and gentle god.
Heimdall
Heimdall is a guardian who protected the rainbow bridge connecting earth and Asgard, the home of the gods. He is known for his impressive hearing and sight.
Frey
Frey was part of a brother-sister duo, Frey and Freya. This god led elves and dwarves and rode on a chariot pulled by a golden pig.
Njord
Njord was a wealthy, powerful god who controlled money and served as the god of fertility.
Odin
Odin was the god of knowledge, wisdom, war, and poetry, Odin was the most important and influential. He ruled the other gods and was also called All-Father.
Thor
Thor has undoubtedly become a household name thanks to Marvel's depiction of him in the Thor movies. He is the son of Odin and the god of thunder.
Loki
Loki is yet another name made famous by Marvel movies. The adopted son of Odin, Loki was not technically a god and used his power to play dangerous tricks.
Tyr
Tyr was another son of Odin, and he was known for his stunning bravery. He was worshiped by warriors and upheld justice and law.
Hermond
Hermond is yet another one of Odin's sons. After Loki accidentally killed Baldur, Hermond ventured to the underworld to find him.
Viking Goddess Names for Dogs
Just like every king needs a queen, every Viking god must have his goddess. If you've got a furry, four-legged goddess of your own taking up residence on your couch, you must take a look at these Viking goddess names for dogs.
Fates
Technically, the Fates were three goddesses under one title. They believe everyone is connected by fate. These characters are also present in Greek history.
Freya
Freya was the sister of Frey and stood as the goddess of love, war, and fertility. Her golden tears were reserved for Viking warriors who died in battle.
Frigg
Frigg holds fame as being the wife of the great god Odin. She is the queen of all Viking goddesses and is known for her deadly combination of wisdom and wicked temper.
Idunn
Although one of the minor goddesses, Idunn grew the magical, golden apples that kept the gods young and healthy.
Sif
Sif was the wife of the great god Thor. She boasted long, beautiful hair and controlled the earth's harvest.
Minnesota Vikings Dog Names
Die-hard football fans are a breed of their own (speaking of dogs). Fans love to include their pets in fun, giving them names related to a sport, a team, or a particular player.
If you're a Minnesota Vikings fan, then you'll definitely want to check out this list of Minnesota Vikings dog names.
Viking
Display your Vikings pride by keeping things simple; name your pup Viking!
Teddy
Two words: Teddy. Bridgewater.
Thielen
The name Thielen also sounds like it could be a Viking god name.
Zimmer
Mike Zimmer was the Viking's coach from 2014 to 2021, and his last name sure is fun to say.
Mick
Mick Tingelhoff started every game for 17 years in a row.
Randall
Randall McDaniel was one of the best guards of all time.
Moss
You could also go with Randy. Either would honor this great wide receiver.
Marshall
Jim Marshall has the league's second all-time most consecutive starts.
Studwell
Studwell. Can you think of a greater name for your studly dog?
Cook
It's a running back, it's an adorable name, and we love it.
More Minnesota Viking Dog Names
Here are some more Minnesota Vikings dog names to consider:
Browner
Blair
Chuck
Foreman
Yary
Page
Alderman
Winston
Greenway
Dixon
McKinnie
Riley
Birk
Rudolph
Wally
Tarkenton
Winfield
Steussie
Eller
Doleman
Stocker
K.J.
Woods
Mattison
Kirk
Vigil
Dalvin
If you're looking to honor some of the greatest Vikings players of all time, this is a great list to go off of.
Conclusion for Viking Dog Names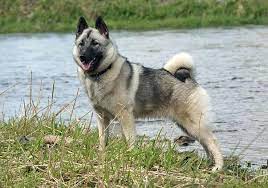 Whether you're talking about Scandinavian warriors or prominent professional football players, Vikings have a solid and exciting history. It's not hard to see why someone would want to pick a Viking name for their dog.
The list above gives you over 150 Viking options to choose from, including a long list of Scandinavian and Norse names. We hope you find the perfect fit for your furry friend!
Other articles you would like:
Garrett loves animals and is a huge advocate for all Doodle dog breeds. He owns his own Goldendoodle named Kona. In addition, he volunteers at the Humane Society of Silicon Valley, where he fosters dogs and helps animals. Garrett enjoys writing about Doodles and believes that dogs can teach humans more about how to live than humans can teach a dog.
Why Trust We Love Doodles?
At We Love Doodles, we're a team of writers, veterinarians, and puppy trainers that love dogs. Our team of qualified experts researches and provides reliable information on a wide range of dog topics. Our reviews are based on customer feedback, hands-on testing, and in-depth analysis. We are fully transparent and honest to our community of dog owners and future owners.