Choosing a name for your puppy can be exciting and even a little overwhelming. Luckily, we've gathered a list of over 150 cute dog names ending in Y (and some in IE) for you to consider. Some of the names would also fit a person, but some are definitely more suited for your lovable pet.
Many of these are two-syllable dog names ending in Y. Because they contain more than one syllable, you can add a positive, friendly inflection to the end of puppy names ending in Y.
Other articles you would like: Best Dog Names ending in IE and Three Letter Dog Names!
Human-Inspired Boy Dog Names Ending in Y
If you like the thought of giving your puppy a human name while keeping it cute, choosing a human-inspired name that ends with a Y can add that playful lightness to the name. Here are some names to consider for your new best dog pal.
Andy
Arty
Bubby
Barney
Barnaby
Barry
Dusty
Erny
Franky
Kippy
Lenny
Morty
Olly
Ralphy
Sunny
Tommy
Tony
Willy
Human-Inspired Girl Dog Names Ending in Y
Here are some great human names that work well for a dog too:
Abbey
Britteny
Bailey
Casey
Dolly
Franny
Ginny
Harley
Holly
Izzy
Ivy
Jessy
Kelley
Kathy
Lilly
Lucy
Lacey
Maisey
Maggy
Nelly
Polly
Rosy
Ruby
Sally
Tabby
Unique Names for Dogs
If you want to stray away from choosing a human-inspired name, you can name your puppy based on their appearance or personality. You could also choose a name based on other creatures (real and mythical). Here are some adorable and unique dog names to consider.
Boppy
Boppy is a great name for a Springer Spaniel. Bopping around is in the breed name!
Blimpy
Do you know those dogs that just want to eat, eat, eat? Well, Blimpy might be the perfect name for such a dog.
Bunny
Bunny is a cute name choice for a long-eared puppy.
Candy
Candy is a cute choice for a super sweet dog.
Cherry
Cherry could be an adorable name for a sweet little dog.
Clicky
Clicky is an excellent choice for a dog who always clicks his nails across your wood floors.
Comfy
If your puppy likes nothing more than to snooze all comfortable, curled up on the couch, then this name might be perfect for him.
Ditsy
Ditsy would work well for a very silly puppy.
Disney
Disney is an excellent choice for a dog with a sparkling personality.
Destiny
Destiny is a sweet choice for a rescued dog who got a second chance with you.
Derpy
Celebrate that ridiculous puppy in your life who's always falling over himself with this funny name.
Dobby
Got a puppy with big silly ears? Naming him "Dobby" would be the perfect fit, especially for Harry Potter fans.
Elfy
Elfy is an adorable name for a mischievous, fun little puppy.
Ebony
For those beautiful, black-coated dogs, Ebony is a great choice.
Easy
Easy is an excellent choice for that mellow puppy in your life.
Froggy
Froggy is the perfect name for a frog-looking Boxer or Bulldog.
Floppy
This name is perfect for those puppies who just always want to flop over in your lap. Or, choose it for a dog with floppy ears.
Fairy
If your puppy looks like a little woodland creature, consider naming her Fairy.
Feisty
Feisty is a fun choice for a small trickster of a dog.
Glowy
Glowy could work well for a fancy dog!
Gilly
Gilly could be a super cute choice for dogs who love to swim!
Gumby
Gumby is another great name for a silly-looking or acting dog.
Howdy
Howdy is an excellent choice for a puppy who is always thrilled to see you.
Hoppy
Hoppy is great for jumpy little dogs like chihuahuas or Jack Russells.
Happy
If your dog is all happy energy all the time, then you might as well name her Happy!
Honey
Honey is an excellent name for a super sweet, loving dog.
Impy
Impy is a great name for those trickster puppies.
Journey
The name Journey is an excellent choice for dogs who love to go for long walks.
Jolly
Jolly is an excellent choice for a happy-go-lucky puppy.
Jelly
If your puppy is always wiggly and squirmy, consider the name Jelly.
Kissy
Kissy is great for those puppies who are total love bugs.
Lady
Lady is a delightful name for regal puppies, or it could be a reference to Disney's Lady and the Tramp.
Lolly
Lolly is a cute name and a fun descriptor for a lazy, snuggly puppy.
Lucky
Lucky is always an excellent choice for rescued dogs.
Loppy
Loppy is a cute choice for long-eared puppies.
Loony
Loony is a perfect name for dogs who are always getting into some kind of silly mischief.
Missy
Missy brings to mind a small, prim, and sassy dog.
Moppy
Dogs with long, wire-haired coats would fit a cute name like Moppy.
Messy
If your dog just loves de-stuffing their toys, then consider the name Messy.
Matey
Matey's an adorable name for that dog who's your best mate!
Monkey
Monkey is a super cute name for a playful puppy who loves to "monkey" around.
Nutty
Got a crazy puppy full of energy? Consider naming him Nutty.
Nanny
Nanny is a great choice for puppies who love children and are sweet and docile.
Nosey
If your puppy is all about sniffing and following scents, consider the name Nosey.
Nessy
Is your puppy aloof? How about the name Nessy, which refers to the mythical creature of Loch Ness.
Polly
If you have a talkative puppy, consider the name Polly in reference to talkative parrots.
Pully
Pully could be a cute name for dogs whole love to play tug-of-war and are always excited on walks.
Poppy
Poppy could be a great name for a cute little dog who loves to pop up on your lap.
Pretty
If you're struck by your puppy's beautiful coat and markings, then consider the name Pretty.
Silly
Silly is a beautiful choice for a dog who always keeps you laughing.
Sassy
If your puppy has a robust and playful personality, then Sassy could be a great name.
Oggy
Oggy would work well for a well-rounded, snuggly dog.
Pippy
If you have a little upbeat dog full of energy, Pippy could be a great name for him.
Pappy
Pappy could be a delightful choice for an old hound like a long-eared bloodhound.
Questy
Questy could be a cute name for a dog who loves to go on adventures!
Rowdy
If your dog is super playful and has heaps of energy, then consider naming him Rowdy.
Rocky
Rocky is a lovely name for a strong dog.
Scooby
Scooby is a fantastic choice for a Great Dane.
Snoopy
Snoopy would make a cute name for a mischievous beagle.
Tuffy
Tuffy would be a sweet name for a dog who maybe looks tough but is a total sweetheart (as most tough-looking dogs are)!
Tanky
Tanky is an adorable name for those cute, wide-set English bulldogs.
Trusty
If your dog wants nothing more than to be right by your side, then Trusty could be an excellent choice for him.
Uppy
Perfect for small dogs who always want to be picked up.
Vampy
Vampy is an adorable name for a dog with bat-like ears.
Wonky
This name would be great for a puppy with an adorable over or under-bite.
Warty
Warty is a good choice for a smush-faced puppy who reminds you of a cute frog.
Woody
Woody is an adorable name for dogs who loves to fetch sticks.
Wiley
Wiley is a perfect name for mischievous, playful puppies.
Yippy
Yippy is a fitting name for a talkative little dog.
Yappy
Another talkative little dog name.
Zippy
If your dog wants nothing more than to run, consider the name Zippy.
Zappy
Zappy's a cute name for a dog who seems just to get random zaps of energy.
Dog Names That End in IE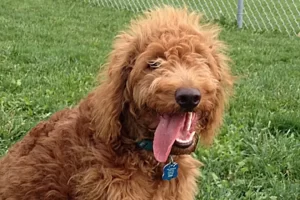 Consider the following names if you're looking for dog names ending in IE or Y. These names that end in IE will be pronounced the same with a unique spelling.
Annie
Alfie
Bestie
Bennie
Bernie
Bonnie
Boogie
Bessie
Chewie
Cutie
Cookie
Charlie
Ellie
Elfie
Ernie
Flossie
Gracie
Howie
Iggie
Jackie
Kenzie
Lassie
Mookie
Nessie
Ollie
Pollie
Queenie
Roxie
Silkie
Trixie
Ursie
Uggie
Winnie
Wallie
Yolie
Zarie
Considerations for Picking Your Dog's Name
We encourage you not to be afraid to take your time in picking your puppy's name. Naming dogs is more for our benefit than our dog's. since we could teach them to come to us by associating any sound with positive reinforcement. So, we encourage you not to worry about rushing to pick a name.
Personality
Take the time to get to know your dog and its personality, favorite activities, toys, foods, etc. Ask yourself:
Are they snuggly and lazy?
Are they full of energy and rambunctious?
Do they love long walks or prefer to tire themselves out playing fetch at high speeds?
Does your puppy enjoy the company of other dogs or like to stick by humans?
Is your puppy more reserved or silly and wiggly?
The answers to these questions can help you pick a great name for your furry friend.
Looks
Your puppy's appearance can also inspire a name. Some dogs look regal and similar to their wolf descendants, like huskies and shepherd breeds. In contrast, other puppies look adorably hilarious, like French bulldogs and pugs. Some dogs have wide stances, while others are long and lean.
Some puppies have coats that are long and black as night, while others, like the oh-so-adorable Pitbulls, have a very short coat that comes in a variety of colors. Many names can be derived from thinking about the physical characteristics of your puppy.
Conclusion for Dog Names Ending in Y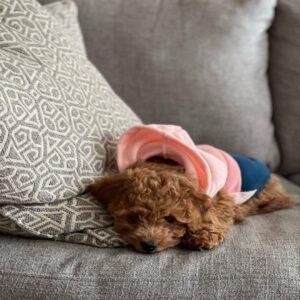 We hope this list of names inspires you when choosing your new sweet puppy's name. Enjoy the name hunt, and cheers to many wonderful years with your new best friend!
Other articles you would like:
Garrett loves animals and is a huge advocate for all Doodle dog breeds. He owns his own Goldendoodle named Kona. In addition, he volunteers at the Humane Society of Silicon Valley, where he fosters dogs and helps animals. Garrett enjoys writing about Doodles and believes that dogs can teach humans more about how to live than humans can teach a dog.
Why Trust We Love Doodles?
At We Love Doodles, we're a team of writers, veterinarians, and puppy trainers that love dogs. Our team of qualified experts researches and provides reliable information on a wide range of dog topics. Our reviews are based on customer feedback, hands-on testing, and in-depth analysis. We are fully transparent and honest to our community of dog owners and future owners.