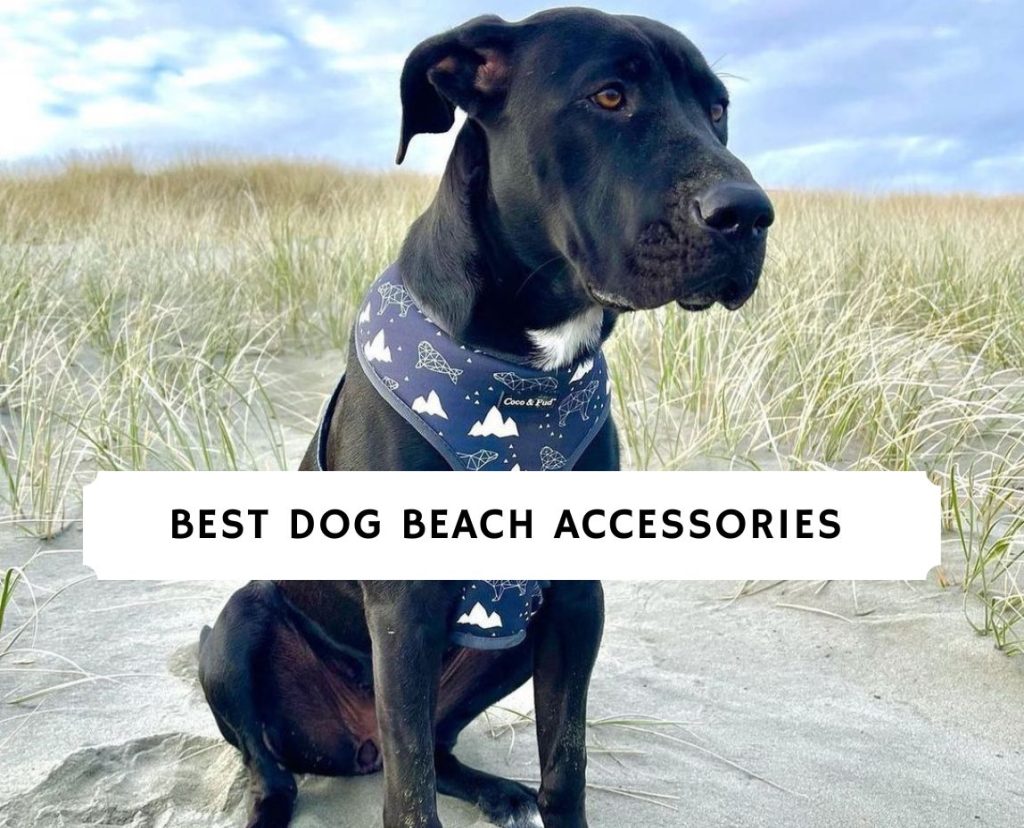 There's nothing quite like a fun day at the beach with your furbaby. But if you want your pup to enjoy it even more, there are a few accessories and considerations that can help make the experience extra special, like beach toys, a collapsible water bowl, doggie sunscreen, and a beach tent canopy for dogs. In this buying guide for the best nine dog beach accessories, we'll discuss the features that make each item a must-have for a successful day at the beach.
Beach Toys: A good selection of beach toys specifically designed for dogs is a must for any dog beach adventure. Look for durable toys made from materials such as rubber, canvas, and rope that can withstand water and sand. And be sure to pick toys that are the right size for your pup so he won't swallow them.
Collapsible Water Bowl: We all know how important it is for our fur babies to stay hydrated when playing at the beach. A collapsible water bowl is an excellent choice because it's lightweight and takes up minimal room in your beach bag. Look for one made from silicone or plastic with a broad base to prevent it from tipping over in the sand.
Dog Sunscreen: Spending too much time in the sun can lead to painful sunburns and other skin issues for your pup, so be sure to pack some waterproof dog sunscreen before heading out. You'll want to look for one that won't sting the eyes and is specifically made for dogs.
Beach Tent Canopy for Dogs: If your pup needs a break from the sun, consider bringing along a lightweight beach tent canopy designed specifically for dogs. 
These come in small, medium, and large sizes, so you can find one that's just right for your pup. They also make great shelters if it rains while you're at the beach.
These are just a few accessories to ensure your next beach day with your pup is memorable and fun. With these items and the other must-have accessories listed below, you can rest assured that your dog will be safe, comfortable, and having a blast at the beach.
Dog Beach Tents
There are a variety of different types and styles when it comes to dog tents. Some indoor ones give your pet something comfortable, while outdoor versions help them rest after an exciting day outdoors! 
You can take these convenient shelters with you on vacation or use one at the beach during times where there's too much sun for protection from the elements – whatever suits best works well here since they're designed specifically around what dogs need most: shade & airflow (plus visibility!). Here are our favorite accessories for a beach day with Fido!
Product
Best Overall
Love's Cabin Outdoor Elevated Dog Bed
Runner Up
Epi-Pet K-9 Care Sunscreen
Editor's Choice
SLSON Dog Bowl Pet Collapsible Bowls
Image
Product dimensions:
43 "L x 31.5 "W x 8" H (Frame), 36 "L x 31 "W (Mesh) Large up to 65 lbs.
49 "L x 35.5 "W x 8" H (Frame), 43 "L x 35 "W (Mesh) Medium up to 85 lbs.
This is an easy-to-assemble dog beach tent that's easy to carry and set up on the beach. This elevated pet bed is 8″ off the ground and works well for beach days keeping your dog cool and comfortable. The mesh fabric allows air to flow, while the canopy provides shade on hot days. The bed is also elevated off the ground, keeping your pet dry and clean. 
The takeaway with this beach dog tent is that it's crafted with durable Teslin mesh that allows air to flow through and a canopy to keep them cool on hot days. This is a good-sized tent that's perfect for all dog breeds. This product has over 5,700 positive reviews.
Features
Easy to assemble
Waterproof
Lightweight 
Well-built frame
 Screws and hex key included
Two sizes: medium and large
Polyester material
Breathable mesh
Raised dog bed tent
Over 5,700 positive reviews
This is a veterinarian-formulated sunscreen that's a must-have for all pet parents. Epi-Pet protects from UVA/UVB rays with an SPF equivalent to 30+. The ingredients include vitamin E and other ingredients that act as antioxidants and skin enrichers. It's a non-greasy and non-oily solution so that that beach sand won't stick to your pup. It's also ultra-water and ultra-sweat resistant and must only be re-applied every 2 to 4 hours if the pet is in the water or outdoors for more than 80 minutes.
This is the only FDA-compliant pet sunscreen with an easy spray application. We like this sunblock for the beach and dog sports because it's veterinarian developed and works well to prevent sunburn in dogs. In addition, epi-Pet protects against the development of malignant skin tumors such as melanomas, carcinomas, sarcomas, and mast cell tumors type II.
This product has over 3,000 positive reviews.
Features
Non-greasy, non-oily formula
Veterinarian formulated
Protects from UVA/UVB rays
A safe and quick dry formulation for dogs
Affordable
Spray-on application
Over 3,000 positive reviews
The SLSON dog beach collapsible bowls are made of high-quality soft plastic. These water and food pet bowls are durable, safe, and odorless. They are also lightweight and easy to fold away when not in use. 
Each bowl can hold up to 12 fluid ounces of water or 1.5 cups of pet food, making them one of the best collapsible water and food bowls for beach days. 
This product has over 18,700 positive reviews and is crafted with silicone material that is safe and non-toxic. These are dishwasher-safe and come with two carabiners to attach to the belt loop, backpack, or leash.
Features
Best value item
Pack of 2
Multiple (9) colors to choose from
Two sizes: small and large
Over 18,700 positive reviews
Silicone collapsible pet bowl for beach
Just add water to this refillable bottle made of recycled aluminum to create 16 ounces (474 ml) of shampoo – enough for multiple baths! And because the powder format is more sustainable than tabs, you'll be doing your part to reduce carbon footprints and costs across the supply chain. We like this cruelty-free dry shampoo for dogs because it's perfect for rinsing your dogs off at the beach. 
Alzoo is a concentrated shampoo powder that allows for gentle cleansing and deep conditioning while being kind to the planet. There's no single plastic use in this product and no shipping water. The takeaway with this pet product is that it's sulfate-free, paraben-free, dye-free, soap-free, and phthalate-free, and you get to use this refillable bottle over and over. 
Features
Eco-friendly
Cruelty-free
Plant-based ingredients
Concentrated dry powder formula
Free of parabens, sulfates, soap, dyes, and soap.
Best value product
Product Dimensions: Sizing: 3 ft. 3/4 in – 7 ft. 10 in (120 – 240 cm)
ZEE Dog's reflective hands-free leash is perfect for daytime or nighttime walks. This lightweight leash easily adjusts to fit around your waist, chest or can be used as a regular long leash. The durable metal hook is easy to open and close, and the E. Zee lock allows you to tether your leash to table legs, benches, etc. 
We like this dog leash for the beach because the reflective material woven throughout the leash allows for safe early morning and late evening beach walks. Unlike other hands-free leashes, this one features no complicated mechanisms or rings. This leash works well for all dog breeds and is easy to use. You can wear it around your waist, chest or use it as a regular leash.
Features
Gift worthy
Minimal design
Nine color options
One-size
3-in-1 reflective leash
Crafted with reflective material
Hands-free dog leash for the beach
Includes E-Zee lock
Lightweight at 9.59 ounces
This product has over 7,000 positive reviews and is the ultimate dog water fetch toy. This colorful bumper chew toy is designed with lightweight memory foam for fetching fun at the pool, beach, or lake. Durable rubber and foam construction provides long-lasting outdoor play, while the soft nylon exterior allows for comfortable catching and carrying.
The bright, eye-catching colors attract a dog's interest and allow high visibility for pet parents. The takeaway with Chuckit toys is that they are designed to take interaction with your dog to the next level. Chuckit creates toys that enrich the human-animal bond, and this one especially allows for family fun with Fido on the beach. The foam design creates buoyancy for water play.
The bumper rope toys are knotted for a secure grip and floats on water. It's soft on the dog's gums and teeth, made of nylon, rubber, and Eva foam that withstands aggressive chewing. Easy to clean, just rinse off after use in freshwater. 
Features
Beach toy for dogs
Ergonomic design
Orange and blue color
Two sizes: small and medium
Crafted from nylon, rubber, and EVA foam 
An extensive array of durable dog toys to choose from
Over 7,000 positive reviews
Colorful
Soft on teeth
The Flippy Flopper is the dog frisbee that brings fun and action to your game of fetch. With a unique design, this flying disc for dogs can be used in all weather conditions. 
The durable, multilayer nylon construction makes it safe on teeth and is designed for long-lasting outdoor use. This dog frisbee features bright colors with fun designs that make it easy to spot in the bushes, leaves, grass, or snow. 
The Flippy Flopper also floats in water, making it ideal for playing at the beach or lake. The lightweight material makes this interactive, and the soft lightweight material makes it buoyant. 
The Flippy Flopper comes in one size that is 9 inches in diameter and includes one dog Frisbee in each pack. This product has over 13,000 positive reviews and is a must-have for every pet-friendly home. 
Features
All-season dog toy
Six pattern options
Over 13,000 positive reviews
1 size- 9″ in diameter
Floats in water
 Durable, multilayer nylon construction
The Dirty Dog Shammy is one of our favorite super-absorbent microfiber shammies for the beach, absorbing more than 20 times more water, mud, and dirt than most brands. The shammy dries eight times faster than a standard cotton towel and is excellent for home use or after fun outdoors at the lake or beach. 
Your furbaby will love this super soft microfiber that's easy on fur and skin, and the two handles make bath time and beach time easy. The shammy can be quickly washed by tossing it in the washing machine when needed. This product has over 3,000 positive reviews.
Features
Crafted with a highly absorbent blend of fibers
Affordable
Polyester fabric
Suitable for the beach
Plush and soft fabric
Over 3,000 positive reviews
If you're boating with Fido, you'll need one of these lightweight doggie lifejackets. These are not for all-day beach use but for boating or water skiing trips. The Outward Hound Granby Splash life jacket for dogs is designed with bright colors and reflective accents to provide better swimming visibility. A front neck float helps keep your dog's head above water whether they are a novice or experienced swimmer.
The Outward Hound Granby Splash dog life jacket is constructed with ripstop material that provides maximum durability and comfort during long days on the lake, pool, or ocean. For added security, adjustable straps ensure a snug fit for your dog's girth size. This product has over 33,000 positive reviews- another must-have for every pet parent that enjoys a day out on the water.
Features
Best value deal
Polyester, polyurethane foam
Neoprene belly band for comfort
Foam chin panel to keep head up
Reflective piping for visibility
Front neck float
Adjustable straps
Good gifting item
Seven size options
Seven color options
Over 33,000 positive reviews
FAQ's Best Dog Beach Accessories
What do I need at the beach for my dog?
When bringing your pup to the beach, it's important to ensure you have all the necessary items. The essentials include:
A collapsible water bowl.
Durable beach toys.
Waterproof dog sunscreen.
A beach tent canopy for shade. 
These items will help ensure that your pup is safe and comfortable while experiencing all the joys of a day at the beach. Additionally, consider bringing natural remedies such as calming treats and essential oils to help reduce stress levels for anxious dogs. With these items on hand, your pup will be ready for a day of fun in the sun!  
How can I make my dog more comfortable at the beach?
Making your pup comfortable at the beach is easy with a few simple considerations. First, be sure to bring along enough water and provide plenty of shade if it's a hot day. Additionally, you should avoid taking long walks on hot sand and playing frisbee or fetch too close to the shoreline.
Provide your dog with shade and plenty of chances to rest. Limit your beach outings to shorter periods and ensure that your pup has proper protection from the sun with dog sunscreen. With these simple steps, you can help ensure your pup is comfortable while enjoying a day at the beach! 
Dog beach tips to protect your pup
Video credit: Fox 13 Tampa Bay
Not only is a day at the beach with Fido a stress buster, but it's a safe and effective way to help anxious dogs feel calmer. Natural remedies such as essential oils and calming treats may also help reduce their stress and anxiety. 
You can even take a few moments to practice some dog yoga poses with your pup while at the beach, as this is known to help lower stress levels in dogs. If your dog is showing signs of stress, it's essential to first have him checked out by your vet for any potential health issues.
At the end of the day, your pup's safety and comfort should be top priorities. With the right accessories and a few simple considerations, you can create an enjoyable and stress-free beach experience for your pup.
Whether you're taking a dip in the ocean or just lounging on the sand, having the right accessories will help ensure that your day at the beach is fun and carefree for everyone! 

Claudia Bensimoun is a writer who specializes in dog content and veterinary topics! Aside from writing for We Love Doodles, Claudia also writes for other major dog blogs like Fido Friendly, Animal Wellness Magazine, and the United States Dog Agility Association (USDAA). She has a ghostwritten over 50 different dog e-books. Her passions include animal welfare, veterinary research, and wildlife conservation.
Why Trust We Love Doodles?
At We Love Doodles, we're a team of writers, veterinarians, and puppy trainers that love dogs. Our team of qualified experts researches and provides reliable information on a wide range of dog topics. Our reviews are based on customer feedback, hands-on testing, and in-depth analysis. We are fully transparent and honest to our community of dog owners and future owners.