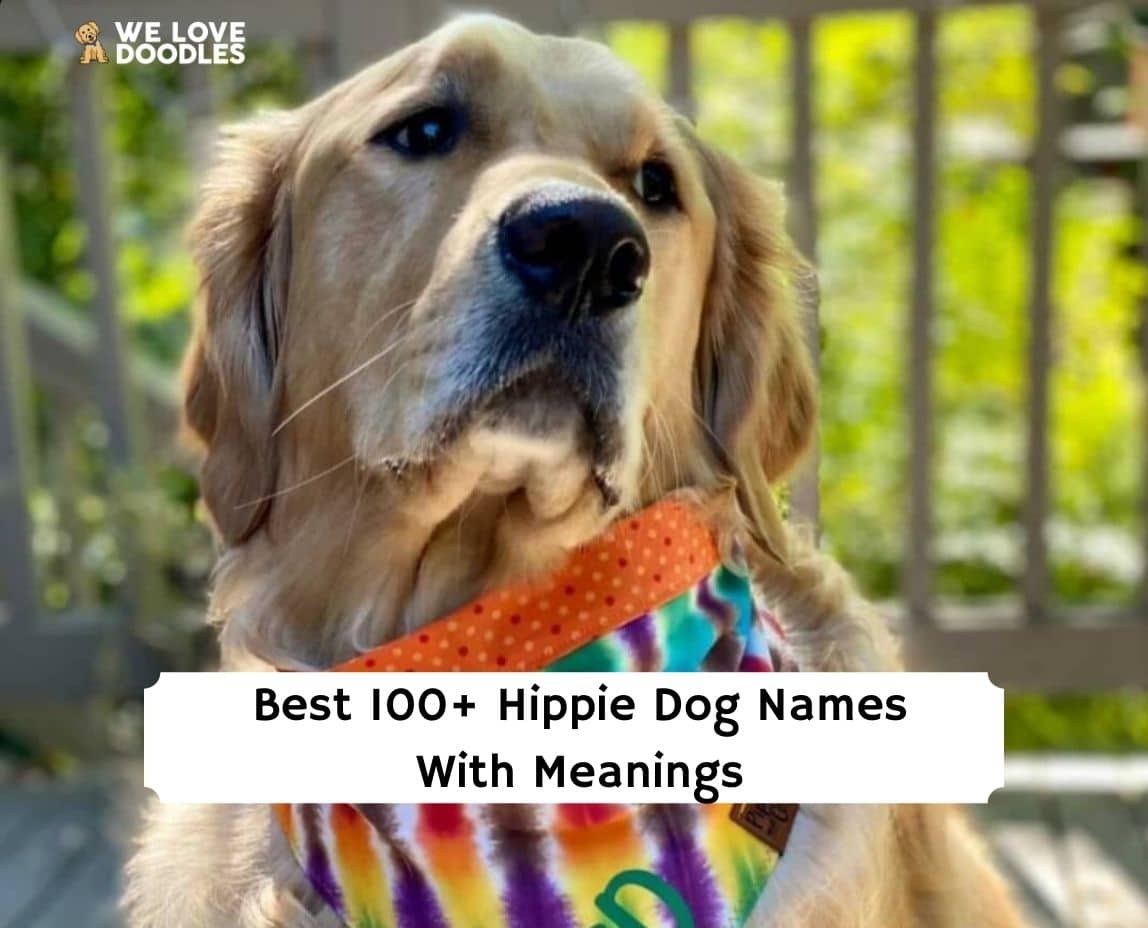 Want to give your new puppy a totally groovy, hippie-inspired name? Check out the names on our list. We've compiled over 100+ hippie dog names for male dogs and female dogs, as well as gender-neutral names and stoner names. Let's jump in.
Other articles you might like: Teddy Bear Dog Names and 3 Letter Dog Names.
Hippie Male Dog Names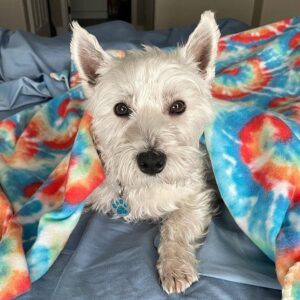 These are the best hippie dog names for male dogs, from famous musicians to world-changing activists.
Beatle: One of the most legendary bands of the 1960s was, of course, the Beatles. Beatle is a cute little name for a boy dog.
Bojangles: Bojangles is a sing-songy name based on Mr. Bojangles, a song by Nitty Gritty Dirt Band.
Buffalo: Buffalo Springfield is another famous hippie band. Neil Young was a member, one of the most prominent hippie musical artists of all time.
Caesar: Caesar Chavez was an incredible labor leader and civil rights activist during the 60s and 70s.
Creedence: Sometimes called Creedence or CCR, the band Creedence Clearwater Revival had hits like "Fortunate Son" and "Bad Moon Rising."
Crosby: Crosby, Stills, Nash, and Young was another famous band from the hippie era.
Dylan: Perhaps the most famous folk artist of the era, Bob Dylan, is synonymous with hippies.
Krishna: Krishna is a Hindu deity, and the Hare Krishna movement was founded in 1966, becoming one of the most well-known spiritual movements of the decade.
Forest: Hippies love nature, so celebrate it with this wilderness-inspired name.
Gandhi: Mahatma Gandhi championed nonviolent resistance and was a symbolic leader of the 1960s protest movements.
Garcia: As in Jerry Garcia, he was the guitarist and chief songwriter for the Grateful Dead.
Garfunkel: Simon and Garfunkel was another famous musical duo of the era. We've named a couple of their songs as names, too.
Ginsberg: Alan Ginsberg was one of the formative writers of the movement, with many famous "Beat" poems.
Groovy: If there's ever been a word associated with hippies, it's definitely "groovy."
Guthrie: Woody Guthrie was an earlier folk singer and perhaps precursor to the hippie movement, and Arlo Guthrie was famous in the thick of it.
Hendrix or Jimi: Jimi Hendrix was a force for the hippies; one of his most legendary performances was an uninterrupted two-hour set at Woodstock.
Jack (or Kerouac): Jack Kerouac was another "Beat" writer who helped usher in the hippies of the 1960s.
Jefferson: The name references Jefferson Airplane, another well-known and beloved hippie band.
Lennon: John Lennon was one of the most influential voices of the generation.
Manson: If you want something a little dark, Manson (as in Charles Manson) fits the bill.
Marley: The Rastafarians were somewhat of a foundational and off-shoot movement from the hippies.
Martin: Martin Luther King, Jr. was one of the most impactful Americans of the 1950s and 60s and the 20th century.
McGee: The Janis Joplin song "Me and Bobby McGee" captures some of the social justice enthusiasm that was the backbone of the hippie movement.
Morrison: Jim Morrison was the voice of the Doors, as well as a songwriter and poet.
Orion: Hippies–especially New Age hippies–are famously into astrology, making the constellation name perfect for your hippie dog.
Pryor: Richard Pryor was not only one of the most beloved comedians of the era; he was also an influential activist.
Rebel: Hippies rebelled against the beliefs of their 1950s-era parents.
Ringo: Ringo is an adorable name for a dog and the drummer's name for the Beatles.
Simon: As in Carly Simon or Simon and Garfunkel, this was clearly a famous moniker for the hippies.
Sonny: Sonny and Cher were a famous hippie-era singing duo.
Spiro: A bit tongue-in-cheek, Spiro Agnew was Nixon's VP and famously hated hippies.
Walter: Walter Cronkite's newscasts helped bring the truth about the Vietnam War to Americans.
Warhol: The artist Andy Warhol produced his most famous works during the 1960s.
Watchtower: From "All Along the Watchtower," by Jimi Hendrix.
Woody: As in Woody Guthrie.
Woodstock: The famous music festival in 1969.
Zappa: As in Frank Zappa.
Zeppelin: After Led Zeppelin, another famous musician of the era.
Hippie Female Dog Names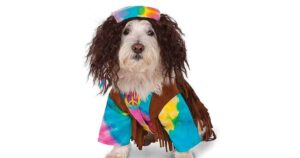 Let's hear it for the girls!
Abbie or Hoffman: Abbie Hoffman was a well-known activist and writer of the hippie era.
Carly: After musician Carly Simon.
Chakra: Long a part of eastern religions, Chakras became westernized by the hippies.
Cher: Sonny and Cher is the famous singing duo of the late 1960s and 1970s.
Clover: Crimson and Clover was a famous Simon and Garfunkel song, and Clover was a beloved natural element for hippies.
Crystal: Hippies love the healing power of crystals.
Daisy: Daisies were a hippie symbol of peace.
Flower or Flora: Flower power and flower child were common phrases in the 1960s. Flora is another word for plant life.
Gaia: The Greek goddess of the earth and hippies love the land.
Gloria: Gloria Steinem was a leading figurehead of the women's liberation movement and founder of Ms. Magazine.
Harmony: Peace and harmony were the goals of the hippies.
Hope: The hippies certainly had a lot of it.
Janis: Janis Joplin, the famous hippie singer who performed at Woodstock, is this name's inspiration.
Joan: After Joan Baez, another beloved hippie singer and songwriter.
Joni: Our third musician in a row is Joni Mitchell, whose lamenting music still haunts.
Luna: Luna is a whimsical word for the moon, and hippies loved the moon and stars.
Meadow: Hippies love nature and are stereotypically pictured in meadows.
Parsley, Sage, Rosemary, and Thyme: The reprise of a famous Simon and Garfunkel song.
Penny: "Penny Lane" was one of the Beatles' greatest hits.
Poppy: Not only a flower but also a hallucinogenic, Poppy is an excellent name for your hippie dog.
Rosa: Rosa Parks, a famous civil rights activist who helped spark the Civil Rights Movement.
Summer: Hippies had the "summer of love," and many of their other famous events, like Woodstock, happened in the summer.
Yoko: Yoko Ono was the notorious wife of John Lennon, who may have helped cause the band's break-up.
Gender-Neutral Cute Hippie Dog Names
These names work no matter what gender your new puppy is.
Aquarius: The hippie era was also called the "Age of Aquarius."
Boho: Boho is short for bohemian, the lifestyle of the hippies.
Carson: Rachel Carson wrote the essential book on environmentalism, Silent Spring.
Cloud: Lose yourself in nature by gazing at clouds.
Cosmo: A nod to hippies' love of astrology.
Fleetwood: As in Fleetwood Mac, another famous hippie band.
Fonda: After Jane Fonda, Hollywood's hippie golden child.
Freedom: Freedom is what many hippies sought.
Frey or Freyr: After the Norse god of peace, the quintessential hippie value.
Gypsy: Hippies lived gypsy-esque lifestyles. Don't search for gypsy dog names. Just name them Gypsy!
Hoover: Edgar Hoover was the FBI director who was notoriously suspicious of hippies.
Huxley: An author who wrote Brave New World, among other titles, is well-known for expanding the mind and was a proponent of using LSD.
Karma: Hippies believed in it!
Kennedy: This name is based on President Kennedy, whose shooting contributed to the hippies' disillusionment.
Liberty: What many hippies sought.
Love: Love is what hippies stood for.
Moonstone: A favorite crystal of the hippies.
Nirvana: Nirvana is the ultimate state of peace and also a Grunge band from Seattle.
Patches: A cute dog name and an ode to the fact that hippies' clothing has a lot of them!
Pax: The Roman god of peace.
Peace: The ultimate hippie value.
Rasta: Short for Rastafarian.
River: An homage to hippies' love for nature.
Spirit: Hippies were very interested in spirits and the idea of the spirit.
Starshine: Starshine is another nod to the interest in astrology that surged during this era.
Stevie: Stevie Nicks was the lead singer for Fleetwood Mac and quite a hippie herself.
Sunshine: Hippies loved to be outdoors and embrace the sunshine.
Willow: Name your pup after willow trees since hippies loved trees, and Willow is an incredibly whimsical word.
Yogi: Yoga might seem popular now, but it started in the west thanks to the hippie movement.
Stoner Pet Names
Is there anything more quintessential to the hippie movement than expanding your mind through the use of drugs, especially marijuana? These are some cool hippie dog names for stoners.
Buddha: Buddha is a popular strain of weed.
Blaze: "Blaze" is another word for smoking weed.
Cheech or Chong: Cheech and Chong are the famous Hollywood comedy duo known for their high antics.
Doobie: Doobie is a nickname for a joint.
Ganja: Another name for marijuana is Ganja.
Indica: Indica is one of the significant strains of weed that produces a mellow, calming high.
Kush: Kush is another nickname for weed.
Mary Jane: Yet another moniker for marijuana, because of the initials: MJ.
Nugget: You buy the weed plant in nuggets.
Owsley: Owsley was the first person to manufacture LSD on a large scale.
Reefer: "Reefer" is one of the oldest nicknames for weed.
Sativa: The other primary type of marijuana is Sativa, which gives users a more energetic high.
Smoky: Need we say more?
Snoop: After Snoop Dogg, of course, one of the most famous stoners of modern times.
Terpene: Terpenes are the abundant compounds in marijuana that give each strain and type its uniqueness.
Conclusion for Hippie Dog Names
That's the list of the 105 hippie dog names with their meaning! Whether you have a male or female dog, we hope that we definitely gave you some inspiration to help you name your dog! In general, when you are naming your dog, you'll want to pick a unique name that is rather short. Remember that you'll be yelling your dog's name several times per day. Naming them something unique and short will be your best bet.
Other articles you would like: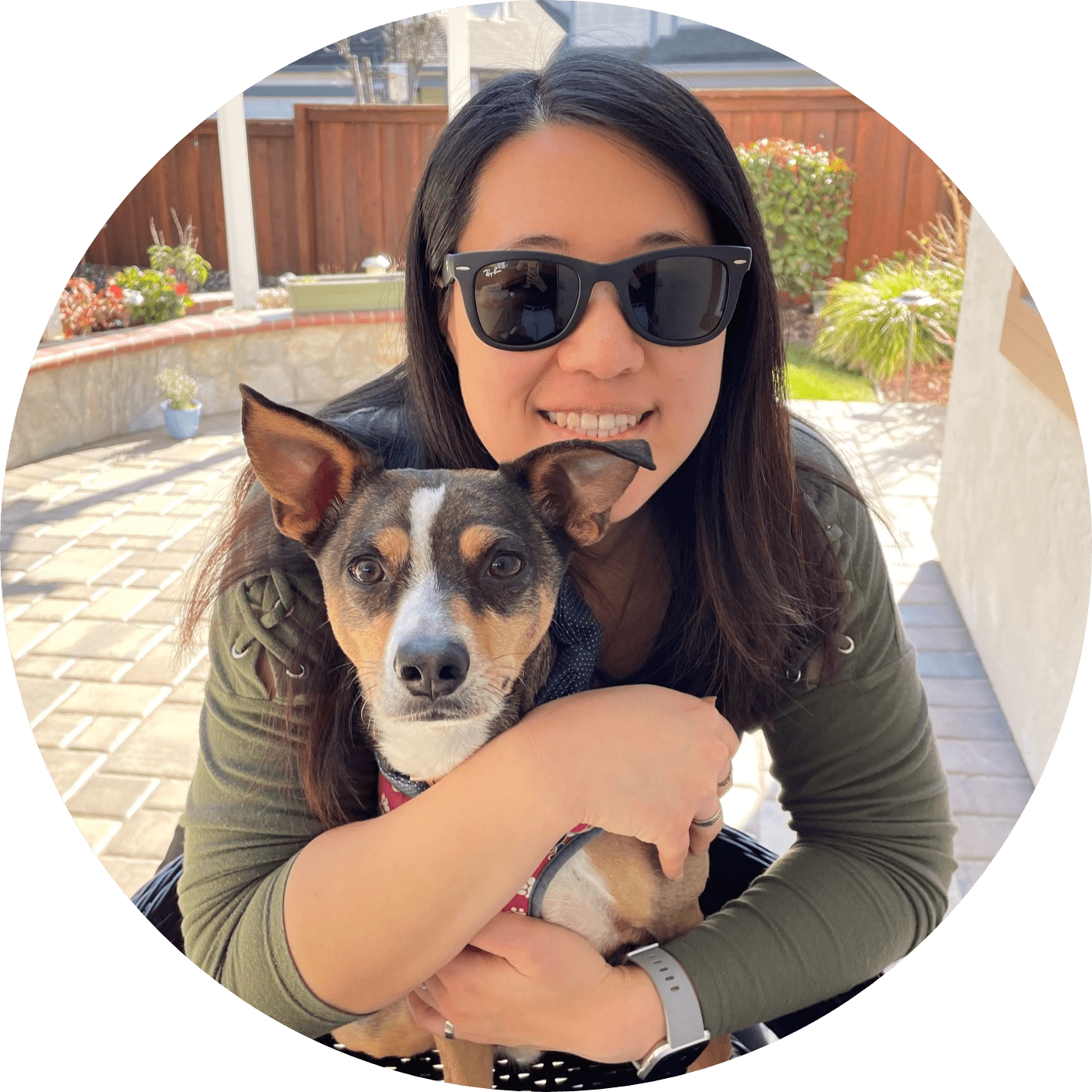 Dr. Sabrina Kong graduated from the Royal Veterinary College in England in 2016 and has been working at a small animal clinic in Northern California since then. She grew up in the Bay Area and got her bachelor's degree from Cal Poly San Luis Obispo. She also became a Certified Canine Rehabilitation Practitioner through a program at the University of Tennessee.
When she isn't in the clinic taking care of her four-legged patients, she enjoys traveling and trying new foods with her friends and her three-legged dog, Apollo. She adopted Apollo from her clinic when he was a puppy with numerous health issues. Dr. Kong truly cares about taking care of animals.