Brown dogs are beautiful yet highly underrated. When is the last time you saw the classic Chocolate Lab or a beautiful brown Brittany Spaniel? It's probably been a while. Brown dogs were once what many families thought of when they decided to get a dog.
The best part about owning a brown dog is that it's so easy to name them. Since they're brown, it's simple to find fun, uniquely themed names that stand out.
We've compiled a list of over 150 names that we thought would help give you an excellent jump start to name your new family addition, and we've listed them from the most common names, followed by the lead common within each section.
Before scrolling down this list, you might like: Teddy Bear Dog Names
Top 25 Most Popular Names For Brown Dogs
Most of these names are gender-fluid, so you can use them interchangeably, whether you have a male or a female dog.
Ginger
Winnie
Copper
Kona
Mocha
Cinnamon
Sandy
Goldie
Nutmeg
Penny
Cocoa
Freckles
Toffee
Bear
Chai
Pepper
Java
Cookie
Aspen
Brandy
Pebbles
Reeses
Sienna
Pinto
Chewy
Related Article: Three Letter Dog Names
Male Brown Dog Names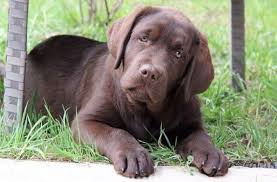 Sometimes people prefer to name their dog depending on the sex of their newfound canine friend. Here are some great masculine names for your brown dog.
Chip
Goose
Arizona
Chevy
Charlie Brown
Jack
Oak
Roscoe
Woody
Gouda
Clove
Hawk
Tito
Rolo
Wonka
Related Article: Manly Dog Names
Female Brown Dog Names
This list wouldn't be complete without some feminine names to choose from.
Henna
Ginny
Bambi
Kava
Auburn
Chili
Brandy
Carmela
Cora
Wilma
Sugar
Sable
Xena
Penny
Betsie
Related Article: Sassy Girl Dog Names
Drink Names For Brown Dogs
If you're a coffee addict, or you love your tea, then you could come up with a whole variety of names just based on this! Let's go through some of them.
Guinness
Mochi
Kahlua
Coffee
Espresso
Cider
Whiskey
Bourbon
Latte
Champagne
Folger
Cola
Food-Themed Names For Brown Dogs
Of course, you can't forget your favorite food! How fun would it be to have one dog named after your favorite drink and another after your favorite food? You can get as creative as you want.
Hazel
Pepper
Peaches
Honey
Pumpkin
Peanut
Snickers
Hershey
Tootsie
Brownie
Nugget
Waffles
Biscuit
Taffy
Muffin
Bacon
Mango
Maple
Chocolate
Nutmeg
Toffee
Meatball
Bean
Butternut
Almond
Cheddar
Toast
Cashew
Chestnut
Oatmeal
Sesame
Café Noir
Cappuccino
Tiramisu
Hickory
Donut
Ruffles
Gingersnap
Éclair
Fondue
Gravy
Risotto
Meatloaf
Smores
Dumplin'
Twix
Molasses
Pretzel
Nutella
Russet
Brown Dog Names Based On Nature
Walnut
Cedar
Prairie
Sahara
Barky
Buckeye
Acorn
Squirrel
River
Bea
Canyon
Mushroom
Leif
Branch
Pinecone
Names For Light Brown Dogs
It's important to remember that brown doesn't stand for just one color; your lovely new pup may be light brown, which may call for other unique names.
Ivory
Nilla
Cashew
Beige
Buff
Barley
Cheesecake
Fawn
Summer
Sunny
Khaki
Tuscan
Savannah
Rusty
Flax
Unique Names For Brown Dogs
If you aren't really into the mainstream sort of community, there's nothing wrong with getting creative when it comes to naming your beloved brown dog.
Henna
Scooby
Cannoli
Teddy
Bosco
Sorrel
Sienna
Umber
Other Themed Names For Brown Dogs
If you haven't found the one you loved yet, here are just a few more that can turn your gears.
Sundance
Buckwheat
Topaz
Teak
Tawny
Choosing A Name For Your Brown Dog
Choosing a name for your brown dog is no easy task! It can be daunting, especially when you're faced with a list as comprehensive as this one. However, there are some tips we will share with you to help the process go a lot smoother.
Mix the names. When it comes to naming your furry companion, you can't really go wrong. Well, that is, unless you try to. However, you can take different syllables from these names and come up with something on your own that goes along with the brown theme—for instance, Arienna (Arizona and Sienna).
Have the family help you choose. If this is a family dog, you can always have the kids chime in. Take a pen and paper, and write down all the ideas, good and bad. Then, go over it as a group and maybe come up with new names using different syllables. After, you can put the name up for a vote.
Try on a name. There is nothing wrong with renaming your pet. However, you don't want to do it excessively. Try on one or two names for a couple of weeks and see how things go. If the name sticks, then use it. If not, then simply change it. For example, you may name your dog "Godiva," but she might strike you more as a Summer or Amber.
Get to know your dog. Sometimes, it helps to get to know your dog's personality before naming him or her. Give it a few days to see what character traits it has. Then, name it based on that. For example, a large, sweet dog that's frumpy and slobbers a lot could be called Meatball.
Let your dog choose. Choose your top three to five names, and call your dog by each, one by one. You might be surprised if they come running to one. However, you'll want to only call each name maybe three times so that there's a fair chance between each one.
Try a name generator. If you're still having some problems thinking of a name, you can always try a name generator online. You put in different aspects into the generator such as the color of the dog, and anything you might want in the name, and hit the button to generate as many different names as you wish.
Conclusion for Brown Dog Names
Don't stress about naming your canine companion; naming is one of the best parts. It should be a fun process that is well thought out. Take your time and get creative as you want. Additionally, don't be afraid to go over and beyond, as their name can be just as unique as the bond you share.
It's your dog, and you only get to name it once. But there's no need to feel any pressure. It should be a fun, exciting time for you and the whole family to share.
You will also like:
Garrett loves animals and is a huge advocate for all Doodle dog breeds. He owns his own Goldendoodle named Kona. In addition, he volunteers at the Humane Society of Silicon Valley, where he fosters dogs and helps animals. Garrett enjoys writing about Doodles and believes that dogs can teach humans more about how to live than humans can teach a dog.
Why Trust We Love Doodles?
At We Love Doodles, we're a team of writers, veterinarians, and puppy trainers that love dogs. Our team of qualified experts researches and provides reliable information on a wide range of dog topics. Our reviews are based on customer feedback, hands-on testing, and in-depth analysis. We are fully transparent and honest to our community of dog owners and future owners.