Since Belgian Malinois dog breeds have become very popular, you're likely looking for a name for your puppy. There's a ton of names that will go well with your dog, but choosing one is a very important decision. This is because you'll be calling your Belgian Malinois by the name many times every single day!
In general, you want a dog name that is short, ideally 2-3 syllables, because you'll be saying the name a lot! Additionally, you want to choose a dog name that doesn't sound like a popular command like "sit, down, or no." Lastly, choose a Belgian Malinois dog name that you like and think will resemble your future dog! We've created a list of 100 Belgian Malinois dog names to help you decide.
Other articles you would like: Warrior Dog Names and Three Letter Dog Names.
1. Origin Based Belgian Malinois Dog Names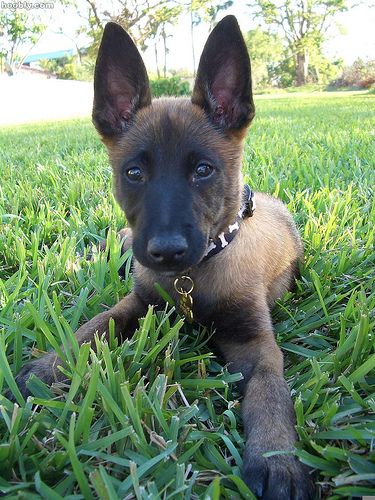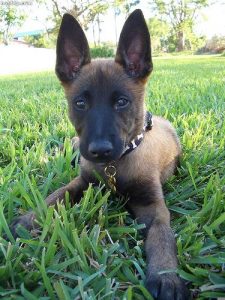 Naming a dog after its origin and history are quite common. Remember that the Belgian Malinois is a dog indigenous to the Belgian area in Europe. This breed is also part of three major sheepdog breeds. All these sheepdog breeds have similar features that caused them to be classified as one breed. It wasn't until 1891 that the Belgian Shepherd Dog Club categorized them as separate breeds. Thus, the Belgian Malinois dog breed was created.
Male Belgian Malinois Names
Adam
Noah
Liam
Eden
Oscar
Arthur
Harland
Hazard
Endar
Jules
Female Belgian Malinois Names:
Anna
Lucie
Juliette
Emma
Nour
Amira
Charlotte
Zoé
Louis
Alix
Other native Belgian Malinois Dog Names:
Estelle, Oona, Zinedine, Andre, Victoria, Juan, Ashward, Hannah, Amber, Greta, Grey, Lucas.
2. Intelligence Inspired Belgian Malinois Names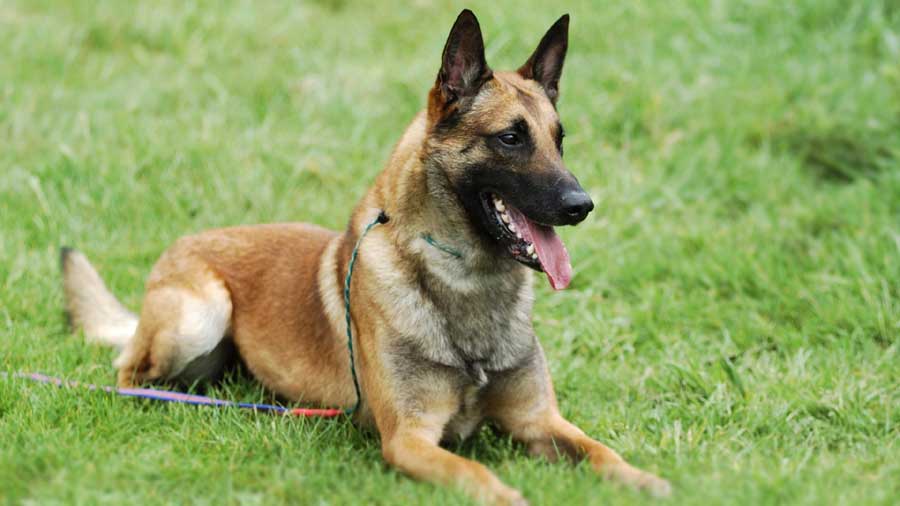 Intelligence is one of the hallmark features of the Belgian Malinois dog breed. This dog's brainpower is higher than average and ranks it among the world's top 10 most intelligent dogs. In fact, during the World Wars, many nations' armed forces utilized the Belgian Malinois' acute senses to carry out search and rescue operations, guard posts, and deliver small parcels across camps.
To date, the Malinois remains the number one choice for special security bodies such as the U.S. Navy Seals and the Israel Defense Forces. Are you feeling tempted to call your dog Einstein because of his razor-sharp wit? You're not alone.
Here are some Belgian Malinois Names names that ooze intelligence:
Sherlock Bones
50 Scent
Indiana Bones
Barkugan
Peter Barker
James Bone
JK Growling
Huffington
Mary Poppins
Lady Gragra
Other names: Brainy, Conrad, Bobby, Witty, George, Neil Hamstrong, Abraham Lickon, Dogtoyevsky.
3. Speed Inspired Belgian Malinois Dog Names
One of the fastest dogs in the world, Malinois can reach speeds of over 45 mph. These dogs are so fast that if you spot a Belgian Malinois in full flight, it will look like a furry arrow cutting through the wind. It's because of this lightning feature that most farmers took them on hunting expeditions.
As a result of their swift pace, the Belgian Malinois dogs have a high preying instinct. These dogs will chase anything that runs past them – rats, rabbits, even children. Mals also have increased stamina levels that allow them to maintain their speed over a certain distance.
If you fell in love with the Malinois because of their speed, here is a list of names that only speedster dog owners can select:
Bolt
Whizzy
Arrow Head
Dash
Orlando Zoom
Flash
Blitzer
Quick Silver
Fizz
Shooting star
Other names you could use are: Super Stuart, Shot Gun, Snippy, Sharp Man, Machine.
4. Color Inspired Belgian Malinois Names
Most Mals are characterized by a fawn color, although many appear reddish-brown like mahogany. They also have a black overlay and a charcoal black muzzle. Some great examples of Belgian Malinois dog names inspired by color are listed below:
Bruno
Fawny

Caramel

Browny
Choc Bod
Mahogany
Tan Man
Brownies
Dusty
5. Characteristics Inspired Belgian Malinois Names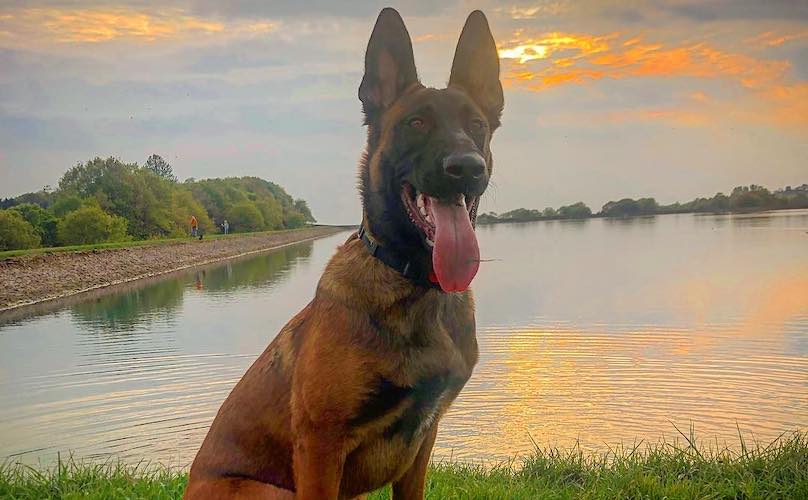 The Belgian Malinois is an extremely energetic dog that seems never to tire. This dog is so vibrant and intelligent that it starts to aggressively seek out ways of burning excess energy if left without mental and physical stimulation. Many experienced pet owners say the Belgian Malinois is not the right choice for first-time dog owners and families with kids due to its boisterous nature.  However, lots of athletic people love the Belgian Malinois because of their physical characteristics.
If you're a sprinter, hiker, or jogger who's got a Mal as a companion, you can give your dog some of these names that attest to his boundless energy.
Boss
Caesar
Tyson
Bull
Boxer
Pouncer
Bruce
Manny
Brawler
You could use other names such as Jackie Powers, Joggerman, Road Runner, King Hyper, Van Dal Salvage.
General Belgian Malinois Dog Names
Sometimes dog owners like to name their pets after special occasions: Augusta,  Augustine, Summer, Prom Prom, High Grad, Ninth Mile, River Day, Colley, Valentine, June, Eve, Festive.
You could also name your dog after famous people in the world: Riri, Nicky, Bruno, Sca Joe, Cleopatra, Anita Baker, Aniston, Micheal J, Faraday, Ariana, DaBaby, The Rock, Nick Cage, Andy Warhol, Johnny Walker.
Additionally, here are some other common Belgian Malinois names: Fischer, Dexter, Garza, Flemming, Hawkins, Hannibal, Hugo, Leonardo, Graham, Fresh, Zik, Captain, Raidman, Minerva, Pragya, Rubik,  Quentin
More Information About the Belgian Malinois
The Belgian Malinois is a dog breed that originated from Europe, where they were primarily used as shepherd dogs. Later on, the breed's unique hunting traits made the pups useful as security dogs, especially during wartime. Sometimes mistaken for the German Shepherd, the Belgian Malinois has a thick mahogany fur, a black mask with short, triangular ears, and a medium tail. They are one of the most intelligent dog breeds in the world, and they have high alertness levels and are very easy to train. 
Conclusion Belgian Malinois Dog Names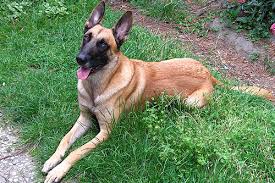 Belgian Malinois are strong, energetic, fast, and intelligent dog breeds. These characteristics give lots of options to dog owners looking to name their Mals. You can start by considering which features attract you to your dog and then give them a name that reflects that feature. We hope that you were able to get some ideas from our list to name your Belgian Malinois!
Other articles you might like:
Garrett loves animals and is a huge advocate for all Doodle dog breeds. He owns his own Goldendoodle named Kona. In addition, he volunteers at the Humane Society of Silicon Valley, where he fosters dogs and helps animals. Garrett enjoys writing about Doodles and believes that dogs can teach humans more about how to live than humans can teach a dog.
Why Trust We Love Doodles?
At We Love Doodles, we're a team of writers, veterinarians, and puppy trainers that love dogs. Our team of qualified experts researches and provides reliable information on a wide range of dog topics. Our reviews are based on customer feedback, hands-on testing, and in-depth analysis. We are fully transparent and honest to our community of dog owners and future owners.