Playing golf is one of the most entertaining leisure games for many people in the United States. The game can even be more entertaining when you go with your dog or name your dog after your favorite sport! If you're a golfer and you recently adopted a puppy, you're in the right place to get naming ideas. Check out this list of the best golf dog names!
Other articles you will like: Three Letter Dog Names and Cream Colored Dog Names.
Best Golf Dog Names
With the right techniques, resources, time, and the right golf course, anyone can enjoy playing the game of Golf. If you're a dog lover, then golfing with your dog can be tons of fun. Dogs love large spaces where they can run around and play, and golf courses are just perfect for that.
While some golf courses do not allow dogs, there's plenty of dog-friendly golf out there. While some of these names are inspired by golf terms, others are associated with some of the top golfers. So if you love dogs and golf, check out our list of male and female golf dog names. Hopefully, it will help you find the perfect name for your new puppy!
Par – A scoring system
Shooter – Shooter Mcgavin
Bogey – 1 Over Par
Arnold – Arnold Palmer
Tiger – Tiger Woods
Obie – Out of bounds
Torrey – Torrey Pines
Taylor – Taylormade
Rory – Rory Mcilroy
Palmer – Arnold Palmer
Wedge – Short iron
Jaco – Jaco Van Zyl
Garfield – Gary Player
Ben – Ben Crenshaw
Caddie – Club carrying assistant
Ryder – Ryder Cup
Jack – Jack Nicklaus
Links – Golf course style
Divot – Spot on the ground Displaced after a strike of a club.
Happy – Happy Gilmore
Augusta – Home of the Masters
Birdie – 1 under par
Callie – Callaway
Freddy – Fred Couples
Fuzzy – Fuzzy Zoeller
Mulligan – Redo
Fade – Controlled Movements of the Ball
Chip – short shot
Yip – Swing issues
Ace – Hole in one
Bubba – Bubba Watson
Hogan – Ben Hogan
Scratch – Even par
Chunk – Bad Shot
Daly – Jon Daly
Oscar Bravo – Another word for Out of Bounds
Flier – Shot that sails further than expected
Bag Rat – Another word for Caddie
Pistol – A type of grip usually used for putting
Bunker – A hollow space filled with sand meant to be an obstacle
Carry – How well a ball travels
Cuppy – A lie when the ball is usually sitting in a small depression.
Mo – Old Dog Morris
Damon – Mooning Damon
Eagle – When you score two under par
Fluffy – When the ball rests on taller grass
Cabbage – A deep rough Vegetation that swallows the ball
Gimme – A conceded Putt
Waggle – Motions use to make a golfer lose before a swing.
Dog Names Inspired by Famous Golfers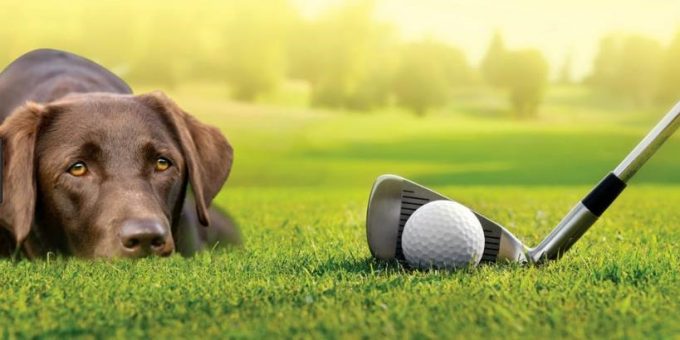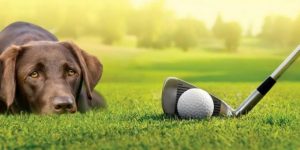 Arnold or Palmer – named after the American golfer Arnold Palmer.
Ben Hogan – named after Ben Hogan, the best golfer before Arnold Palmer and Tiger Woods
Bubba – named after the American lefty Bubba Watson
Corey – named after the American golfer Corey Pavin
Jack – named the best golfer ever, Jack Nicklaus.
Mickelson – named after Phil Mickelson and is a male name appropriate for a big dog
Pepper – named after Dottie Pepper.
Tiger – named after the most popular golfer Tiger Woods
Vijay or Singh –the name of the pro golfer, Indo-Fijian.
Golf Dog Nicknames
Aza – a nickname from Azahara Munoz, a Spanish female golfer
Bam Bam —the nickname of Brittany Lincicome, the lady golfer renowned for her powerful swing.
Fuzzy — a nickname from the initials of the Frank Urban Zoeller, an American golfer.
Huck — Tom Watson's nickname, one of the best golfers in the 1970s and 1980s
Jumbo — the nickname given to big Japanese golfer Masashi Ozaki
Monty — the nickname of golfer Colin Montgomerie – a suitable name for male golf dogs
Peanut — this is South Korean golfer Mi Hyun Kim'snickname.
Porky — this nickname was given to the golfer Oliver.
Radar — the nickname of Mike Reid, an American golfer
Thunderbolt — Tommy Bolt was given this nickname in the 1950s due to his temper in the greens
Tutta — this nickname was given to female golfer Suzann Pettersen.
Names Inspired by Golf Slang
Ace — a golf term used when the golfer gets the ball into the hole in a single stroke. It is also called hole-in-one.
Albatross — the term albatross is used in golf to describe three shots under par.
Bertha — a name given by Callaway – the golfing goods company to a specific line of golf clubs
Birdie — a golf term used to describe the act of scoring one under par
Bogey — this is a French name used in golf to relate to one above par.
Condor — this term is used to describe the act of scoring four under par.
Dimple — the golf ball has tiny, circular indentations called dimple.
Fairway — this is the part of the golf course located in the middle of the course.
Names Inspired by Golf Brands
Callaway
Mizuno
Parsons
Ryder
Wilson
Conclusion for Best Golf Dog Names
Choosing a name for your dog is one of the hardest decisions you will make! Not only will you be calling your dog by their name millions of times throughout their lifetime, but there are also millions of dog names to choose from. If you're a golfer and love dogs, it's only natural to give your dog a name after your favorite sport. We hope the list of golf dog names above has inspired you to name your new puppy!
Other articles you will like: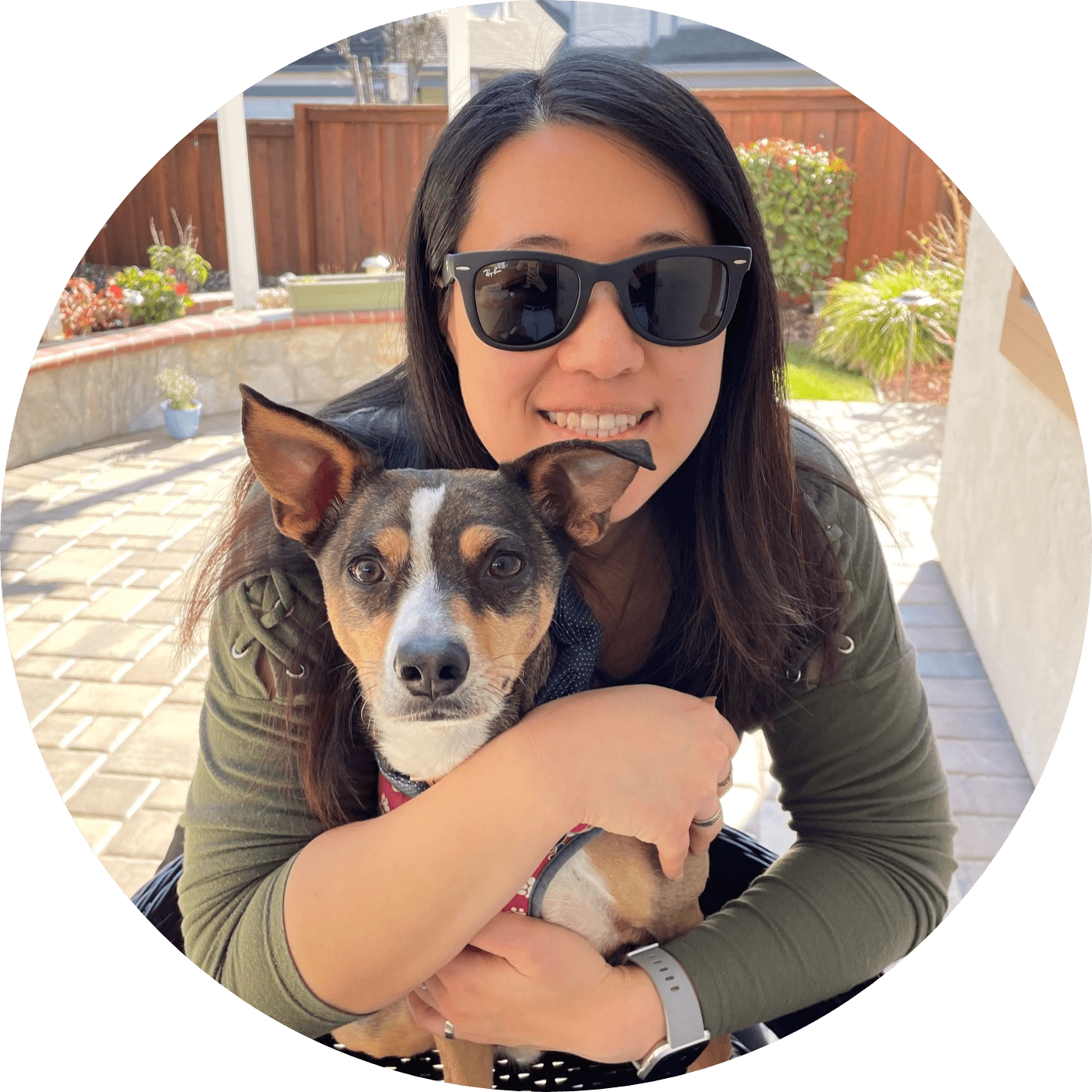 Dr. Sabrina Kong graduated from the Royal Veterinary College in England in 2016 and has been working at a small animal clinic in Northern California since then. She grew up in the Bay Area and got her bachelor's degree from Cal Poly San Luis Obispo. She also became a Certified Canine Rehabilitation Practitioner through a program at the University of Tennessee.
When she isn't in the clinic taking care of her four-legged patients, she enjoys traveling and trying new foods with her friends and her three-legged dog, Apollo. She adopted Apollo from her clinic when he was a puppy with numerous health issues. Dr. Kong truly cares about taking care of animals.