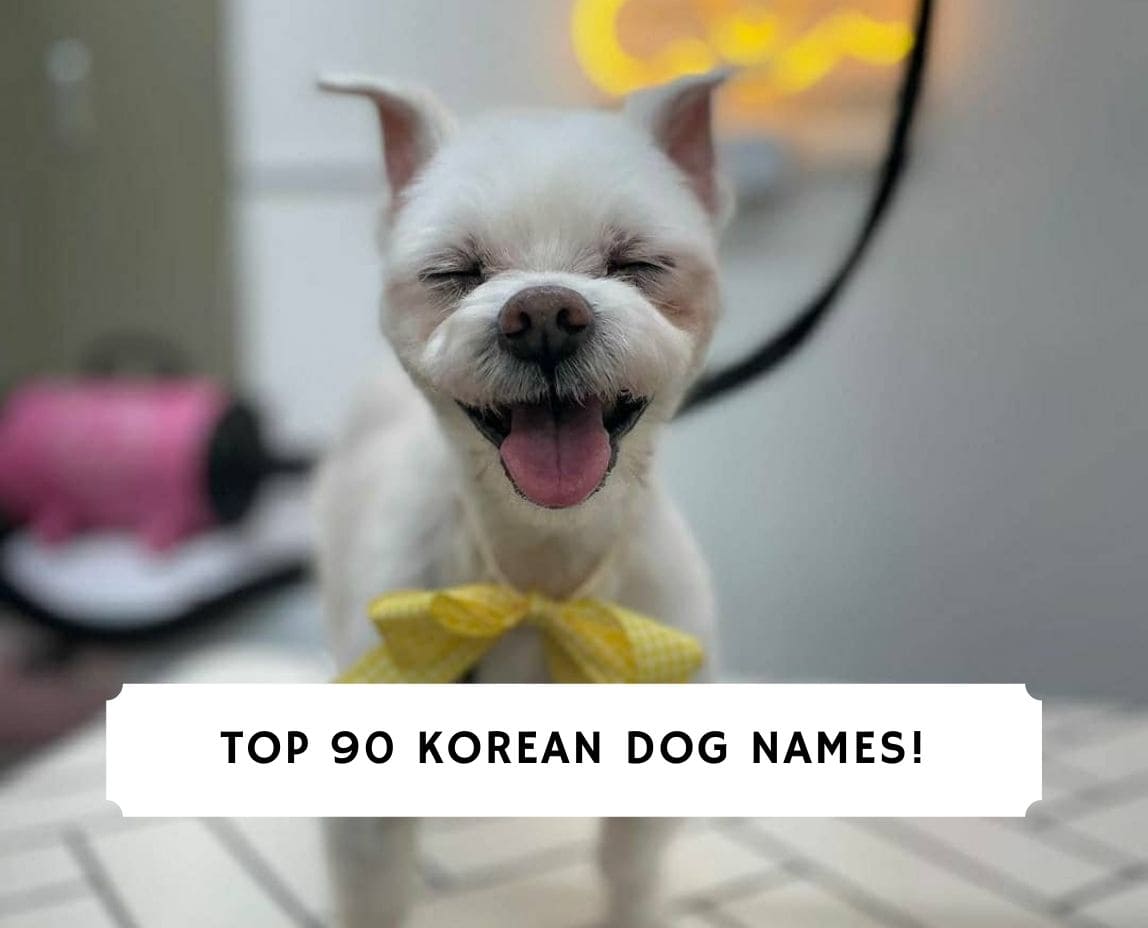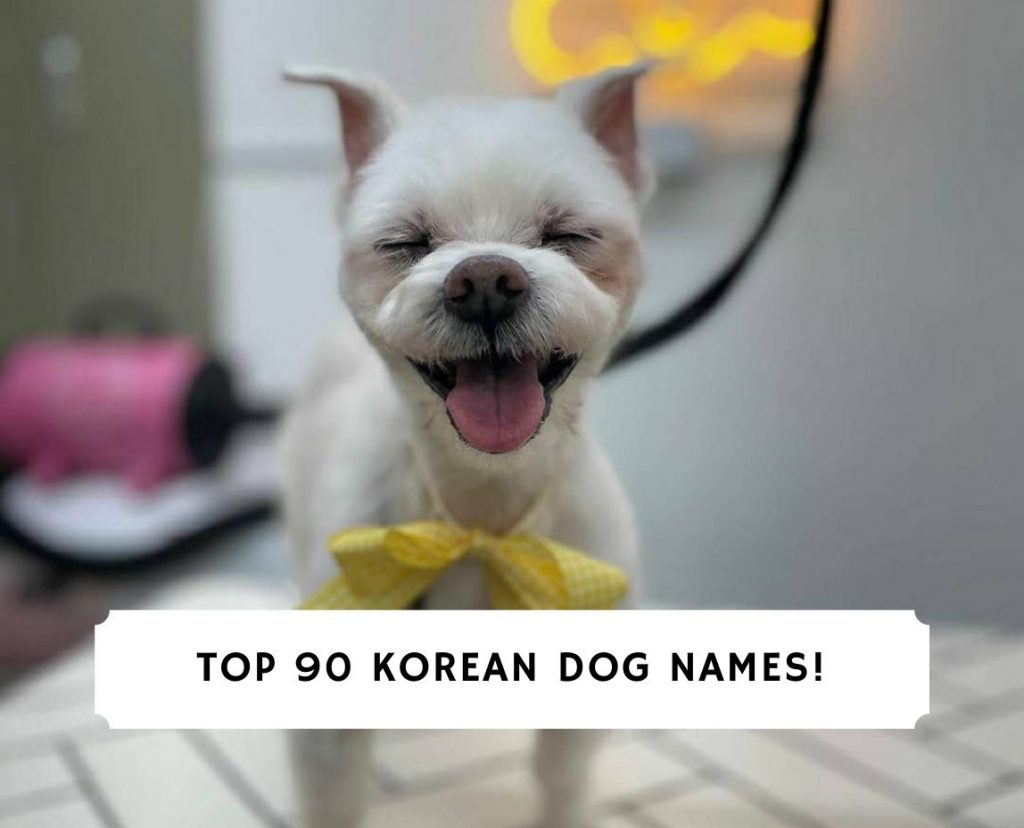 You have gotten a new dog and you need a unique puppy name for your pet! Most pet owners want a name so unique it would stand out when you call out to your dog in a public space. Well, you should check out names for dogs from other languages.
We have created a special list of Korean dog names. One thing you should note is that Korean names are heavily inspired by Buddhism and they can be multi-syllabic. When choosing a puppy name, make sure you go for names that are easy to pronounce and will not confuse your dog later on due to the difficulty in pronunciation.
Other articles you might like: Brown and White Dog Names and Evil Dog Names.
Cute Korean Male Dog Names
For ease of reference, we have categorized the names according to the gender of dogs to allow you to choose from a wide spectrum of names while ensuring that the names fit the gender of your dog. Some of the names are;
Dak-Ho: meaning a deep lake
Geon: which means strength
Ho-Seok: meaning strong, heaven
Hwan: meaning shining and bright
Jae-Hee: meaning shining
Jong-Seok: meaning great, eminent
Kyu: meaning standard
Min-ho: brave and heroic
Seo-Jin: meaning omen
Seulgi: the name means wisdom which can also be reflective of the kind of dog breed you own
Seung: winning
Suk: rock, stone
Su-won: defend, protect
Tae-Hui: big, great
U-Yeong: glory, honor
Yeo: mildness
Yu-Jin: precious, valuable
Baek: the name means a Brother
Beom: A model
Bon-Hwa: the name means Glorious which could be reminiscent of the beauty your dog possess
Chung-Ae: a name which means Noble and love
Dae: a very short name and not hard to pronounce which means Greatness
Daeshim: means The greatest mind
Dong: the name means East
Eun: could be a fun name for a dog that came into your life and infected you with love. The name means Charity
Haneul: which means Heavenly
Haru: the name means One day and could serve as a reminder of the day your dog came into your life
Hayangi: a great name for a white dog. It means Whitey
Heendungi: another name you can choose for your dog if it is a white dog as the name means Whitish
Horang-i: if you want to call your dog a ferocious name, this might be a great choice for your dog. The name means Tiger
Hwan: a name perfect for dogs that are Bright and shining
Hyeon: a name which means Virtuous
Hyuk: the name means Radiant and could be a perfect choice for dogs that show and give so much joy to you.
Hyun: subject to the breed of your dog, this name is a great choice for your dog. It means Intelligent and bright
Hyun Ki: when a dog starts showing some attributes of intelligence, this is a great name to also settle for. it means Clever, wise, expert, and intelligent
Hyun Shik: another name to depict intelligence. It means Smart, brilliant, and clever
Jae: the name means Wealthy
Jae-Hee: Shining
Jashik: subject to the conditions upon which you chose to get a dog, this is another name that would foster an endearment between you and your dog. It means Child
Jeju: an exotic island in Korea
Jeong: means serene
Ji: means wisdom
Jin: stands for precious
Jong-Seok: If your dog is a descendant of a great breed, this name would serve to further remind you of how important your dog is. The name means "great and eminent" in Korean.
Joon: A great name for a potential show dog. It means "immense talent"
Jum: The name means "King" or "ruler"
Jun: The name means Handsome
Jung: Mean "righteous" in Korean
Cute Korean Female Dog names
Ae-Cha: loving daughter
Bae: inspiration
Bo-mi: beautiful, pretty
Bong Cha: ultimate girl
Choon-Hee: spring girl
Danbi: welcome rain
Eui: righteousness
Eun: silver
Gaeul: fall, autumn
Hae: ocean
Ha-eun: kindness, mercy
Hea: grace
Hye: intelligent
In-na: graceful and delicate
Ji-a: wisdom, and knowledge
Kwan: strong
Mee: beauty
Nam-Sun: pure and honest
Seok-Yeong: petal, flower
So-Hui: splendid, glorious
Sung: successor
Ye-Jin: precious and valuable
Yu-na: to endure
Joo: meaning Jewel
Ki: meaning Rising
Kuri: meaning Copper
Kwan: which means Strong
Mi Kyong: which means Beauty and brightness
Mi Sun: A combination of beauty and goodness
Mi-Cha: A beautiful girl
Mi-Hi: Beautiful and joyful
Min: Clever, quick-minded, and responding
Min-Jee: Brightness and wisdom
Mishil: A beautiful kingdom
Mi-Young: Everlasting beauty
Mongsil-i: Fluffy like a cloud
Myung: Clear
Nam-Sun: Honest and pure
Nari: Lily flower
Nun-i Nun': which means 'snow'. Could be a perfect name for an all-white dog
Why Give Your Dog a Korean Dog Name?
Dog names are essential to the dog ownership experience as much as nurturing for them is. It is totally understandable if you want a very unique name to avoid a scenario where your dog shares the same name with another in your neighborhood.
I mean, you wouldn't want to call your dog's name in the park and another dog comes running because he or she thinks you called out for them also. Amongst other languages out there, Korean dog names stand out.
It is also possible that you have gotten yourself a Korean dog breeds like the Korean jindo,  Jeju Dog, Nureongi, Pungsan dog, and dosa dog amongst others, and finding an appropriate name is proving a little difficult, you have come to the right place. We hope that you got some inspiration for future Korean dog names!
Conclusion for Cute Korean Dog Names
Remember, there is no rule that your dog name must be one that has the deepest of meanings or carry some overly intrinsic value. What matters is how you feel about the name and how your puppy feels about the name (yes! dogs do have feelings about their names).
When you are searching for a Korean dog name for your dog, remember to choose one that is easy for you to pronounce and your dog can easily get used to it.
As a rule of pronunciation, Korean names with a hyphen between two names are to be pronounced like two names and not mashed together. If you need any help with choosing a befitting Korean name, you can choose a name that reminds you of a place and time in your life.
Garrett loves animals and is a huge advocate for all Doodle dog breeds. He owns his own Goldendoodle named Kona. In addition, he volunteers at the Humane Society of Silicon Valley, where he fosters dogs and helps animals. Garrett enjoys writing about Doodles and believes that dogs can teach humans more about how to live than humans can teach a dog.
Why Trust We Love Doodles?
At We Love Doodles, we're a team of writers, veterinarians, and puppy trainers that love dogs. Our team of qualified experts researches and provides reliable information on a wide range of dog topics. Our reviews are based on customer feedback, hands-on testing, and in-depth analysis. We are fully transparent and honest to our community of dog owners and future owners.