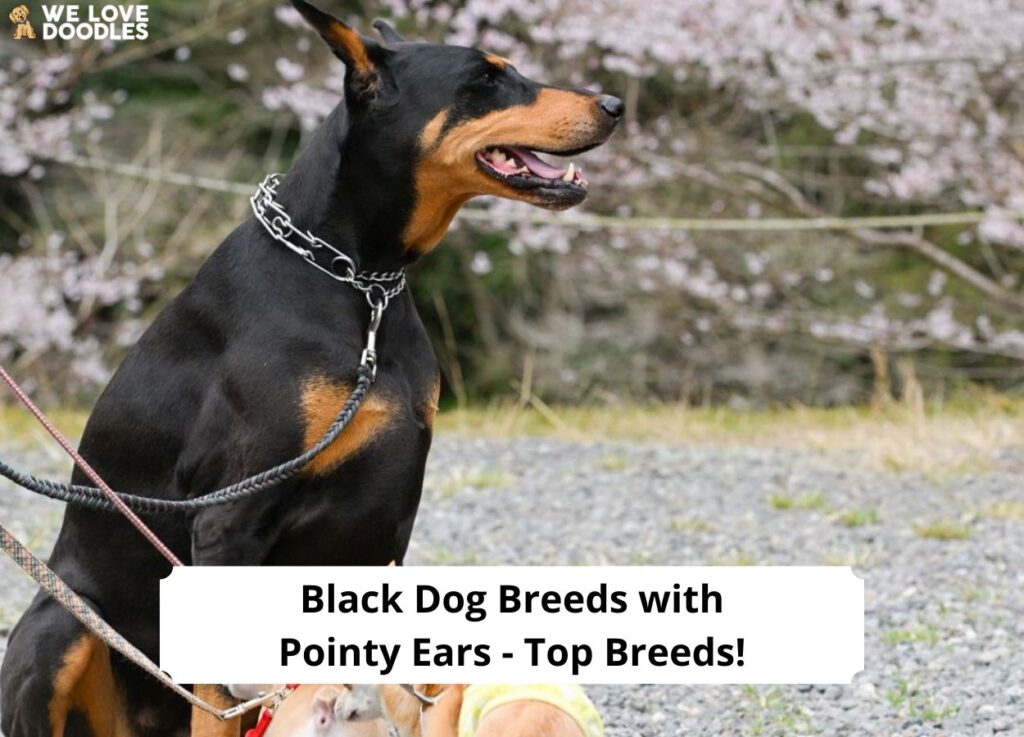 Black dog breeds with pointy ears can look either playful and alert or watchful and menacing! No matter your taste, you've got quite a few options if you're searching for this look.
While ear cropping and pinning aren't prohibited (yet) by the American Kennel Club, we understand that many breeders are now choosing to forgo the modifications and opt for a more natural approach to a dog's appearance.
If you're looking for black dog breeds with pointy ears, we've got you covered. Check out the list of dogs that fit these characteristics. Whether you want a little companion or a stocky watchdog, you'll find the perfect dog on this list.
Before you scroll down this list of black dog breeds with pointy ears, check out: 9 Black Dog Breeds With Blue Eyes! (2023) and Black Dog Breeds with Brown Eyebrows – Top 7 Breeds! (2023).
1. Giant Schnauzer
The Giant Schnauzer can weigh up to 85 pounds and has a lifespan of up to 15 years. The dogs originated in Germany but have grown in popularity around the world. These black dogs with pointed ears have a distinguished appearance, and they're a good option for families willing to exercise them frequently.
Giant Schnauzers are playful and smart, and they tend to get along with children and other dogs. Keep in mind that the dogs get bored easily! If not taken for long, daily walks your dog may find himself in trouble more often than not.
The breed loves human attention and you'll find your dog underfoot as you cook dinner or vacuum the floor. In addition, the Giant Schnauzer can be a trickster. Despite their size, the pups are like toddlers — they'll push boundaries unless you use firm commands.
If a highly attentive dog sounds perfect to you, great! The Giant Schnauzer sheds minimally and grooming isn't complicated. You can clip your pup's hair short and bathe him every month or so.
Hand-strip or brush with a pin brush between grooming sessions to remove dead fur, and use an appropriate shampoo and conditioner when you do bathe him.
2. Schipperke
The Schipperke is a breed that doesn't get much attention in the United States, but they're beautiful dogs worth considering. The dogs are small but mighty — they only grow to be around 15 pounds but were bred as watchdogs.
They're smart and trainable, and they can learn to get along with humans of all ages when properly guided, though life with children isn't always suited to the temperament of a Schipperke.
The Schipperke is a companion dog. If you vacation frequently you should plan to bring your buddy along, as they may cause trouble in a kennel environment.
If not kept properly entertained, you may find that your dog has repurposed your shoes and furniture as chew toys. Fortunately, the pups don't need a lot of room to exercise and your dog will do well in an apartment setting.
The Schipperke may be a black dog with pointy ears, but that doesn't mean he's always a good listener. The dogs are stubborn and willful, but this doesn't mean they're not good pets.
They are, in fact, wonderful friends that will dote on you with love and attention. You just need to ensure that you're committed to training your dog properly to avoid trouble later.
3. Scottish Terrier
If you're looking for an adorable, alert, relatively small dog, you should check out the Scottish Terrier. These black dogs will bond closely with one human and, as such, may not be suitable for families with kids.
In fact, the Scottish Terrier is known for its propensity to snap at kids. They're moody and feisty, so singles and seniors are likely the best demographic for Scottish Terrier ownership.
The length you choose to keep your dog's hair will determine how much grooming she needs. Long, flowing hair is the Scottish Terrier's signature style, and the length will require frequent brushing. That said, your pup will look adorable with a shorter cut.
Keeping your dog trimmed will lessen the need for combing out tangles, but brushing is still recommended to keep shedding at bay.
Firm training is essential to a happy life with a Scottish Terrier. They're stubborn dogs, and their strong will means that the dogs don't take commands very easily. Remember that you're the pack leader! If you don't establish this relationship early on, your little pointy-eared pup will walk all over you.
Overall, the Scottish Terrier is a little dog with a big heart. He'll adopt you instead of the other way around; if you're lucky to be the recipient of this dog's affection, you'll have a furry friend for life.
4. Thai Ridgeback
The Thai Ridgeback has a distinguished, regal look and a personality to match. Not all Thai Ridgebacks are black with pointy ears, though. The breed comes in blue, red, and fawn as well!
The short-haired dogs have a muscular and streamlined appearance, giving them a sometimes-aggressive or alarming appearance. Of course, the signature of the Thai Ridgeback is the ridge on his or her back, which is caused by the direction of their hair.
As with many large dogs, the Thai Ridgeback will need plenty of exercise and firm commands. They're independent dogs that were bred for hunting and guarding, so you'll need to teach your pup who to (and who not to) socialize with.
They're intelligent dogs, however, and they're loyal as can be once they're incorporated into your family.
The black fur on your Thai Ridgeback will look fantastic after it's run through with a slicker brush. Wash your dog several times each year unless she spends a lot of time outdoors.
Nail trimming, ear cleaning, and anal gland expression will need to be regularly performed — take your pup to the groomer if you're not comfortable with these tasks.
5. Belgian Sheepdog
Next on our list of black dogs with pointy ears is the Belgian Sheepdog. This dog, of course, hails from Belgium and is a herding dog by nature.
Your family will be the pup's flock, but with the right training, he will integrate well into your family as a member of the pack. Belgian Sheepdogs are serious dogs, but they're also wonderful companions.
Consider your Belgian Sheepdog your friend. They crave companionship, and if you don't give your dog the attention she feels she deserves, she has a tendency to get a little pouty.
They're workaholics and will be especially pleased if you task them with little activities throughout the day. They're the perfect breed to teach to fetch your newspaper.
The Belgian Sheepdog can be afflicted with a number of health conditions, so you'll need to ensure your pup is getting vet-checked regularly. Hip dysplasia, epilepsy, and cataracts are a few of the most common to look out for. If healthy, your Sheepdog can live to be around 15 years old.
Your dog will need occasional grooming in addition to those checkups. A trip to the groomer will be necessary every now and then, but you can care for your dog at home, in the interim.
Use a pin brush and a slicker brush to keep your pup's long coat healthy and free from tangles and mats. Bathing your dog will be especially necessary during "shedding season" to help keep your pup comfy and your home clean.
6. Welsh Corgi
While the Welsh Corgi comes in many colors, there are certain dogs who fit the "black dog with pointy ears" description! Your Corgi may be black and white, merle, brindle, sable, red, or blue. If your heart is set on a black dog, check your shelter or speak with a breeder about how to get the pick of the litter.
Welsh Corgis are well-known for their "wigglebutts," and the pups seem to always be happy! They're truly friendly and affectionate dogs, agreeable with just about every member of your family.
If you have small children, be sure to teach them the proper handling of your dog. they're loving dogs, but they can nip at kids who suddenly grab or lunge at them.
You won't need to give your Corgi frequent haircuts; the dogs will do just fine with longer hair. In fact, longer hair on a Corgi will help her regulate her body temperature better than short hair. These pups will shed — and we mean a lot! Plan to brush your dog's hair daily unless you don't mind hair everywhere in your home.
According to legends, the Welsh Corgi is the transportation of choice for fairies and elves. This explains the saddle-esque markings on the corgi's shoulders and back.
7. Bull Terrier
The Bull Terrier has a bit of a misplaced reputation. They're known for being aggressive and threatening, and your black dog with pointy ears will look every bit the part. But be assured that with the right training, your Bull Terrier can make a fantastic family pet.
The breed is most suitable for families with no children, and for those who have the patience and time to commit to proper training.
Bull Terriers will grow to be around 65 pounds, and will stand around 22 inches at the shoulder. These measurements make for a stocky-looking pup that looks ready to charge at any moment. In reality, while the dogs are intensely strong, they're quite affectionate! There's a good chance your Bull Terrier will mistake himself for a lap dog.
Bull Terriers aren't for everyone. If you're not sure whether the breed is a good fit for your lifestyle or your family, reach out to a breeder or to your local animal shelter. The professionals can assist you in determining whether your home and personality are a good match for these temperamental dogs.
8. Belgian Malinois
The Belgian Malinois is gaining popularity in leaps and bounds, thanks to social media. Dozens of TikTok and other social "stars" have been showing off their training prowess in fantastic displays of cooperation between humans and animals. It's quite impressive to watch, giving the appearance that the owner and dog are dancing.
It's true that the Belgian Malinois is an attentive and alert dog. They are used as work and service dogs in the police force and in the military. Please note, though, that they can be extremely aggressive if not trained properly.
They're not bad dogs, they're simply protective of their pack. Children are usually not good companions to these dogs, and the elderly should carefully consider their capabilities before adopting a Belgian Malinois. That said, they do make excellent service dogs if they begin training in puppyhood.
This black dog with pointy ears should be bathed every few weeks and blown out to remove dead fur. You can brush your dog daily to keep shedding under control; a slicker brush is the best option for keeping your dog's coat sleek and shiny.
If you're a homeowner who has plenty of energy and time to devote to training, a Belgian Malinois is a breed worth considering. Careful consideration should be given to your lifestyle, though, and speaking to a breeder or another expert will yield invaluable information.
9. German Shepherd
Last on our list of black dog breeds with pointy ears is the beloved German Shepherd. These dogs, like the Belgian Malinois and the Bull Terrier, can have a reputation for aggression.
However, the dogs are less likely to act out than some other breeds. Of course, as always, proper training is critical. They're the second-most popular breed in the United States, and they're widely used as K9 and military dogs.
Your German Shepherd will shed quite a bit. His black fur will make its way into your carpets and your food if you don't brush him daily. Use a pin brush to remove dead hair, and bathe your dog as frequently as his outdoor adventures warrant.
Blowing out your dog's fur can also assist in mitigating shedding. Obviously, your pup will need a trip to the groomer for nail trimming and ear cleaning now and then, too!
There are a few health conditions you'll want to look out for. Hip dysplasia, degenerative myelopathy, and bloat are a few of these. Regular visits to the vet will help ensure your dog lives a full healthy life; these pups have a life expectancy of up to 13 years.
Frequently Asked Questions
What German dog has pointy ears?
Besides the German Shepherd, another black German dog with pointy ears is the German Spitz.
What do pointy dog ears mean?
Pointed dog ears can be a sign of interest or excitement, as we've covered in this guide on dog ears.
What dog looks like a German Shepherd but isn't?
While it's a smaller breed, it's possible to confuse the Belgian Malinois for a German Shepherd.
Conclusion for "Black Dog Breeds with Pointy Ears – Top Breeds"
There's something quite distinctive about black dog breeds with pointy ears. In some cases, your dog may appear to be an aggressive pup, while in others your pet may look alert and playful.
There are quite a few dog breeds to choose from if this is an aesthetic you love. The breeds described in our guide cover a wide range of sizes, looks, and personalities. Choose the pup that's right for you and enjoy your new furry family member!
Check out these other lists of dog breeds:
Learn more by watching "Top 30 Amazing Dog Breeds with Pointy Ears that Stand Up" down below:
Garrett loves animals and is a huge advocate for all Doodle dog breeds. He owns his own Goldendoodle named Kona. In addition, he volunteers at the Humane Society of Silicon Valley, where he fosters dogs and helps animals. Garrett enjoys writing about Doodles and believes that dogs can teach humans more about how to live than humans can teach a dog.
Why Trust We Love Doodles?
At We Love Doodles, we're a team of writers, veterinarians, and puppy trainers that love dogs. Our team of qualified experts researches and provides reliable information on a wide range of dog topics. Our reviews are based on customer feedback, hands-on testing, and in-depth analysis. We are fully transparent and honest to our community of dog owners and future owners.