Dog communication is thought to include things like a dog's hot head, chilly ears, or even yawning because they can all alert you to potential problems or opportunities. What about dog ears, though? There are a few dog ear positions that might convey an emotion, as we'll show in this chart.
When your dog's ears are pointed forward, it indicates that the animal is interested in or paying careful attention to something. The flattening of your dog's ears against its head is a sign of hostility or fear. Your dog may be feeling depressed if its ears are far back but not near its head.
In order for you to understand your dog's behavior and emotions, we created a guide and chart for dog ear positions. Many dog owners can feel and sense their dog's energy, but it's always a good idea to be aware of the signs, such as ear position.
Before you scroll down this dog guide, "Dog Ear Positions Chart," check out: The 5 Best Dog Ear Cleaners! (2023) and How to Clean Goldendoodle Ear Hair? (2023).
Dog Ear Positions Guide
The first feature that a person or another dog will notice about a dog is its ears, followed by its tail. The position of a dog's ears can be used to reveal its state of mind. Different ear placements may have the same or comparable meanings, but in other circumstances, a small difference might have a significant impact.
Although a dog's eyes may be the doorway to its soul, you should also pay close attention to its ears. You can stop a conflict from starting by observing where their ears are placed. Your dog will be able to let you know when they dislike a particular dog, and you will be prepared to respond accordingly.
Dogs utilize their ears for more than just hearing. They also use them to communicate and convey their emotions.
1. Relaxed/Neutral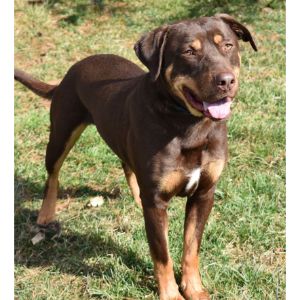 This ear position is one you should be pleased to see. This indicates the dog is extremely at ease with you and its surroundings. Depending on the natural ear position of various breeds, this may be viewed differently.
Dogs with naturally pointed ears, such as the Boston Terrier, Husky, and German Shepherd, may indicate something different in some circumstances. Dogs with pointed ears will have slightly tilted ears when they are at ease.
It may seem as though dogs with naturally long, floppy ears are constantly at ease, yet there is almost always a small difference. Dogs with floppy, folded ears, like the Cocker Spaniel, Golden Retriever, or Beagle, will have the base of their ears in a relaxed, resting position, and the outer ear will drop loosely.
The best sign that your dog is content but not overexcited is when its ears are relaxed. Every dog owner hopes for a calm dog.
2. Reclined/Flattened/Pinned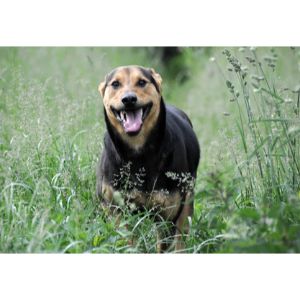 The dog will drop its ears to its head in this position. This is obvious in dogs with straight, pointed ears. Because they are either displaying fear or acting in a submissive manner, this is not desirable.
Flat ears are typically displayed by other dogs. As a result of sensing that the other dog's energy is greater and more dominant than their own, your dog will feel submissive towards them.
Although you may feel bad for your dog, it may be beneficial in the long run because it's letting the other dog know they don't want any trouble and are open to having it smell and examine them. When they get to know one another, they might develop a friendship and carry on playing.
The most alarming sign, however, is when the dog's ears flatten in dread. A dog that has been subjected to human mistreatment is likely to have flattened ears and a hunched-over appearance.
Signs of Fear
You must identify the source of your dog's fear if they start to pin their ears at home. For instance, many dogs exhibit this ear position when they hear fireworks because they are afraid of them.
When they demonstrate fear, you have a chance to calm them down. Yet, pinned ears can also indicate that an animal is content, amiable, or delighted to meet you. When you welcome your dog home after a long day at work, you might notice this ear position.
They'll probably almost crawl to you for an embrace, pinning their ears down, lowering their body, and wagging their tail. By doing this, they are letting you know how happy they are that you returned home.
They may also exhibit similar behavior if they come across a dog they enjoy. The dog will likely appear to be grinning at that very moment. The environment and body language should be observed in addition to this ear position because it can indicate two entirely different emotions.
3. Attentive/Pricked
Pointed ears can signify a variety of things, like alertness, so it's critical to understand your dog's body language. This is primarily directed at other dogs. It indicates that both dogs are highly energetic and will not allow the other to exercise dominance.
Your dog is demonstrating to you and the other dog that they are prepared to defend themselves and engage in combat if needed. This is only a sign that this specific dog, or even a human, is not your dog's cup of tea; it does not imply that your dog is hostile.
A dog's head will be up and steady, their posture will likely be stiff, and you might even catch them licking their lips or making strong eye contact. This may also be one of the indicators of aggression, so you should keep an eye on your dog's actions.
When you see your dog raising their ears towards another dog or a person, you should remove them from the environment, as this is its way of signaling it needs space.
When male dogs are sexually frustrated, they may exhibit this aggressive behavior, including sharp ears, especially if there is a female in heat and other males are present. You can encounter issues like a dog fight, lunging, or them attacking another person when this ear position combines fear and vigilance.
This is why it's crucial to watch your dog and keep it out of any situation that causes its ears to stand up.
Signs of Joy
Happiness is another thing that perked ears could indicate. If you only use the dog's ears to judge how they are feeling, this can be perplexing. When they see a person or a dog they like, they might point their ears in their direction.
This is almost like the beginning of them showing their joy, pleasure, and playfulness. In the midst of play, you may have seen your dog pointing its ears. Your dog will most likely prick its ears and bend its head as it intently listens to you if you talk to it in a happy, amusing manner. The dog's tail will likely be wagging, which is a sign of happiness in dogs.
This is especially noticeable in dogs whose ears stand straight up by nature. It might be a little harder to see in dogs with floppy ears. Focus on the ears' bases, which will be more upright, or, to be more precise, will be standing higher than they would otherwise.
4. Changing Positions
This varies between breeds and is particularly obvious in pointy-eared dogs. This indicates that the dog is somewhat perplexed. You might be confused by this as well, but the good news is that not even the dog is aware of how it feels, so you don't need to stress yourself to make sense of it.
This may occur if a dog hears a sound within the house but is unsure of its source or whether to be alarmed. When a dog is trying to figure out what is going on and is unsure of how to feel, they frequently flick their ears back and forth.
You can either wait till they figure it out on their own or you can divert their attention by reassuring them, kissing them, snuggling them, offering them treats, or inviting them to play.
5. Perked/Alert
Although pointed ears and perked ears can look identical, they express different emotions. There is visible muscle tension all over the dog's body and face. This indicates that the dog is attentively listening and is awaiting your command, a treat, or the toss of a ball.
You don't need to be concerned because there aren't any negative or violent emotions driving perked ears. Their ears will be noticeable if they detect a noise but are unsure of who or what is making it. This indicates that they are investigating.
The other possibility is that they are watching for your command to give them a treat. They may be entirely focused because they are sitting and waiting for you to throw them a ball. You might detect an open mouth or a mouth that is entirely closed.
Your dog is actively listening if its perked ears are gently shifting from left to right. They may even tilt their heads. This occurs whenever you use one of their favorite terms, such as "treat" or "walk."
They'll stare you down with those prickly ears to get you to repeat the words because they want to make sure they understand you. Due to their curiosity about their new surroundings and sounds, your new puppy may often exhibit perked ears.
More Canine Body Language
In addition to their ears, dogs have a wide variety of other body parts that they can use to communicate with humans. While some can sneak up on us without our ever recognizing them, others are more noticeable than others. One may argue that a dog's entire body is a means of expression.
Our dogs have a variety of ways to communicate with us about how they are feeling and whether or not there may be something wrong with them. Some of these ways include dry noses, wet noses, and chilly ears. Others include their wagging tails and facial expressions.
We have compiled a list of the different ways that your dog can communicate with you. It is important to be aware of these ways at all times because they can be of assistance to both you and the dog.
Playfulness
Dogs of all ages, from puppies to senior citizens, exhibit this very observable body language. In addition to moving forward, they will take a stance in which they bring their front paws and legs close to the ground while simultaneously raising the lower portion of their body into the air.
Excited
The dog won't necessarily adopt a specific position. Excited posture is really more of a movement on the part of the dog. The dog will be unable to remain still and will be seen dashing around and jumping all over the place. This is frequently related to the zoomies that all of us find so entertaining to watch.
Scared
There are many ways to assume the terrified posture and dogs will express it in different ways. In most cases, the entire body will be brought to the ground. There is a chance that they will shake, and there is also a chance that their tail will be tucked between their knees.
Aggression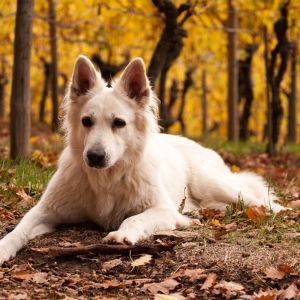 When they become angry or attack-ready, you will undoubtedly sense the tension. The majority of their body weight will be distributed across both of their front paws. They will stare, and the hair on the back of their necks will stand on end. There may even be a growl or two with teeth showing.
Calm
Their appearance and behavior will fit in seamlessly with the environment. Their lips, torso, ears, and hair will all be in a comfortable, natural position. You'll be able to tell that your dog is relaxed, secure, and content.
Frequently Asked Questions
How can you tell if a dog is happy?
A dog that looks relaxed with a wagging tail and floppy ears is likely happy.
Does a dog trust you if they sleep on you?
A dog comfortable enough to sleep on or near you likely trusts you.
What is the ear nerve trick in dogs?
You can gently stroke your dog's ears in a circular motion to activate their nerve endings and make them happy.
Conclusion for "Dog Ear Positions Chart"
The American Kennel Club has validated every one of these body language cues, including the locations of the dog's ears. Dogs may communicate with one another in a variety of ways, and one of those methods is by shifting the position of their ears.
The dog and owner can both benefit greatly from ear signs. It helps us comprehend how the dog is feeling. If the dog is anxious or afraid, you can comfort them. You can also keep it out of potentially dangerous circumstances.
We sincerely hope this dog ear positions chart has improved your understanding of how your dog communicates. Certain dogs may make it more difficult to read some signs, particularly those with long, floppy ears. But, it is not impossible; all you need to do is pay closer attention and concentrate better.
If you find this guide, "Dog Ear Positions Chart," helpful, check out:
Learn more about dogs' ears by watching "🐕 What Your Dog's Ears Tell You? TOP 7 Dog Ear Signs" down below:
Garrett loves animals and is a huge advocate for all Doodle dog breeds. He owns his own Goldendoodle named Kona. In addition, he volunteers at the Humane Society of Silicon Valley, where he fosters dogs and helps animals. Garrett enjoys writing about Doodles and believes that dogs can teach humans more about how to live than humans can teach a dog.
Why Trust We Love Doodles?
At We Love Doodles, we're a team of writers, veterinarians, and puppy trainers that love dogs. Our team of qualified experts researches and provides reliable information on a wide range of dog topics. Our reviews are based on customer feedback, hands-on testing, and in-depth analysis. We are fully transparent and honest to our community of dog owners and future owners.