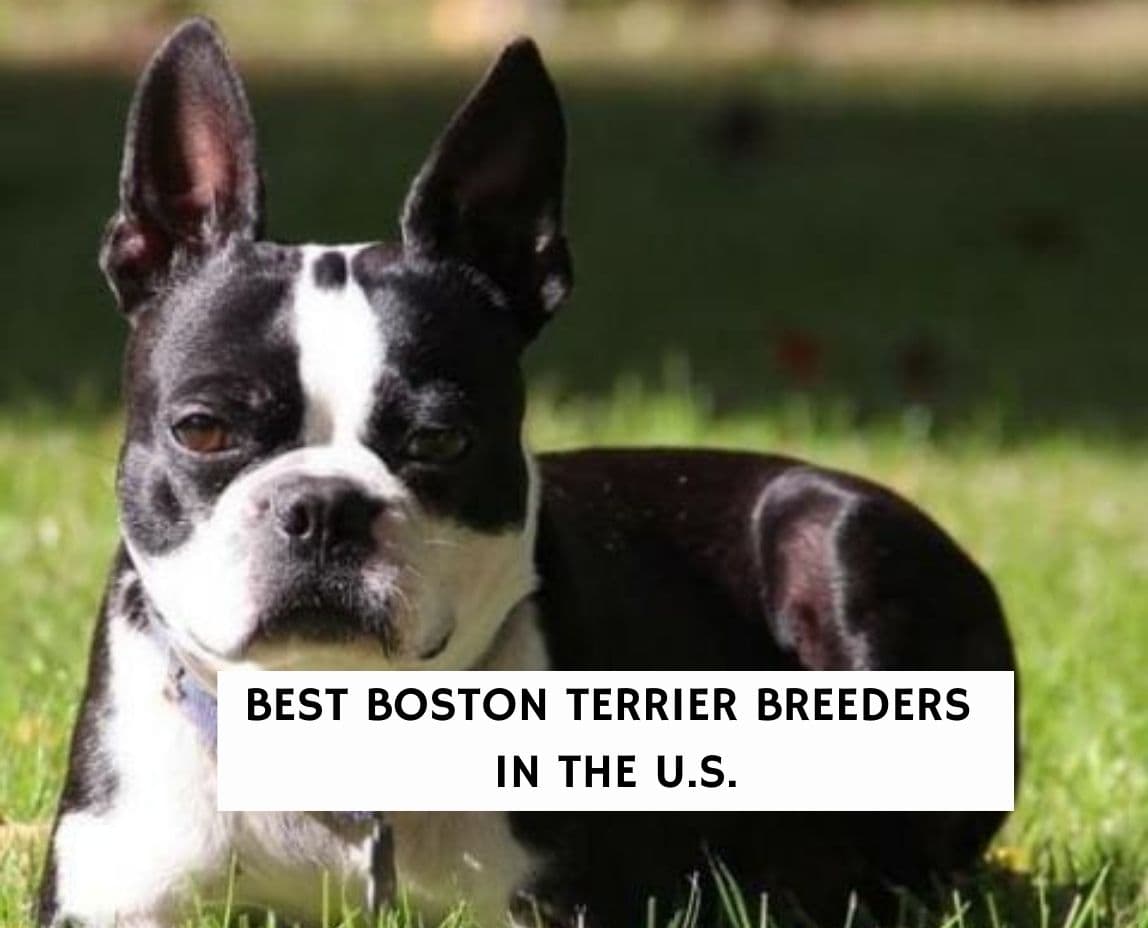 If you're looking for Boston Terrier breeders, you'll find a list of reputable kennels here. Although the Boston Terrier was originally a fighting dog, today, the gentle and affectionate companions get along with all family members in virtually any kind of home, including apartments.
If you can give the breed a lot of love and engage him in physical activity, you'll have an adoring dog. Even though they're small, the breed is intelligent, muscular, and sturdy. Moreover, their vibrant, affectionate nature makes them loveable. As a result, they're delightful companions for apartment dwellers and older people.
Before scrolling down this list of Boston Terrier breeders in the United States, check out these recommendations: Best Cane Corso Breeders in the United States and Best English Bulldog Breeders in the United States.
Boston Terrier Puppies For Sale in the United States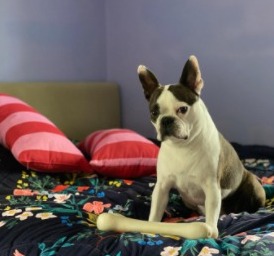 If you're looking for a Boston Terrier breeder, ensure you find a reputable one who seeks to preserve and enhance the breed. Here's a list of breeders in these major states.
Boston Terrier Product Recommendations: Best Dog House for Hot Weather and Best Flea and Tick Collars for Dogs.
1. Canterbury Tails Boston Terriers
First on the list of the best Boston Terriers breeders in the United States is Canterbury Tails Boston Terriers. The breeders established Canterbury Tails in 2013 owing to their passion for the breed. Kenneth and April Canterbury's founders are zealous about animals, with the former having almost 30 years of breeding experience. They're based in north-central Florida, where they take pride in health testing all puppies before they leave for their new homes. Additionally, all their dogs undergo genetic testing and are microchipped.
Canterbury Tails Boston Terriers Details
2. Patriot Farm Boston Terriers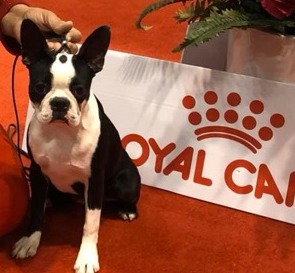 Situated in Weirsdale, Florida, the AKC-inspected breeder treats its dogs with utmost dedication and respect. They endeavor to produce well-adjusted and the healthiest dogs while simultaneously helping others improve their breeding practices. Most of their Terriers are black and white or white and seal. Occasionally, they get chocolate or blue Boston; these were the original colors in the 1800s.
Subsequently, they strive to maintain some of the colors. It's worth noting that all their dogs have veterinarian approval for their breeding program and have undergone genetic screening. They've also undergone physical examination to rule out congenital spine malformations common to this breed. Although they breed for shows, they focus on companion pets. That's why they invest considerable care and attention into puppy raising and strive to match them with suitable families.
It will cost you $500 to reserve a puppy after completing an interview successfully.  Upon a client's approval, they'll typically credit the reservation fee toward a puppy once availability arises. The breeder is entirely liable for their puppies' wellbeing while in their care. However, your liability will begin once you pick up your puppy. The parents' accomplishments and the puppy's quality determine the price.
Their puppies come with restricted registration for companions or complete registration for particular clients. Their priority is ensuring their dogs end up in loving homes where they'll get love from family members. By the time you leave with your new puppy, the vaccinations will be current and updated. You'll also leave the breeder's residence with your puppy's record for your vet to maintain the records. However, you'll maintain the vaccines until they're complete.
Patriot Farm Boston Terriers Details
3. Normandy Boston Terriers
The AKC-compliant breeder is in South Florida, where they strive to produce the best companion puppies. Their goal is to maintain the breed's integrity and offer healthy puppies to suitable homes. All their puppies are AKC-registered, microchipped, with updated vaccinations. In addition, the breeder will send photos and videos throughout the waiting period, allowing clients to participate in the puppy's development. New puppy owners also leave with meaningful information on the dog and a bag of food to get them started.
Normandy Boston Terriers Details
4. Margrave Meadow Farm
Located in Stillwater, New York, the breeder raises Boston Terriers for temperament and conformation. They assert that the environment is significant to early development in puppies. Consequently, they've tried to produce an ideal setting for raising the puppies to be companions and family dogs. The breeder's program has been successful because its selection involves dogs with great temperaments that conform to AKC standards.
They produce only one or two litters annually, enabling the breeder to spend time with puppies individually to assess temperament and sufficiently socialize and train each puppy. The breeder handles the puppies with the utmost care from birth and gradually exposes them to noise and human voices. During the waiting period, prospective families can visit the puppies regularly and observe the puppies mature. By the time you leave with your puppy, he'll be able to walk with humans and will recognize its name when called.
Margrave Meadow Farm Details
5. Brindle Hill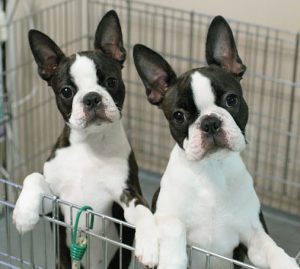 This kennel has been breeding champion Terriers for over 40 years and currently raises puppies in a loving home where they feed on home-cooked meals instead of commercial dog food. They strive to produce healthy, sweet-tempered, and beautiful dogs per AKC standards. They also endeavor to preserve the breed's eye, head, and expression gradually fading from the breed.
Typically they have one litter annually and maintain a small number of dogs. They use restricted registration on dogs they sell that aren't show quality and have yearly CERF eye exams performed on all dogs.
Brindle Hill Details
6. VP Ranch
VP Ranch raises quality Boston Terriers in Pilot Point, Texas, where the puppies live with the breeder in their home with the rest of the family. While several dogs have excellent bloodlines besides being champion-inspired, they don't merely breed for bloodline purposes. Instead, they produce conformation, temperament, and health. At VP ranch, the dogs undergo socialization with other dogs and cats. Moreover, all the dogs undergo regular vet checks and come with updated vaccines.
Once their dog gives birth to a litter, the breeder will usually announce it on their website and pick up and visit date once the puppies attain 1-2 weeks. After that, visits only occur by appointment according to the waiting list. Once you identify your preferred puppy, you'll need to pay a $500 deposit to reserve a puppy until it reaches eight weeks of age. You can expect to spend $1200 on a Boston Terrier, which comes with AKC limited registration. This means you can register the puppy under your name, but you can't breed it.
VP Ranch Details
7. Boston Terriers of Texas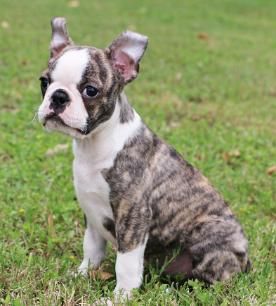 Last on the list of the best Boston Terrier breeders in the United States is "Boston Terriers of Texas." Situated on ten acres in Cooks Point, the breeders, Renita and Brandon, have about ten years of experience in breeding Boston Terriers. Their purebred dogs are CKC-registered and paired to produce healthy puppies with a gentle disposition, which is distinctive of this breed. It's worth noting that these dogs receive considerable playtime and nurturing to ensure they're well-adjusted and social. Each puppy comes with registration papers, health records, and other beneficial information.
You'll equally obtain a free starter food bag, their first toy, and a blanket. To authenticate the breeder's guarantee, you must take your new puppy for examination by a licensed vet within two business days. If the vet determines the puppy to be unsound, you must return the puppy and the written statement by the third business day from the contract date.
Keep in mind that the vet examination will be at your expense. If you don't take the puppy for a vet examination, you'll be liable for the puppy's health. On the other hand, if a replacement is necessary because of the puppy's health, an immediate replacement will occur depending on availability. You'll only obtain a refund if you provide a written statement from a vet indicating that the source of any health issues is from the breeder.
The breeder won't issue any refund or exchange any puppy for any issues unrelated to the puppy's health, for instance, allergies or landlord-renter problems. Furthermore, the breeder won't cover any expense you've incurred for whatever reason. Finally, beware that the breeder can't guarantee the puppy's temperament or size, and while all dogs undergo vaccination and deworming, the breeder can't guarantee against fleas or other parasites.
Boston Terriers of Texas Details
Frequently Asked Questions
Is it better to have 1 or 2 Boston Terriers?
Having two Boston Terriers allows them to have constant companionship and fun together. The Boston Terrier is a good companion dog; having two Boston Terriers gives them a chance to have a best buddy at home. Boston Terriers have an affectionate temperament and do well with other pets and small children.
What is the average cost of a Boston Terrier?
You'll usually have to put down a small deposit of around $500. At PuppySpot, a Boston Terrier will cost from $2,649 to about $4,000. This is a small muscular breed that's great to be around. So when searching for a Boston Terrier puppy, you should look for the following:
Health certificate
Microchipping
The reputation of the breeder
How long they've been breeding for
Read reviews
All dogs should undergo genetic testing.
Pups should be free of congenital spine malformations common to the breed.
The breeder should send photos and videos throughout the waiting period to allow clients to participate in the pup's development.
What is the rarest Boston Terrier color?
Blue
Merle
Lilac
Lavender
Platinum
Is a girl or boy Boston Terrier better?
Both male and female Boston Terriers are excellent companion dogs. The American Kennel Club (AKC) describes the Boston Terrier as a friendly and lively dog. 
The Boston Terrier also has an excellent disposition and a high degree of intelligence, which makes the Boston Terrier an incomparable companion. 
When comparing the female and male Boston Terrier, the only difference is a slight refinement in the female's conformation. Males will weigh between 10-25 pounds, and females 9-20 pounds. Height will vary a bit, with females ranging from 9-15 inches and males from 15-17 inches.
This breed is a compact little dog that weighs no more than 25 pounds. That said, it's thought that the male Boston Terrier is more affectionate and friendlier than the female. Both have an average lifespan of 13-15 years. Males will be bulkier with more muscle mass.
What is the most popular Boston Terrier color?
The black and white Boston Terrier is the most common and popular color.
Here are some more breed colors and marking:
Black and white
Black, brindle, and white
Brindle and white
Seal and white
Seal, brindle, and white
How much are blue Boston Terriers worth?
A purebred blue Boston terrier can cost as little as $2,649 or over $4,000, depending on the breeder. You'll need a reputable Boston Terrier breeder and kennel to ensure your pup meets health testing requirements.
Pups should also go through physical examinations to rule out congenital spine malformations common to this breed.
Are blue Boston terriers purebred?
The blue Boston terrier is a dilute of the original black color of the Boston Terrier. The mutation in the chromosomal pool leads results in the blue color. The blue Boston Terrier is not officially recognized by the AKC, meaning there is no title for the Blue and White.
Why should you not get a Boston Terrier?
You should only get a Boston Terrier from a reputable breeder since they're predisposed to specific health conditions.
Brachycephalic syndrome
Deafness
Cataracts
Hypothyroidism
Mange
The AKC adds that the Boston Terrier has an excellent disposition and a high degree of intelligence. This makes the Boston Terrier a wonderful breed that's a terrific companion. 
This breed needs to spend plenty of quality time with its pet parents. They need to be close to you and have lots of attention. If you're out at work all day, the Boston Terrier may not be the right breed for you!
Conclusion For The "Best Boston Terrier Breeders in the United States"
If you're looking to own a Boston Terrier, ensure you locate a trustworthy breeder who seeks to preserve the breed. Be wary of breeders who guarantee against all hereditary illnesses. Reputable breeders typically strive for the best temperament, conformation, and health. Therefore, you should conduct the necessary research to acquire a healthy puppy.
For more articles with mentions of the Boston Terrier, you can check out:
Learn about the Boston Terrier dog breed by watching "Boston Terrier Dogs 101" from Animal Facts down below: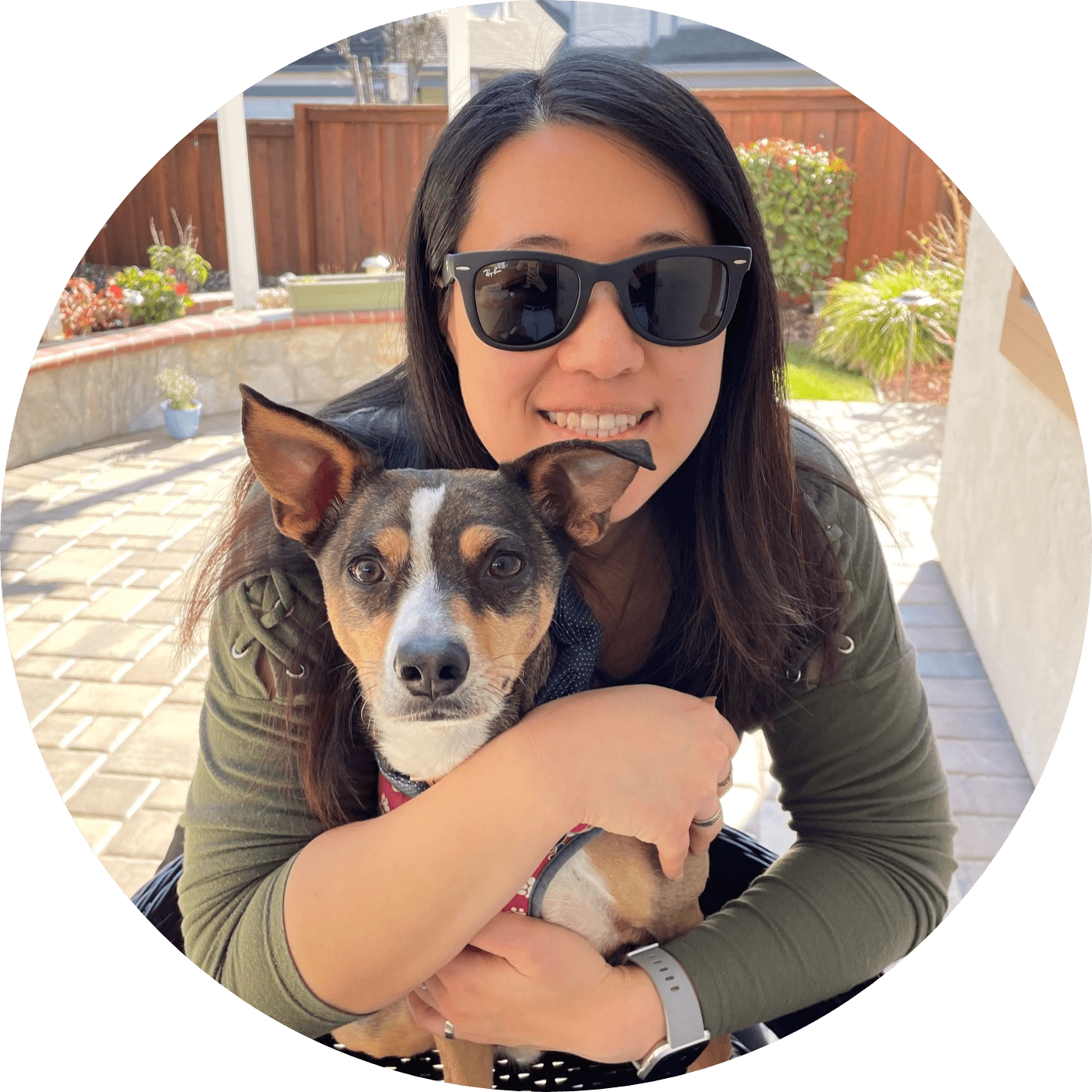 Dr. Sabrina Kong graduated from the Royal Veterinary College in England in 2016 and has been working at a small animal clinic in Northern California since then. She grew up in the Bay Area and got her bachelor's degree from Cal Poly San Luis Obispo. She also became a Certified Canine Rehabilitation Practitioner through a program at the University of Tennessee.
When she isn't in the clinic taking care of her four-legged patients, she enjoys traveling and trying new foods with her friends and her three-legged dog, Apollo. She adopted Apollo from her clinic when he was a puppy with numerous health issues. Dr. Kong truly cares about taking care of animals.