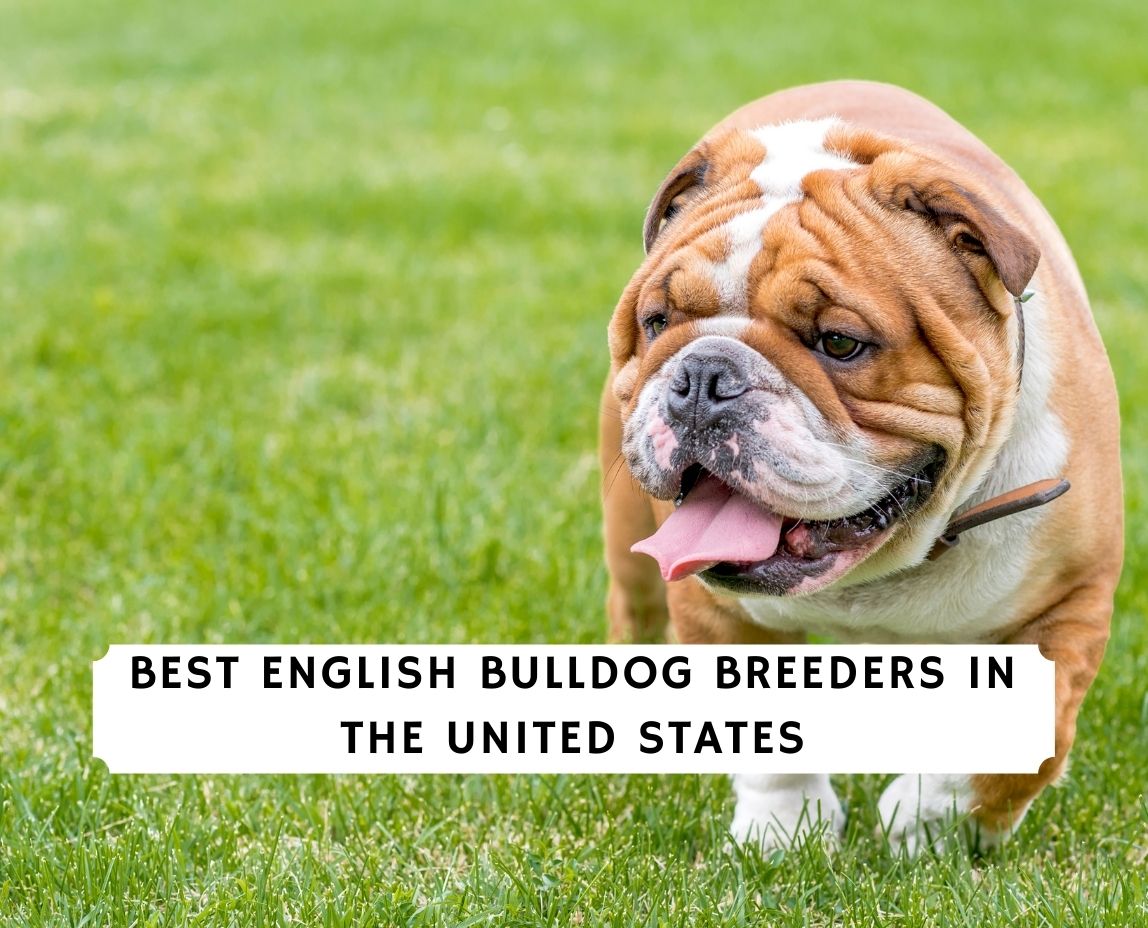 If you're searching for the best English Bulldog breeders in the United States, then you've come to the right place. You know an English Bulldog when you see one. You can't mistake their loose forehead skin, furrowed brows, tiny ears, and hanging chops for any other breed. Weighing up to 50 pounds, a short brisk walk around the house, and a long nap on the couch is just the speed of an English Bulldog. They are small, easy-going, yet brawny creatures with exceptional strength and robustness. The English Bulldog gets its name from its role in the sport of bull-baiting.
Their reference originates from 1209 in the British Isles and mentions butcher dogs chasing bulls through the town of Stamford. The sport captured the Earl's fancy, after which he became an ardent patron of bull-baiting. Is it a surprise that courageous and stubborn are traits that define the breed? Here's another fact that will astonish you. The aggressive training over six centuries has not turned the Bulldog into an instinctively vicious creature.
On the contrary, dignified, charming, and lovable are more the breed's natural personality traits. While English Bulldogs are relatively low-maintenance dogs, a pet parent does need to pay attention to their diet. Yes, these adorable rolly-pollies are prone to weight gain. They are slow learners, not prone to barking, and have trouble swimming. A former United Kingdom Prime Minister was nicknamed the "British Bulldog." We'll let you google that one. Here's something you probably will not have to google—the United States 3rd Infantry commissioned Walt Disney to draw them a mascot way back in 1965, and guess which ferocious-looking canine cut.
Before scrolling down this list of the best English Bulldog breeders in the United States, check out other simialar dog breed recommendations: Best Rottweiler Breeders in the United States and Best Bullmastiff Breeders in the United States.
English Bulldog Puppies For Sale in the United States
If you've decided to bring home an English Bulldog companion, here's a list of breeders to help you find the perfect dog. Remember to do your research if you plan to purchase from unknown English Bulldog breeders to avoid any potential puppy mills.
English Bulldog Product Recommendations: Best Dog House For Hot Weather and Best Dog Strollers For Large Dogs.
1. Ballpark Bulldogs Texas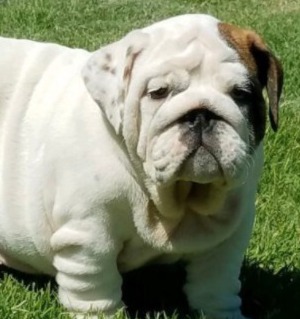 First on the list of the best English Bulldog breeders in the United States is "Ballpark Bulldogs." The breeders at Ballpark Bulldogs, North Texas, are some of the most ethical and upstanding breeders who devote their time to better education regarding the Bulldog breed. They aim to use this acquired knowledge in breeding healthy and happy bulldogs. With an emphasis on quality and health, Ballpark Bulldog puppies are raised to improve their bloodline. These breeders also offer a one-year health guarantee on every Bulldog puppy they sell, provided a vet examines the puppy within a week of reaching their new home. In this way, the buyer receives the top-notch quality English Bulldogs that he deserves.
If a life-threatening disorder is discovered with your chosen puppy, the breeder provides a replacement puppy of equal value. However, if there is no availability for a replacement at the moment, they will reserve the pick of the next litter for you. Ballpark Bulldogs offer financing options for those who qualify. They also provide safe and reliable domestic shipping with an experienced Pet Nanny Service. The cost of transportation is subject to the distance from North Texas. If you fall in and around the state of Texas, these breeders should be your first pick.
Ballpark Bulldogs Texas Details 
2. Big Bulldogs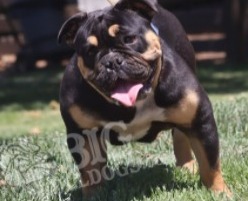 Based in San Diego, Big Bulldogs breeds both English and French Bulldog puppies. This team of breeders was started and is run by Bulldog breeder and enthusiast Todd Howard. He is also a prominent animal rights advocate with significant years of experience. He is passionate about providing a purebred line of puppies to potential buyers. Through his foundation, he aims to curb consumer fraud in the animal breeding industry. They do not support the idea of inbreeding, line breeding, or dog clubs, in case you were wondering.
Big Bulldogs breeds some of the healthiest and well-mannered bulldogs. The selection of parent dogs is not based on champion bloodlines and fame but rather, health and temperament. Howard and his team have many healthy puppies, all eight weeks old and up. The team also offers a two-year health guarantee on its Bulldog puppies, higher than the standard. With over 25 years of experience under their belt, you're dealing with the best of the best.
Big Bulldogs Details 
Name: Big

Bulldogs

 
Address: 2517 S Santa Fe Ave #1, Vista, CA 92083, United States
Phone Number: (760) 580-6084
Website: Big Bulldogs
3. Dreamy Bulldogs
Here to make all your pet dreams come true, the Dreamy Bulldogs team features some of the most precious, lovable, and friendly little English and French Bulldogs. Raised in an atmosphere of love and the utmost care, these puppies are treated like the babies of the family at Dreamy Bulldogs. Every dog's achievements and milestones—from the time of their birth to their first steps, their first toys, and their first soft barks right up to the point of their adoption—are captured and stored in Dreamy Bulldogs archives.
This way, you never feel like you missed a day in your chosen puppy's life. They are currently breeding the fourth generation of family-raised Bulldogs. Each of their puppies is purebred, healthy, and of desirable temperament. When you visit Dreamy Bulldogs, be sure to take a look at their sleek collars, leashes, and harnesses so you can take one back with you as a souvenir. Why? Because each is a unique handcrafted accessory made with as much love as your puppy.
Dreamy Bulldogs Details 
Name: Dreamy

Bulldogs

Address: 348 SW Panther Trce, Port St. Lucie, FL 34953, United States
Phone Number: (786) 724-8942
Website: Dreamy Bulldogs
4. Childs Bulldogs
Under Jessica Childs' leadership, the foundation, Childs Bulldogs, aims to continue the legacy of English and French Bulldogs. Her passion for bulldogs and her efforts to find them forever homes has continued to be her prime driving force since 2004. All of her puppies are raised in loving, healthy, and ideal environments. The family's involvement in the puppies' life contributes to their holistic growth and development. Childs Bulldogs offers Limited Pet homes, Full Right homes, and Show Homes as well. 
With one year of guaranteed genetic health, all of their puppies are vet checked at regular intervals and accompanied by a Florida State Health Certificate. If you're clueless about your new Bulldog's veterinary or breeding needs, you can always consult with them for some brilliant top-notch references. Don't worry if you're based a little further from South Florida, as you can avail of their Nanny Service to have your puppy delivered to you.
Childs Bulldogs Details 
5. Stone Quarry Bulldogs
Last on the list of the best English Bulldog breeders in the United States is "Stone Quarry Bulldogs." The best place to adopt an English Bulldog anywhere in Ohio is Stone Quarry Bulldogs. They have been breeding for 15 years now and are sure to have exactly what you want. Specializing in small rare colors of bulldogs, they strive to breed nothing but the best. One of their most famous adoptions is NASCAR's "ILA The Bulldog," owned by racing champion Joey Logano.
Stone Quarry Bulldogs is an AKC registered and complaint agency with BBB accreditation. If you want a taste of their services, stay glued to their website. The team here raises many animals in their space but ensures the comfort of all without overcrowding. The dogs are spoiled with a newly constructed first-rate 3100 sqft kennel featuring in-floor heating systems and orthopedic mats.
They also have an outdoor recreational space that is perfect for exercise and training. Head over to Stone Quarry Bulldogs to pick up your eight-week-old puppy, or alternately, you could also have an airport pickup from Akron or Canton arranged for you. A well-bred, healthy, social, interactive, and energetic puppy will be ready, waiting for you.
Stone Quarry Bulldogs Details 
Conclusion For The "Best English Bulldog Breeders in the United States"
Now all that remains is for you to take your pick of the breeder. You can now make the best-informed choice to meet your specific needs. Whether you live alone and need a roommate or maybe you know someone who could use a friend—no matter the situation, English Bulldogs make the perfect home companions for all.
Frequently Asked Questions
What should I look for in an English Bulldog breeder?
The English Bulldog is a brachycephalic dog breed that is part of the UKC Companion Group and AKC Non-Sporting Group. This affectionate dog breed is gentle and stable in temperament. 
The Bulldog is also courageous and has a penchant for snorting, drooling, and flatulence. When looking for a reputable English Bulldog breeder, you should opt for the following: 
Transparent and reputable

breeders

Verified credentials
Good reviews 
Puppy health warranties
One-to two-year health guarantee
Good websites
Years of

breeding

experience
Safe and reliable domestic shipping
Pet nanny service
What is a quality English Bulldog?
The AKC standard explains that the English Bulldog's disposition "should be equable and kind, resolute and courageous (not vicious or aggressive), and demeanor should be pacific and dignified." 
They also add that the style and carriage are peculiar, with a gait being loose-jointed, shuffling, sidewise motion giving the characteristic " roll." The coat should be flat, straight, short, and of fine texture, with the skin soft and loose, especially in the head, neck, and shoulder areas. 
"The perfect Bulldog must be of medium size and smooth coat; with the heavy, thick-set, low-slung body, massive short-faced head, wide shoulders and sturdy limbs," via the AKC.
What is a reasonable price for an English Bulldog?
PuppySpot features Bulldogs for $6949 and upwards. You can also find English Bulldogs for less at around $2500. A reasonable price for an English Bulldog will depend on your pup's lineage, gender, and age. 
Location comes into play as well, with some states being cheaper. Always look out for puppy mills and avoid buying puppies from backyard breeders.
What is a Mammut Bulldog?
A Mammut Bulldog is the breeding of the longhaired working Bulldog from the 1800s. Today's Mammut originates from the German bloodline featuring 100% Bulldog with the following breeds:
American Bulldog
Bandogge
English Bulldog
Olde English Bulldogge
Bullmastiff
What is the most desirable color and English Bulldog?
The most wanted English Bulldog color is the fawn and white English Bulldog. After that, the red and white English Bulldog is most popular, followed by the Brindle English Bulldog.
Which Bulldog is the best?
All Bulldogs are wonderful and are gentle and affectionate with family and pets. This breed is adaptable and can do well in rural or suburban homes. Many dog experts add that the American Bulldog is just as wonderful as the English Bulldog.
All Bulldogs need protection from heat and plenty of wrinkle cleaning on their face. There are also possible health concerns that you should look into, like the following:
Eye problems
Brachycephalic syndrome issues
Reproductive problems
Small tracheas
Allergies
Which color English Bulldog is the most expensive?
Merle-colored English Bulldogs can cost from $4,500 to $10,000, depending on bloodlines. The average price for a Bulldog is much less, but specific coat colors are more popular, like the merle.
For more articles with mentions of the English Bulldog breed, check out: 
You can learn more about this adorable breed by watching "English Bulldog 101" from Fenrir Canine Show: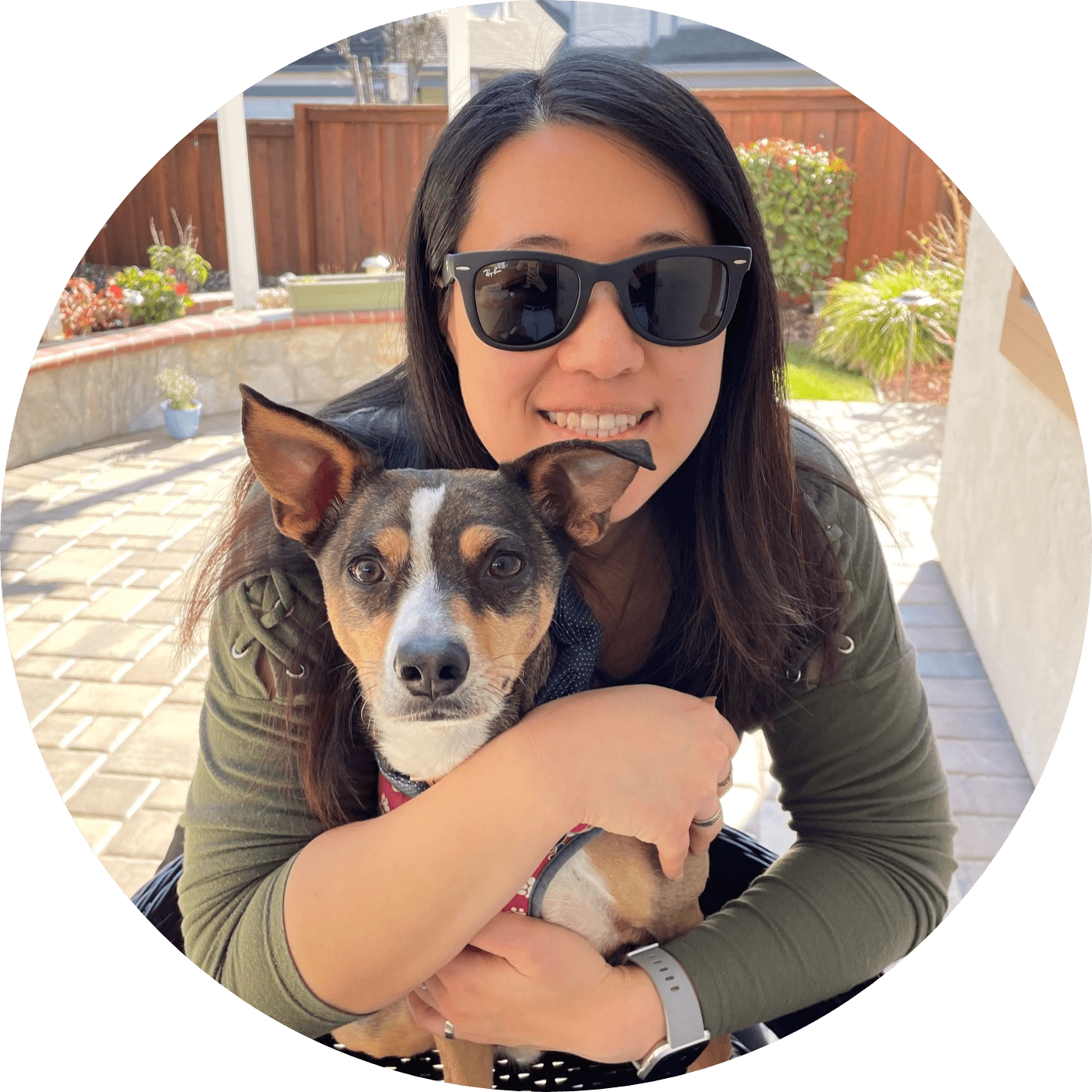 Dr. Sabrina Kong graduated from the Royal Veterinary College in England in 2016 and has been working at a small animal clinic in Northern California since then. She grew up in the Bay Area and got her bachelor's degree from Cal Poly San Luis Obispo. She also became a Certified Canine Rehabilitation Practitioner through a program at the University of Tennessee.
When she isn't in the clinic taking care of her four-legged patients, she enjoys traveling and trying new foods with her friends and her three-legged dog, Apollo. She adopted Apollo from her clinic when he was a puppy with numerous health issues. Dr. Kong truly cares about taking care of animals.