English Bulldog puppies have one of the most distinct looks out of all the purebred dogs. With their frowny faces and noticeable wrinkles, you can't miss this dog. Combined with their mild temperaments and loving personalities, you'll see many English Bulldog puppies for sale in North Carolina.
One of the hardest tasks if you want a new puppy is finding a reputable breeder. This is one reason why we put together a list of the best English Bulldog breeders in North Carolina. Hopefully, our list helps you narrow down your search and find the perfect puppy!
We think you might be interested in other breeds similar to this list of English Bulldog breeders in North Carolina:
English Bulldog Puppies For Sale in North Carolina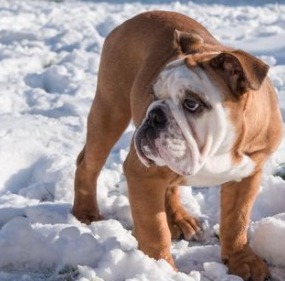 Below are some of the top English Bulldog Breeders found in North Carolina. As always, please do your research, talk to and meet with the breeder to ensure they are ethical, and treat the dogs and puppies well. There are tons of puppy mills in North Carolina, so it's important that you do your research before buying the cheapest puppy. English Bulldogs live for 10+ years if you buy a healthy one from a reputable breeder.
PuppySpot will bring your new English Bulldog puppy home in the safest way you can think. They are a service that connects puppy-seeking individuals and families with the top and responsible breeders across the country.
PuppySpot has delivered puppies to over 200,000 homes. They are the largest and most reputable online puppy marketplace with some of the best English Bulldog breeders. PuppySpot itself has won the hearts of over 10,000 customers who have given them 5-star reviews for their services and professionalism.
They have put stringent regulations to ensure that only serious English Bulldog breeders get accepted to their network. Less than 10% of all breeders who apply will get accepted. They also have to be state-registered and regularly inspected. This process is backed by the USDA as well as the AKC.
Moreover, your English Bulldog puppy arrives with a 10-year health guarantee and a nose-to-tail health checkup. You won't find any other breeder offering a 10-year health warranty. The puppies are raised humanely and are well-socialized with other pets and humans. We highly suggest that you check PuppySpot out. We purchased one of our dogs from them and have had a great experience.
PuppySpot Bulldog Details
2. Queen City Bulldogs North Carolina
Second on the list of English Bulldog breeders in North Carolina is Queen City Bulldogs. Queen City Bulldogs is a family and friends-run organization that breeds for temperament, health, conformation and maintains the characteristics and bloodlines of the English Bulldog. Their dogs are raised in the home as part of the family, widely socialized, and part of everyday life. Their goal is to place any English Bulldog or puppy in a responsible and forever home. Expect to talk to this breeder a lot about the environment your Bulldog will live in, exercise, feeding, and grooming. They want to make sure you're prepared before you buy one of their puppies in North Carolina.
On their website, Queen City Bulldogs pledges to give 24/7 support and help every step of the way. These English Bulldog breeders in North Carolina also offer stud service, ultrasounds, insemination, and will soon be offering pet boarding. The email link to the breeder is available on the site. You can also follow Queen City Bulldogs on Instagram, Twitter, and Facebook.
Queen City Bulldogs Details
3. Bulldogs of English NC
Breeding Bulldogs since 2006, this kennel is a small family-run business that focuses on temperament, health, bloodlines, and structure. They offer a health guarantee, provide the name of who they use for the health check, and will take the puppy back under any conditions. Additionally, all their English Bulldog puppies in North Carolina have their most current vaccination shots and will de-wormed by the time you pick them up.
Additionally, English Bulldog puppies bought from Breeding Bulldogs are socialized in the home, sent home with AKC documentation, have up-to-date health records, and come with a 1-year health guarantee. Their Bulldog puppies for sale in North Carolina are allowed to leave at 8 weeks of age as long as they have passed their health checks. Visitations are allowed by appointment only if you want to see their facility.
As a buyer, it's important that you read over both the sales contract and the health agreement as they are extensive and detailed. The English Bulldog breeder is very comprehensive in the details and expectations. This includes grooming, vet visits, environment, health care, safety, weight control, and toy safety – to name a few. In addition, it's important to go over all of these details with the breeder, to know expectations, and ask questions. Bulldogs of English can be followed on Facebook, Pinterest, and Twitter. They are located in Spring Lake, North Carolina.
Bulldogs of English Details
4. PrimeCut Bulldogs North Carolina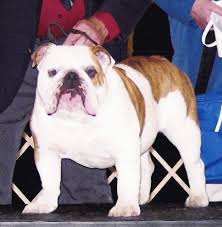 Melissa Merritt and her dogs on GoodDog.com is where she is recognized as a Breeder of Merit by the company. Her English Bulldog puppies are raised in the home with regular socialization with other dogs, animals, and people and are exposed to everyday activities. The enrichment program used by PrimeCut Bulldogs includes everyday one on one playtime, leash training, and outdoor time as well as everyday noises and activities. She will keep the Bulldog puppies until they are 10 weeks old and will go home with all of their current shots.
Melissa is from a family of breeders with over 20 years of experience working with English Bulldogs. She spends much time and energy researching for breed quality before she breeds a litter. The ideal traits of her English Bulldog puppies for sale in North Carolina is temperament, health, and the betterment of the breed in terms of conformationally.
A puppy adopted from PrimeCut Bulldog comes with a one-year health guarantee, dog food, and a dog toy. You have several options for picking up your new family member, including ground transportation, a flying companion (nanny), and meeting the dog at the location. To talk to the breeder and begin the application process go to Gooddog.com and follow the link.
PrimeCut Bulldogs Details
5. TLS Kennels NC
TLS Kennels is registered with the AKC, and their English Bulldog puppies will be enrolled by the AKC Reunite program. Health screening and checks are done on the dam and sire as outlined in the Parent Club for this breed. The goal of TLS Kennels is to have English Bulldog pups go to forever homes and live a happy life. Thus, their puppies are brought up and socialized in the home.
We like the fact that the breeder will take the dog back under any condition and works with the owner for the life of the dog. These dogs are bred to be smaller, are hand raised, and are screened against DM, CMR1, and HUU. TLS will provide a written bill of sale and will be pre-registered with the AKC. You can follow TLS Kennels on Facebook and Instagram. Additionally, you can message the breeder through the AKC Marketplace page.
TLS Kennels Details
6. Buffalo Bulldog North Carolina
Last on the list of English Bulldog breeders in North Carolina is Buffalo Bulldog. The site for this kennel touts itself as a family-owned business that focuses on the health and betterment of the breed. They hand raise their English Bulldog puppies in the home and are brought up with dogs, children, and other family members and will be used to everyday activities and sounds. When bringing home a puppy from Buffalo Bulldog, you will have the paperwork for their vaccinations and a one-year health guarantee.
Buffalo Bulldog gives the name of the prenatal care facility they use. The breeder has a Responsible Breeder Program badge from Gooddog.com, and any dog bought here can be registered with the AKC. The puppy questionnaire is on the site home page and is fairly thorough. They ask questions about your environment, how much time you will spend with the dog, and what kind of care you can offer. They truly care where their English Bulldog puppies in North Carolina go.
Buffalo Bulldog Details
History of the English Bulldog Puppies
The history of the English Bulldog is a long and somewhat violent one. English Bulldogs are descended from the Roman fighting mastiffs that the Romans brought to England centuries ago. Like their ancestors, they were bred for fighting and the bloody "sport" of bullfighting-hence, the name. Bull baiting was banned in 1835, and the number of English Bulldogs dropped sharply. Some people even feared they would become extinct.
Fortunately, some wise and dog-loving people saw great worth in this wrinkly, stout, and loveable pet. They bred the dog to have a better, kinder, and more even temperament. Additionally, English Bulldog puppies quickly became popular companions and became used in Germany and the U.S. as herding dogs. Today, the English Bulldog is considered England's national breed and they are the 4th most popular dog breed, according to the AKC.
English Bulldog Temperament
There are things to know about the English Bulldog to help you decide if these loyal and smart companions are perfect for you.
They are sweet, gentle, affectionate, and will actively seek out affection and attention.
They are patient, dependable, predictable, and great for families with children.
English Bulldogs only need moderate exercise and don't necessarily need a yard. They are considered low endurance, so you don't need to run marathons with them.
Groom your Bulldog once a day, clean the folds regularly for health reasons (use a cotton ball), and their skin can be sensitive.
Even though English Bulldogs are sweet and make great family dogs, they can be aggressive to dogs they don't know.
Although English Bulldogs can technically swim, due to the shape of their head they are actually at risk of drowning.
You also need to know facts about their health. English Bulldog puppies in North Carolina are not temperature tolerant. They overheat easily, causing breathing problems, and chill quickly in cooler weather. Additionally, they are loud breathers with a tendency to wheeze, snort, and drool. It's very common for Bulldogs to need aid in delivering puppies due to pelvic abnormalities that are common in the breed.
Conclusion For English Bulldog Breeders in North Carolina
Did you know that an English Bulldog holds a Guinness World Record for skateboarding? Another interesting fact is that almost 40 universities have mascots named after the breed and is the official mascot of the Marine Corp. Also, Bulldogs have 10 color variations with 6 different markings, and there are 14 different Bulldog breeds. Make sure you can train them consistently as they can be stubborn and dominant, but also make sure you love them often, as they are one of the sweetest and most affectionate dogs you will find. We hope that we found you fine some reputable English Bulldog breeders in North Carolina.
If traveling to these English Bulldog breeders in North Carolina is too far, you can check out our other recommendations:
To learn more about the English Bulldog, watch "English Bulldog Breed Review" down below: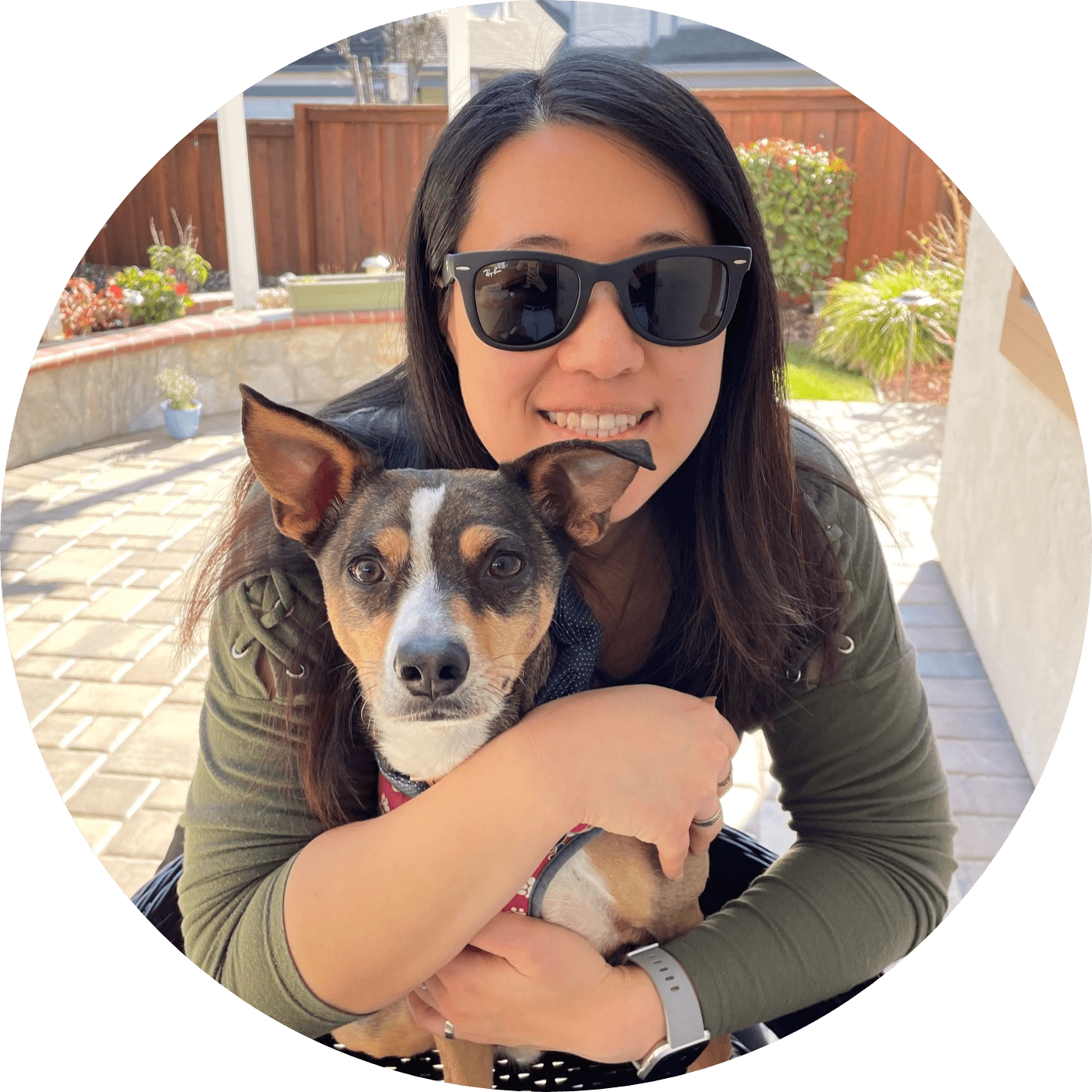 Dr. Sabrina Kong graduated from the Royal Veterinary College in England in 2016 and has been working at a small animal clinic in Northern California since then. She grew up in the Bay Area and got her bachelor's degree from Cal Poly San Luis Obispo. She also became a Certified Canine Rehabilitation Practitioner through a program at the University of Tennessee.
When she isn't in the clinic taking care of her four-legged patients, she enjoys traveling and trying new foods with her friends and her three-legged dog, Apollo. She adopted Apollo from her clinic when he was a puppy with numerous health issues. Dr. Kong truly cares about taking care of animals.