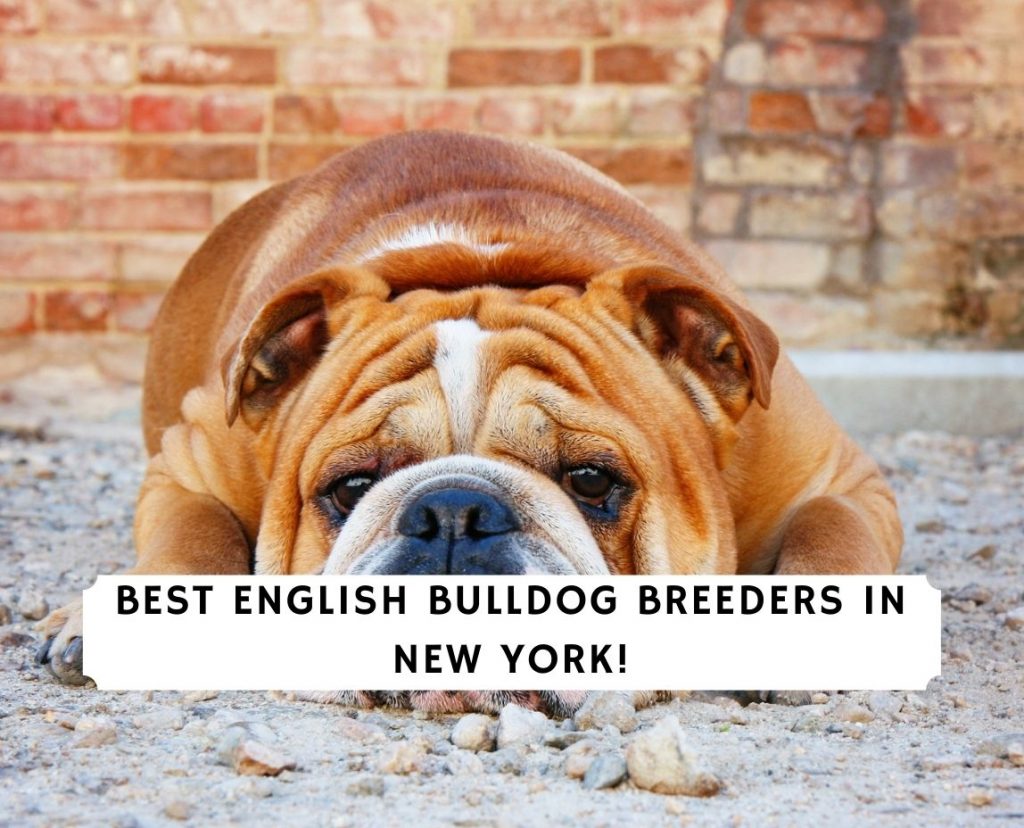 We probably have a good guess of why you're trying to find the best English Bulldog breeders in New York. There are a million and one reasons why an English bulldog is perfect for every home. If one of your top priorities for adoption is cuteness, then you're sure to fall for an English Bulldog's crinkles and their big eyes will melt your heart. They've also got many personalities that make them fun to have around the house, especially when you have children. With so many reasons to love this dog breed, it's no big surprise why English bulldog puppies for sale in New York are so common.
For our future dog mommies and daddies in New York, we've scoured the internet looking for the best and most reputable breeders. Choosing the right breeder is pivotal to adopting a happy and healthy puppy that'll fit nicely into your home. There are so many backyard breeders and puppy mills nowadays that you need to do a significant amount of research to figure out who to trust. We always suggest that you reach out to the breeders yourself to ask questions before making a decision. You ultimately want to find someone who sells you a healthy English Bulldog puppy.
Check out other dog breeders from New York:
1. Romanis Legacy Bulldogs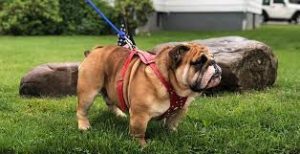 Romanis are a caring family with a passion for breeding English Bulldogs with the right temperament. They have a renowned veterinarian and a team that does not take their research lightly and they sell friendly puppies in good physical condition. They have various English Bulldog coat colors for you to choose from, so whether you're leaning towards chocolate brown or something more eccentric like blue-tri or lilac, there's an option for you.
They also give you the chance to book expectant English Bulldog puppies or meeting the puppy before you decide. While they don't ship puppies, they can personally deliver them to your doorstep in New York.  They offer a whole year's genetic and health guarantee on all their puppies. You'll be sure they're not only up to date with their vaccinations when you get them, but they're also free from any congenital diseases. 
Romanis Legacy Bulldogs Details
2. Old Red English Bulldogs Kennel Inc. New York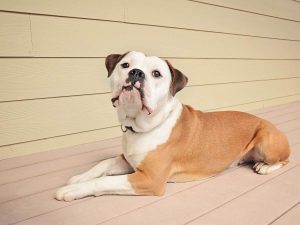 Old Red's English Bulldogs specializes in raising healthy and athletic dogs in Freeport, New York. If you're looking for a bundle of joy that can also act as a guard dog, then you've found the 'real honest bulldogs kennel,' as they call themselves.
This breeder also provides other pet services like grooming, daycare, and even training. To start the process, you must fill a Puppy Purchase Contract and submit it with a government-issued ID. You'll have to include a reference from your veterinarian and 2-4 other references from close friends or family. They take the safety of their English Bulldog puppies in New York very seriously, so you'll need to include a photo of your home and another of yourself and your family.
They divide their English Bulldog puppies into picks and the prices depend on what category you would like. If you'd like a male or female from the first pick, then you can expect to spend $7,880 or more. English Bulldogs for sale from their tenth pick go for $4,380 and above. Their kennel is not open to the public, so you have to call first.
Old Red English Bulldogs Kennel Inc. Details
Address: Freeport, New York
Telephone: +1 516-269-9940
3. Central Park Puppies NY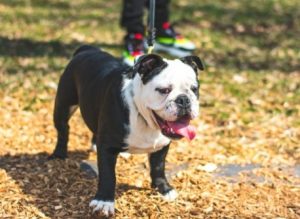 These New York English Bulldog breeders have been operating since 2014 and are quite proud of their dedication to breeding the healthiest dogs with zero genetic health issues. All their puppies receive up-to-date vaccines and include a one-year health guarantee against any genetic diseases. They even offer you free deworming for the entire lifespan of your new pet companion. Plus, you even get a free microchip to locate your puppy if they ever get lost.
Central Park Puppies puts so much effort into taking care of their puppies, and their adoption process requires an in-depth background check to ensure maximum compatibility. You'll have to fill out a simple form and provide a government-issued ID. Their procedure is pretty fast so that you can expect approval in fifteen minutes or less.
They breed the cutest English Bulldog puppies in New York, and you get to choose which gender you prefer. They're pretty popular, so you have to be on the lookout because their pups get adopted quickly. When they're available, their English Bulldog puppies go for around $3800. Plus, you don't have to make a down payment. This breeder is located in Yonker, New York.
Central Park Puppies Details
Address: 650 Central Park Avenue, Unit A, Yonkers, New York
Website: Central Park Puppies
Telephone: +1 914-207-7558
4. Mythic Bulldogs
Mythic Bulldogs prides themselves in producing quality puppies with the best temperaments. Their staff includes three passionate dog lovers that do not take breeding or caring for their puppies lightly. All dogs are 100% purebred, and you get to choose from a wide range of options in both genders. You can even Facetime with this English Bulldog kennel to get familiar with your new companion before shipping them to their new home with you.
The process is also easy because you can tell that these English Bulldog breeders near New York love their dogs and are well equipped to answer any questions you might have. They're incredibly responsive, so the adoption procedure is quite fast. Their English Bulldog puppies for sale are pretty standard. For $3900, one of their excellently bred English Bulldog puppies can be yours. Their Bulldog puppies are in high demand, so sometimes they're all sold out and you may have to be put on a waitlist.
Mythic Bulldogs Details
Address: Bridgewater, New Jersey
Website: Mythic Bulldogs
Telephone: +1 201-988-8476
Email: hello@mythicbulldogs.com
5. Bulldogs of Long Island New York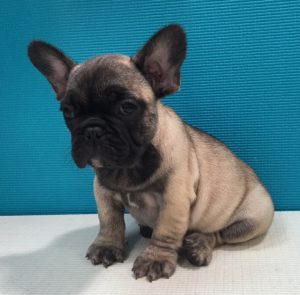 The motto of Bulldogs of Long Island is that 'your forever friend is waiting,' which speaks to how seriously they take their breeding program. It would help if you reached out to them first to start the application process. Once you see an English Bulldog puppy you like, click on 'buy me' and fill in the form to reserve your future pet.
You have to wait till they're at least eight weeks to take them home with you after they are born. All their English Bulldog puppies in New York are registered with the American Kennel Club, and you can get free deworming and a microchip when you adopt one. You also get a health guarantee with each beautiful Bulldog puppy. The price of their English bulldogs is usually around $3800.
Bulldogs of Long Island Details
6. Atlantic Bulldogs Farm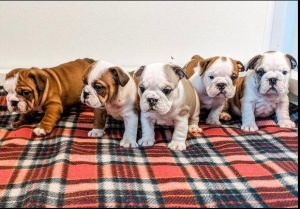 The next on our list is the Atlantic Bulldogs Farm. While their area of specialty is exotic bulldogs, they don't compromise on well-being during cross-breeding. Potential owners get a year's guarantee that their brand new English Bulldog puppies are free from life-threatening congenital diseases. They even offer puppies life insurance. After all, their mission is to raise healthy puppies that bring love and joy to every home. As you would expect, they take their background checks seriously.
They spend all this effort to confirm that the dogs they breed go to the right home with plenty of love and where they'll have the attention they need. They're bulldogs come at an acceptable range, at about $1900. Sometimes they run sales where you can get up to 50% discount, which is impressive since most of them are 99% potty trained. They also ensure a veterinarian checks on each English Bulldog puppy and they give them up-to-date vaccines. You can hop onto their site immediately to see if they're still running one of the sales and get your new English Bulldog puppy shipped to you in New York.
Atlantic Bulldogs Farm Details
Address: Countryside Way Snellville, GA
Telephone: +1 423-401-0686
Email: atlanticbulldogsfarm@gmail.com
Conclusion for English Bulldog Breeders in New York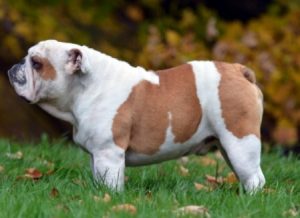 English bulldogs make an excellent addition to any home for their adorability, unique personality, and loving nature. They're sternly loyal, and some even associate them with fierce determination. Unsurprisingly, the American Kennel Club ranks them as the fifth most popular breed.
You're in luck when you find the right English Bulldog breeder in New York who takes their cross-breeding process very seriously. We wish you the best in selecting the perfect breeder, where you can adopt a new puppy filled with warmth and love. We hope that we made your research a little bit easier!
If New York is out of the way for you, maybe you might want to check out:
English Bulldogs are awesome! If this video doesn't change your mind, then we don't know what will:
Garrett loves animals and is a huge advocate for all Doodle dog breeds. He owns his own Goldendoodle named Kona. In addition, he volunteers at the Humane Society of Silicon Valley, where he fosters dogs and helps animals. Garrett enjoys writing about Doodles and believes that dogs can teach humans more about how to live than humans can teach a dog.
Why Trust We Love Doodles?
At We Love Doodles, we're a team of writers, veterinarians, and puppy trainers that love dogs. Our team of qualified experts researches and provides reliable information on a wide range of dog topics. Our reviews are based on customer feedback, hands-on testing, and in-depth analysis. We are fully transparent and honest to our community of dog owners and future owners.