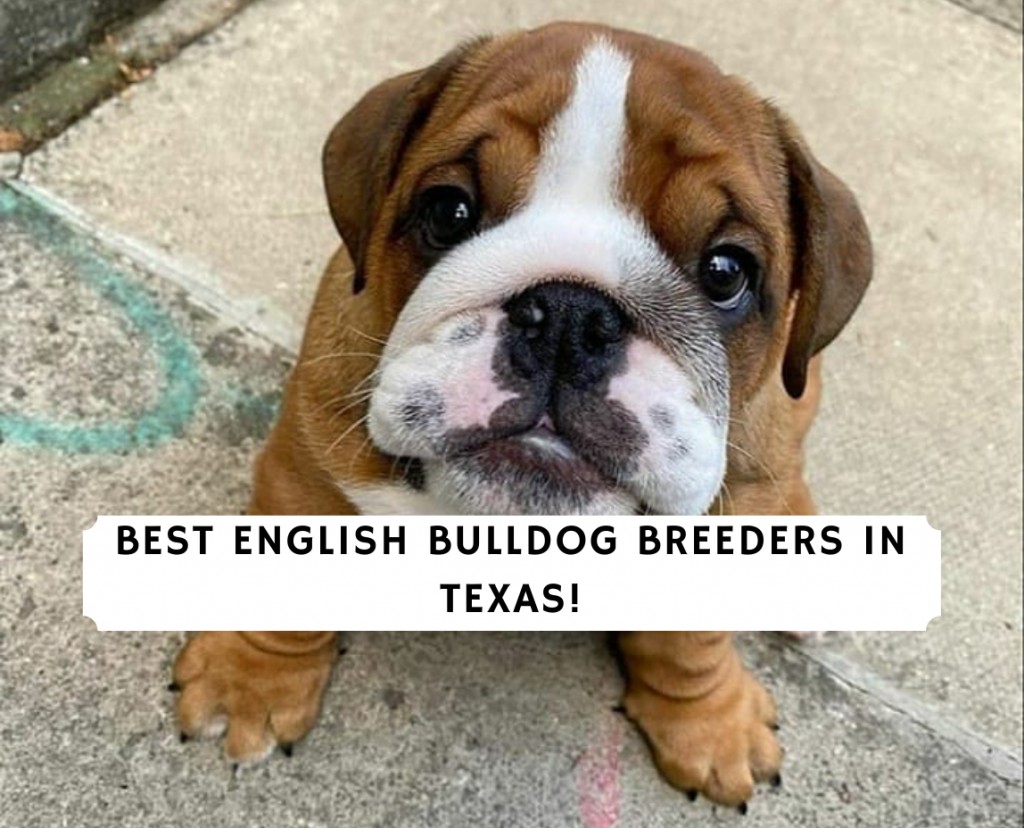 According to the American Kennel Club (AKC), English Bulldogs are the 5th most popular dog in the world. They are considered a calm, friendly, and courageous dog breed that is getting popular in the state of Texas. However, there are tons of English Bulldog puppies for sale in Texas, so it's difficult to choose from a puppy mill versus a reputable breeder.
Thus, we created a list of the 9 best English Bulldog breeders in Texas by doing our own independent research. In general, we looked for reputable breeders that adhere to AKC breeding standards, provide health guarantees, and have a positive breeder reputation. In general, you should also ask any potential breeder questions about their puppies and see if you can schedule a visit to tour their facility.
Other articles you would like: French Bulldog Breeders in Texas and Australian Shepherd Breeders in Texas.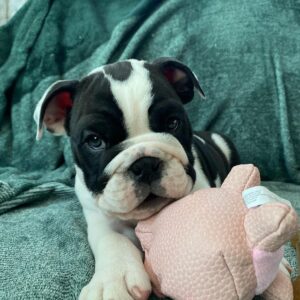 If you're wondering where to get your English Bulldog puppy from that's guaranteed to be bred by a professional breeder, you might want to check out PuppySpot.
PuppySpot is one of the most reputable online puppy marketplaces that places the utmost importance on the breeders' quality. The English Bulldog breeders need to fulfill all the prerequisites before being allowed to join PuppySpot. Hence, less than 10% of those who apply end up with this community of puppy lovers.
PuppySpot is the largest online puppy community in the USA and delivers over 25,000 puppies to their new homes each year. Over the years, they have won the trust of breeders and owners. The 10,000 5-star reviews on their website vouch for it!
If you order the English Bulldog puppy of your dreams from here, you're sure to get one that's been given a thorough medical check. Plus, you'll also get a 10-year health guarantee so that you need not worry about genetic disorders. We highly recommend that you check them out if you're looking for an English Bulldog.
English Bulldog Breeder Details
2. Ballpark Bulldogs Texas

Ballpark Bulldogs, located in Elm Way, North Texas, is a responsible and ethical breeder that is devoted to the betterment and education of the bulldog breed. Their mission is to produce happy and healthy Bulldogs that make great family companions.
They strive to produce show-quality, healthy, wrinkly, big-boned, and family-oriented bulldogs. Ballpark Bulldog puppies are raised by their family and they want to produce healthy Bulldog puppies that improve the dog's bloodlines. Thus, at Ballpark Bulldogs, they want to provide top-notch quality English Bulldogs that any buyer deserves. The Ballpark Bulldogs team has dedicated their lives to improving and breeding high-quality English bulldog puppies in Texas.
Ballpark Bulldogs offers a one-year health guarantee on every English Bulldog puppy that they sell in Texas. This applies only if a buyer has their puppy examined by a veterinarian within 7 days of bringing their new English Bulldog home. However, getting your puppy checked after purchasing them is very common.
If the English Bulldog puppy has any physical problems considered to be life-threatening, Ballpark Bulldogs will provide a healthy replacement puppy of equal value. If there are no puppies English Bulldog puppies available, one will be provided from the next available litter whelped.
Ballpark Bulldogs offers domestic shipping on their English Bulldogs as well. They work closely with an experienced Pet Nanny Service to get puppies from North Texas to a Major Airport close to the buyer. They safely transport their English Bulldog puppies to any major city in the United States. The Pet Flight Nanny service takes the puppy with them in the cabin so the puppy is never treated as cargo. Typical transportation costs between $300-$500 depending on the distance from North Texas.
Their English Bulldog puppies in Texas are priced at $4,000. They do offer financing for those qualified. Qualifications for financing include one-year employment verification, a minimum of 555 Fico credit score, and a checking account active for a minimum of 3 months.
English Bulldog Breeder Details
3. WB English Bulldogs Texas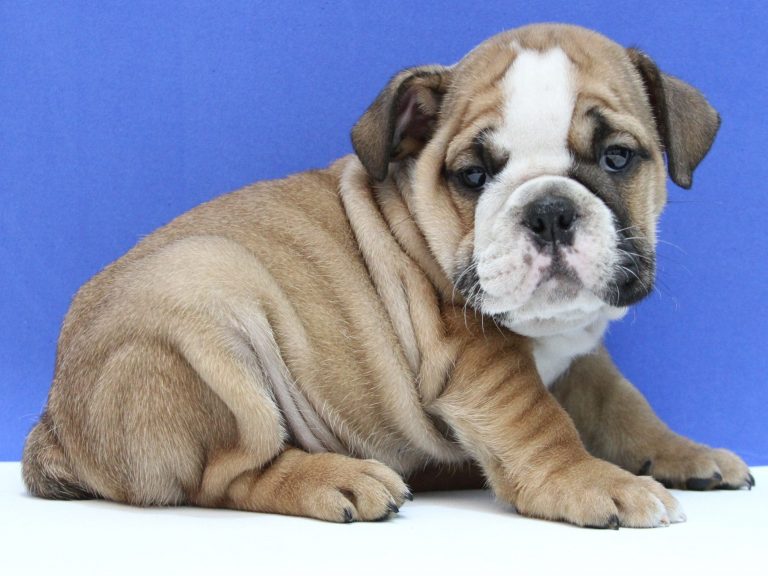 WB English Bulldogs Texas is where quality, health, and temperament have been complementing each other with professionalism, hard work, and consistency during the last two decades. For what it's worth, these are one of the oldest English Bulldog breeders in Texas that we could find.
Since 1998, WB English Bulldogs is proud to serve the English Bulldog community by offering high-quality prospects of the greatest bloodlines in the United States. This English Bulldog breeder in Dallas, Texas, has established recognition among their peers and clients because of their love and dedication to the Bulldog breed.
WB's English Bulldog puppies are vaccinated, dewormed, and free of any congenital disorders by the time they come to your house. In terms of personality and temperament, their English Bulldog puppies are friendly and well socialized. They also offer microchipping, a more secure form of identification for their dogs, that is safer and more effective than common pet tags. In addition, you can pay for travel nanny services if you aren't located in Texas and wanted their Bulldogs shipped to you. Lastly, they will also include a puppy health warranty as well as financing options if needed.
WB English Bulldogs puppies in Texas are all AKC registered and are priced from $2,700 to $2,900. While they may be a slightly more expensive English Bulldog breeder, they are highly reputable.
English Bulldog Breeder Details
4. Bueno's Little Bulldog Puppies Texas
Bueno's Little Bulldog Puppies is a small family-run Bulldog breeder in Andrews, Texas, where they strive for breeding quality small and standard sized AKC registered Bulldogs.
When buying a dog from Bueno's, included is a 1 to 2-year health guarantee, limited AKC registration, veterinarian health certification, health records, and lifetime breeder support. This Bulldog breeder in Texas will always be around to help answer questions and give advice for the Bulldog breed. Their Bulldog puppies come in a variety of different coat colors and they even offer some rare colors.
There is a waiting list for purchasing a Bueno's English Bulldog puppy in Texas. To be put on this list, a non-refundable $300 deposit must be made. Bueno's English Bulldogs are price from $3,500 to $5,000+. They offer pricing depending on the color of the coat and whether a buyer wants a spay/neuter contract or full breeding rights. They do offer financing options to help their English Bulldog puppies find loving homes.
English Bulldog Breeder Details
5. English Bulldogs of Royse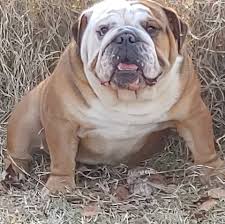 English Bulldogs of Royse is a family-owned business that is based on quality and commitment to pets and their new owners. Their AKC registered English Bulldogs are their passion and their health and well-being are the breeder's utmost priorities.
They are true English Bulldog breed enthusiasts and breed only for the betterment of the breed. They like to stay in contact with the families of the puppies they sell too and offer lifetime support for all the English Bulldog puppies they sell.
English Bulldogs of Royse's s puppies are up to date on vaccines and come with de-worming. Their English Bulldog puppies in Texas will be completely checked over by a veterinarian before leaving for their new homes at eight weeks old.
English Bulldogs of Royse will ship anywhere in the United States for an extra cost. When shipping their puppies, they have a flight nanny accompany the puppies with the dogs on their laps. They also and-deliver the puppies to buyers at the closest airport to their home. English Bulldogs of Royse prices their puppies in the $3,500 to $4,000 range. As their name suggests, they are located in Royse City, Texas which is close to Dallas.
English Bulldog Breeder Details
6. I AM BULLDOG Texas
I AM BULLDOG Texas is run by Mike Tucker whose purpose in life is all things bulldogs. He and his wife have been committed to the English Bulldog breed for over 20 years. When buying an English Bulldog puppy from I AM BULLDOG, you must go through a vetting process to make sure the puppies are going to the most caring and loving family possible. I AM BULLDOG offers English Bulldogs of a higher quality than most breeders in Texas. Their dogs are bred to be healthy and have a wonderful family temperament.
I AM BULLDOGS offers hand delivery service to their buyers. When shipping a dog, they fly them first-class with a flight nanny which shows their commitment to their dog's wellbeing. I AM BULLDOGS puppies can be purchased in the $5,000 range. They are located in Dallas, Texas.
English Bulldog Breeder Details
7. Texoma English Bulldogs
Texoma English Bulldogs are based out of Denison, Texas which is just north of Dallas. They offer English Bulldog puppies with AKC registration papers and a 1-year puppy health guarantee. In addition, all their English Bulldog puppies in Texas are bred from champion bloodline pedigrees. The puppies will also be up to date on their shots, vaccines, and worming.
Texoma English Bulldog puppies also come with an optional Microchip for an additional charge of $45. When purchasing one of their English Bulldog puppies in Texas, you will also receive a puppy packet which Includes 1 month of interceptor heartworm prevention. Their puppies are well-socialized with their kids and with their other littermates. For full pricing of Texoma English Bulldogs, contact them directly.
English Bulldog Breeder Details
8. Dallas Bulldogs
Dallas Bulldogs takes great pride in breeding their dogs. They are bred from award-winning purebred Bulldogs and raised with love, fed a top-grade diet, and provided with the best possible care. Included with their English Bulldog puppies are a one-year health guarantee, current shot and worming records, a puppy starter pack, and AKC registration papers.
Dallas Bulldogs makes sure their puppies are going to the best possible homes and ask many questions when a buyer is interested in one of their Bulldogs. Their English Bulldogs are part of their family and they expect their dog's new family to be just as loving and caring as when they are being raised with Dallas Bulldogs. In addition, it's worth noting that none of their dogs are raised or housed in a kennel.
Dallas Bulldogs also offers a variety of information to their buyers or any English Bulldog owner to help make sure their dogs are properly cared for and kept healthy. This goes to show their love and admiration for the Bulldog breed. Contact Dallas Bulldogs directly for full puppy pricing.
English Bulldog Breeder Details
9. The Bulldog Express Texas
The Bulldog Express is a family-owned and operated English Bulldog breeder located just outside of Houston, Texas, and has been breeding dogs since 2004. They strive to breed the best English Bulldogs possible with great health, temperament, structure, movement, pedigree, and unique coat color options.
Bulldog Express raises their dogs as part of their family and they are given an outstanding diet that makes sure they have the best physical and mental health. Their English Bulldog puppies in Texas are raised in a family setting and are well accustomed to being around children.
This English Bulldog breeder in Texas prices puppies at $2,800 to $4,500 depending on the gender and coat color. A puppy deposit of $350 must be paid to reserve a puppy.
English Bulldog Breeder Details
Conclusion for English Bulldog Breeders in Texas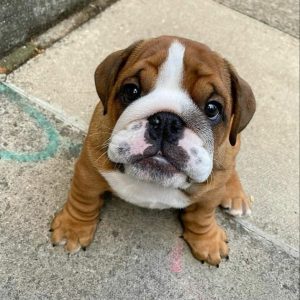 There are so many English Bulldog breeders in Texas that you will have several options to choose from. However, you don't want to purchase a dog from a puppy mill or backyard breeder because they may have bad health or genetic diseases later down the line. While it may be tempting to buy a cheaper English Bulldog from a puppy mill, you may end up paying a lot more in medical bills later down the line. Always do your research and ask lots of questions to any potential breeder! 
Check out these other articles: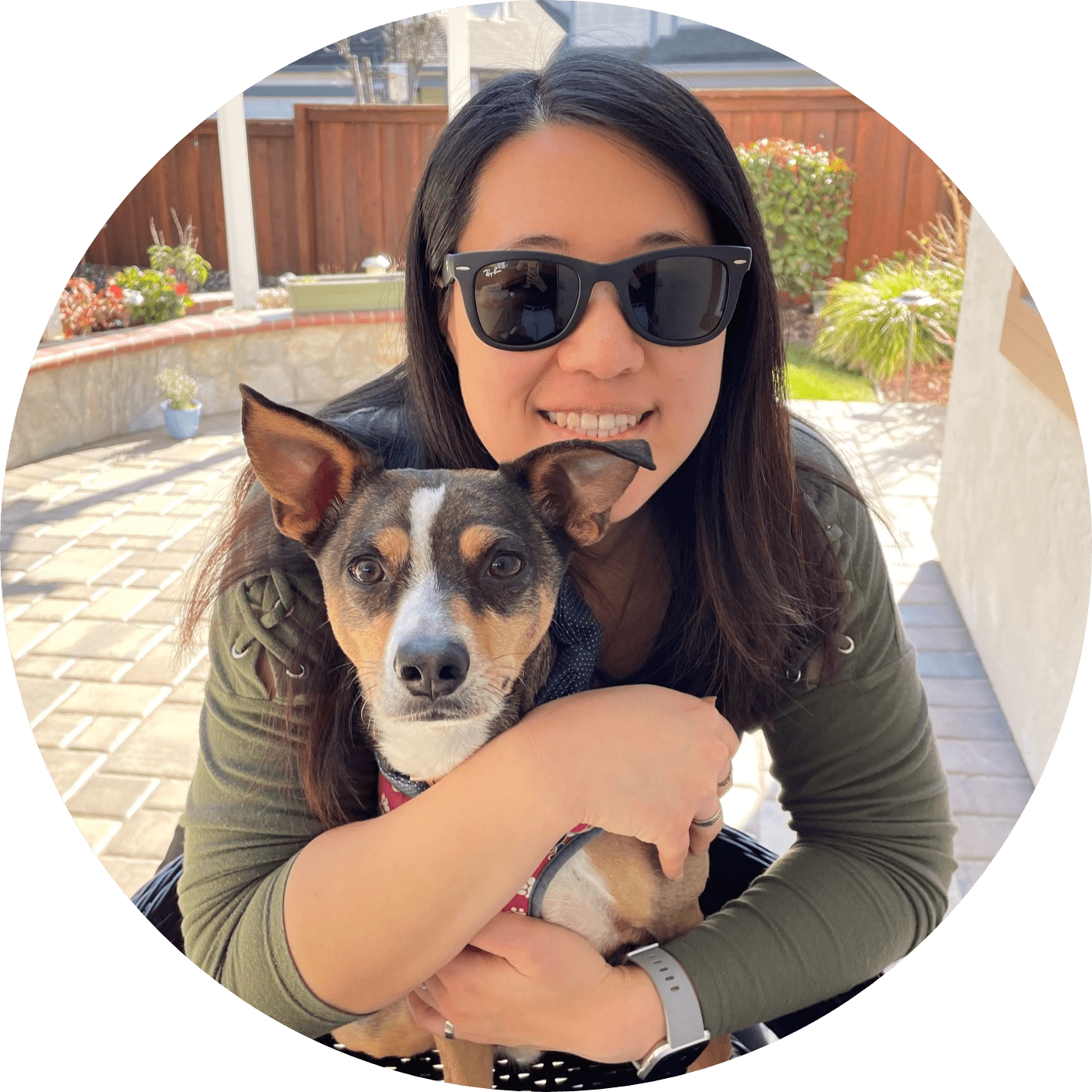 Dr. Sabrina Kong graduated from the Royal Veterinary College in England in 2016 and has been working at a small animal clinic in Northern California since then. She grew up in the Bay Area and got her bachelor's degree from Cal Poly San Luis Obispo. She also became a Certified Canine Rehabilitation Practitioner through a program at the University of Tennessee.
When she isn't in the clinic taking care of her four-legged patients, she enjoys traveling and trying new foods with her friends and her three-legged dog, Apollo. She adopted Apollo from her clinic when he was a puppy with numerous health issues. Dr. Kong truly cares about taking care of animals.