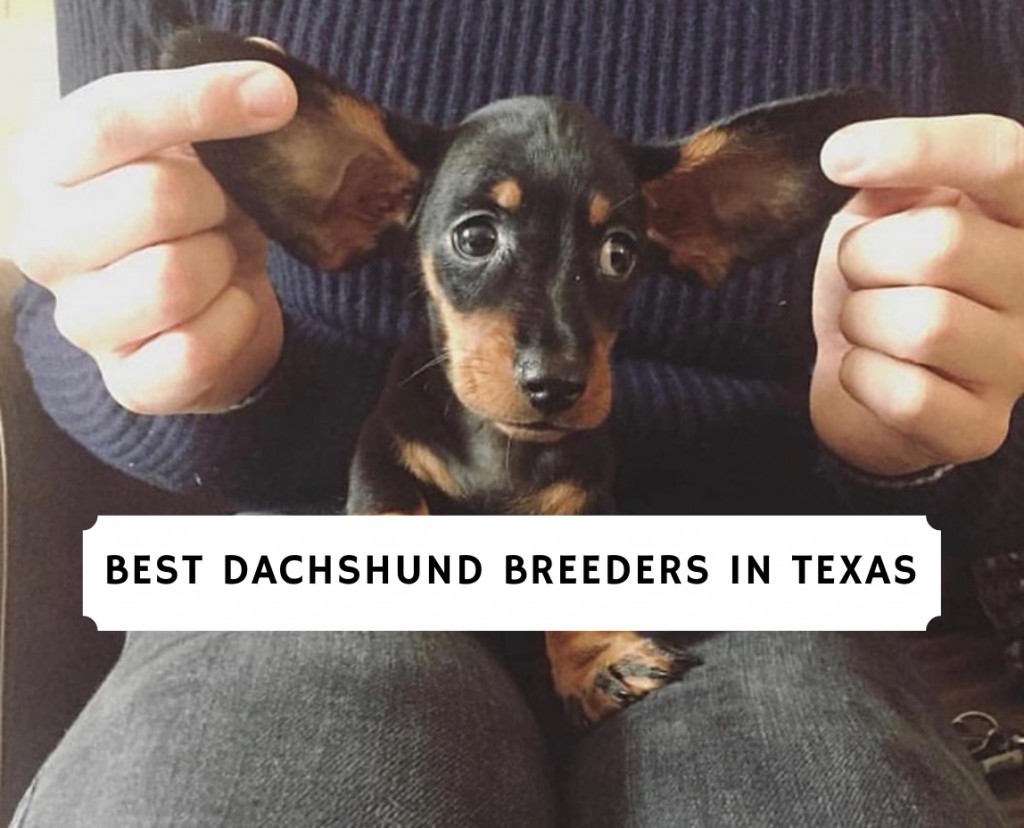 Looking for Dachshund breeders in Texas? You're not alone! The Dachshund is best recognized for its unique, short-legged, and long-bodied appearance. The pioneering Olympic mascot has a distinguished history of being a hunting dog and is perfect for rousing badgers from underground tunnels.
Although Dachshunds require extra patience to train, they're a pleasure to own. The breed is highly athletic and beloved for its outgoing personality. The Dachshund comes in two AKC recognized sizes; miniature and standard. Standard Dachshunds stand at 8 to 9 inches and miniature Dachshunds stand at 5 to 6 inches when fully mature.
However, many Dachshund breeders in Texas do breed toy, micro, and teacup sizes. If you're interested in getting these sizes; we recommend that you check the breeder's history, reputation, breeding standards, program, adults, and customer reviews. This will give you a better picture of where your Dachshund is coming from and if there will be any complications down the line.
If you have your heart set on getting this smart and vigilant breed in Texas, we've got you covered. Here are the top eight Dachshund breeders in Texas. We've done our own independent research to verify that there are no puppy mills on this list. However, breeding practices constantly change so you should always ask questions before purchasing a dog.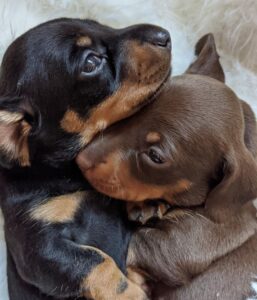 Our team highly recommends PuppySpot as the first choice for your Dachshund companion because they do all the breeder better and there isn't a long wait time to get a puppy. Their website has a large variety of puppies from different breeders around the United States. If a specific breeder you like isn't located in Texas, take advantage of the team's USDA-certified airline and transportation options. 
For first-time Dachshund owners, we know it can be challenging to find a breeder because you're not sure where to begin. Not only this, but you'll also need to get on the waiting list for many individual breeders, which can take a pretty long time of over 6+ months. PuppySpot makes everything quick and simple since they have a network of breeders that they vet and promise your puppy won't be coming from a puppy mill. You'll connect with reputable breeders that have already been screened to meet PuppySpot's strict standards.
If you want a Dachshund of a certain age, size, or color – PuppySpot has a filter you can use to make your search easier. Feel free to check out the information provided below to bring home your Dachshund companion as soon as possible.
Dachshund Breeder Contact Details
2. Texas Country Dachshunds
Texas Country Dachshunds is a home-based breeder in the heart of Texas. They are committed to raising healthy, well-socialized miniature Dachshunds for enthusiasts like you. The Texas licensed breeder (#349) produces AKC miniature English Cream Dachshunds in a variety of colors and patterns.
They produce and ensure that each of the Dachshund puppies in Texas get all the attention and love they need. When the puppies grow older, they run and play on their large farm in the fresh country air.
A Dachshund puppy care package includes a two-year health guarantee, veterinarian health check-up, dry puppy food, and potty pads for getting your Dachshund home along with a toy and puppy blanket. If you're looking for miniature Dachshund breeders in Texas, this is one of the most reliable.
Dachshund Breeder Contact Details
3. Select Dachshunds Texas
Select Dachshund is a small breeder in East Texas in Waskom. They have developed well-known expertise in producing healthy, mild-tempered, and beautiful AKC Dachshund puppies.
The Texas licensed (#337) breeder produces Dachshund puppies that possess a variety of coat patterns and colors such as chocolates, English cream, reds, tans, dapples, and many more. All of their Dachshund puppies in Texas come with a two-year health guarantee against all genetic diseases.
They serve all U.S. states and drive their Dachshundpuppies to homes within the Texas, Louisiana, Oklahoma, Mississippi, Arkansas, and Alabama region. If you live outside this area, they can meet you at their local airport in Louisiana and you can fly back with your new Dachshund puppy.
Dachshund Breeder Contact Details
4. Red Oak Dachshunds Texas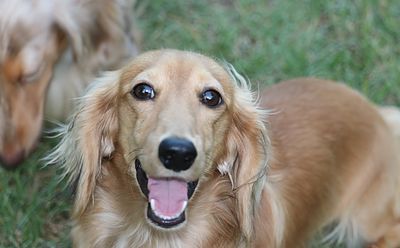 Red Oak Dachshunds Texas is a small breeder specializing in purebred miniature Dachshunds just south of Dallas. The breeder has over ten years of experience raising and handling miniature Dachshunds. For what it's worth, they are one of the oldest Dachshund breeders in Texas that we could find.
The AKC-registered breeder upholds stringent safety and health standards for their dams, sires, and litters. They breed their Dachshunds to produce the best quality genes so you can have peace of mind knowing your Dachshund puppy is of the highest quality.
In addition, all of their Dachshund puppies in Texas goes home with a five-year health guarantee that's extendable to the Dachshund's lifetime if you keep your puppy on Nuvet supplements throughout this life. This warranty is one of the longest in the industry. Finally, this Dachshund breeder in Texas doesn't ship their puppies. You will need to pick your Dachshund puppy up in person.
Dachshund Breeder Contact Details
5. Muddy River Dachshunds Texas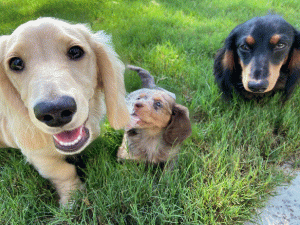 Muddy River Dachshund is an AKC Miniature Dachshund breeder in Southern Texas in Floresville. The family-owned breeder strives to produce beautiful and healthy Dachshund puppies with sweet, family-friendly temperaments.
This Dachshund breeder has a few litters every year and ships them all over the United States. Their Dachshund puppies come in a range of patterns and colors such as blue and cream, black and cream, red, English cream among others.
They raise their Dachshund puppies as their own children and give them plenty of room to run around. The Dachshund puppies receive excellent nutrition, are dewormed, and are kept current on vaccines. Their puppies also get daily socialization so they won't come to your house stressed or anxious.
Shipping is available across Texas and across the United States. The breeder, however, encourages buyers to pick their Dachshund puppy up from their residence in Floresville.
Dachshund Breeder Contact Details
6. Rockin M Kennell Texas Dachshunds
Rockin M Kennel is a Dachshund breeder in George West, Texas, approximately 90 miles south of San Antonio. They handpick their breeding dogs to enhance their genetic program which ensures dogs have healthy, happy offspring.
The AKC-registereddogs are genetically health-tested through Embark Veterinarian to ensure they're clear of any genetic diseases. In addition, their Dachshunds come in a rainbow of patterns and colors from black and tan, chocolate and dapple, and English cream. Apuppy from this Dachshund breeder in Texas will cost you anywhere from $1,400 to $1,800 depending on the color.
Rockin M Kennels offers puppy shipping by ground transportation, flight nanny, and air cargo. Air cargo will cost you $400, ground transportation is $300 to $600 depending on the route, and a flight nanny will cost anywhere from $400 to $600.
Whether you're on the lookout for your family companion or next hunting partner, Rockin M Kennel will assist you every step of the way. They are responsible, reputable Dachshund breeders in Texas.
Dachshund Breeder Contact Details
7. Clear Fork Dachshunds Texas
Clear Fork Dachshunds is a Miniature Dachshund breeder in Aledo, Texas. Their puppies have a smooth coat, but the occasional long-haired Dachshund pops up once in a while.
Their AKC purebred Dachshund puppies come in red and red dapple, chocolate and tan, black and tan, chocolate dapple, and black and tan dapple. In addition, their Dachshund puppies come with a health guarantee, are dewormed, and have their first round of shots. They raise the puppies in their home with care, attention, and are socialized with humans and pets.
These Dachshund puppies in Texas range in price from $1,200 to $1,800. Clear ForkDachshunds doesn't ship puppies as cargo. They offer delivery by car within the Aledo region or can meet you at the Dallas Fort Worth (DFW) airport for you to fly with your puppy in the cabin.
Dachshund Breeder Contact Details
8. Hound House Farm Texas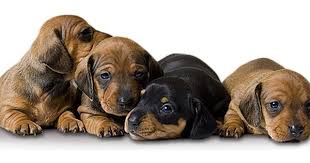 Hound House Farm specializes in miniature Dachshunds in Austin, Texas. They plan each pairing carefully and take into consideration each parent's strengths and faults so they can match them with the best mate possible.
Hound House Farm doesn't produce for quantity, only for quality. Their AKC-registered dams and sires have impressive pedigrees and are splendid specimens of the Dachshund breed.
The Texas licensed breeder (#300) socializes their Dachshund puppies with humans, pets, and new environments to make for an easier transition into your home. Their Dachshund puppies come in a variety of colors from the classic reds, famous English creams to dapple and piebald in smooth and long coats.
The breeder doesn't ship their Dachshunds puppies outside of Texas. They encourage interested buyers to fly or drive to their home to pick up their Dachshund. Alternatively, the breeder can meet you at the airport if you're getting on a return flight quickly or can pick you up to visit and take your Dachshund home if you have a long layover.
Dachshund Breeder Contact Details
How to Choose a Dachshund Breeder in Texas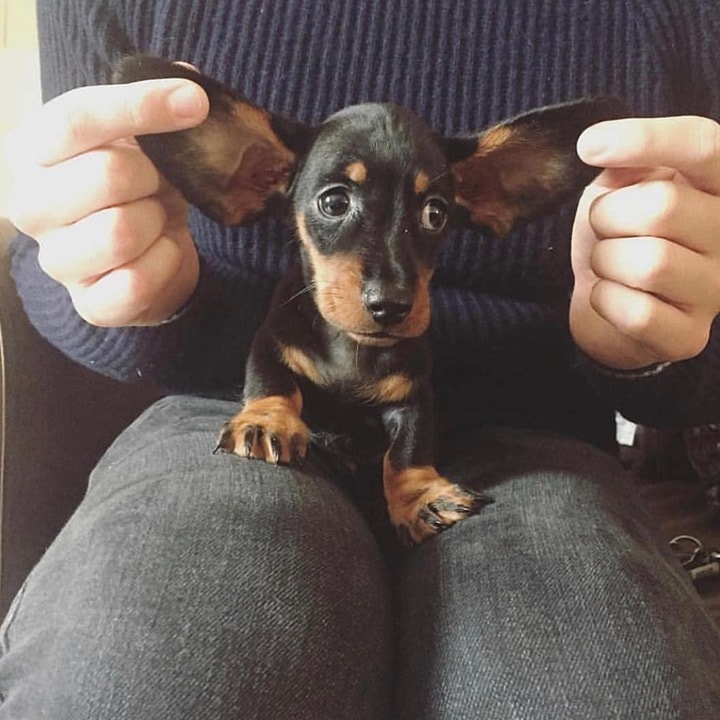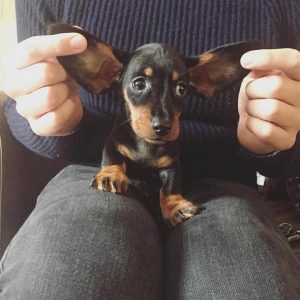 Breeder Affiliations: Since the Dachshund is a purebred dog, chances are any reputable breeder in Texas will have AKC affiliations and may even be licensed by the state of Texas. Make sure that you ask any potential breeder about their affiliations to make sure that they have a good reputation.
Breeder Reputation: All good Dachshund breeders in Texas will have past testimonials and reviews of successful puppies. You should avoid brand new Dachshund breeders because you won't know if their puppies have genetic diseases or the exact puppy coat color.
Health Warranty: You will see several Dachshund breeders offer a health warranty typically lasting one to two years. This means that they believe in the health and quality of their dogs. Always ask a potential breeder if the Dachshund comes with a health warranty.
Frequently Asked Questions
Are Dachshunds easy to train?
Poor little Dachshunds have a reputation for being dumb dogs. That's because they can be difficult to train. However, the pups are actually quite intelligent! They can learn, understand, and obey your commands… they just don't want to!
If you're a first-time dog owner, the Doxie is an appropriate dog for you. You may want to consider hiring a professional trainer to assist you in teaching your dog the ropes, though. 
Do Dachshunds bark a lot?
They can, yes. If your Doxie is alone for long periods of time he may become vocal. Additionally, your puppy or adult dog may bark to alert you of perceived dangers. Teach your pup his manners from an early age to avoid conflict with the neighbors, and to mitigate frustration at home!
How much does a Dachshund cost?
Well, that depends upon the breeder! The prices of Doxies are set by breeders and are based on litter size, color, sex, and a variety of other factors. Typically, you'll pay anywhere between $500 and $2,000 for your dog. 
Remember that when you rescue a Doxie from a shelter, you're saving two lives… and a bunch of money! Your dog will be "cheaper" upfront, and over the long term you'll save on the expense of vaccines, spay or neuter surgeries, and even training. 
Conclusion for Dachshund Breeders in Texas
The Dachshund's bold and vivacious personality makes him a superstar among dogs. The breed has a lifespan of 12 to 16 years, provided you ensure that your Dachshund has a healthy diet and adequate exercise.
Dachshunds are prone to overeating and back injuries, which may lead to disc damage. We recommend you monitor your puppy's activities to avoid jumping up and down high objects. For example, it's best not to allow your Dachshund puppy to jump on or off furniture.
With that having been said, we hope you find your perfect match among our list of the most reputable, AKC-approved Dachshund breeders in Texas. 
Other articles you would like: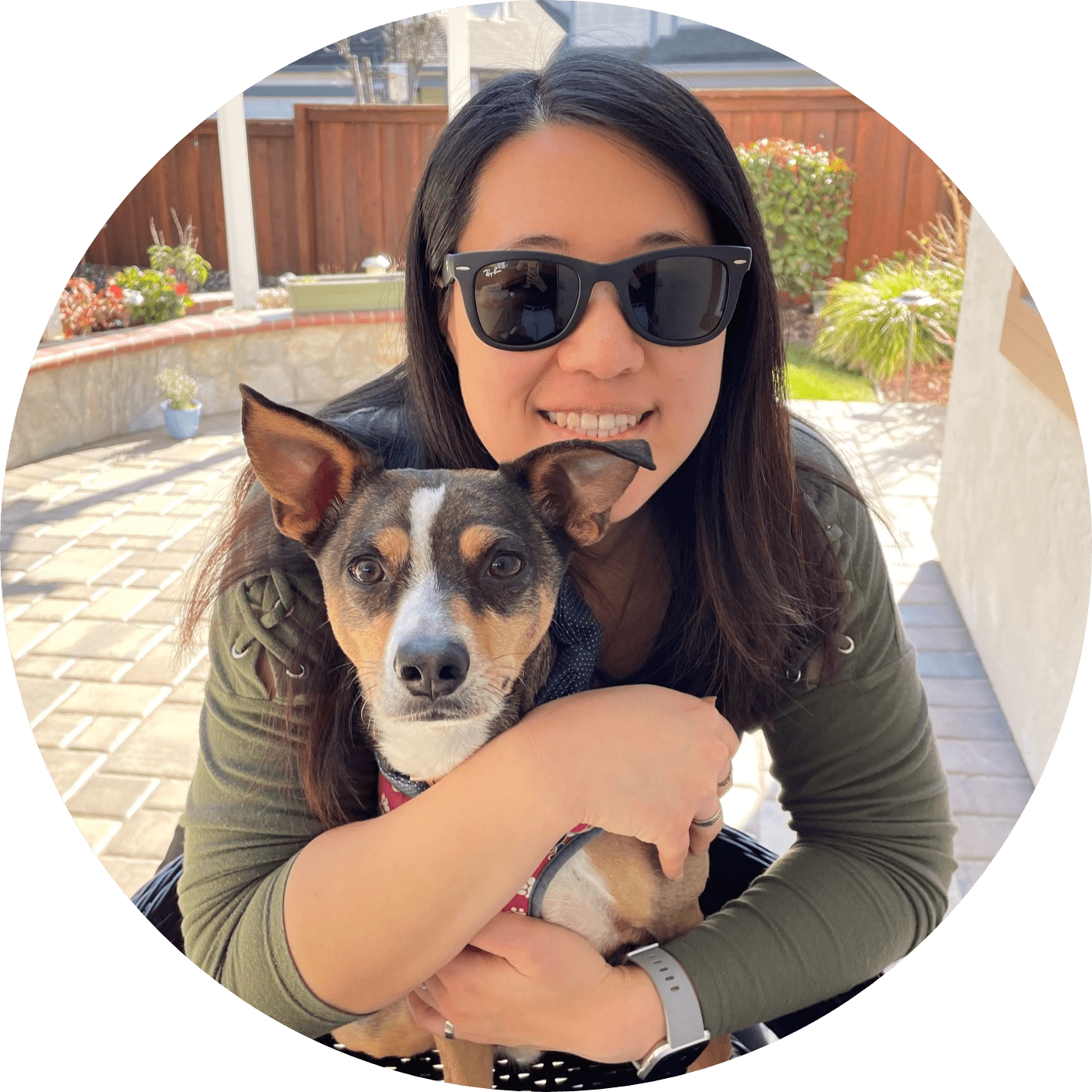 Dr. Sabrina Kong graduated from the Royal Veterinary College in England in 2016 and has been working at a small animal clinic in Northern California since then. She grew up in the Bay Area and got her bachelor's degree from Cal Poly San Luis Obispo. She also became a Certified Canine Rehabilitation Practitioner through a program at the University of Tennessee.
When she isn't in the clinic taking care of her four-legged patients, she enjoys traveling and trying new foods with her friends and her three-legged dog, Apollo. She adopted Apollo from her clinic when he was a puppy with numerous health issues. Dr. Kong truly cares about taking care of animals.