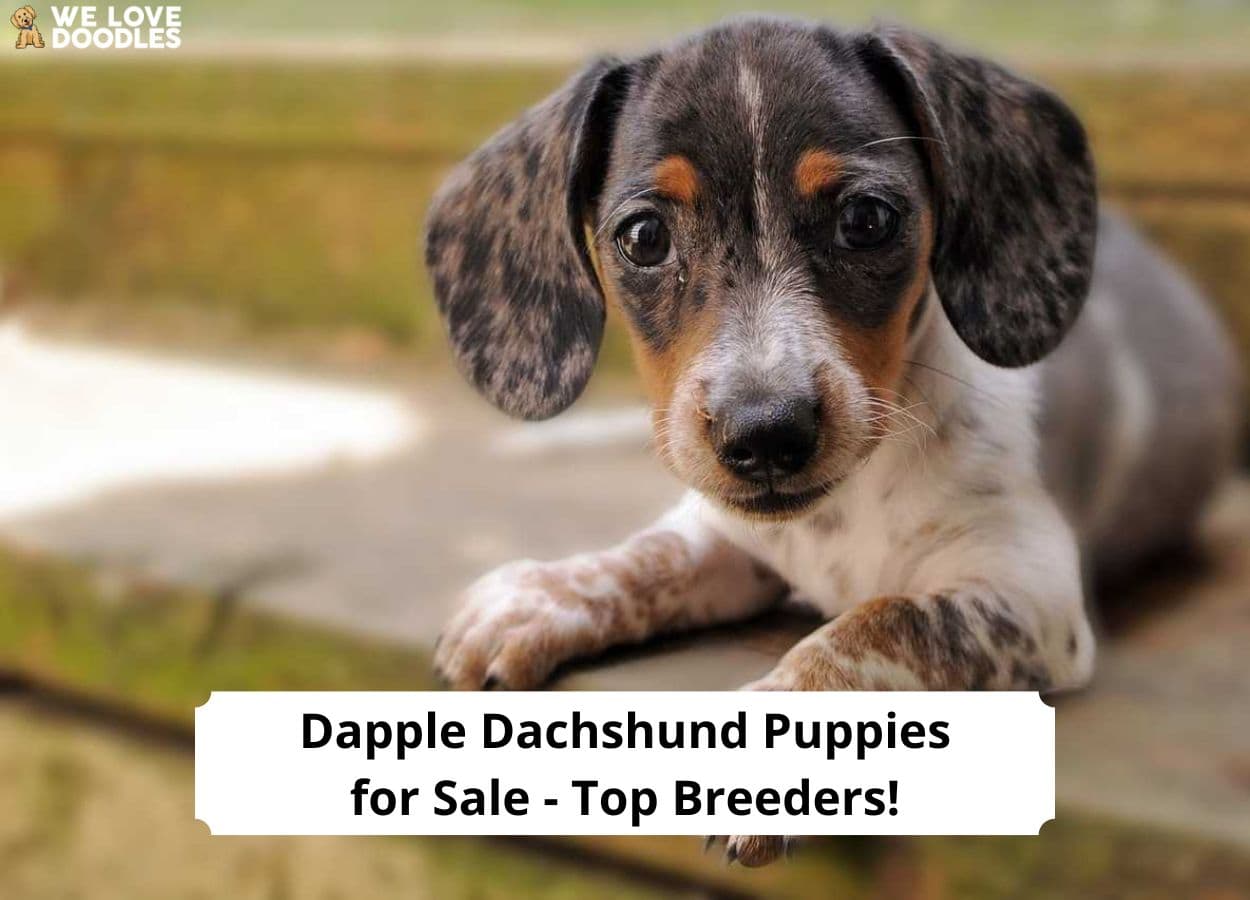 Dachshunds are among the most popular dog breeds worldwide thanks to their short stature and robust personality. A Dapple Dachshund is like other Dachshunds but with a unique "dapple" colored pattern. Finding a reputable breeder should be your priority if you are looking for the best Dapple Dachshund puppies for sale.
Fortunately, some Dachshund breeders also have these rare dogs. Nevertheless, you need to consider several important factors when looking for where to buy a Dapple Dachshund. You need to know whether the breeder can be trusted, their level of experience, what the inclusions are, and their breeding standards.
But you have nothing to worry about, as we are here to help you find the right breeder. After careful consideration and consultation, we have compiled a list of reputable breeders.
Our list includes dedicated Dapple Dachshund breeders and Dachshund breeders that occasionally have this breed. We selected breeders with many satisfied and happy clients.
Here are our top recommendations.
Before scrolling down this list of breeders with Dapple Dachshund puppies for sale in the United States, check out: 12 Best Dachshund Breeders in the USA! (2023) and Long-Haired Dachshund Puppies For Sale: Top 6 Breeders! (2023).
1. JM Kennel
How puppies are bred and raised plays a key role in their overall health and well-being. Many breeders do not pay close attention to their puppies' health and the babies end up with congenital health issues. JM Kennel made it to the top of our list because it is among the most respected Doxie breeders in the United States.
JM Kennel is a small family-owned breeding program located 20 miles east of the Rocky Mountain foothills in the small town of Johnstown, Colorado. The family is passionate about this dog breed and would do anything to ensure their puppies are comfortable, happy, and healthy.
The entire family is involved in the breeding program and they all care for the puppies and dogs. The grandchildren also play a key role in the program, especially in the socialization of the puppies, so your new puppy will be acclimated to home life.
JM Kennels produce and raise different types of Dachshund, including:
Dapples
Smooth coat
Piebalds
Long coat
The Colorado State License Personnel and many customers have marked this breeder's facilities as one of the best.
The facility is cleaned daily to ensure it is free from harmful elements that could endanger the lives of the puppies. All their puppies are registered with the American Kennel Club (AKC), so rest assured you are dealing with a licensed and recognized breeder.
In addition, this family adheres to all AKC's breeding standards and regulations. The American Kennel Club requires breeders to conduct DNA testing for all studs and females before breeding.
As such, JM Kennel conducts health and DNA tests for all their sires and dams before adding them to the breeding program. Another amazing thing about this family is that they rest their dogs in between breeding. After giving birth, the dogs rest for several months before undergoing the process again.
All their puppies come with limited registration (as pets only). However, you can contact and inform them if you want full AKC breeding rights. JM Kennel sells its puppies with a one-year genetic health guarantee, deworming, and first shots. The family also ensures all their customers get the necessary support to raise their new puppies.
This breeder is located in Colorado but offers nationwide shipping. They can ship your puppy across the the United States for an additional cost.
JM Kennel Details:
2. Bluefield Puppies
Bluefield Puppies offers Dapple Dachshund puppies for sale at very affordable rates. If you are looking to add a new Dapple Doxie to your family without breaking the bank, Bluefield Puppies is a great place to start your search.
This platform has various collections of Dachshunds, including:
The Hostetter family created Bluefield PUppies back in 2000. They created the platform with the goal of connecting healthy puppies with loving, caring families across the United States. This platform does not condone puppy mills and strongly discourages any breeding practices in which the well-being and health of puppies and dogs are compromised.
Bluefield Puppies lists Dapples and other types of Dachshunds from reliable and trusted breeders nationwide. One amazing thing about this family is that they visit most of their breeders personally to see the puppies before listing them.
In cases where they cannot visit the breeder, they collect as much background information on the breeder as possible. They disqualify all breeders using inhumane or illicit breeding practices from advertising their puppies on the website.
They educate breeders on best practices and the importance of conducting health and DNA tests before breeding. The family only encourages and supports the selling of only healthy puppies with good genetics.
Bluefield also makes it clear to its breeders that it stands firm against animal mistreatment and will not tolerate any such practice. All their puppies come with at least a 30-day health guarantee from the breeder. Bluefield Puppies serves the entire US, so you can get a Dapple Dachshund from anywhere in the United States.
The puppies are also up-to-date on shots, vet-checked, and dewormed before leaving for their forever homes.
Bluefield Puppies Details:
3. Select Dachshunds
Located in the small East Texas town of Waskom, Texas, Select Dachshunds offers well-bred and healthy Dapple Dachshund puppies for sale.
This family-run breeder is 100 percent dedicated to the breeding program. If you are looking for the finest quality dapple or miniature Dachshunds, you can visit this kennel.
Select Dachshund offers many miniature Dachshund puppies, including the following:
Shaded English cream
English cream
Chocolate and tan dapples
Wire hair
Dapple piebald
Piebald
Isabella
Blue and tan
Black and English cream
Black and tan
Red
Brindle
Chocolate and tan
Black and tan silver dapples
Whether you want a smooth- or long-coat miniature Dachshund, this breeder has you covered. This family is known for its excellence in breeding practices, which is evident in their hundreds of satisfied customers who continually refer others to them and return for more.
As a dapple and miniature Dachshund breeder, Select Dachshund has developed expertise in producing healthy, beautiful, and mild-tempered puppies. This breeder is located in Texas but serves all other states.
They are within driving distance from all parts of Texas, Oklahoma, Louisiana, Alabama, Mississippi, and Arkansas. If you live outside the driving range, the breeder can meet you at a local airport in Louisiana, Shreveport, or in Dallas, Texas.
Select Dachshund also offers delivery to various areas in Texas for an additional fee. Hence, you can sit back and wait for your puppy to be delivered to your doorstep. Select Dachshund is a licensed breeder in the state of Texas.
The family adheres to all local, state, and federal regulations. They are also inspected multiple times yearly, so the breeding facility is always clean and healthy. This family has a lot of experience with breeding and raising dogs.
For many years, they had various dog breeds as pets, ranging from Terriers to Rottweilers to dalmatians. They came across Dachshunds in 2014 and fell in love with the breed. However, they didn't just dive into breeding without doing proper research and consultation. They studied this breed for a long time before starting this business.
Select Dachshund strives to produce healthy puppies with excellent temperament and conformation. All their Doxie puppies follow AKC standards and get a lot of care, love, and attention before joining their forever families.
Select Dachshunds Details:
4. Daisy-Hill Dachshunds
Daisy-Hill Dachshunds specialize in breeding and raising AKC miniature longhaired and smooth Doxies. However, the breeder occasionally offers dapple Doxies with exceptional temperament and conformation.
This is a small family breeder co-owned by a veterinarian located in Maine, New England. The family's goal is to breed the best quality, healthiest AKC Doxies possible. They offer puppies and occasionally adult Doxies for sale in longhaired and smooth coats.
They offer most colors and patterns, including reds, blacks, creams, and chocolates in Dapple and Piebald. Daisy-Hill takes all the dogs and puppies as treasured members of the family, and they are treated as such.
The adult Doxies spend their days in a temperature-controlled, specially-designed indoor/outdoor kennel when they are not in the house with the family. In addition to providing them with the best living environment, this family provides the dogs and puppies with top-quality food.
All the dogs also enjoy routine vet care to ensure they are always healthy and sound. Before breeding, the sires and dams undergo thorough DNA and health examinations. They are also tested for Progressive Retinal Atrophy (PRA) and Neuronal Ceroid Lipofuscinosis (NCL), which are two congenital defects that can cause blindness and seizures, respectively.
The happiness and health of the dogs and puppies are the number one priority of this family. Their dogs and puppies are safeguarded by a video surveillance system. They have a dedicated team that cares for and spends quality time with the puppies daily.
In addition to being healthy and sound, your new puppy will come home socialized and semi-housebroken. They engage and socialize with the puppies daily. The puppies have experience with kids, adults, other pets, and various parts of the house, allowing for an easy and smooth transition to their new homes.
Daisy-Hill Dachshunds Details:
5. Whispering Pines Farm Miniature Dachshunds
For over a decade, Whispering Pines Farm Miniature Dachshunds has been providing quality and healthy Doxies for dog lovers in Tennessee and nearby regions. WP Farm is an experienced and reputable breeder with love and passion for Doxies.
Whispering Pines Farm is an approved breeder with various dog clubs and organizations, including American Kennel Club (AKC), Good Dog, Continental Kennel Club, and Better Business Bureau.
They breed their puppies according to AKC standards. All their puppies come with a one-year health guarantee to protect against genetic defects. Your puppy will also come with a complete package, including the following:
A CKC or AKC registration
Food sample
Toys
NuVet supplements
A blanket
WP Farms is not like other breeders that end a relationship after the sale. For this breeder, a sale is the beginning of a relationship. They encourage all their customers to keep in touch, ask questions, and share updates on their puppies, even until they are adults.
They consider all their customers as part of their family and are always available to assist and guide them. Whispering Pines Farm guarantees their puppies to be healthy, well-socialized, and happy, so rest assured you will go home with a healthy and happy Dapple Doxie puppy.
Whispering Pines Farm Miniature Dachshunds Details:
Frequently Asked Questions
How much is a Dapple Dachshund?
A healthy Dapple Dachshund from a reputable breeder can cost anywhere from $800 to $3,000.
Are Dapple Dachshunds rare?
Dapple and solid black are less common than other Dachshund colorings.
Why can't you breed two Dapple Dachshunds?
When pairing up Dapple Dachshunds, there can be genetic defects like hearing and vision problems.
Conclusion for "Dapple Dachshund Puppies for Sale – Top Breeders"
The popularity of Doxies has surged in recent years. Their small stature makes them ideal for apartments and homes. Another reason they are highly sought-after is their funny personality and active nature.
You need to be careful when looking for Dapple Dachshunds puppies for sale, as there are many poorly bred puppies out there. Additionally, before choosing a breeder, check their experience, trustworthiness, and customer reviews.
For more guides similar to this list of breeders with Dapple Dachshund puppies for sale in the United States, check out:
Before you bring home a Dapple Dachshund, you can learn more by watching the "How to Take Care of a Dapple Dachshund? How long does Dapple Dachshund live?" down below: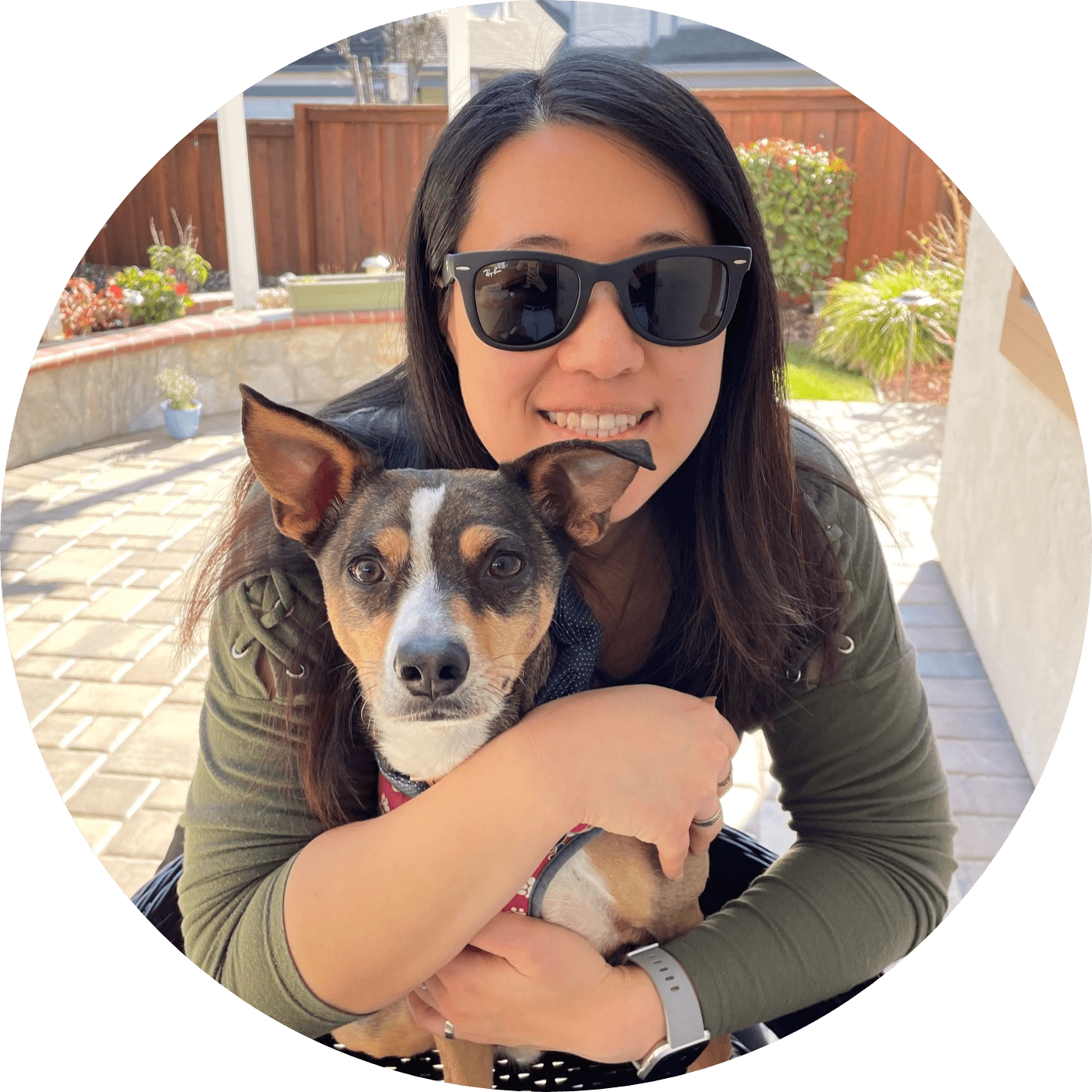 Dr. Sabrina Kong graduated from the Royal Veterinary College in England in 2016 and has been working at a small animal clinic in Northern California since then. She grew up in the Bay Area and got her bachelor's degree from Cal Poly San Luis Obispo. She also became a Certified Canine Rehabilitation Practitioner through a program at the University of Tennessee.
When she isn't in the clinic taking care of her four-legged patients, she enjoys traveling and trying new foods with her friends and her three-legged dog, Apollo. She adopted Apollo from her clinic when he was a puppy with numerous health issues. Dr. Kong truly cares about taking care of animals.