Dachshunds are one of the most popular and well-known breeds of dogs. Their distinct body type and expressive face are what have given them notoriety. Because they have grown in popularity, many Dachshund breeders in California have popped up in the last several decades.
This can make finding a reputable breeder difficult because at the end of the day you want a healthy and happy puppy. Weeding through the backyard breeders and puppy mills to find a breeder that truly wants the best for the Dachshund puppies is not always easy. In a large state such as California with many Dachshund breeders, it can be even harder.
We have done some of the hard work for you and have found four Dachshund breeders in California that appear to be reputable breeders with well-tempered and healthy dogs. If you choose to purchase a Dachshund puppy from one of these breeders we recommend that you ask questions and request to see the breeding facility and the dogs before you commit. Breeding practices are constantly changing, so you should always ensure you're purchasing from someone reputable.
The process of bringing home a Dachshund puppy from PuppySpot will make your search less overwhelming. Everything you need is provided on PuppySpot's website, which means you're a few clicks away from introducing your Dachshund into the comfort of your home. This is because PuppySpot does all the vetting of finding reputable breeders so there are no puppy waitlists that are 6+ months. You can get a puppy today without the long wait times. You have the option to filter out a dog's certain age, gender, and even coat color. There are numerous breeds you can find if you're still not quite sure about your potential Dachshund companion.
They also understand the concerns of puppy mills. To ease your mind, the team at PuppySpot goes through each breeder to ensure that they meet the company's standards before any listings. If you've never been on PuppySpot before, then we highly recommend that you navigate through the website before any further decisions. With the company's wide range of dog selection, you'll be on there for many hours to come. They also have their own private planes that can deliver your Dachshund puppy to California if the breeder isn't directly located in the state.
Since we got one of our puppies from PuppySpot, they are also giving our readers a $100 discount with code "WLD100" at checkout.
Dachshund Breeder Details
2. De Lorenzo Dachshunds of California
De Lorenzo Dachshunds of California is a family breeder. The owner of the breeding operation is a mom with three children that help with her Dachshund breeder operation. They started as a small breeder with just one pair of Dachshunds, but have grown in the 10+ years that they have been breeding these dogs. This is one of the oldest Dachshund breeders in California that we could find.
When finding a reputable breeder you should always ask if they are licensed. De Lorenzo Dachshunds is a licensed and AKC breeder. You can find their information on the AKC website to confirm. When a Dachshund breeder is licensed it means they care enough to go through the process as well as undergo inspections of their breeding facility and puppies.
Most reputable Dachshund breeders in California will also allow home visits. However, due to the health situation that is currently happening, they are not allowing visits at this time. They have, historically, always allowed visits but they are taking every precaution for their own safety and their puppies' safety. De Lorenzo Dachshunds will communicate directly with each new owner about the procedures during this time.
The owner is busy but always makes time for questions from prospective owners. If you have any questions or would like information about reserving a Dachshund puppy from a future litter contact the owner.
Dachshund Breeder Details
3. Nuforest Dachshunds California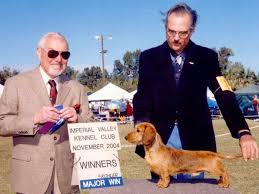 Nuforest Dachshunds California is a longstanding Dachshund breeder and is well known on the champion show dog circuit. They have been showing and breeding Dachshunds for well over four decades with no plans to stop now. Nuforest Dachunds California breeds all three coat types of these dogs.
They have short hair, long hair, and wire-haired Dachshunds that are available as puppies. If you are interested in reserving one of these high-quality puppies from champion show dog bloodlines, you can contact the owners. These Dachshund puppies in California cost $1600 for males and $1900 for females.
This breeder is so involved in several clubs and is members of the AKC, Dachshund Club of America, National Miniature Dachshund Club, and The San Diego Dachshund Club. In addition, the owners also write a newsletter for anyone interested in Dachshunds that would like to subscribe.
Their website is full of resources for anyone considering adding a Dachshund puppy to their family. Even if you're a current Dachshund enthusiast, you can definitely learn something about the breed from their website. If you want to purchase your dog from a knowledgeable breeder that will be a wealth of information and help, this is the Dachshund breeder in California is for you.
They can answer any question you may have and even help you break into the world of dog shows if you want to go that route. Nuforest Dachshunds California also has many affiliations that can be resources for families that have purchased a Nuforest Dachshund. The website gives quite a bit of information about these affiliations and how Nurforest is involved with these organizations or companies.
Dachshund Breeder Details
Location: Southern California near Ramona
Address: Susan Buck, 1410 Ramona St, Ramona, CA 92065
Email: nuforest@aol.com
Website: Nuforest Dachshunds California
Telephone: 760-789-0592
4. Full Circle Miniature Dachshunds California
Full Circle Miniature Dachshunds California may be located in Los Angeles County, but where they raise their puppies is very different from LA. With only a short drive to the city, this sweet little town with no stoplights is a quiet place to raise well-adjusted Dachshund puppies with a great temperament. They have plenty of room to stretch their short legs on the eight and a half-acre horse ranch.
Full Circle Miniature Dachsunds California has 17 years of experience with breeding Dachshunds and no plans of closing up shop anytime soon. This breeder also focuses on making sure the Dachshunds they breed have correct conformation and temperament to the AKC standards. They also genetic and health testing the parent dogs to ensure the Dachshund puppies will be healthy.
Health and genetic testing is an important aspect of being a reputable and responsible breeder. A Dachshund breeder in California that doesn't have the necessary testing and behavior evaluations done on their breeding adults is not reputable. They are simply in it for the money.
That is not the case with Full Circle Miniature Dachshunds. They truly care about their Dachshund dogs and puppies. They want them to be with the best family for their temperament and needs.
Full Circle is also licensed by the Los Angeles County Department of Animal Care and Control. Not only are they licensed but they get an "A" rating each time the department comes to inspect the home and facilities.
If you are considering purchasing a Dachshund puppy from this breeder there are some things you need to know. Full Circle does require a deposit to reserve a puppy. However, it's unusual that they don't take deposits until the Dachshund puppies are born. In addition, they keep their Facebook page updated with the most current availability and you can also see what their puppies look like.
Once you have picked a Dachshund puppy that you like, you will need to confirm availability to make sure it isn't reserved. At that point, you will send in a $300 deposit to keep the puppy from going to another family. When the Dachshund puppy is eight weeks old they are ready to go home and the balance can be paid at pickup.
While they don't take reservations before the puppies are born, you can let them know what you would like in a puppy and get on an email list for the first notifications. This is one of the best Dachshund breeders in Southern California.
Dachshund Breeder Details
5. Songcatcher Dachshunds California
Songcatcher Dachshunds California is an AKC Dachshund breeder in Northern California that has a reputation for wonderful companion puppies. However, they don't sell any show quality puppies or allow any breeding of their companion dogs.
The Dachshund puppies from Songcatcher go quickly so if you want to get one of these quality puppies with a good temperament then you will need to act fast.
They require a deposit that can not be refunded but can be transferred to another litter. So if you don't like a puppy from your current litter, you can always wait for the next litter of Dachshund puppies.
Pricing starts at $1600 and goes all the way to $2800, depending on the coloring of the Dachshund puppy. The rare colors and patterns are more expensive than basic coat colors.
Songcatcher Dachshunds will ship the puppies outside California if needed. However, they prefer that you come and pick them up in person. They enjoy showing people around their facilities and letting customers see where the puppies have been for the first eight weeks of life. They understand that it is not always possible and will be happy to make other arrangements. They are located about 3.5 hours northeast of San Francisco, California.
Dachshund Breeder Details
Conclusion for Dachshund Breeders in California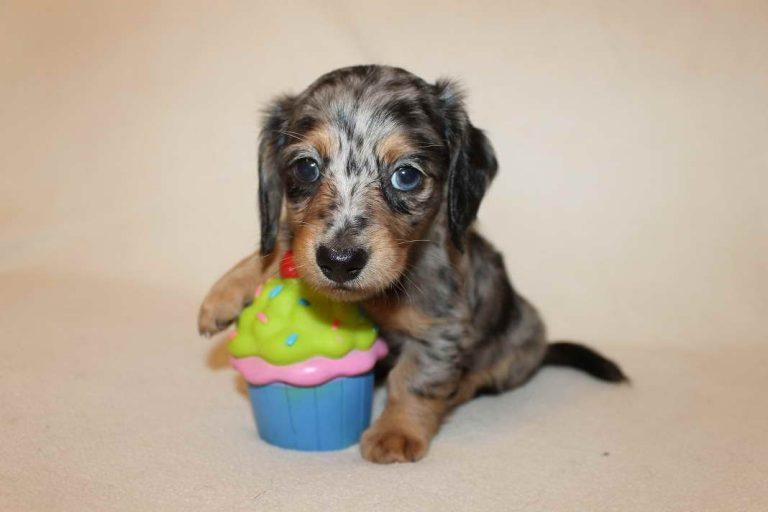 Dachshund puppies for sale in California have been growing every single year. According to the AKC, Dachshunds are the 12th most popular dog breed in the world due to their small and friendly personality. It's no surprise that tons of Dachshund breeders in California have popped up recently. You'll need to be aware of puppy mills and backyard breeders that won't be selling healthy puppies. Just because the initial cost is cheaper doesn't mean they won't cost you more in medical costs later on.
Other articles you might like:
Garrett loves animals and is a huge advocate for all Doodle dog breeds. He owns his own Goldendoodle named Kona. In addition, he volunteers at the Humane Society of Silicon Valley, where he fosters dogs and helps animals. Garrett enjoys writing about Doodles and believes that dogs can teach humans more about how to live than humans can teach a dog.
Why Trust We Love Doodles?
At We Love Doodles, we're a team of writers, veterinarians, and puppy trainers that love dogs. Our team of qualified experts researches and provides reliable information on a wide range of dog topics. Our reviews are based on customer feedback, hands-on testing, and in-depth analysis. We are fully transparent and honest to our community of dog owners and future owners.