If your dog recently had puppies, congratulations! You have your work cut out for you. As you watch her recover from childbirth, you may find yourself asking, "Why is my dog so skinny after giving birth?" Well, we're going to look at that — and other questions — in this guide.
The sleepless nights, vet appointments, and finding the perfect home for each new baby is going to take effort. Mama will need some TLC. You'll need to adjust her diet to one that's appropriate for nursing puppies, and you'll need to monitor her behavior and her health, too.
Whether you're caring for a new mom or are just curious about what happens after a dog gives birth, we've got answers! Read on to learn more about how to care for your dog after she has puppies.
Before reading this article, "Why Is My Dog So Skinny After Giving Birth," check out: The 150 Best Strong Female Dog Names! (2023) and Is My Chihuahua Too Skinny? (2023).
Why Is My Dog So Skinny After Giving Birth?
If your dog looks skinny after giving birth, it's not an immediate cause for alarm. It's perfectly natural for a dog to lose a bit of weight after she has her babies! Her body is using more energy than it was before her puppies were born, and she'll drop a few pounds immediately following whelping.
Your pup will have different nutritional requirements after she has her puppies, and we'll take a look at that in just a bit. Let's look a little at weight loss first, and the reasons your dog may look skinny after giving birth.
The first reason is quite obvious: she no longer has puppies in her belly! Your dog's abdominal area will look smaller and thinner when those puppies are born, but it's certainly not cause for alarm.
The second reason is that your pup is using quite a few more calories now that she's nursing her puppies. Just as breastfeeding mothers may need to increase their caloric intake, your dog will need some dietary adjustments. It's normal for your pup to lose a bit of weight after she has her puppies.
Finally, and cause for concern, is the possibility that there's something medically wrong with your pup. Your dog's abdominal area will be thinner than it had previously been, but you should not be able to see her rib cage or otherwise note signs of malnutrition. If you notice extreme weight loss, talk to your vet right away.
Signs of Malnourishment in Dogs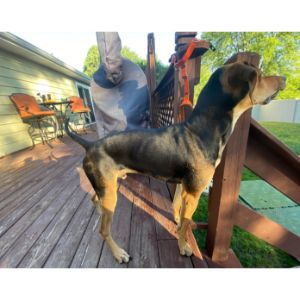 Everyone knows what a malnourished dog looks like. When you see an abandoned dog, you know all too well the look of "skin and bones" indicating that the pup hasn't had enough to eat.
Obviously, if your dog just had puppies and has that same skin-and-bones look, you'll want to call a vet or an emergency vet right away. But there are other signs you'll want to look out for in your dog, several of which are less commonly known and easier to miss.
Keep in mind that your dog will naturally lose a few pounds after she gives birth, and her appetite may decrease temporarily.
But if any of the following signs persist long-term, it's time to bring your dog to the vet.
A protruding rib cage and a sustained loss of appetite.
Frequent gas, diarrhea, or constipation.
Excessive hair loss (bear in mind that some hair loss is normal after birth).
Foul breath.
A decline in coat health.
Frequent illness due to a weakened immune system.
How Do I Meet My Dog's Nutritional Needs After She Gives Birth?
Over the course of your dog's pregnancy, you'll have taken her to the vet several times. Your veterinarian will check for parasites and ensure the pregnancy is healthy, and you'll likely talk about what you're feeding her.
However, once your dog has had her puppies, her nutritional needs will change and it's a good idea to chat with your vet at the post-birth follow-up.
Immediately following the birth of puppies, your dog may not feel the need or the desire to eat for around 24 hours. However, her appetite should increase soon after and you'll find that she needs anywhere between two and four times the energy she previously did once the puppies are around three to five weeks old.
Don't overfeed your dog. Instead, talk to your vet about giving her a high-quality, nutritionally dense dog food specifically formulated for lactating and nursing dogs. Your vet can help you choose one, and will likely have samples in her office for you to try.
Most vets will recommend free-feeding dogs that have just had puppies. Leave a bowl of food out for her to graze as she wishes. Her tummy may get full quickly, and her puppies are demanding of her attention. For those reasons, it's usually best to allow her to eat as she's able as opposed to dedicated "meal times."
My Nursing Dog Won't Eat — What Do I Do?
As we mentioned, it's normal for a dog that just gave birth to lose some of her appetite for a day or so. However, if your pup refuses to eat for longer than that, you may be asking yourself, "Why is my dog so skinny after giving birth?"
You can't force a dog to eat, but you can entice her with foods that are more palatable to her. Homemade dog-friendly ice cream is a nice treat for your pup to give her a little energy. Alternatively, find a few pumpkin recipes for dogs — she'll be sure to gobble them up!
These treats shouldn't be provided as a substitute for quality food, however. She will need protein, fat, and grains to sustain her during this time. Therefore, if your dog continues to refuse food for an extended period, please see a vet.
Another point to keep in mind is that your dog will likely need you to bring her food to her. Her priority is, naturally, her puppies. She will be hesitant to leave their side. Because of this, you'll need to bring her food bowl to a place that's close to your dog's bed or whelping box.
Provide your dog with plenty of water and food, and don't forget to monitor the puppies! If your puppies aren't gaining weight appropriately, they likely have an inadequate intake of food.
Barring a puppy's illness (such as worms or other parasites), this is most commonly due to insufficient nutrients from the mom. Consult a vet if your puppies aren't gaining as expected.
Frequently Asked Questions
If your dog has just whelped puppies and is losing weight, you may be asking "Why is my dog so skinny after giving birth?" Hopefully, our guide has assisted you in helping your dog stay healthy.
If you still have lingering questions, read on.
My dog has lost a lot of weight after whelping — what do I tell the vet?
Your dog should visit the vet for a checkup soon after having her puppies. Together, you and the doggy doc can find the right nutritional plan for your dog.

However, if you continue to notice weight loss in your dog, you can expect your vet to ask you questions! Tell her:

The type of food you're feeding her (bring in the bag or a picture if you're able).
Whether you're feeding your dog meals or are free-feeding your pup.
If your pup's bowel movements have been normal, runny, or constipated.
Whether your dog's water intake is normal and as expected.
About any health conditions your dog may have.

Be sure to bring your dog's vet records with you and, if possible, use a vet who knows your pup's history.
How many calories does a nursing dog need?
Like humans, dogs have a basic metabolic rate. There are calculators online that can help you determine the RER or resting energy requirement. A simple Google search will result in several.

For those of you more "math-y" types, you can calculate your pup's RER by taking her weight in kilograms and raising it to the 3/4 power, then multiplying by 70.

Not feeling like doing the homework? You can find a calculator at this link.

Once you've determined your pet's RER, you'll want to adjust it for life events. For a nursing mother, multiply your pet's RER by four to six. This will depend on the number of puppies she whelped; if she's feeding more puppies her needs may be higher.
How much food do I give my nursing dog?
Once mama pup has had her little fur balls, you'll want to make sure she's given appropriate food.
Normal and appropriate dog food consumption will be determined by a number of factors including age, weight, activity level, and breed.

For instance, a six-month-old Corgi will need less food than a six-year-old Italian Mastiff.

As a general rule, though, a nursing dog will require up to six times the amount of food she previously required as she supports her babies.

It's of the utmost importance that you understand that your dog's food should change, too! Hopefully, you've already switched your dog to a nutritionally dense, high-calorie food in the final weeks of her pregnancy. This should continue throughout the period of time that she's nursing her puppies.

Feeding your dog low-calorie foods means her belly will get full, but she won't be consuming the number of calories she needs — she's simply too stuffed! We can't stress enough the importance of choosing a dog food that's formulated for your nursing mama.
Do dogs' bodies go back to normal after giving birth?
All dogs are different, and each dog will recover at a different pace after giving birth to puppies. Some dogs will perk right up after whelping while others may experience appetite and energy loss for quite some time. Some pups' nipples may recede and some dogs' nipples may not.

Mama's temperament may even change a bit, and you may notice that she's now a bit more protective or even aggressive. In short, all dogs are different and they will recover from pregnancy in their own unique way.

Regular vet checkups are critical to your dog's health. Should you be concerned about your dog's health or behavior, note the symptoms you're observing and schedule an appointment with your vet. Together you can determine whether this is the "new normal" or if your pup needs intervention.
Conclusion for "Why Is My Dog So Skinny After Giving Birth"
Giving birth is a major life event whether for humans and dogs alike. Your dog's body will undergo quite drastic changes — it's a biologically necessary part of whelping healthy puppies!
If you've ever asked "Why is my dog so skinny after giving birth," we hope this guide has answered your questions. Speak to your vet if you have specific concerns about your dog, and be sure to monitor your dog's health as she raises her puppies.
For more articles related to "Why Is My Dog So Skinny After Giving Birth," check out:
Learn more by watching "I'm Worried About My Husky's Weight After Giving Birth to 11 Puppies…" down below:
Garrett loves animals and is a huge advocate for all Doodle dog breeds. He owns his own Goldendoodle named Kona. In addition, he volunteers at the Humane Society of Silicon Valley, where he fosters dogs and helps animals. Garrett enjoys writing about Doodles and believes that dogs can teach humans more about how to live than humans can teach a dog.
Why Trust We Love Doodles?
At We Love Doodles, we're a team of writers, veterinarians, and puppy trainers that love dogs. Our team of qualified experts researches and provides reliable information on a wide range of dog topics. Our reviews are based on customer feedback, hands-on testing, and in-depth analysis. We are fully transparent and honest to our community of dog owners and future owners.