You may be surprised to find out that not only can dogs eat pumpkin, but it's terrific for their health and works great for gastrointestinal issues. Unfortunately, most dog food you find in the grocery store lacks fiber and essential vitamins, such as Vitamin A. Even higher-end dog foods will likely not have enough fiber and antioxidants to help with a dog's stomach issues with constipation or diarrhea.
So, how do you determine how much pumpkin is suitable for dogs?
By adding some pumpkin to your dog's food each day, you'll be adding extra health benefits for your pup. How much pumpkin to give a dog will depend on a few different factors that we will dive into below.
Other articles you would like: Best Dog Scooting Treatments.
How Much Pumpkin to Give to a Dog
Start by giving your dog one teaspoon of pumpkin per 10 pounds of body weight. This math is based on how much pumpkin to give a dog daily, so spread it out throughout the day, if possible. You don't know how your dog will react to eating pumpkin.
But how do you determine how much pumpkin to give a puppy? Pumpkin is full of vitamins, nutrients, antioxidants, and fiber that can be beneficial for dogs of all ages and sizes. They can even enjoy roasted seeds as a small treat! You can start by giving your puppy 1-2 teaspoons of canned or pureed pumpkin per day. For extra small dogs, you may want to begin with one teaspoon, while a larger puppy should be able to handle 2-3 teaspoons.
Benefits of Pumpkin for Dogs
As previously mentioned, pumpkin provides many benefits for dogs of all shapes and sizes. However, if your dog has any illnesses or you have any other health concerns, consult with your veterinarian.
Pumpkin Is Nutrient Rich
The bright orange pumpkin is a highly nutrient-rich food for humans and pets. If you look at the nutritional value of canned pumpkins, you will notice that there are many vitamins, minerals, and fiber. Pumpkin contains high amounts of vitamin A, potassium, Vitamin C, Iron, Folate, and more that can benefit your dog's health.
Some of the nutrients found within pumpkins, like Vitamin A, can help your dog's skin and fur stay healthy. For example, if your dog has dry or flaky skin, adding a pumpkin supplement may support their coat health. Additionally, healthier coats tend to shed less. So, adding pumpkin to your dog's diet may save your clothes and furniture from excess shedding.
Here's an overview of how the nutritional benefits found in pumpkin can be beneficial to your dog:
Vitamin A: Helps your dog's immune system and promotes healthy vision
Vitamin E: This antioxidant helps regulate enzyme activity and promotes skin health
Lutein: Promotes eye, skin, and coat health in dogs
Vitamin C: Helps regulate enzyme activity and supports immune system health
Alpha-carotene: Keeps cells healthy
Calcium: Promotes bone and tooth health
Iron: Helps with cellular respiration hemoglobin production and is vital for oxidation
Pumpkin Can Help with Constipation in Dogs
Dogs can have just about every stomach issues that we do as humans, including constipation.
Pumpkin has about 7 grams of fiber per cup, which can help dogs with constipation to pass stool more easily.
So, how much pumpkin to give a dog for constipation? Veterinarians at Merck Veterinary Manual suggest adding 1-4 tablespoons of pumpkin to each of a dog's meals that are suffering from constipation.
It is important to note that a little bit of pumpkin can help ease mild constipation, but in severe cases, your dog may require veterinarian help. So if you attempt to give your dog pumpkin and it doesn't seem to help, or your dog consistently suffers from constipation, contact your dog's vet to make sure it's not something more serious.
Pumpkin Can Soothe Your Dog's Upset Stomach
Dogs can also experience acid reflux, which can cause an upset stomach, vomiting, and diarrhea. If your dog has diarrhea, pumpkins surprisingly can help cure that too.
While it may seem unbelievable, pumpkin can help dogs with constipation and diarrhea because of the multiple nutritional health benefits this superfood offers.
For a dog with a loose stool, adding a small amount of pumpkin to your dog's meals can bulk up your dog's stool.
Pumpkin for dog diarrhea dosage:
Small dogs: 1-2 tablespoons
Medium dogs: 2-3 tablespoons
Large dogs: 3-4 tablespoons
Add the suggested amount of pumpkin above to their next meal, depending on your dog's size. See if the pumpkin helps; if not, contact your veterinarian.
It may also help to add a little bit of rice mixed in with the pumpkin to help soothe your dog's stomach. You may also mix in Pepto-Bismol with the pumpkin. Finally, add one teaspoon of the liquid medicine for every 10 pounds of the weight of your dog.
Check out for more: How Much Do Dog Groomers Make? and Why Does My Dog Stretch So Much?
Fresh Pumpkin vs. Canned Pumpkin
Not only is it okay to give your dog plain canned pumpkin, but it may even be even better. While it may seem odd that canned pumpkin is better than fresh pumpkin, canned pumpkin is the healthiest you can get for your dog. Fresh pumpkin has a lot of water that dilutes the nutrients, while canned pumpkin is more concentrated, allowing your dog (or you!) to intake more nutrients and fiber.
When purchasing your canned pumpkin, ensure that it is 100% plain pumpkin. During the fall and winter months, you will see lines of canned pumpkins along the shelves. However, not all cans are created equal. While some cans will be plain pumpkin to add to your holiday recipes, some may already have the sugar and seasonings added to them.
How Much Canned Pumpkin for Dogs
Start with smaller amounts of canned pumpkin for your dog and work your way up if they do okay with it. Depending on your dog's size, start with 1-4 teaspoons per meal.
What If My Dog Ate Canned Pumpkin Pie Filling?
If you accidentally grabbed the wrong canned pumpkin, your dog may get a little sick. The higher dose of sugar is irritating to your dog's digestive tract and may cause diarrhea and vomiting. If you are concerned, contact your dog's veterinarian to be safe.
How Do I Prepare Fresh Pumpkin for My Dog?
You can serve fresh pumpkins just as you would canned pumpkins to your dog daily or when experiencing digestive issues. However, you will need to cook the pumpkin first before serving it to your pup.
You don't want to feed your dog leftover pumpkin that you haven't properly prepared. Avoid letting your pets eat any parts of the stem, raw pumpkin, old pumpkin, or any pumpkin with any additives, like sugar.
Here are instructions to make pumpkin puree for your dog:
Wash the pumpkin thoroughly.
Preheat the oven to 350 degrees F.
Cut the pumpkin into four evenly cut quarters. Use ¼ of the pumpkin and save the rest for later.
Cut into smaller pieces.
Clean out the pumpkin and remove any seeds. (Save the seeds, you can roast them for your dogs as an additional treat later.)
Line a baking sheet with parchment paper and place the pumpkin slices over it.
Bake pumpkin uncovered for about 45 minutes or until it's tender.
Remove from oven and allow it to cool.
Remove the outer skin from the pumpkin and discard it.
Add the chunks of pumpkin to your blender, adding water as needed. (You will want the pumpkin puree to be similar to the consistency of baby food.)
How Much Pumpkin Puree for a Dog
You can give your dog 1-4 teaspoons for each of your dog's meals. To keep the puree fresh for longer, disperse it into an ice cube tray to save for later. You may also store it in the refrigerator. Fresh pumpkin puree will be good in the fridge for about one week and about six months in the freezer.
Can Dogs Eat Raw Pumpkin?
Although raw pumpkin isn't toxic to your dog, it can be difficult for their tummies to digest raw pumpkin. Even though pumpkin is a known food to help with gastrointestinal issues in dogs, raw pumpkin may have the opposite effect. To ensure the best health of your pet, you should always cook fresh pumpkin you plan on feeding your dog.
Frequently Asked Questions
Here are the most common questions about how much pumpkin for dogs is a good amount.
How much pumpkin for a 60 lb dog?
Larger dogs can enjoy a little more pumpkin in their meals than smaller dogs. Start by adding one tablespoon mixed with each meal. To avoid adding too much fiber, you will want to start with small amounts.
You can gradually increase from there to no more than four tablespoons. If you have any concerns, contact your veterinarian.
How much pumpkin for dogs that weigh 10lbs?
Smaller dogs can handle a minimal amount of pumpkin when compared to large dogs. For example, a 10lb dog should have one teaspoon of plain, canned pumpkin or cooked pumpkin puree to each meal per day, but start small.
Start by adding a teaspoon to one of their meals and if they do okay with it, work up to two. Contact your vet if you have any questions about adding pumpkin to your dog's diet.
How much pumpkin for dogs do vets recommend?
Many vets will recommend that their furry patients add pumpkin to their diet, especially if they are experiencing digestive issues. Although you can offer dogs some medicines, a pumpkin is good to have on hand as a natural and healthy way to soothe your pet's stomach.
Can too much pumpkin hurt a dog?
Yes, as with most things in life, you can have too much of a good thing, even pumpkin for dogs. Unfortunately, too much fiber in your pet's diet can have the opposite of the intended effect of pumpkins. Not only can too much pumpkin cause digestive issues, but it can inhibit nutrient absorption.
Can dogs eat pumpkin seeds?
Yes, dogs can eat pumpkin seeds and enjoy them as a crunchy dog treat. Like the pumpkin itself, its seeds have a plethora of health benefits. However, you will need to roast the pumpkin seeds in the oven and remove the peels before feeding them to your dog.
Conclusion For How Much Pumpkin for Dogs?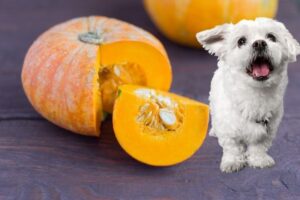 Pumpkin is a healthy food that is not only good for your dog, but they will love the taste of it as well. The main attribute pumpkin is known for is its help for a dog's digestive tract.
Whether your dog is experiencing diarrhea or constipation, adding a little pumpkin to their diet can help relieve their symptoms. You may also add a little pumpkin to your dog's food each day.
How much pumpkin you give to your dog daily will depend on their size, but most vets recommend somewhere between 1-4 teaspoons per meal or 1-4 tablespoons over the course of a day.
You will also like: