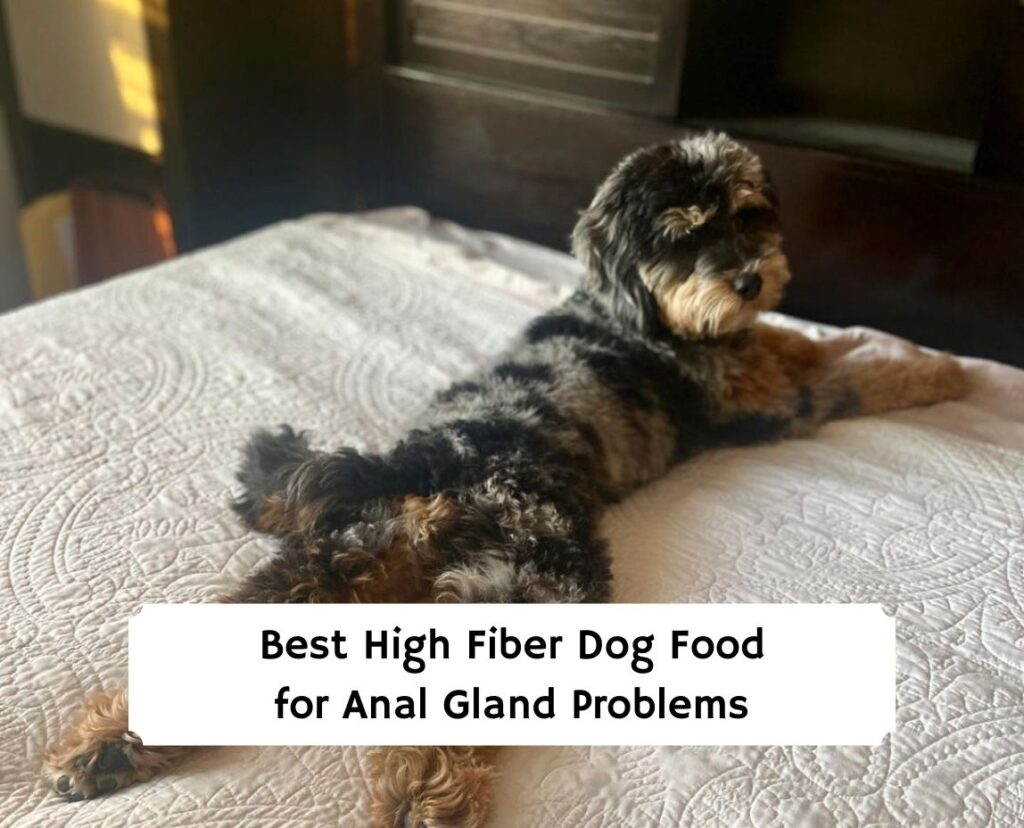 The best high-fiber dog food for dogs with anal gland problems is a high-fiber diet. Many dog foods are marketed for anal gland health are effective because they are high in fiber and have other ingredients that help avoid anal gland problems in dogs.
Omega 3 fatty acids helps to decrease the inflammation process and reduce the chance of your pup having an anal gland problem. This review will discuss the eight best high-fiber dog foods for dogs with anal gland problems in 2021.
Anal gland problems in dogs can be very uncomfortable and even painful for your dog. A buildup of fluid causes the anal glands to become irritated and can eventually lead to an infection or abscess if not treated properly. If you think that your pup is suffering from an anal gland issue, you should consult with your veterinarian.
In a rush? Here are the top picks!
Product
Best Overall
Royal Canin Gastrointestinal Fiber
Purina Pro Plan EN Gastroenteric
Image
High fiber dog food for anal gland issues
Dogs fed no fiber, or low amounts of fiber in their diet can often develop serious problems with their anal glands: Anal gland impaction and infection. If your dog has developed one of these conditions, you may be wondering what steps to take next. 
You will want to consider switching to the best high-fiber dog food and gradually introducing the new food into the diet. This will help prevent further anal gland complications. 
Tufts explains that adding fiber on your own may not be such a good idea without veterinary supervision because "adding fiber to an existing diet can alter absorption of nutrients in the diet, which is part of the reason having expert advice is valuable," via Tufts.
Many vets will recommend adding fiber to a dog's diet if diagnosed with irritable bowel syndrome since this condition can cause serious complications when not properly managed. It is also highly beneficial to your dog's cardiovascular system.
Fiber helps increase the bulk of food, which causes food to move more slowly through the gastrointestinal tract. This can help reduce the risk of "post-meal" vomiting, diarrhea, gastric torsion or bloat in larger breeds; however, feeding your pup high fiber dog food formulas can also help control spikes in glucose levels.
We recommend that all dogs receive some dietary fiber but caution about overfeeding it. Excess dietary fiber can cause other complications.
Royal Canin is a reputable brand among vets and animal hospitals around the world. This food has added fiber to help ease issues within the body while maintaining an appropriate calorie count for all breeds of pets; it also has optimal Omega 3 fatty acids, which help prevent inflammation. Vets love this product because it's easy to store and simple to use. This formula requires veterinary approval.
Features
Suitable for all breed sizes

Fiber response recipe

Climate Pledge friendly brand

Crafted with a blend of soluble and insoluble fibers 

Promotes optimal stool quality.

Science led nutrition
Hill's is one of the most trusted brands in veterinary medicine because they are dedicated to using high-quality ingredients and providing pet food tailored to your specific breed. The fiber count in this product helps reduce strain on the stomach while also promoting regularity for easier digestion. This food contains only natural preservatives and no artificial flavors, colors, or additives, which means you can feed it to any dog with peace of mind.
Features
Affordable

Over 4,900 positive reviews

Clinically proven for weight management

Veterinarian recommended
The fiber content in this product comes from natural ingredients like pumpkin and sweet potato rather than grains which can be difficult for some dogs to digest. The protein content is just right, which means your pet will feel full longer without gaining too much weight; this is great for aging pets who need to watch their waistlines. Wellness uses only regional ingredients, so you can rest assured that all of the meat used in their products are sourced responsibly and sustainably.
Features
Advanced natural nutrition grain-free recipe

Nutrient-rich superfoods & premium proteins

Over 2,900 positive reviews

Available in grain and grain-free recipes, as well as limited ingredient diets for dogs with food sensitivities

Affordable for multi-pet homes
Hill's Science Diet understands how difficult it can be to manage a pet who suffers from digestive issues; they created this product for dogs who have sensitive stomachs or are recovering from illness with a limited ingredient diet. This food contains natural prebiotics in chicory root extract to help aid digestion while also being hypoallergenic. This formula is formulated to be easily digestible for optimal nutrient absorption & easier stool pick-up.
Features
Affordable

Over 6,000 positive reviews

Veterinarian recommended

Crafted with prebiotic fiber

Highly digestible formula
Unlike most fiber-based foods, which are high-calorie to help overweight dogs lose weight, this product has a low-fat content with added fiber to promote regular bowel movements without adding too many calories or putting more strain on your dog's stomach. 
The protein content helps maintain muscle mass, while the additional fiber helps reduce diarrhea by absorbing more moisture and helping food stay longer in your pet's digestive system where it can be absorbed. This product is made by Purina, which means you know that every scoop of food will contain wholesome ingredients sourced responsibly and manufactured in a safe and controlled environment.
Features
Gastroenteric canine formula 

Crafted with a medium-chain triglyceride (MCT) vegetable oil or coconut oil, a source of MCTs

Affordable

Veterinarian recommended

Suitable for all dog breeds
This product contains prebiotics to help aid digestion and reduce anxiety on your pet's stomach, making it perfect for pets who suffer from allergies or have issues with regularity. The added fiber comes from natural ingredients like dried pumpkin. 
This formula is high in protein which helps maintain strong muscles and balanced Omega 6/3 fatty acid ratio to fight inflammation before it starts. Manufactured by Nutro, you know every bag of their products will contain only the highest quality ingredients sourced responsibly, no artificial flavors, colors, or preservatives.
Features
Affordable

Trio combo of protein from chicken, lamb, and salmon

Over 2,000 positive reviews

Specially formulated for overweight adult dogs to help with healthy weight management

Contains various recipes specifically formulated to meet your dog's breed size and life stage needs
Blue Buffalo reviews continue to peek, with over 30,500 positive reviews. This is because this formula features natural whole grains and fruit with deboned chicken as its first ingredient. 
It's crafted with high-quality proteins and carbs to help meet the energy requirements of adult dogs and features omega 3 & 6 fatty acids for skin and coat health. The protein content is 24%, and the fat level is 16%. This formula is an adult dog food only so that it would be one of the best dog foods for adult Pit Bulls. 
This formula contains BLUE's exclusive Life Source Bits – a healthy blend of antioxidants, vitamins, and minerals chosen by vets to support optimal immune system health for all life stage requirements. The first five ingredients feature the following: Deboned Chicken, Chicken Meal, Brown Rice, Barley, Oatmeal. 
Blue Buffalo has a variety of 23 dry dog food formulas in the Life Protection product line. 
Features
Crafted with NO chicken (or poultry) by-product meals

Contains no corn, wheat, soy, artificial flavors, food coloring, or preservatives

Prepared as a cold-formed dog food kibble to maintain the potency

Antioxidant-rich ingredients

Features fish oil for skin and coat health
Yet again, another good dog food brand that has over 15,000 positive reviews. This is high-quality dog food for dogs suffering from anal gland issues. Offering a 32% protein content, your pups are going to enjoy the taste. 
This formula is crafted with vitamins B, A, E, and D, plenty of antioxidants to combat free radicals and amino acids. The Taste of the Wild Premium dog food formula is beneficial in promoting optimal immune system health.
ROASTED BISON & VENISON REAL MEAT is the #1 ingredient optimal amino acid profile & protein-rich for lean and strong muscles. Taste of the Wild is highly affordable considering the protein sources of pasture-raised bison and venison if you're worried about cost. The first five ingredients include buffalo, lamb meal, chicken meal, sweet potatoes, and peas.
Features
Features high-protein content for puppies (32% protein)

It's crafted with the right amount of antioxidants and vitamins to promote optimal health.

It contains vitamin E to promote optimal vision and for healthy skin, hair, and bones

Vitamin A is also suitable for pets with viral infections, epilepsy, leukemia, and mange.
Difference Between Crude Fiber and Dietary Fiber for Anal Glands
It's key to know the difference between fiber levels in commercial dog food. You will want to try avoid "crude fiber." This is just a fancy name for indigestible plant components on the label because manufacturers are required by law to list it on their ingredients but have no real purpose or value in your dog's diet. 
Look for products with a 3% crude fiber maximum. At this point, you should slowly introduce a new high fiber dog food into your dogs' diet. This will allow him to slowly adjust and prevent future dietary change (such as diarrhea) complications. 
Dog Anal Gland Issues
Anal gland problems can cause your dog distress, pain, and discomfort. As a pet parent you should try to learn as much as possible about the various issues that can affect your dog's anal glands. 
You should also know more about the potential complications associated with anal gland issues, as well as preventive measures you can take to reduce your pet's risk of developing anal gland issues.
PetMD adds that "Anal glands, or anal sacs as they are sometimes called, are small paired pouches located between the internal and external anal sphincter muscles, one on each side of the anus at roughly the 4 and 8 o'clock position. They empty through short and narrow ducts just inside the anus. Each sac is lined with abundant, modified sebaceous (oil) and apocrine (sweat) glands. The secreted substance is usually an oily, brownish fluid that packs a strong odor." 
Small Dog Breeds and Anal Sac Disease
Small dog breeds are predisposed to anal sac disease, with more giant and giant-sized dog breeds rarely affected. Anal sacs can become clogged or infected or even cancerous. There are several common causes of impacted anal sacs:
Failure of the anal sacs properly functioning during defecation

Poor muscle tone in obese dogs

Excessive secretion of the gland
When the glands are not periodically squeezed out, this can result in bacterial overgrowth, inflammation, and infection.
Symptoms of Anal Gland Issues
You may notice your dog scooting his bottom along with the ground and licking/chewing near his anus excessively. Treating your pet's anal gland problem will require regular squeezing of the affected glands by your veterinarian. VCA adds that "Anal sac fluid is usually squeezed out by muscular contractions whenever the dog passes a bowel movement, providing a distinctive odor (or individual 'scent signature') to the feces. This is why dogs are so interested in smelling one another's feces."
Signs include the following:
Pain and discomfort

Licking or biting the affected area

Painful defecation

Hard masses in the sac area if glands are impacted

Severe pain or discoloration of the area

Abscessed sacs and rupture through the skin with a wound if there are open tracts of tissue

Tumors may also be present
However, anal sac issues can result from bad dietary choices and also may also be genetic. Diet, dermatitis, obesity, environmental allergies and even chronically soft stools can play a role in how and when your dog's anal glands become inflamed or infected. You should see your veterinarian if you believe that your dog is experiencing problems with his anal glands.
Treatment for Poor Anal Glands

Your vet will do a rectal examination to diagnose anal sac disease. If the material is impacted in the sac, your vet may inject a softening agent into the sac. If there is an infection, your pup gets antibiotics. 
You may also have to apply warm compresses if there is an abscess (infection) present, and a high fiber diet with supplemental fiber is usually recommended to increase fecal bulk. This helps to facilitate anal sac compression and emptying. If the condition keeps recurring, then the anal sac can be surgically removed.
High Fiber Dog Food
The 8 best high-fiber dog food in 2021 for dogs with anal gland problems will have added fiber to help ease this issue. Fiber also helps keep your dog regular which is essential for avoiding blockages within the gland itself.
While there are many foods marketed as "help" foods, not every product will work in the same way on dogs; smaller breeds may need less fiber than larger ones do, so make sure to read customer reviews and pick a specific product based on what your pet needs. 
Peas, lentils, or other legumes are common ingredients in high fiber dog foods because they are gentle on the digestive system and fill dogs up quickly so that they aren't tempted to overeat.
What ingredients are considered healthy for dogs?
The best high-fiber dog food is one that will provide benefits to your dog's overall health as well as help with any digestive issues.
To feed your dog a high-fiber diet, you will want to try and keep track of the amount of fiber he has in his food every day. Adding more vegetables and probiotics into your dogs' diet is another way to increase fiber intake. To ensure your pup is getting enough veggies in his diet, he should have a small amount every day. 
Conclusion for Best High Fiber Dog Food for Anal Gland Problems
All in all, the best way to avoid anal gland issues in dogs is to exercise your dogs regularly and make sure that they are not obese. Dogs that are overweight and that don't go for regular walks are prone to anal gland problems.
Just like with people, any of the processed foods your dog eats will have less fiber than natural, unprocessed foods. To get more fiber, try giving your dog raw fruits and vegetables instead of giving them cooked varieties of these same items. You can also add brown rice and whole-wheat bread if they don't negatively affect your dog.
You could also try using a fiber supplement or probiotics and add that to your pup's food every day. These won't be necessary but are still recommended if you're unsure whether there's enough fiber in his diet. 
Most dogs do very well with up to 2% and 4% fiber content in their diets, but if you notice that your pup is not adjusting well even after making the switch slowly over days or weeks, it is best to consult a vet about reducing his fiber intake.  As usual, reach out to your veterinarian if your dog has bouts of diarrhea or shows signs of anal gland problems to rule any health issues.
Other articles you would like:
Garrett loves animals and is a huge advocate for all Doodle dog breeds. He owns his own Goldendoodle named Kona. In addition, he volunteers at the Humane Society of Silicon Valley, where he fosters dogs and helps animals. Garrett enjoys writing about Doodles and believes that dogs can teach humans more about how to live than humans can teach a dog.
Why Trust We Love Doodles?
At We Love Doodles, we're a team of writers, veterinarians, and puppy trainers that love dogs. Our team of qualified experts researches and provides reliable information on a wide range of dog topics. Our reviews are based on customer feedback, hands-on testing, and in-depth analysis. We are fully transparent and honest to our community of dog owners and future owners.