Is your dog showing signs of pregnancy? Whether she's pregnant or you're having random thoughts in the middle of the night, you might be asking yourself how many puppies can a dog have. Well, the number of puppies a dog can have depends on its breed and size. If you're currently raising a pregnant dog, then knowing the litter size could help you prepare in advance before the time comes.
In 2011, researchers studied 224 dog breeds and over 10,000 litters. With over 10,000 litters analyzed, the average came out to be 5.4 puppies per litter. You shouldn't immediately expect the average amount. Instead, concentrate on your dog's breed and size and estimate from there.
For instance, miniature dog breeds have an average of 3.5 puppies per litter while larger dog breeds have an average of 7.1 dogs per litter. Whether it's a Mini Goldendoodle or a Standard Poodle, sizes does make a difference when it comes to the number of puppies they'll produce. In this guide, "How Many Puppies Can A Dog Have," we'll go a little more in-depth to this question. Before we get to that, here are some shocking stories of puppy birth that'll surprise you.
Check out this other article: Why does my dog sleep touching me?
How to Determine Litter Size
The number of puppies born from a single dog depends on several factors: type of dog breed, size of the dog, its age, health situation, diet, gene pool diversity, and other individual genetic factors.
Breed Type: Whether you have a Labradoodle or a Shihpoo, certain breeds of dogs can have more or less when delivering puppies. For example, if you notice – Chihuahuas generally deliver 1 to 4 puppies per litter vs. Goldendoodles where they deliver 3 to 8 puppies per litter.
Dog Size: The size of your dog should help you with an estimate of how many puppies to expect. Bigger dogs will deliver more puppies per litter vs. smaller dogs where they're likely to deliver less.
Dog Age: It's been mentioned many times around dog communities that a dog's first litter is usually small. As they become older, you can expect the litter size to be greater.
Dog Health: If your dog is healthy and well-taken care of, then they may be able to deliver larger litters. Since it's coming from a healthy dog, the puppies will likely be born in a healthier condition.
Diet: Another factor that influences the litter size is diet. Many breeders feed their dogs quality food that is rich in protein. This food can be cheese, meat, etc.
Number of Litters Dogs Can Deliver In A Year
Believe it or not, dogs can deliver several litters within a span of a year. In the end, it all depends on the dog's body condition and natural heat cycle. Breeders are can breed up to 4 litters per year, but this is highly frowned upon amongst the dog community and isn't ethical. Breeding 4 times per year can be tough on the mother dog and not to mention, it's cruel especially when most dogs have about six months to cycle or twice per year.
If you ever encounter such dog breeders, keep an eye out for red flags because they might be puppy mills or backyard breeders. As dog lovers, we want the best for them. By supporting puppy mills, you're supporting people that only care about money. You should always do your due diligence and find reputable breeders because they genuinely care about their dogs.
Litters A Dog Can Produce In Her Life
Dogs can produce a decent number of litters throughout their lifetime. From birth, a puppy doesn't reach puberty or maturity until it's nearly 1-year of age (9 to 10 months old). If the average lifespan of dogs is between 10 to 13 years old, then a dog could produce between 18 to 26 litters throughout its lifetime. These are estimates for informational purposes.
The estimation could be lower if we factor in its diet, health, age, and other reasons. Again, these are all estimates. For breeders, you shouldn't be abusing your dog like this because over breeding would, unfortunately, take a toll on its health.
Breeds With High Production Rates
Earlier, we mentioned that larger dogs are likely to deliver more puppies per litter than smaller dogs. To put it into perspective, Goldendoodles give birth to more puppies per litter than Chihuahuas. If you want to compare its lifetime, then determining this part would be difficult because smaller dog breeds tend to live longer than bigger dog breeds.
It's also worth noting that smaller dog breeds cycle faster than bigger dog breeds, which means they can produce more. Another example would be the Goldendoodle vs. the Shihpoo. Goldendoodles can deliver between 3 to 8 puppies per litter and Shihpoos deliver between 3 to 5 puppies per litter. If you compare the two, there is a huge difference in size.
Pregnancy Time
For pregnant dogs, it could last between 58 and 68 days (at least two months). This also depends on various factors such as the dog's age, health, and breed type. Overall, you can expect its pregnancy timespan to be approximately two months. If you're sensing that your dog is pregnant but you're not completely sure, the following list of signs below could help you detect it.
How To Detect Pregnancy From A Dog
When your dog is pregnant, it won't show any signs for the first 3 to 4 weeks. Assuming you're a breeder, then you'll know how long you should wait. Once 3 to 4 weeks have passed, you can observe your dog's behavior to tell whether it's pregnant or not. You can use these indicators below to tell if your dog is pregnant:
Produces a mucous-laden vaginal discharge

Appetite increases

Belly expands after 40 days

Weight gain

Semi-clear fluid from their nipples
Since these are simply indicators, you won't know unless you bring your dog to the veterinarian. If your dog mated or you believe it did, you can bring it to the vet 2 to 3 weeks after to check. Your veterinarian will help you verify your dog's pregnancy through a blood test.
What To Expect From A Dog's First Litter
People describe dogs to be great mothers after giving birth to their second litter. If your dog is delivering its first litter, then expect it to struggle at first. After all, it's still figuring everything out. For first litters, try to keep an eye on them to ensure that everything is running smoothly. You want to make sure that these newly born puppies are locating the nipples, consuming enough food, and staying warm. Since it's your dog's first litter, the litter size is likely to be small.
Most Puppies From One Litter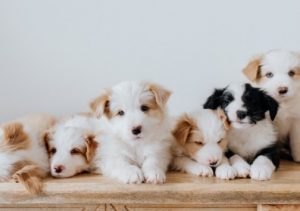 The story of 24 puppies born as a litter might sound like a fictional story, but believe it or not – it actually happened. Rewinding to November 29th, 2004, a dog owner in the United Kingdom had an unbelievable record for the most puppies born from a single litter. The owner's dog gave birth to 9 female puppies and 15 male puppies, which required C-section or Caesarian section.
Unfortunately, three of the newborn puppies passed away within the first week. As discussed by the dog community, there was a mixture of reactions. Dog experts around the world were fascinated and many people wondered how this was even possible. It's definitely one of those rare stories that you'll come across once every several years.
Since then, similar stories emerged, but it still wasn't comparable to the 24 puppies born in 2004. Within the last decade, an Irish setter delivered 15 puppies on Mother's Day, a German Shepherd by the name of Mosha delivered 17 puppies, and a Great Dane delivered 19 puppies. Since stories like these are rare, you shouldn't expect this many puppies from your pregnant dog. While a dog breed and its size will help you with an estimate, other factors could influence the number of puppies it'll give birth to.
Conclusion: How Many Puppies Can A Dog Have?
The number of puppies a dog can have depends on various factors such as sizes, types of breed, age, etc. Smaller dogs generally give birth to fewer puppies vs. bigger dogs giving birth to larger litters. Researchers studied over 10,000 dog litters, which averages 5.4 puppies per litter. If you're looking to become a breeder, avoid being a puppy mill.
Learn about the responsibilities that you're going to endure and the amount of affection and happiness you'll need to provide for these dogs. Reputable breeders are reputable for a reason because they provide an endless river of love and care. If your dog is pregnant for the first time, the litter size is likely small. Once your dog gives birth to its babies, try to keep an eye out especially when it's the mother's first time raising puppies. Raising a dog is one thing but taking care of a pregnant canine with upcoming puppies will be another unique experience that not many people get to experience.
For articles related to "How Many Puppies Can A Dog Have," check out:
Garrett loves animals and is a huge advocate for all Doodle dog breeds. He owns his own Goldendoodle named Kona. In addition, he volunteers at the Humane Society of Silicon Valley, where he fosters dogs and helps animals. Garrett enjoys writing about Doodles and believes that dogs can teach humans more about how to live than humans can teach a dog.
Why Trust We Love Doodles?
At We Love Doodles, we're a team of writers, veterinarians, and puppy trainers that love dogs. Our team of qualified experts researches and provides reliable information on a wide range of dog topics. Our reviews are based on customer feedback, hands-on testing, and in-depth analysis. We are fully transparent and honest to our community of dog owners and future owners.