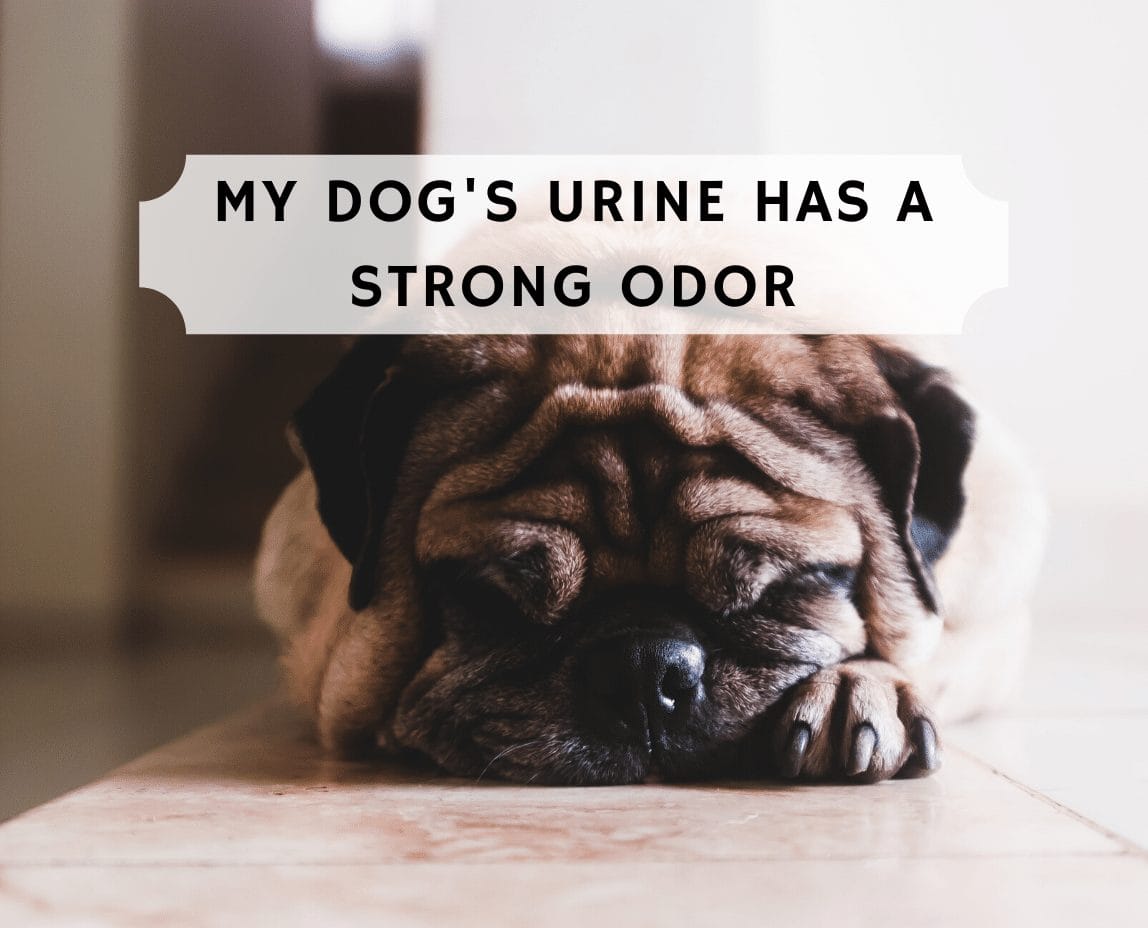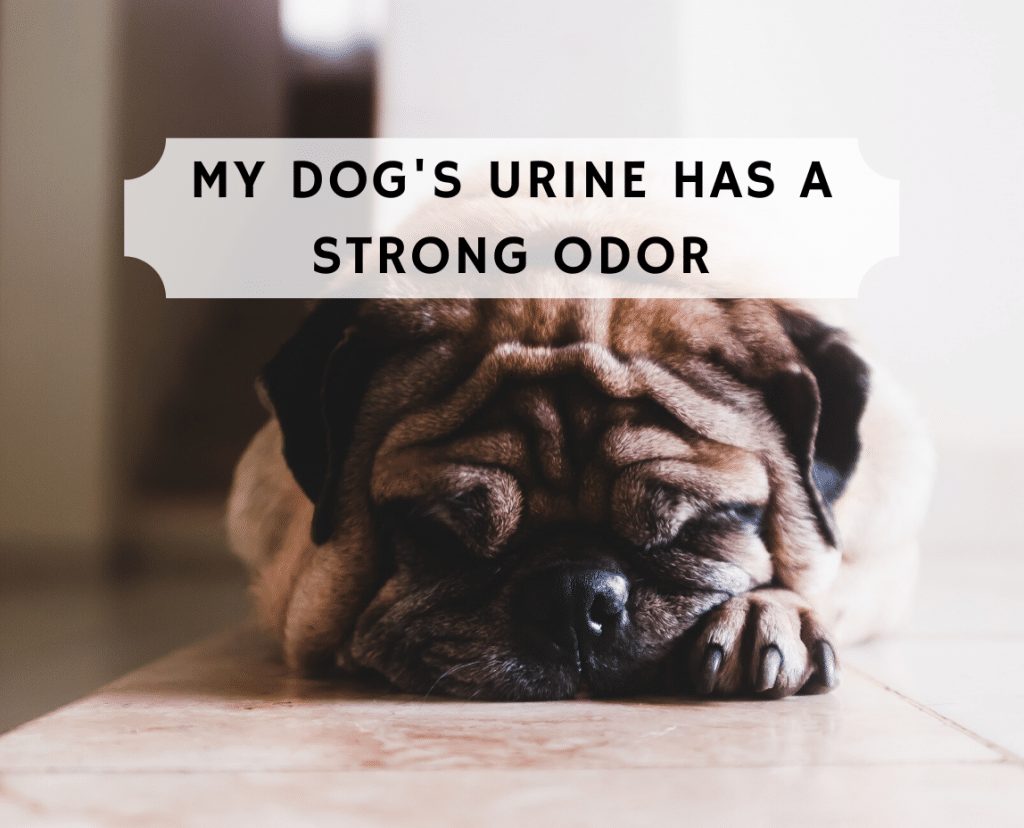 Dog's urinate every day so most pet owners are familiar with their pets pee.  However, dog urine is difficult to track because it disappears into the grass, gravel, or dirt very quickly making it difficult to analyze.  The easiest way to track whether your dog's urine is healthy is to understand the color of the urine as well as the smell.  As a dog owner, the number one tip that I can suggest is to make sure that your dog is properly hydrated.  In this article, we will discuss what it means if your dog's urine has a strong odor and what the color urine looks like.
Dog Urine has Strong Odor?
Any change in dog urine odor is very concerning since this typically means that the dog either has an infection or concentrated urine.  It's important to compare the strong smelling urine with their normal urine.  If you notice that your dog's urine starts to smell, you should immediately collect a sample in a cup and give it to your veterinarian.  It's likely that the first thing your veterinarian will do is test for a Urinary Tract Infection.
Causes for Dog's Urine that has Strong Odors
Below are some common infections and diseases from that comes from dog urine that has strong odors:
Urinary Tract Infection: Dog urinary track infections (UTI's) typically cause your dog's urine to smell extremely sour or like rotting fish.  In fact, most bacterial infections will cause your dog's urine to smell fishy.  Other urine symptoms of a UTI include: cloudy urine, darker than normal urine, and peeing more than usual.  In addition, it is likely that your dog may be straining, have difficulty urinating, or have some type of blood in their urine creating a metallic dog urine smell.  If your dog is very well potty trained, they also might be having accidents around the house since your dog may have difficulty holding their urine in.  In order to diagnose a UTI, your veterinarian will need to collect and analyze a sample of your dog's urine.  They will analyze the urine sample for the presence of white blood cells and let the urine cultivate for bacteria.  They can then test if the bacteria is related to a UTI.  It typically takes a few days to analyze the urine and diagnose a dog with a UTI.  In the meantime, it's likely that your dog will be prescribed an antibiotic to target the bacteria and make your dog more comfortable when they urinate.  The antibiotics should help if your dog's urine has a strong odor.
Zesty Paws Cranberry for Dog UTI
Urinary Tract Support - Zesty Paws Cranberry Bladder Bites are formulated to promote kidney & bladder health. With 200 mg of cranberry & organic ingredients, these chewables can help pets UT wellness.
Enhanced with Cran-Max Cranberry - Each chew contains 200mg of Cran-Max, a pure Cranberry concentrate formulated with patented Bio-Shield technology - clinically proven to promote bladder & urinary health.
Kidney Disease: Typically, dog's with kidney disease will cause an foul odor and their urine will smell metallic if they urinate blood.  In addition, you may notice that your dog's breathe smells like ammonia.  Similar to humans, kidney's help to balance the waste in a dog's body, specifically in blood.  This includes maintaining salt, water, blood pressure, calcium, and phosphorous levels in a dog.  When a dog's kidneys don't function properly, toxins build up in a dog and they will become sick.  Kidney disease is often associated with age, so if your dog is on the older side they may be exhibiting signs of Kidney Disease.  Dog kidney disease is treated with IV fluids, antibiotics, and diuretics.  In extremely cases, your dog will have to get surgery.
Anal glands: Owner's often get confused that their dog smells like iron, metal, or other metallic materials.  They think that it is coming from their dog's urine when in fact the smell is coming from a dog's anal glands.  Dog's have two anal glands on the inside of their rectum that secrete a very distinct smell.  If a dog cannot release their anal glands when pooping, then the anal glands build up and create a metallic smell in your dog.  Dogs are regularly supposed to release their anal glands when they poop, but if your dog is having softer stools then they typically cannot release their anal glands.  You can either clean your dog's anal glands yourself or take them to a veterinarian to have them cleaned.  This should get rid of your dogs metallic smell.
Sale
Glandex Anal Gland Soft Chew Treats
SUPPORTS HEALTHY ANAL GLANDS: Glandex is scientifically formulated to support healthy anal glands. With key ingredients including pumpkin seed, Glandex promotes natural emptying of the anal glands & supports digestive health & seasonal allergies.
GUARANTEED TO BOOT THE SCOOT: Glandex results are guaranteed to help your pet "Boot the Scoot!" in 3-5 weeks & comes with a 100% satisfaction guarantee.
Dog Urine Smells Fishy
By far, the most common infection if your dog's urine smells fishy is signs of a UTI — in fact, UTI's will affect more than 14% of all dogs throughout their lifetime.  In addition, female dogs are significantly more likely to get UTI's, but UTI's can also appear in male dogs.  We recommend that you immediately collect a sample of your dogs urine and take them to a veterinarian to get tested.  UTI's will make your dog uncomfortable and can be potentially dangerous if left untreated.  In addition, veterinarians can also help rule out bladder cancer or kidney disease if your dog is urinating blood.
Signs that your dog has a UTI:
Whimpering while your dog urinates
Urinating around the house
Dog urine smells fishy
Licking around the genital area
Cloudy and/or bloody urine
The good news is that if your dog urine smells fishy and it is diagnosed as a UTI, then it is fairly easy to treat with antibiotics and symptoms should start clearing up within a couple of days.  In most cases, a UTI will not leave any lasting damage to your dog.  
As an owner, you can also help prevent your dog from getting a UTI.  Below are some tips:
Make sure your dog is drinking enough water.  If your dog is properly hydrated then their urine will be clear to light yellow.
Make sure that your dog's genital area is clean.  This includes shaving any hair, properly wiping it, and preventing it from touching any bacteria.  Often dogs will lick their genital area which causes bacteria to spread.
Make sure that your dog is frequently urinating.  The longer that your dog holds in their urine, the more bacteria that will build up in their bladder.  Try to let your dog urinate every few hours.
Foul Smelling Dog Urine
Foul smelling dog urine is difficult to diagnose since it can be as simple as a dog UTI to a significant urinary tract disease like cancer.  It's best to take a sample of your dog's urine and bring it a vet.  In general, here are some tips to help diagnose the foul smelling dog urine:
Metabolic diseases like kidney failure, cause your dog to significantly increase their water consumption.  As a result, this causes your dog to urinate more often and in larger quantities.  Monitor the amount of times that your dog is urinating throughout the day.
Bacterial diseases such as a UTI happen when dog's urine has strong odor or their dog urine smells fishy.  You'll also notice abnormal urinations or general discomfort when your dog is trying to urinate.
In general, if you start noticing foul smelling dog urine you should immediately take your dog to the veterinarian so they can diagnose your dog.
Dog has Green Urine Discharge
Dog green urine discharge is caused by bilirubin spilling into the kidneys.  This can be the cause of destruction of blood cells, liver issues, or gall bladder disease.  It's difficult to diagnose if your dog has green urine discharge because it can be as simple as a UTI which may have cloudy and greenish urine.  Your dog's green urine discharge also may be because your dog is eating too much green pigmentation from grass, food coloring, or other medications.  I would personally get your dog to the veterinarian as soon as possible to make a diagnosis.  Make sure to bring urine and stool samples if you have them.
Dog is Unable to Concentrate Urine
If your dog is unable to concentrate urine, this refers to the urine specific gravity in a dog.  Dogs that have concentrated urine mean that they are hyperthenuria.  This means that there are signs of a chemical imbalance often pointing to kidney issues.  These are some signs if your dog is unable to concentrate their urine:
Excessive urination
Drinking a lot of water
Watery Vomit
It's best to consult a veterinarian if your dog is unable to concentrate their urine.  It's likely that they have a urinary and / or a bladder infection, or they have kidney issues.
Conclusion if Dog's Urine has a Strong Odor
Most likely if your dog's urine has a strong odor then they will have either a dog UTI or kidney issues.  If your dog's urine smells fishy, is cloudy, and they have trouble urinating than they likely have a UTI.  If your dog's urine has a metallic smell, is bloody, and they are drinking an excessive amount of water then this may signal kidney disease.  In either case, you would want to bring a urine and stool sample to your veterinarian for further testing.
The best way to prevent your dog's urine from having a strong odor is keep them properly hydrated.  Keeping your dog hydrated helps them urinate more often which eliminates a bacterial buildup in their bladder.  This significantly helps eliminate UTI's.  Water also helps the kidney regulate waste throughout your dog's body.
Other popular articles to read: