From stainless steel to innovative bowls that keep your dog food fresh, we've got something for everyone. These dog bowl choices are available in a variety of materials, colors, and styles. These are just some of the best things on Amazon for your Goldendoodle!
In this dog bowl review for Goldendoodles, we're going to go over the 14 best dog bowls on the market. We'll break down the pros and cons of each bowl and their prices so that you can get an idea of the best fit for you and your dog. Some of these dog bowls make for great gift items too!
In a rush? Here are the top picks!
Product
Best Overall
Neater Feeder Deluxe Large Dog
Runner Up
Pet Zone Large Dog Bowl
Editor's Choice
PEGGY11 No Spill Non-Skid Stainless Steel
Image
The Pet Zone Designer Diner dog bowl set is an elevated dog bowl, dog water bowl, and pet feeder for all life stages. This product has over 22,500 positive reviews and can adjust to 12″ elevated dog bowls for large dogs, 8″ elevated dog bowls for medium-sized dogs & 2.75″ small dog bowls. 
When not in use, the legs can be easily removed and tucked under the feeding platform on this elevated feeder for easy storage, making these perfect collapsible dog bowls for travel or at home. We like this dog bowl set for Goldendoodles because the elevated dog bowls for dog food and dog water bowls provide a healthy feeding position that can help aid in digestion. Here's the takeaway!
Features
Affordable

Elevated

Easily foldable for storage & travel

Over 22,500 positive reviews

Crafted with non-slip pads

Adjustable
This is another Goldendoodle dog bowl that is extremely popular, with over 12,100 positive reviews. It features four sizes and two colorways: blue & grey. The 16 cup size is ideal for extra-large Goldendoodles. 
The Goldendoodle dog bowls are made of high-quality stainless steel with a high-end polished finish that makes them sturdier, more durable, and have better stain- and rust-resistant performance. 
The non-skid no-spill dog bowls are crafted with silicone on the dog bowl bottom, which makes it grip the floor, so it keeps your Goldendoodle dog bowl in place and protects your floors. We like these Goldendoodle food and water dog bowls because they feature wider rims that make for easy handling! They're also a better fit on the dog food stand. Besides, the flat rim design is also friendly to your dog's tongue and makes eating and drinking water a better experience for your furbaby.
Features
Wide & flat rim design

Crafted with high-quality stainless steel

Affordable for multi-pet homes

Silicone bottom with extra grips

Available in 4 sizes for all life stages

Two colors: blue & grey
The Neater pet brand Goldendoodle dog bowls for large dog breeds feature over 18,200 positive reviews. It offers dogs an elevated feeding position that is good for digestion and joints, compatible with Neater Feeder Leg Extensions (large size), adding additional height for tall dogs. The contoured design allows Goldendoodles easy access and offers the ideal feeding height for larger dogs; shoulder height range at 15-21″. 
This product features numerous sizes for all life stages from 30-100 lbs. We like this Goldendoodle food and water dog bowl feeder set because you can purchase this set in 6 colorways. Also included are a set of 4 non-skid inserts!
Features
Recyclable polypropylene plastic

Many sizes for pups & adult dogs

Crafted in 6 colors

Over 18,200 positive reviews

Elevated feeding positive for optimal digestive health
You can't help but like these stylish Goldendoodle dog bowls. These make for perfect holiday gifts and are crafted with 304 food-grade Stainless Steel. Your dog will enjoy fresh, clean flavors at mealtimes without any transferred taste from plastic or chemical coatings. The insulated dog bowl can hold up to 8 cups (64 ounces) of food or water. 
The double-walled insulated design keeps icy water fresh and cool much longer, even during hot summer months. This is one of our top picks because it's a really solid INSULATED dog bowl that is extra-heavy, so your Goldendoodle can eat without having to chase his meal. Here's the takeaway:
Features
Large, heavy & insulated stainless steel material

Non-slip base

Top pick for pet gifting item

Designed with a rubber base to prevent slipping or flipping

Affordable for multi-pet homes

Crafted with two color options: blue & red
PetSafe Healthy Pet Food Station for Goldendoodles features the first gravity food and water systems with a removable stainless steel bowl that is easy to clean and dishwasher safe. The food station works great for weekend trips as well as everyday use at home. This product features over 25,600 positive reviews and comes in 3 sizes for all Goldendoodle life stages. It's available in 64 ounces, 128 ounces, or 320-ounce water capacities. 
This is a gravity water feeder that allows you to keep your pet hydrated at all times of the day or night. We like this pet bowl because the reservoir is durable BPA-less plastic and locks in place to help stop knock over and spills. The bowl is also crafted with stainless steel and is more hygienic for your pet. If you're a busy pet parent to a Goldendoodle, then this may work for you!
Features
Affordable

Sturdy construction

First gravity food and water systems with a removable stainless steel bowl

Multiple sizes to choose from

Crafted with durable plastic and stainless steel

Over 25,600 positive reviews

The pet filter removes chlorine, sediments and from your pet's drinking water (bought separately) 
Nothing beats Amazon when it comes to high-quality products! The Amazon basics stainless steel dog bowl set holds up to 38 ounces each, perfect for dry kibble, wet food, treats, or water! Priced affordably with over 23,400 positive reviews, the Amazon Goldendoodle basics steel dog bowl set is also rust-resistant; offers a healthy alternative to plastic; doesn't hold odors. 
This is another no-tip design; a rubber base protects floors and prevents bowls from sliding while your pet eats, making this an excellent puppy Goldendoodle pet bowl. This is a best seller among pet parents looking for affordable, high-quality stainless steel dog dishes for their dogs.
Features
Affordable

Over 23,400 positive reviews

38-ounce capacity

Rubber resistant ring on the base

Suitable for all Goldendoodle life stages

Crafted with a high-quality stainless steel
Pesky no-spill dog water bowls are featured in 4 colorways, and the bowl has a pretty large and practical capacity, about 35oz in total. The no-spill splashing pet bowl is very lightweight and durable. It can be used both indoors and outdoors due to being completely BPA-free. It is perfect for all breeds and sizes to accommodate large dogs. 
The Upsky slow water feeder bowl is dishwasher-friendly and very easy to clean. The non-skid rubber mat helps keep the dog bowl in place while your pet drinks. This product has over 10,000 positive reviews.
Features
Automatically adjustable floating disk design slows down the drinking speed of your pet.

35 oz. extra-large capacity

Spill-proof due to being lightweight, durable

Affordable

Non-skidding design

Over 10,000 positive reviews
The Prestige no-spill dog water bowl features 54 fl. oz. capacity with a no-spill design that prevents spills while driving. The no-spill, no slobber dog bowl, no mess, no drip pet food and water bowls are perfect for the car, truck, van, or R.V. The floating disk rests on the surface of the base controlling the amount of water available for your pet to consume. 
This function keeps long ears and snouts dry and the area around the bowl clean and clear of drips, splashes, and slippery wet surfaces. Slow feeder dispenses the ideal amount of water for your pet throughout the day. This product is also easy to clean and dishwasher safe. Breeds with long ears like the Bassett and Spaniel benefit from the Road Bowl's design, keeping ears dry and out of the water.
Features
No-spill design prevents any spills while driving.

Over 7,000 positive ratings

Slobber control

It prevents messy wet floors

Affordable

Crafted with BPA-free, heat resistant polypropylene
Silicone Mat: 19″ length, 11″ width
Material: BPA free silicone 
The Urpower dog food and water stainless steel dog dishes feature a dog water and feed set – Set of 2 Dog Bowls (26.46 OZ for each bowl). The double bowl's design holds water and food simultaneously, making feeding time much easier.
Urpower dog dishes are crafted with non-skidding & non-flipping dog bowl features. The silicone stand prevents the dish from skidding or tipping over. These dog bowls do not slide when your Goldendoodle is eating. This product features a No-Spill Silicone Mat.  
The extra-large base of the silicone stand catches any spills, so your floor stays clean. With over 6,000 positive reviews, these Goldendoodle food and water bowls are available in 3 sizes and are highly affordable for multi-pet homes.
Features
Non-skid

No-spill

Cocked edge design

Stainless steel bowls

6,000 positive reviews
The super design mess-free 15-degree bowl for pets comes in numerous colorways and sizes. It has an ergonomic 15 degree tilted design that allows for the food to stay on the bottom of the dog bowl. 
Dogs tend to move food to the edge of their bowls, but when you have the higher round arc design, dog kibble or water can't slip over. This Goldendoodle dog bowl features a non-slip bottom, to prevent any eating mishaps. It's crafted from high-grade BPA free plastic that is food-grade and is also dishwasher safe
 

Features
Non-skid & non-spill

High round arc design that makes food almost impossible to be pushed over the edge

Ergonomic & 15 Degree slanted design which makes it easier for dogs to eat

Non-slip bottom prevents sliding and spilling

Made of high-grade BPA free plastic that is food-grade

Dishwasher safe

Designed with a non-slip bottom to prevent sliding and spilling
This is another heavy base stoneware dog dish that is perfect for pet food and water. The Stoneware pet bowl measures 9.5″ Diameter x 2.75″ H, suitable for medium cats and dogs.  This is a heavy weight bowl to allow no movement during feed time.
It features a heavy base to prevent bowls from tipping over and ensures happy and comfortable eating. The Ethical stoneware crock dog dish is easy to clean, and the stylish and simple design fits any home décor. With over 1,800 positive ratings, the Ethical dog bowl is also dishwasher and microwave safe.
Features
Affordable

Stylish

Dishwasher & microwave safe

Heavyweight

Over 1,800 positive reviews
The Slow Feed Dog Bowl is an excellent product controlling a dog's eating speed. It works by having a unique design where the dog has to use his nose to push food out through the slits in the bowl. 
This slows down eating time, allowing your dog to have an easier time digesting and controlling overeating. The Slow Feed Dog Bowl works by prolonging eating times since it is harder for dogs to get that last bit of kibble between the feeder slots, which requires more time and effort. This helps prevent bloating and allows dogs sensitive or allergic to certain foods to eat without getting sick.
These bowls also feature a non-skid rubber base, so your dog won't be able to play or nudge his bowl while eating.
Features
Heavyweight stainless steel

Affordable

Over 3,000 positive reviews

Non-skid banded rubber bottom

Dishwasher safe

Slow feeder
The slow feeder from Neater has over 5.900 positive reviews and fits Inside the Neater Feeder Deluxe Medium & Other Elevated Feeder — Fits feeders with hole opening between 5.75″ – 6.25″. 
This bowl is designed to slow your dog's eating down, not to create unnecessary frustration. You also can watch a video to see the size and shape of the kibble the company used to do the measurements. 
If using larger and rounder kibble, you may fit less. If using a smaller kibble, you may fit more. Slow feeders for Goldendoodles can prevent them from eating too quickly, leading to indigestion, vomiting, bloat, and overeating. Using a slow feed bowl helps prevent your dog from the dreaded "scarf and barf." And keeps your kitchen floor clean!
Features
Durable stainless steel

It fits inside the medium-sized Neater feeder

Dishwasher safe

Affordable

Over 5,900 positive reviews

Suitable for elevated feeders
The Goldendoodle
The Goldendoodle is a hybrid mix between a Golden Retriever and Standard Poodle. This breed is a fun-loving, outgoing dog breed. They are intelligent and eager to please, so training them is usually fairly straightforward. 
The Goldendoodle Association of North America explains that "Goldendoodles must be friendly, reliable, trustworthy, and well-rounded. His stability in most situations and environments, particularly with children, elderly, and the disabled, is consistent with that which is required to perform as a trained service and therapy dog. Unwarranted hostility, timidity, nervousness and/or hyperactivity should never be seen in a Goldendoodle. Dogs that exhibit any of these temperament faults should not be bred, as temperament is paramount for this breed."
This "designer" mix was born to combine the poodle's non-shedding coat with the desirable temperament of the Golden retriever. They are incredibly intelligent and great with kids. Goldendoodle dogs are highly energetic and smart, they learn quickly, but this is also their fundamental weakness. 
They are very eager to please their owner, so this makes training easy. But if you do not train them, they can become mischievous. They often learn destructive behaviors so early positive training during puppyhood is essential for all Goldendoodles.
 With the Goldendoodle comes several health issues to watch for, including obesity, ear infections, and eye problems. Although these health issues are prevalent, they can be managed or avoided through proper care.
 Combining the intelligence and easy-to-train qualities of the poodle with the gentle, loving demeanor of the retriever makes the Goldendoodle a wonderful family pet! 
What to look for in dog bowls?
If you're wondering as to what kind of dog feed and water bowls to choose from, let us give you a quick rundown of the many varieties. The most common type is stainless steel. These are durable and inexpensive, making them an easy go-to choice for pet parents. There are also dog food bowls made from ceramic and plastic.
The material you choose for your dog bowl is essential because it needs to be non-slip and unbreakable. You don't want to have your dog ingesting hazardous materials, so you will need to be careful when choosing a high-quality Goldendoodle dog food bowl. 
Dog bowl materials
 Dog bowls can be made from the following: stainless steel, plastic, silicone, ceramic, stoneware, bamboo, and may feature non-skid, slow-feeding, non-spill, and yes, even automated portion-sized ones for your Goldendoodle! Before purchasing any dog bowls for your pup, you should check to see if the bowls are safe to use. Look at reviews and read the comments!
Stainless Steel 
This is the highest quality dog food bowl material. It is incredibly durable and can usually withstand most things, including an occasional bump and even dogs playing with their bowls.
You can keep your Goldendoodle's dog bowls in place when he eats with the help of stainless steel dog food bowls that have rubber bases. The rubber keeps the bowl in place if it's pulled or bumped, so your pet won't be spilling food or water all over the floor. The rubber bottom also protects your floors from scratching and damage.
Ceramic
Ceramic water and food bowls look pretty. Depending on your Goldendoodle and his eating habits, a ceramic dog bowls may break easily if he's hyperactive or playful during when eating. 
Even when handled carefully, these bowls can chip or crack and become unsafe for your dog. Smaller, less visible cracks can harbor bacteria in ceramic dog bowls, so that this material may be a little too fragile for a Goldendoodle.
Plastic
These types of bowls are the most dangerous overall, most especially for Goldendoodle pups! These are not as durable as you may think. All it takes is a few minutes without your supervision, and these pieces of plastic can cause internal bleeding or intestinal blockage if your pup swallows the plastic bits.
Plastic dog bowls are the least expensive but could also be the most harmful to your dog's health, depending on what you purchase. If you're going to opt for plastic, go for BPA-free labels, which is the no phthalates" disclaimer. Plastic can easily scratch and harbor bacteria and other contaminants, posing a threat to your dog's health. So here's the takeaway on Goldendoodle dog bowls:
Best bowl for Goldendoodle pups
Dog bowls that feature silicone mats keep bowls in place, and if you have a rambunctious eater these are great options. The best portable water and food bowls for Goldendoodle dogs should do the following:
Water & feed bowl should limit and prevent spills 

Food & water bowl should keep your dog's food inside the bowl, not on your floor.

Opt for bowls made of 100% non-toxic BPA free plastic if you're opting for a plastic dog bowl.

Bowls should be durable enough to be used with an aggressive chewer or during puppyhood.

They should be dishwasher safe and durable.

They should also be affordable for multipet households.
Best bowl for messy feeders
Goldendoodles can be messy eaters, and you may find that a raised or elevated dog bowl or non-slip bowl is best. These bowls keep the feeder cleaner and food off the floor, reducing messes from food and water spilling. They also help to slow down your dog's eating, which can reduce both vomiting and bloating.
Dog bowls that feature silicone mats keep bowls in place, and if you have a rambunctious eater, these mats work well to keep your dog bowl super secure in one spot! If you have a Goldendoodle that tends to be clumsy, you'll do well with these mats. 
Dog Bowls for Goldendoodle pups
If you have an excitable Goldendoodle puppy, you should consider purchasing elevated steel bowls or no-spill dog bowls that don't move around. These will usually feature rubber bottoms to keep them in place, which can help reduce the number of spills and messes that your pup makes.
Many will have a unique rubber grip and fixed bowl compartment, making it a perfect choice for all types of dogs up to 80 lbs. Mats featuring silicone with anti-slip bumps on both top and bottom sides also prevent the dog bowls from moving around when your Goldendoodle eats.
What to feed your Goldendoodle?
While you're opting for the best Goldendoodle dog bowl, you may start thinking about switching dog food. Now may be the perfect time to reevaluate the dog food formula you're feeding your Goldendoodle. If you've decided to switch dog food brands, do so gradually for a safe and healthy transition. 
If your Goldendoodle isn't doing well on his current food due to changes in your dog's chemistry, metabolism, or digestive efficiency when he transitions through different life stages, it may be time to reach out to your vet. Pay attention to your Goldendoodle's life stages, most especially from puppyhood to adult, and then later on when he becomes a senior Goldendoodle.
Whenever you have doubts about the dog food you're feeding, you should try to find a healthy new alternative that works for your dog's age, breed, and lifestyle. As usual, always read reviews and consult with your vet if your Goldendoodle has health issues.
Frequently Asked Questions
How often should you replace a dog bowl?
It depends on the use, but if your bowl is wearing out or getting murky, it's best to replace it. Not doing so can cause illness or discomfort in the dog.
How should I wash my ceramic dog bowl?
Using warm soap and water, you can scrub the bowl out with a brush or sponge. If that doesn't work for some reason, try using baking soda to scrub the bowl clean. Once it's clean, rinse it thoroughly with water before putting your dog's food in or letting them eat from it.
What stainless steel dog bowls are suitable for hyperactive dogs?
Stainless steel dog water and food Goldendoodle dog dishes with rubber bottoms are the best. They won't harbor bacteria like plastic which can cause illness in your dog. If you're finding one of these is too light for your dog, you can try ceramic. Ceramic pet bowls are heavier than stainless steel but can be chipped or broken.
Are rubber feet on pet bowls necessary?
No, they're not necessary, but they can help prevent sliding and spilling. They'll also keep it from getting stuck to surfaces like tile or laminate flooring, which means you won't have to worry about your dog pushing it and having his food and water spill everywhere. These are especially helpful if you have slick flooring or you have a messy eater.
Check out this video: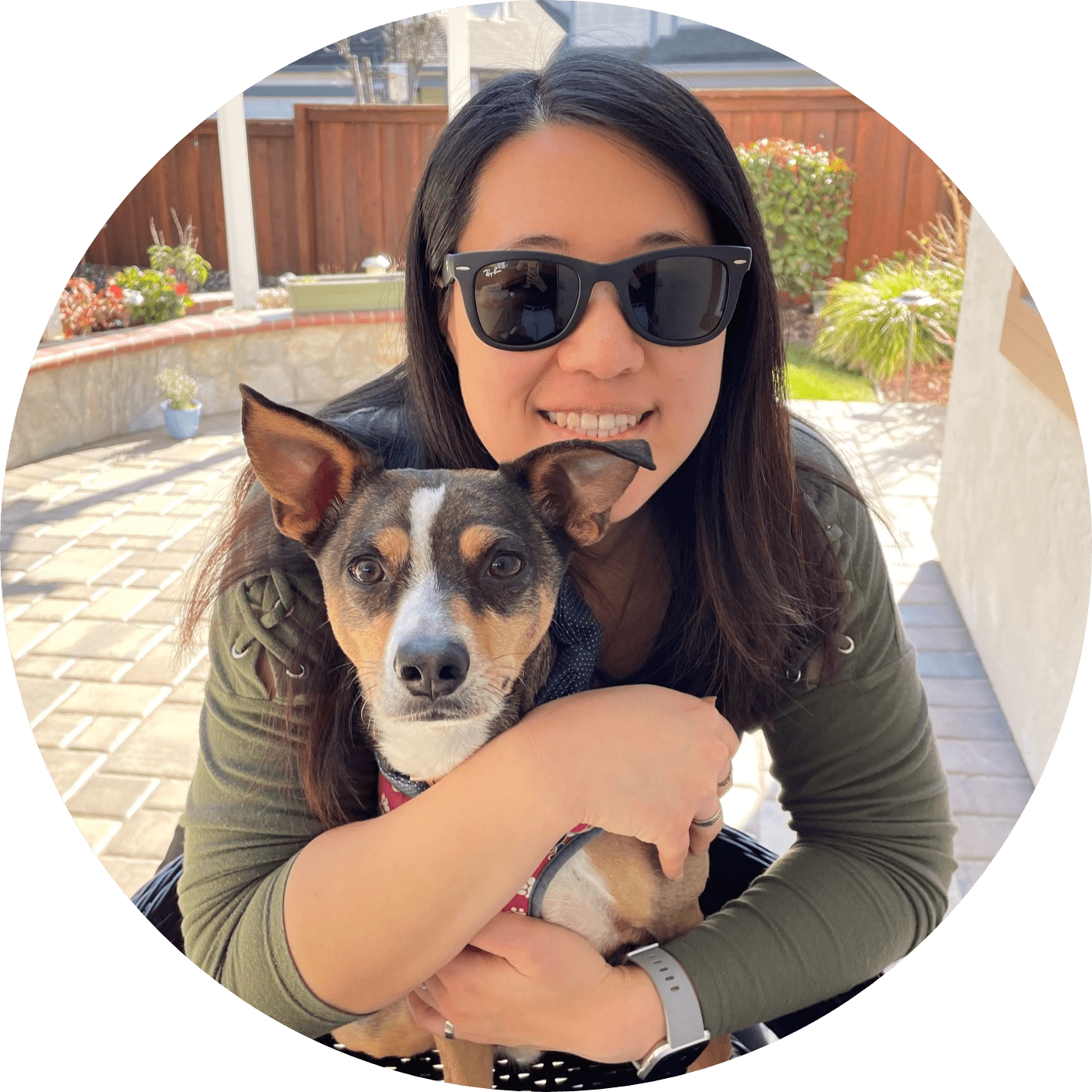 Dr. Sabrina Kong graduated from the Royal Veterinary College in England in 2016 and has been working at a small animal clinic in Northern California since then. She grew up in the Bay Area and got her bachelor's degree from Cal Poly San Luis Obispo. She also became a Certified Canine Rehabilitation Practitioner through a program at the University of Tennessee.
When she isn't in the clinic taking care of her four-legged patients, she enjoys traveling and trying new foods with her friends and her three-legged dog, Apollo. She adopted Apollo from her clinic when he was a puppy with numerous health issues. Dr. Kong truly cares about taking care of animals.