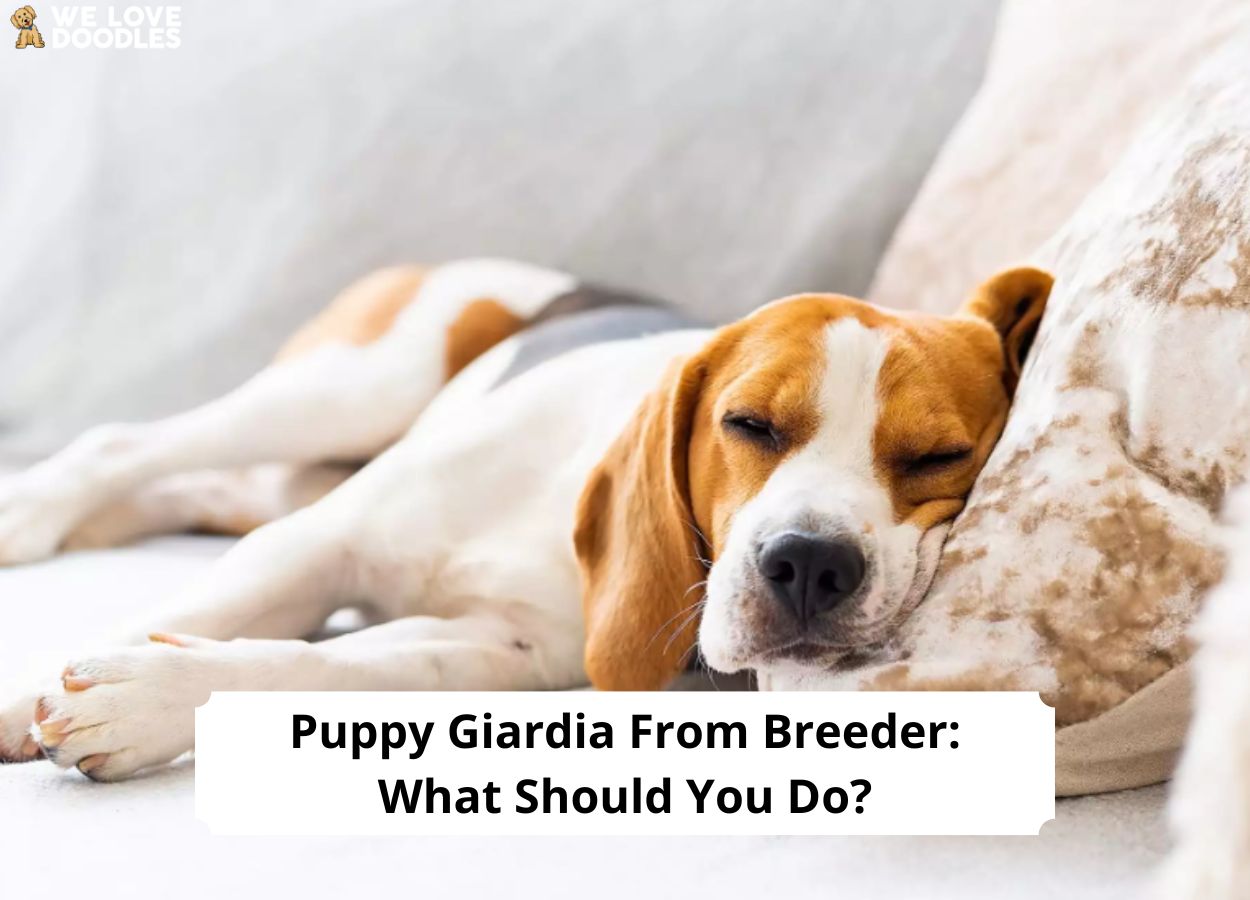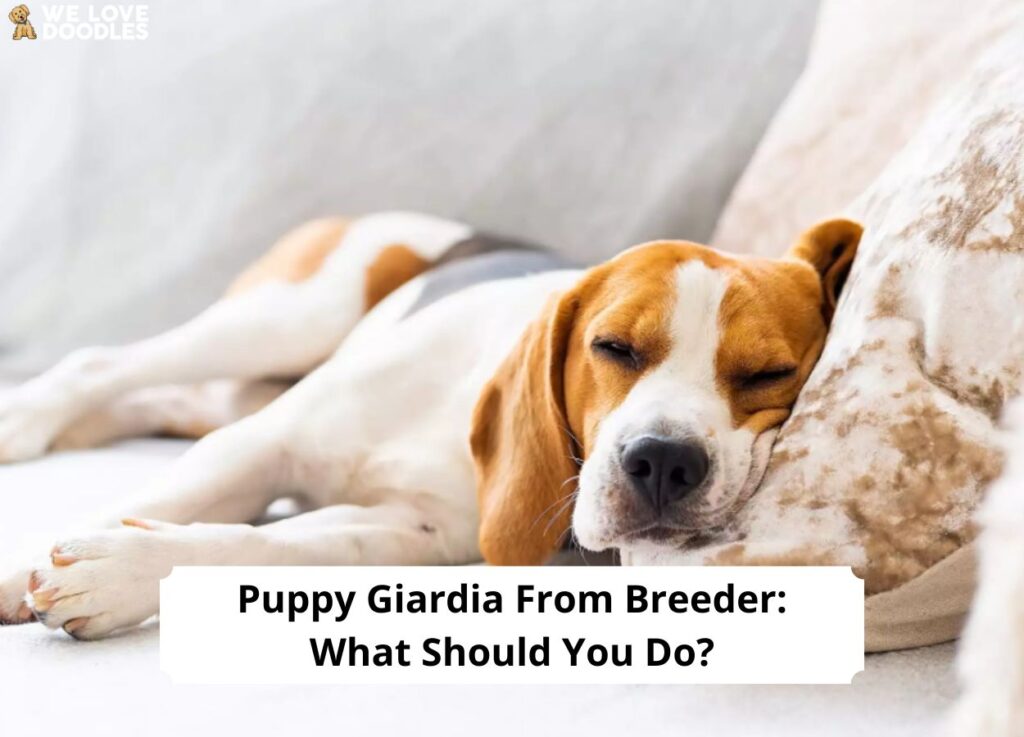 Giardia is a highly contagious parasite that can also be spread to humans. The truth is that Giardia should be every dog owner's nightmare. But what should you do if the puppy you just got from the breeder has been diagnosed with Giardia?
If your newly adopted puppy has been diagnosed with Giardia, you must contact the breeder so they can take responsibility for the treatment of your puppy. After all, it is the breeder's job to make sure that the puppy is in a fit condition when it is handed over to you.
Before you read this guide, "Puppy Giardia From Breeder: What Should You Do," check out: Regret Getting a Puppy. What Should I Do? (2023) and What Causes Foamy Dog Poop? Common Causes and Treatments! (2023).
What Is Giardia?
Mammals, birds, and amphibians all have gastrointestinal tracts that are home to the single-celled parasite Giardia. The scientific word for the several subspecies of Giardia is "assemblages," and there are numerous distinct assemblages.
All Giardia assemblages share the same lifespan and means of transfer, but each one targets a different set of animals.
There are two phases in the Giardia life cycle. The trophozoites, or adult parasites, are found in the small intestine wherein they thrive and ultimately develop into cysts. Cysts, which constitute the infectious stage, are released into the sick animal's excrement.
When consumed by an unknowing host, they transform into trophozoites and continue the life cycle after spending many weeks in the environment as cysts.
How Does Giardia Spread in Dogs?
Your dog must consume Giardia to contract the parasite. Your dog can contract Giardia by ingesting grass or drinking water that has been polluted with excrement.
Dogs love to put objects in their mouths. As such, there are many ways for your dog to get a parasite from his surroundings. Examples include munching on a stick from the park, consuming feces, or taking a sip from a puddle.
Even if he doesn't exhibit any symptoms of illness, your dog might transmit the parasite once it has entered his intestines. This is concerning, especially if you have many pets at home.
While it is rare that dogs might transmit a disease to cats or cats to dogs, there is cause for concern between dogs. Consult your veterinarian about the steps you should take to safeguard your other animals if one of your animals is found to have Giardia.
What You Should Know About Giardia
Here are some things every dog owner should know about Giardia.
1. Giardia Is a Parasite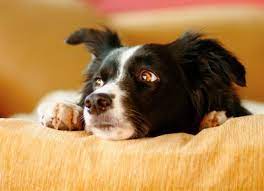 Giardia is a particular kind of parasite, and giardiasis is the medical term for the condition caused by the parasite. The parasite that causes this illness is excreted in cysts via the feces of an infected animal, allowing the cysts to access the environment.
Animals that just sniff the ground or excrement where the parasite is present might also get Giardia cysts. Consuming contaminated water might also spread it. Even when they do not exhibit symptoms, the majority of adult dogs are thought to be Giardia carriers due to the frequency of these cysts.
2. Giardia Is a Serious Contaminant
Giardia spreads quickly between individuals. Since it may spread to healthy animals as soon as it leaves an infected animal's body via feces, it is frequently encountered in settings where several dogs are present. Dog parks, kennels, and veterinary clinics are typical locations where Giardia can be transmitted.
Giardia may also be easily transmitted between domestic pets. It's likely that if you have one sick dog, the parasite will spread quickly to the other pets too. It may be transmitted via licking, playing, sharing water and food dishes, or even by just wandering in the same places.
3. It Might Lead to Digestive Problems
Watery diarrhea is the most typical sign of an active Giardia infection. Diarrhea will usually be runny regardless of the color. Giardia can also occasionally cause blood to appear in a dog's feces.
Some Giardia-carrying dogs don't even exhibit any symptoms. When a dog is fully grown, his immune system will be able to fight Giardia more effectively, but if he is afflicted as a puppy, he may experience diarrhea on and off.
4. Medication Must Be Used to Treat Giardia
Giardia flare-ups may occur and disappear on their own, but the parasite itself has to be medicated. The most often prescribed drug for the treatment of Giardia is metronidazole. The dog's body recovers faster thanks to the antibiotic's fight against the parasite.
If your dog has Giardia, it's also critical that you routinely clean up after him. To make sure his fur is free of any cysts, always pick up his waste as soon as possible and bathe him regularly. Never allow him to share food or water with other dogs since it runs the risk of infecting them as well.
5. The Condition Is Usually Not Fatal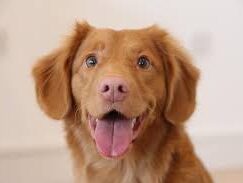 With the exception of extremely young puppies and senior dogs, Giardia is not a deadly ailment. In these cases, the quantity of diarrhea brought on by the parasite may induce rapid dehydration, which could be deadly for dogs whose immune systems are weakened or whose immune systems have not completely developed.
Your dog may become sluggish and unhappy as a result of the disease, which is not lethal, and he may have some discomfort or nausea as a result of the infection. Because of this, you should still take him to the doctor so that he may receive the proper care
6. Giardia Can Occasionally Be Transmitted to Humans
While infrequent, Giardia can occasionally be transmitted from dogs to people. Giardia may infect people and dogs with two of its strains, A and B, and it can also infect cats with type A. As a result, if your dog has been identified as having Giardia, you should always use exceptional cleanliness when touching him.
After touching your pet and picking up their waste, you should wash your hands. Giardia thrives in moist environments. Clean up your pet's corners of the house often and don't let them stay wet for too long.
What Can We Expect From Breeders?
Giardia treatment is likely to be necessary if you discover your puppy has the parasite after taking it home from the breeder. In reality, it is the breeder's job and responsibility to make sure the puppy is in the best condition when it is given to you.
Breeders spend a great deal of time with the puppies, and one of their responsibilities is to watch for any indications of problems. They must be held accountable if they fail to take action and "mislead" you into accepting the dog.
We believe that instead of hoping that you won't notice it until it is too late, you should ask your breeder to take the puppy for treatment and keep you informed of the results. The good thing is that Giardia is treatable with a course of antibiotics, and after treatment, your puppy ought to be well and not exhibit any further problems.
By maintaining appropriate hygiene in your house, you should do all in your power to keep your puppy from becoming ill in the future. This entails tidying up after yourself and your dogs, trying to keep the litter box clean, and clearing your yard of trash to prevent the spread of diseases.
Should Giardia Be Disallowed in Breeder Contracts?
Typically, and in our opinion fairly, breeder contracts do not clearly exclude parasite conditions like Giardia. The breeder has no way of knowing what a puppy could get his tongue into after it leaves the premises. Hence, it seems fairly absurd to include such a provision.
Having said that, there should be health assurances in place to address significant concerns like underbites, joint troubles, or any other issues brought on by poor breeding (such as breeding half-sibling dogs).
Additionally, there is probably a brief window — about three days — following collection during which you, the dog owner, can take your furry friend to the vet of your choice to have it examined. You have to have visited the breeder and examined how they do business, especially when it comes to security, cleanliness, and the general health of the dogs housed there.
We would advise staying away and looking for an alternative if you notice any signs that make you feel uneasy.
Symptoms of Giardia in Dogs
Calling your veterinarian is the best approach to finding out if your dog has Giardia or some other ailment. However, there are a few Giardia signs in dogs that dog owners should be aware of. These signs consist of:
Diarrhea
Losing weight
Not putting on weight
Vomiting
Dehydration
Shabby coat
Giardia Treatment for Dogs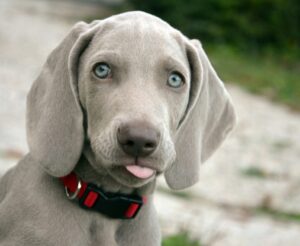 If your dog has Giardia, your veterinarian will advise treating him with oral medicine. Panacur is the name of the most widely used oral drug to treat Giardia. This drug is taken once daily for five days.
Metronidazole may also be recommended by your veterinarian. This drug may be successful in reducing diarrhea symptoms and treating Giardia. To remove any Giardia germs, your vet may advise cleaning your dog. The bedding has to be cleaned in hot water and dried in a heated environment.
Giardia Prevention in Dogs
The saying "an ounce of prevention is worth a pound of treatment" holds true when it comes to Giardia. There are certain things dog owners could do to avoid Giardia, even if we can't necessarily oversee every element of our dog's surroundings.
The most crucial thing is to make sure your dog always has a supply of fresh water in a dish elevated off the ground. This is essential for your dog's overall health and will lessen the likelihood that dogs may drink from puddles that are contaminated.
If your area has Giardia in the tap water, either boil your dog's water or invest in a filter that has been shown to get rid of the cysts. The cysts will be destroyed by boiling the water, but let it cool completely before giving it to your dog.
Paying attention to overall cleanliness is the other significant preventative measure you can take. Pick up your dog's waste as quickly as you can. This will keep the cysts from getting into the environment and make your yard safer for both people and pets.
A further precaution you may take to reduce exposure is to avoid taking your dog anywhere where there is a lot of dog excretion. Giardia and a number of other unpleasant illnesses are less likely to be present in boarding and training facilities that make the required efforts to clean and disinfect areas and grounds.
Frequently Asked Questions
How contagious is Giardia in puppies?
Giardia is easily transmitted from one dog to another, especially in spaces that many dogs visit. It's considered highly contagious.
Is Giardia common in puppies from breeders?
Though a reputable breeder will take precautions to avoid the spread of Giardia in puppies, there's only so much that can be done, and in some ways, its spread is inevitable. Thankfully, it is treatable.
What percentage of puppies get Giardia?
It's believed that as much as 30% to 50% of puppies get Giardia, but it depends on where they live. Dogs at shelters are at much greater risk.
Conclusion for "Puppy Giardia From Breeder"
With this knowledge, you should have a clearer picture of what to expect if your dog is diagnosed with Giardia. You can also use this information to figure out if your dog is likely to get this disease or not.
If you find this guide, "Puppy Giardia From Breeder: What Should You Do," helpful, check out:
Learn more by watching "What You REALLY Need to Know About Treating Dog GIARDIA at Home" down below:
Garrett loves animals and is a huge advocate for all Doodle dog breeds. He owns his own Goldendoodle named Kona. In addition, he volunteers at the Humane Society of Silicon Valley, where he fosters dogs and helps animals. Garrett enjoys writing about Doodles and believes that dogs can teach humans more about how to live than humans can teach a dog.
Why Trust We Love Doodles?
At We Love Doodles, we're a team of writers, veterinarians, and puppy trainers that love dogs. Our team of qualified experts researches and provides reliable information on a wide range of dog topics. Our reviews are based on customer feedback, hands-on testing, and in-depth analysis. We are fully transparent and honest to our community of dog owners and future owners.