Do you know what a Dapple Weiner Dog is? Do you love Weiner dogs but want your dog to be unique and different? Well, Dapple Weiner dogs are just that. These Weiner dogs (also known as Dapple Dachshunds or Dapple Doxies) are like normal Weiner dogs in every way except appearances. These gorgeous little pups have a unique coat pattern, differentiating them from traditional Weiner dogs.
Before you scroll down this guide, "Dapple Weiner Dog Information, Facts, and Images," you can learn more about these other dog breeds covered by our team at We Love Doodles: Doxiepoo Dog Breed Information, Facts, and Images and Best Maltipoo Mixes to Learn About.
What is a Dapple Weiner Dog?
As mentioned above, the Dapple Weiner has only one difference between itself and other Weiner dogs: the pattern on its fur. These dogs have the same independent, playful, and loving personalities as all other Weiner dogs, so don't let the Dapple pattern deter you. Regarding what Dapple means, it is essential to remember that we refer to a coat pattern, not a coat color.
Dapple is sometimes also referred to as Merle. These terms refer to a pattern on a dog's coat where the base color is mottled with lighter spots. Dapple Weiner dogs can come in a variety of colors. The only thing differentiating Dapple Weiner dogs from any other Weiner dogs is this pattern; everything else remains the same.
Related: Best Weiner Dog Names For Your Puppy.
History of the Dapple Weiner Dog
Weiner dogs were initially bred in Germany to be hunting companions. As we know, Weiner dogs are also known as Daschunds. The word "Dachshund" literally means "badger dog." These little dogs were badger hunters in the early 17th century.
Over the years, breeding Weiner dogs has become less about creating hunters and more about creating adorable little companions. However, these dogs still have some hunting behaviors in them. So, if you adopt a Weiner dog, expect high energy levels and lots of activity.
Related: Best Dog Car Seats For Dachshunds.
Physical Characteristics of the Dapple Weiner Dog
Although these dogs are technically called Daschunds, many refer to them as Weiner dogs or Sausage dogs. These nicknames tell you a lot about the appearances of these little guys. Weiner dogs have extremely long bodies and very short legs; hence, the sausage reference. They typically have defined muscles throughout their bodies, contributing to their playful personalities.
Related: Most Aggressive Small Dog Breeds.
Coat Patterns and Colors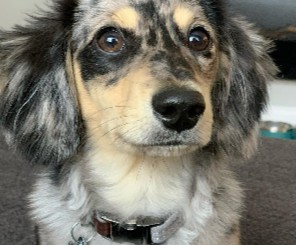 When it comes to Dapple Weiner dogs specifically, they have a unique coat pattern that distinguishes them from their traditional counterparts. Most Weiner dogs only have one or two colors in their coats. Weiner dogs with one color are solid-colored. Weiner dogs with two colors usually display lighter colors around their face and legs.
On the other hand, Dapple Weiner dogs don't follow this typical pattern. Dapple Weiner dogs have irregular patterns along their fur. So, no specific areas display the dapple pattern; it is randomly interspersed. Dapple usually manifests itself as a light patch on top of the darker base coat of the dog.
The color of a Weiner dog can be chocolate, black, tan, red, cream, or blue. The most common Dapple colors are chocolate, tan, black and tan. However, they can come in other colors, such as red, blue, cream, and silver, although these colors are less common. Dapples have the same coloring as other Weiner dogs but will always have at least one lighter patch somewhere on their bodies.
Coat Length and Texture
There are three standard coat types of Dapple Weiner dogs: smooth-haired, wire-haired, or long-haired. Each coat looks and feels slightly different and has different grooming needs. However, all Wiener dogs, regardless of coat type, require monthly nail trimming.
Smooth-Haired: Weiner dogs with smooth coats have the shortest fur out of all the options. Their hair is typically soft, shiny, and silky in texture. This type of Weiner dog has the lowest maintenance coat for grooming. Typically requiring an occasional wipe-down when it becomes dirty.
Wire-Haired: The wire-haired coat type is medium length. As the name suggests, this coat type has a thick, wiry texture. Sometimes this type of coat sticks out in many directions. Still, this disobedience is nothing that an occasional brushing won't fix. You may need to trim the beard, and eyebrow area of this type of Weiner dog as these areas grow faster than others.
Long-Haired: This Weiner dog has the longest hair and requires a little more maintenance. It would help if you regularly brushed a long-haired Weiner dog's coat to prevent any knots from forming.
Dapple Weiner Dog Size
Lastly, there are two different sizes you can choose from when adopting a Dapple Weiner dog. First, Dapple Weiner dogs can be Standard size. Standard means your Weiner dog will weigh about 11 to 32 lbs and be about 8 to 9 inches tall at the shoulder.
The other size available you can find is the Miniature Dapple Weiner Dog. The Miniature Dapple Weiner dog weighs approximately 8 to 11 lbs and is about 5 to 7 inches tall at the shoulder.
How Did The Dapple Weiner Dog Get That Way?
As we now know, most Weiner dogs are solid or two-toned in color, whereas Dapple Weiner dogs have different colored spots through their fur. But how do these dogs get this way? These little Weiner dogs can thank genetics for their unique appearances.
Dapple Weiner dogs are born when one parent dog is carrier of the Dapple gene (also sometimes referred to as the Merle gene). This gene is then passed down to the puppy, causing these irregular spots on the fur. However, if both parent dogs have the Dapple gene, you can be left with a Double Dapple Weiner dog.
These dogs are often white and have one or two blue eyes. Unfortunately, Double Dapples are often born with many health problems; therefore, many breeders try to avoid breeding two Dapple Weiner dogs together.
Hidden Dapple is another type of Weiner dog with the Dapple gene passed down from parents. However, Hidden Dapples don't display it as prominently as typical Dapple Weiner dogs. Sometimes these dogs have little lighter spots on one or two pieces of fur. However, they generally go unnoticed.
The Temperament of a Dapple Weiner Dog
Weiner dogs, regardless of their coat pattern or color, typically have very playful, stubborn, and loyal personalities. They have lots of energy that needs to be dealt with positively, or else naughty behaviors can develop.
Weiner dogs love attention and love to play active games with their owners. But, make sure you are prepared for this little ball of energy as they can be very stubborn. The independence of these dogs makes them a notoriously tricky breed to train.
They expect these little guys to get into trouble with their high activity level and stubbornness. However, don't let their mischievousness scare you away; these dogs are also very clever. Their high intelligence means they can learn quickly; it is just a matter of wanting to learn.
Once you form a strong bond with your Weiner dog, it should begin to listen better because Weiner dogs are highly devoted to their owners, so they will want to please you. Their devotion also means they will want to protect you.
Weiner dogs tend to guard their owners very seriously, so they can be rather loud when they want to be. This can also be traced back to their history as hunting dogs; hunting dogs tend to bark more than other breeds.
Related: Best Hypoallergenic Hunting Dogs.
The Health of a Dapple Weiner Dog
Weiner dogs are generally healthy; these dogs live long and healthy lives. The life expectancy for a Weiner dog is 12-16 years. However, because of their unique shape, you must ensure your Weiner dog has the proper resources to maintain its health over time.
Diet plays a critical role in ensuring your Weiner dog remains healthy. Because of their sausage-like shape, they can develop slipped discs in their back, especially if they become obese. Diet and regular exercise ensure your Dapple Weiner dog remains fit and avoids back problems.
Weiner dogs should never eat human food as it can lead to unhealthy weight gain, especially high-fat food. You should feed your Weiner dog quality dog food that is made with health and wellness in mind. You can even purchase Daschund-specific dog food.
This food provides your dog with all the essential nutrients needed to live a long and healthy life. Additionally, they are prone to ear infections because of the floppy nature of a Weiner dog's ears. This is common with any dog breed that has ears that flop closed. To prevent ear infections, ensure your dog's ears are cleaned regularly.
Related: Rare Dog Diseases That Every Owner Should Know and Best Freeze-Dried Dog Food.
How Much Does a Dapple Weiner Dog Cost?
Dapple Weiner dogs are rare. So, they are more expensive than typical Weiner dogs. Dapple Weiner dogs range in price from $500 to $4,000, depending on where you adopt. Reputable breeders usually fall in the $1,500 to $3,000 range.
In contrast, pet stores can be as cheap as $500 and as expensive as $4,000, depending on the dog's quality. It's also important to note that these dogs will have regular expenses for their toys, accessories, food, and health needs.
Conclusion For "Dapple Weiner Dog Information, Facts, and Images"
Dapple Weiner dogs are the same as traditional Weiner dogs, except for their fur pattern. Even though they look different, these beautiful dogs have the same playful, loving, and mischievous personalities as the rest of the breed. You will love your Dapple Weiner dog for all the fun, excitement, and cuteness it brings into your life.
If you find the Dapple Weiner Dog an interesting dog breed, you can check out these other dog breeds covered by our team at We Love Doodles:
You can see this dog breed live in action by watching "Honeydew Takes a Bath – Cutest Dapple Dachshund Puppy" down below: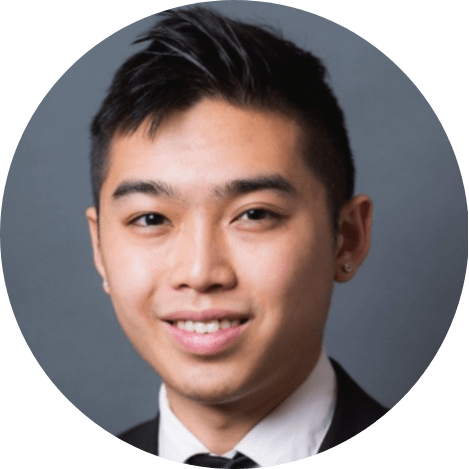 Andy is a full-time animal rescuer and owner of a toy doodle. When he's not saving dogs, Andy is one of our core writers and editors. He has been writing about dogs for over a decade. Andy joined our team because he believes that words are powerful tools that can change a dog's life for the better.
Why Trust We Love Doodles?
At We Love Doodles, we're a team of writers, veterinarians, and puppy trainers that love dogs. Our team of qualified experts researches and provides reliable information on a wide range of dog topics. Our reviews are based on customer feedback, hands-on testing, and in-depth analysis. We are fully transparent and honest to our community of dog owners and future owners.