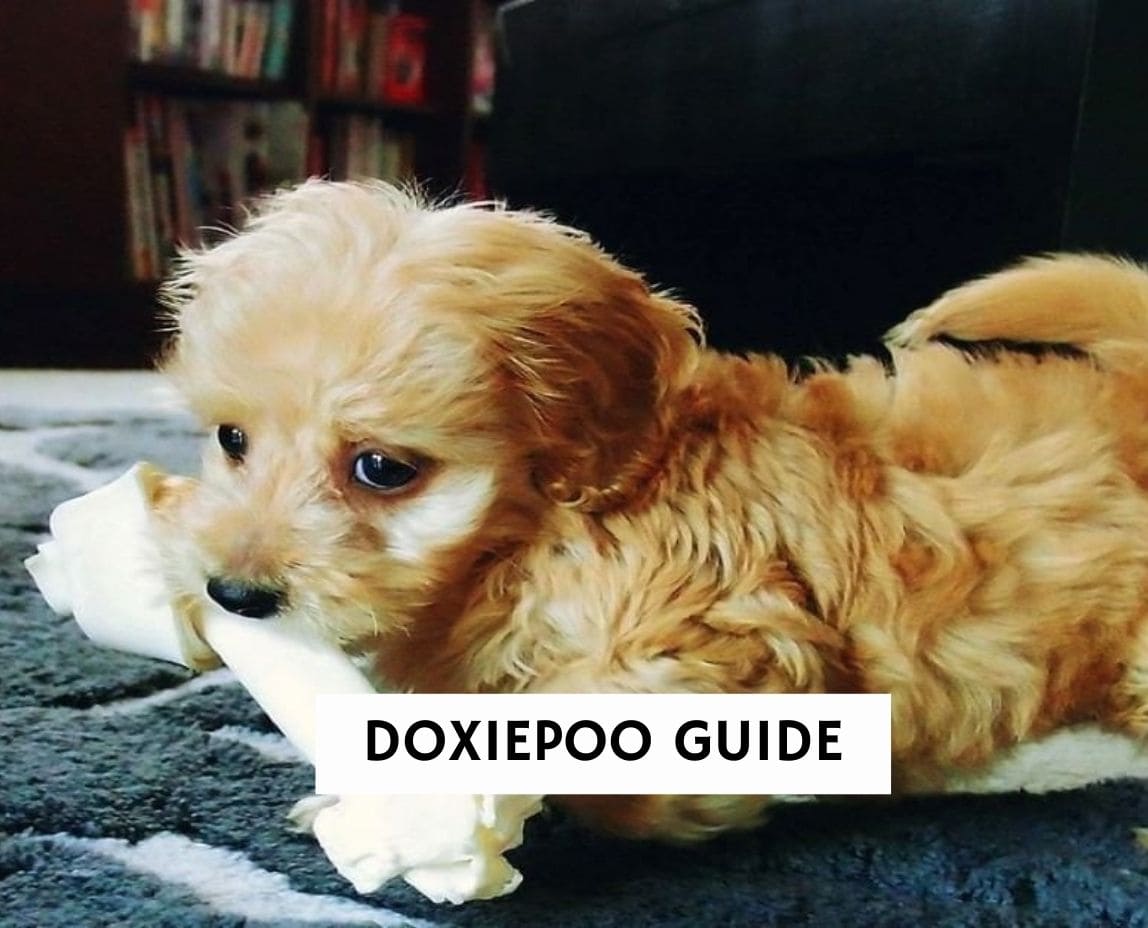 We Love Doodles will cover everything you need to know about the Doxiepoo, an adorable Dachshund and Poodle mix. Doxiepoos are a reasonably new breeding combination that has become all the rage.
These dogs have all the best qualities of both Poodles and Dachshunds, making them a great addition to any family. These dogs are a hybrid mix that goes by Dachshundpoo, Dachshundoodle, Doxiedoodle, Doxiepoodle, Dachoodle, Doodle, or simply a Dachshund Poodle mix.
Below you will find everything you need to know about this unique dog breed so you can decide for yourself whether  Doxiepoo is the right choice for you.
Before scrolling down this Doxiepoo dog breed guide, check out these other Poodle mixes: We Love Doodle's List of Doodle Breeds and Best Mini Doodle Breeds.
Doxiepoo's Breed Mix
As the name suggests, Doxiepoos are a designer dog breed that breeds a Dachshund with a Poodle. These hybrid dogs are unique dog breeds and can significantly vary in appearance.
This variation can even be seen among puppies from the same litter, making these dogs extremely unique. When breeding Doxiepoos, Miniature or Toy Poodles are used.
These Poodles are closer in size to Dachshunds, so they are a good combination for breeding. The size of these Poodle parents is what makes these dogs either small or medium-sized. Standard Poodles are rarely used when breeding Doxiepoos as they are too large.
Physical Characteristics
As mentioned above, when it comes to the appearance of Doxiepoos, there is significant variation between each dog, even within the same litter.
This variation is a significant contributing factor for why these dogs are often found in shelters, as their color and coat type cannot always be accurately predicted.
Size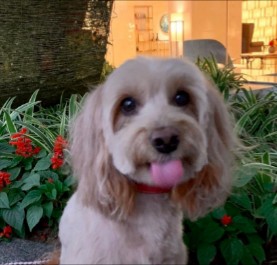 When it comes to the size of a Doxiepoo, it greatly depends on what type of Poodle is used when breeding. If the Doxiepoo has a Toy Poodle parent, it will be smaller than those with a Miniature Poodle parent.
However, as mentioned before, these dogs can vary significantly in appearance. So, even puppies in the same litter can be of different sizes.
Doxiepoo Size
Height: 8 to 23 inches
Weight: 5 to 30 lbs
Color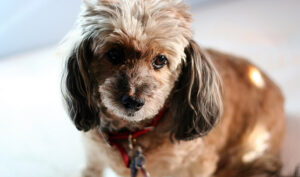 Both Poodles and Dachshunds come in a variety of colors and patterns. Therefore, Doxiepoos share this variety and come in many colors such as:
White Doxiepoo
Cream Doxiepoo
Brown Doxiepoo
Black Doxiepoo
Grey Doxiepoo
However, these dogs are not always one solid color. Doxiepoos can have different patterns on their fur, similar to their Dachshund parents. Often with Doxiepoo puppies, colors and patterns vary within litters.
If you plan on adopting a Doxiepoo from a breeder, please keep an open mind as it is hard to predict colors and patterns before birth. This lack of knowledge is because this is a relatively new designer dog breed, so breeders are still discovering all the hidden beauties that come along with it.
Helpful Guide: When Do Puppy's Eyes Change Color?
Coat
Similar to other parts of Doxiepoo's appearance, the different coat types of Doxiepoos can vary greatly. For example, some Doxiepoos take after their Dachshund parent more, resulting in shorter and coarser hair.
Whereas, if the Doxiepoo takes after the Poodle parent more, its fur will be longer and curlier. It is essential to note that not all Doxiepoos are hypoallergenic. Many people assume that all Poodle mixes are hypoallergenic.
However, this is not always the case. When it comes to Doxiepoos, if the dog takes after the Dachshund parent more, it is likely to shed and irritate allergies. Unfortunately, this is hard to predict and is a significant reason you can often find Doxiepoos to adopt at shelters.
People think they are getting hypoallergenic dogs, but they are not. All this being said, if the Doxiepoo takes after the Poodle parent more, it is significantly less likely to shed and therefore could be considered hypoallergenic. But, as mentioned above, this is extremely hard to predict with this breed.
Find a Dog Breeder: Best Dog Breeders in California and Best Dog Breeders in Texas.
Grooming
Doxiepoos generally have low-maintenance grooming needs. However, just like with any dog breed, grooming can differ between individual dogs themselves. So, it may require more regular brushing and bathing to maintain a healthy coat if your dog is outside often.
If your Doxiepoo has shorter, coarser hair that is more similar to the Dachshund, it will need very minimal grooming. They may require the occasional brushing and bathing if they get dirty but do not need regular trips to the groomers.
On the other hand, if your Doxiepoo takes after its Poodle parent, grooming will be a little more extensive. These dogs will have longer, curlier hair and must be brushed regularly (2-3 times a week) and bathed every 6 to 8 weeks.
Get a Head Start With Grooming Products: We Love Doodles' Slicker Brush and Best Dog Grooming Kit.
Temperament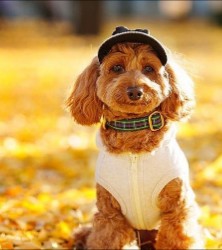 While this Dachshund Poodle mix is beautiful, the Doxiepoo's true beauty lies in its temperament. These dogs have the best personality traits of both parent dogs, making them highly affectionate, loyal, and friendly.
Doxiepoos are intensely affectionate and loyal to their family. These dogs love to cuddle with their loved ones. They are great with children, making them a perfect choice for families. Additionally, Doxiepoos' loyalty shines when it comes to strangers.
Doxiepoos are excellent watchdogs because they will alert their family to any new person coming around. However, don't let their occasional watchdog attitude scare you; these dogs love to make new friends.
So, if you are a person who has company often, your Doxiepoo will be a gracious host. This friendliness also helps these dogs adapt to many environments. Regardless of whether you live in a house with just you or an apartment building with other people, your Doxiepoo will be comfortable.
Health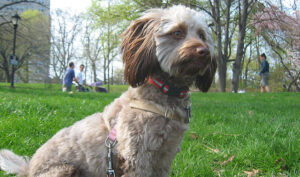 Doxiepoos are generally healthy dogs with a typical 12 to 15 years lifespan. However, Doxiepoos are exposed to genetic ailments passed down by both parent breeds like all hybrid dogs. With Doxiepoos, it is tough to predict how this combination can affect their health as they are a relatively new breed.
Therefore, below is a list of health problems Doxiepoos can develop; however, this does not mean yours will. Some may exhibit signs of these problems, while others may live their entire life with no problems at all. In addition, while rare, it's possible that a Doxiepoo can catch rare diseases that not many people know.
1. Hip Dysplasia
Commonly found among Dachshunds, hip dysplasia may affect your Doxiepoo. This condition consists of improper development of the hips and can lead to arthritis and lameness.
If your dog has hip dysplasia, it means that the ball and hip socket do not align properly. Hip dysplasia is primarily a hereditary disease, which is why Doxiepoos can inherit it from their Dachshund parents.
2. Intervertebral Disk Disease
Another common disease among Dachshunds, Intervertebral Disk Disease (IVDD), can negatively affect your Doxiepoos back. This condition consists of slipped disks in the back that can then put pressure on the spinal cord.
If not treated properly, your dog can experience intense pain and even paralysis, and if you fear your Doxiepoo is suffering from this condition, take it to the vet immediately.
If you are worried about your Doxiepoo developing this condition, prevent it from jumping off high surfaces and ensure your dog maintains a healthy weight.
3. Heart Disease
Both Dachshunds and Poodles are genetically predisposed to heart disease. In particular, heart disease is the leading cause of death for senior Dachshunds. As these dogs grow old, the valves in their hearts begin to weaken. When it comes to Poodles, cardiomyopathy is common.
This disorder causes the heart to expand and weaken, making it impossible to pump blood throughout the body properly. Because of their genetics, Doxiepoos are exposed to the heart problems of both Dachshunds and Poodles.
4. Patellar Luxation
Once again, both Dachshunds and Poodles are predisposed to Patellar Luxation. A luxating patella refers to a problem that occurs with your dog's kneecaps.
In this situation, the kneecap moves out of place. This is a preeminent problem among Toy Poodles. Therefore, your Doxiepoo is predisposed to this condition because of genetics.
5. Urinary Tract Infections
Urinary Tract Infections (UTIs) are commonly found among dogs of all breeds; however, Toy Poodles are particularly prone to developing UTIs. If you find that your Doxiepoo is urinating more often than usual, it may be suffering from a UTI.
So, if this is the case, take your dog to a veterinarian who can diagnose the problem and provide your dog with the proper antibiotics to combat the infection. If left untreated, these infections could lead to more severe issues such as kidney infections.
6. Epilepsy
Epilepsy is a neurological disorder caused by abnormal brain activity. The primary symptom of epilepsy is the occurrence of seizures. Both Poodles and Dachshunds are breeds that are prone to seizures. In both these breeds, the type of epilepsy found most often is idiopathic epilepsy.
This is a hereditary illness where the cause has not been discovered yet. So, Doxiepoos are predisposed to epilepsy, especially the idiopathic kind inherited from parents. This condition can typically be managed easily with medication.
7. Diabetes
Dachshunds, Miniature Poodles, and Toy Poodles all have above-average incidences of diabetes. This increases the likelihood of a Doxiepoo developing this disease as well. This involves the inability to regulate blood sugars properly.
Excessive thirst, excessive urination, weight loss, and decreased appetite are symptoms of diabetes. The most common treatment for diabetes in dogs is insulin injections. So, if you suspect your Doxiepoo has diabetes, take it to the vet immediately to get the medical attention it needs.
Related: Signs That Your Dog with Diabetes Won't Make It and When Do You Put a Diabetic Dog Down?
8. Ear Infections
Because of their floppy ears, Doxiepoos are prone to ear infections. Ear infections are most common among dogs with folded ears because there is limited airflow that makes contact with the inside of the ear.
This lack of airflow can cause buildup and infections. Dogs with ear infections often shake their head or tilt them to one side. You may also notice a pungent odor coming from your dog's ears when they are infected. These can be treated with both oral antibiotics and ear drops.
9. Eye Infections
Doxiepoos often develop eye infections because of their genetics. Poodles and Dachshunds have a higher tendency to develop these infections than many other breeds. Dachshunds have very dry eyes, leading to infection due to blockage.
Poodles also suffer from blockages in their tear ducts, causing material buildup and infections. In addition, Doxiepoos can inherit eye infections from both sides of their genetics, making this a common problem that they face.
Dog Eye Product Recommendations: Best Dog Eye Patches.
Exercise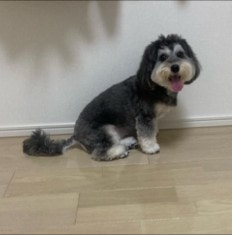 Despite their small size, Doxiepoos are high-energy dogs. Therefore, you will need to take time daily to exercise with your Doxiepoo. Luckily, these dogs love spending time with their owners, so a game of fetch or a walk will perfectly satisfy your Doxiepoos exercise and attention needs.
However, it is essential to note that it may begin to misbehave if your Doxiepoo does not receive the proper amount of exercise. A Doxiepoo with pent-up energy may begin exhibiting naughty behaviors such as inappropriate chewing, barking, or even aggression.
Exercise is also crucial for Doxiepoos' health. Because of their Dachshund genetics are at a high risk of obesity, contributing to other health problems such as heart disease and joint problems.
Additionally, their bodies' long shape and tiny legs expose them to spinal issues. It increases the risk of Intervertebral Disk Disease, which Doxiepoos are already prone to. Your Doxiepoo must receive the proper amount of exercise to maintain a healthy weight.
Doxiepoo Exercising Product Recommendations: Best Weighted Vest For Dogs.
Frequently Asked Questions
These are common questions many people have about the Doxiepoo.
How Much Does a Doxiepoo Cost?
A Doxiepoo puppy could cost anywhere between $250 to over $2,000. The cost of a Doxiepoo generally depends on its coat, generation, colors, lineage, and countless other factors.
What Do Doxiepoos Eat?
Since Doxiepoos are omnivores, they eat vegetables, meat, and certain fruits. The amount of dog food recommended for your Doxiepoo is two cups per day.
What is a Doxiepoo Mixed With?
A Doxiepoo is mixed between the Poodle and Dachshund. However, there are specific breed generations such as 75% Poodle and 25% Dachshund or 75% Dachshund and 25% Poodle.
Conclusion For Doxiepoo Guide
Unlike other designer dog breeds, Doxiepoos are easily found in animal shelters. So, if you are interested in one of these dogs, the best place to start looking is at a shelter. But, unfortunately, shelter dogs are often misunderstood.
People assume that these dogs are in the shelter because they have bad temperaments. However, this is not true. The main reason you can find Doxiepoos in shelters is the variety of coat types.
People adopt Doxiepoos assuming they will be hypoallergenic when they are not. But don't worry, these Doxiepoos are just as loving and affectionate as those coming straight from the breeder.
Remember to keep an open mind if you decide to adopt a Doxiepoo straight from the breeder. This designer dog breed is relatively new, so predicting color, coat type, and size can be tricky. However, keeping an open mind ensures you receive a beautiful dog who will become your new best friend.
You can learn more about the different types of dog breeds by checking out:
Learn more about the Doxiepoo by watching "Doxiepoo – Top 10 Interesting Facts" below.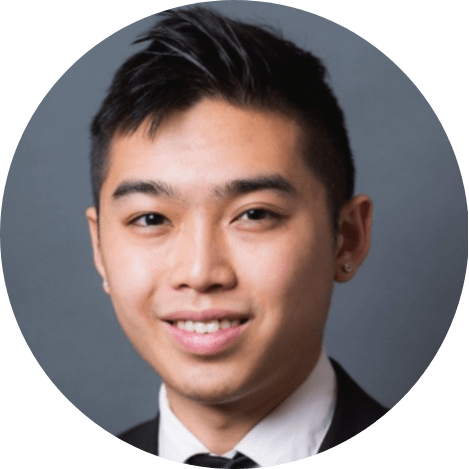 Andy is a full-time animal rescuer and owner of a toy doodle. When he's not saving dogs, Andy is one of our core writers and editors. He has been writing about dogs for over a decade. Andy joined our team because he believes that words are powerful tools that can change a dog's life for the better.
Why Trust We Love Doodles?
At We Love Doodles, we're a team of writers, veterinarians, and puppy trainers that love dogs. Our team of qualified experts researches and provides reliable information on a wide range of dog topics. Our reviews are based on customer feedback, hands-on testing, and in-depth analysis. We are fully transparent and honest to our community of dog owners and future owners.