What would you do if your dog were diagnosed with diabetes? Would you manage the condition to extend the stay with your furry friend? Or would you put the animal down to avoid its suffering?
The two scenarios in the above section are valid as far as diabetic dogs are concerned. However, managing diabetes in dogs or putting the animal off depends on its condition.
As a dog owner, it's important to note that dog diabetes is a chronic condition. Although you can manage it for an extended time, the condition may finally take its toll on the health of your dog, making its life unbearable.
In this guide, you will learn aspects of dog diabetes, including its diagnosis, types, and management, among others. By reading the article to the end, you will be in a position to judge when to put a diabetic dog down.
Other articles you would like: Where Can I Euthanize a Dog for Free or Cheap?
What Is Dog Diabetes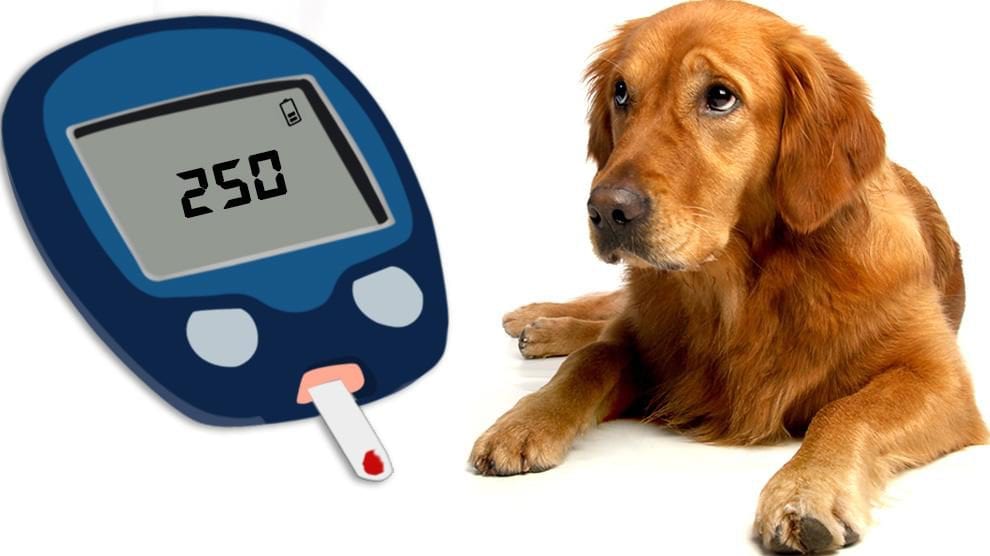 Dog diabetes is a disease that results from the failure of the dog's body to produce or respond to the insulin hormone.
In other words, when a dog is diagnosed as diabetic, it means that its pancreas cannot release enough insulin hormone, which converts glucose into energy. Or that the insulin produced doesn't work correctly.
When the glucose is not metabolized, it remains in the dog's bloodstream, causing high blood sugar levels. Consequently, the energy-deficient body of the dog signals the liver to break down the dog's body fat into ketones. With an increased number of ketones in the body, the dog will feel quite unwell.
However, the conversion of fatty acids into ketone does not help with the high sugar level in the bloodstream. The blood sugar levels in the dog's body would remain unregulated as long as the dog's pancreas cannot secrete enough (if any) insulin hormone or if the insulin produced does not work effectively. This results in diabetes.
Types of Diabetes in Dogs
Like in humans, there are two types of diabetes in dogs:
Type 1 Diabetes (Insulin Deficient Diabetes)
Insulin-Deficient diabetes implies that the dog produces insufficient or no insulin for the breakdown of glucose. Insulin deficiency happens if a dog has a defective pancreas. Type 1 diabetes is the most common in dogs. You can manage the condition in your dog using insulin treatments.
Type 2 Diabetes (Insulin-Resistant Diabetes)
When a dog is suffering from type 2 diabetes, its pancreas releases enough insulin, but its body cannot utilize it to break down glucose. Insulin-resistant diabetes is common in old or overweight dogs. Pregnant female dogs may also develop temporary resistance to insulin.
What Are the Symptoms of Diabetes in Dogs
The signs of diabetes may vary from one dog to another. However, there are common signs you can note in almost every dog. We have highlighted the symptoms into early and advanced categories below.
Early Signs of Diabetes in Dogs
Increased thirst

Frequent urination

Sudden weight loss

Recurring infections in the urinary tract due to high amounts of glucose in the urinary tract, supporting bacterial growth

Increased appetite due to high demand for glucose by the body cells
Advanced Symptoms of Diabetes in Dogs
Loss of appetite, caused by nerve damage in the digestive system. It may be accompanied by other signs such as vomiting

Cloudy eyes due to accumulation of sugar in the eye lenses

Sweet-smelling breath due to ketoacidosis attack

Stress due to low insulin levels or insulin incompatibility

Low vision or loss of sight due to the development of cataracts that happen five to six months after a dog develops the condition

Lethargy due to insufficient energy levels and ketoacidosis

Kidney failure due to damage of kidney blood vessels by high sugar content
How Can You Tell If Your Dog Is Diabetic?
While the above symptoms can help you suspect diabetes in your canine friend, they are not exclusive, as they may also indicate another problem. You should carry some tests or call a vet to examine your dog once you spot the early signs highlighted above.
Your vet will test the samples of the dog's urine and blood to identify any signs of electrolyte imbalances, increased levels of blood glucose, and the presence of high liver enzymes.
After the test, the vet should be in a position to tell you if the dog is diabetic or not. They should also inform you of the type of diabetes the dog might be suffering from, its severity and advise you on the way forward. That is, whether to manage the condition or carry euthanasia.
What Causes Diabetes in Dogs?
Like in humans, there is no clear explanation for what causes diabetes in a dog. However,
scientists claim
that the following factors can account for diabetes in dogs.
Defective pancreas:

A faulty pancreas may produce little or no insulin, interfering with the breakdown of glucose.

Gender:

Unspayed female dogs are likely to develop diabetes than their spayed counterparts. This is because spaying your dog would help get rid of progesterone, a female sex hormone that can interfere with the working of the insulin hormone.

Age:

Though diabetes in dogs can occur at any age, scientists argue that most dogs are

diagnosed

at later periods of seven to 10 years.

Obesity:

Studies

show that obesity can trigger insulin resistance and impair glucose metabolism in dogs. It also risks the animals developing pancreatitis.

Cushing's disease:

This condition triggers the production of more steroids in the dog's body, which are risk factors for diabetes

Autoimmune disorders:

Scientists link some

autoimmune disorders

with diabetes in dogs.

Genetics:

Scientists claim that a

dog can inherit diabetes

from its parents or other generations in its lines.
Can Diabetes be Treated in Dogs?
As earlier mentioned, dog diabetes is a chronic condition. While you cannot completely do away with the disease, there are various steps you can take to maintain healthy blood sugar levels in your furry baby. These include:
Taking the Animal to the Vet
Once you spot the symptoms of diabetes discussed above in your dog, you should not rush into putting the animal to rest, regardless of how advanced they are. Instead, you should take your furry baby to a vet for examination.
On arrival, the vet may ask you various questions about the animal before carrying out some blood and urine tests to ascertain the cause of your dog's ill health. If the dog is diabetic, the doctor may suggest the following ways of managing the condition.
Adopting a Diabetic Diet
Your vet may recommend you keep the dog on a diet specially made for diabetic dogs. That means that you feed your dog with:
No table food or any other extras that may trigger the surge in the dog's sugar levels

Foods with high content of complex carbohydrates and fiber ensure their slow conversion into glucose.  This would imply a slow entry of glucose into the dog's bloodstream to maintain low sugar levels. The high fiber content would also initiate the fullness in your dog to reduce the number of eating times.

A low-fat diet has lower calories to help your obese and diabetic dog cut its weight.
Note:
The high fiber diet requires a lot of water during digestion. So, it would be best to give your pup a lot of water to replenish the water lost during urination and avail enough of it for digestion.
Additionally, before you embark on any diabetic dog diet, you should ask your vet about the healthy number of calories that you should give to your dog in a day to avoid excessive calorie intake.
Exercising Your Dog
The sudden blood sugar surges and drops may cause additional body complications like stroke and heart attack in your dog. Another effective way to regulate the sugar levels besides the diabetic diet is exercising the animal.
Your doctor should assess your dog's weight to determine the number of calories that the dog should burn in a day and then recommend the exercise requirements for your dog.
Note: Any activity level exceeding the recommended level of exercise may cause a sudden fall in your dog's glucose level and negatively impact its health.
If you plan to take a strenuous hike with your pooch, you should request your vet to adjust the amount of insulin so that their dog's body can metabolize energy for the tough hike without negatively impacting its health.
Administering Medication
As earlier mentioned, one of the leading causes of diabetes in dogs is the inability of the dog's pancreas to secrete enough insulin for the breakdown of sugars. That said, your vet may recommend you to administer a given amount of insulin to your dog to initiate the conversion of blood sugar into energy.
While insulin can help in blood sugar regulation, it's important to note that you cannot give it to an empty stomach unless you want to deteriorate your furry friend's health. Indeed, it would be best if you tried to balance between food and insulin to ensure your furry friend gets the best of both worlds.
When Should You Put Down Blind Diabetic Dog?
Though controllable, diabetes is known to worsen with time. If your dog has been living with diabetes and the condition advances to the bad stages, the kindest thing you can do to your beloved animal is to lay it off to save it from suffering.
I understand how hurting it is to part with your furry friend. But, securing the animal from the pain could be much kinder.
Before committing the daunting act, consider making your vet part of it. Even if they can't help the animal during the final stages of dog diabetes, they can recommend the best way of putting the dog down.
If you can't stand the feeling of guilt, ask yourself whether the animal is living its best when it's suffering from conditions like blindness, kidney failure, ketoacidosis, recurrent urinary tract infections, and other diseases, which are the final stages of dog diabetes.
After all, the animal would eventually succumb to the condition even if you let it struggle to its last breath.
Other articles you would like: Signs that Dog with Diabetes is Dying
FAQs About Diabetic Dogs
Below are various questions that dog owners have asked about diabetic dogs.
How Long Do Dogs Live With Diabetes?
Some dogs will die in the first three months of diagnosis. However, the standard life expectancy is two years.
Are Diabetic Dogs In Pain?
At early stages, diabetes in dogs may go unnoticed, and the dogs are not in any pain. However, the advanced stages of dog diabetes may be accompanied by intense pain 
Conclusion For When to Put Diabetic Dog Down
Dog diabetes is a chronic condition. However, it does not mean a death sentence to your diabetic furry friend.
As discussed in the article, you can manage the condition using a proper diabetic diet, exercising the animal, administering medications, and taking the animal to a vet for regular checkups.
With good care, the animal may live for an extended period and die from a condition other than diabetes.
However, suppose your dog is diagnosed with the disease at later stages. In that case, it may be tricky to manage the condition since the illness may have interfered with various organs in the dog's body, including the kidneys, the pancreas, the liver, and other critical organs. And, the kindest thing to do with your dog is to lay him to rest!
Other articles you would like:

Dr. Chyrle Bonk received her veterinary degree from Oregon State University in 2010. She has been practicing in a mixed animal clinic in rural Idaho ever since at Clearwater Valley Veterinarian Clinic. When she's not busy writing, treating animals, or working on her cattle ranch, she may be found somewhere in the Idaho wilderness with her husband and kids. Dr. Chyrle Bonk is a writer for We Love Doodles and verifies that the information we post is accurate the up to date! She is also an advisor and editor.
Why Trust We Love Doodles?
At We Love Doodles, we're a team of writers, veterinarians, and puppy trainers that love dogs. Our team of qualified experts researches and provides reliable information on a wide range of dog topics. Our reviews are based on customer feedback, hands-on testing, and in-depth analysis. We are fully transparent and honest to our community of dog owners and future owners.