I remember learning about how a puppy's eye color changes as they grow older and ask: "When will a puppy's eyes change color?" No matter the breed, your puppy has specific characteristics that make them adorable. Some of the traits may always stay the same, whether that be the color of their fur or their love for the outdoors. Some other characteristics, however, might change over time. Indeed, they'll grow into a larger size as they age.
Their tongues will get longer, their paws will gain more traction, and they'll hopefully become wiser, more well-behaved dogs that don't require as much training. Another feature that may change from when they're a puppy to when they become adult dogs is the color of their eyes. Surprisingly, the eye color your dog is born with may not be their permanent color they'll have. To explore this exciting evolvement of your puppy, here we share some interesting things to know about the color of your puppy's eyes.
For dog eye-related topics, these articles might help you: Dog Eye Bleeding – What Should I Do and How To Clean Dog Eye Boogers Safely.
Puppy Eyes
The adorable face that puppies make when they're looking at you is memorable for a reason. Many tend to look at you with curiosity, wonder, and an eagerness for interaction. The eyes are blue. Puppies are born with blue eyes, no matter the breed. While the exact blue color may vary from puppy to puppy, they're all blue. Their eyes may also have slight hints of gray, green, or brown as well. Noticing that color may be a hint as to what color their eyes will be in the future. They may also have more cloudy or foggy eyes, giving off a more grayish blue color.
Dog eye-related recommendations: Best Dog Food For Tear Stains
When Will a Puppy's Eyes Change Color?
While some dog owners may want control over the exact color of their puppy's eyes, this changing characteristic in their puppy can be an exciting discovery as the puppy gets older. If you're curious to know the color, you won't have to wait very long. A puppy's eyes will often change color when they are just 9-12 weeks old, sometimes even as old as 16 weeks. The development of a puppy's eyes differs from that of a human's in that they are born with their eyes closed and keep them closed for a considerable amount of time.
That's because when puppies are born, they are still in the stages of development. Their central nervous system, in particular, is still working through processes and discovering how to function. The eyes need to finish developing before they can open them. Having their eyes shut until they are done developing ensures they are whole and healthy, and ready to take on the world. This is also something that puppies should do on their own. Don't open their eyes for them. Doing so may lead to some concerns about their vision and overall eye development.
This 9-12 week timeframe may depend on when your puppy decides to open their eyes. Usually, dogs are able to open their eyes at about two weeks old. During their first few days of having their eyes open, you may not notice much of a difference or change in their blue eyes. However, once their eyes are open after about three weeks old, you may see that their eyes start to change or take on different hues. This is the mature eye coloration stage. This process is very gradual, and it can be exciting to see what your puppy will end up with after they're done developing. Once this color appears, usually brown, their permanent eye color stays for their life.
Along with the emergence of eye color, their vision is also a slow process of development. When they first open their eyes within the first two weeks, their vision is considered relatively hazy. After all, there may be a lot to take in at their very young age. As they have their eyes open more often and become more familiar with their surroundings, their vision begins to improve as they can make out different things. This process happens at a much earlier age compared to eye color. They can have eyes that function as adults' within just 3 or 4 weeks of age.
Puppy's eyes that have fully matured will be clear and bright. The cloudiness that your puppy's eyes may have had should be gone as they age. Be sure the whites of your dogs' eyes aren't yellow or red, which can lead to some concerning health problems. Be aware of any potential concerns with your dog's eyes, including things like swelling or discharge in their eyes. If they haven't opened their eyes by the time they are two weeks old, it may also be time to connect with your vet to ensure your puppy is healthy and growing well.
Dog-Related Articles: How Long Will My Puppy Poop Worms After Deworming and Putting a Dog To Sleep with Benadryl.
How Will I Know What Color My Dog's Eyes Will Be?
Do you want to know what color your dog's eyes will be? While there's no perfect way to know for sure what color you can expect, some helpful indicators can point to what color they may turn out to be.
The Puppy's Parents
While it can be exciting to discover the color for yourself as your puppy grows, you may also be able to take a pretty good educated guess based on the parents. As eye color is a fairly genetic trait, meaning the feature is passed from the parents to the puppy, you may be able to get a good glimpse at what you can expect their eyes to be. If the puppy's parents both have the same color, such as a light brown, chances are the puppy will have a matching pair of eyes.
Breed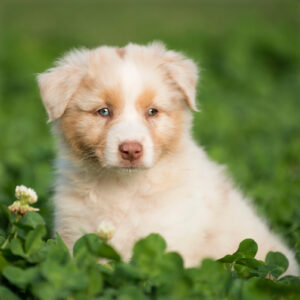 The breed of dog also may influence the eye color. Some breeds of dogs are more likely to have brown eyes than others. Some breeds may also be more likely to hold onto their unique blue color as they move into adulthood. Breeds like the Siberian Husky, Australian Shepherd, Dachshund, and Border Collies are considered more likely to hold onto their puppy blue eye color than other breeds.
Along with breed, another physical indicator may be their coat color. Their coat color may also make a particular eye color appear brighter or more vibrant than for a dog of another coat color. Even in different lighting, your dog's eyes may seem a slightly tinted color than usual. Interestingly, green is the rarest eye color for a dog to have. Brown is undoubtedly the most popular, as the color can come in various shades and tints. The Pitbull, for example, may have green eyes.
Dog-Related Articles: How To Trick Your Dog Into Taking Liquid Medicine and What is an Invisible Dog Leash?
Conclusion For "When Will Puppy's Eyes Change Color"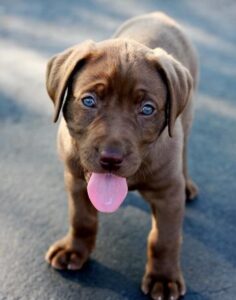 As you raise your puppy to be health and well-behaved, be sure to enjoy and appreciate each moment. Especially in this puppy season, when they are still growing, learning, and developing, it's essential to start them well. Ensure they are well-fed with puppy food designed to provide them the vitamins and nutrients they need to grow strong. To help support their eye health, be sure they are offered sufficient vitamins like vitamins A and E. Ensure you have your veterinarian check in on their development every once in a while to ensure they are in the best possible state of health.
For more dog-related articles, check out:
To learn interesting facts about dogs' eye colors, watch "What Are The Strangest Dog Eye Colors" from Rocadog down below: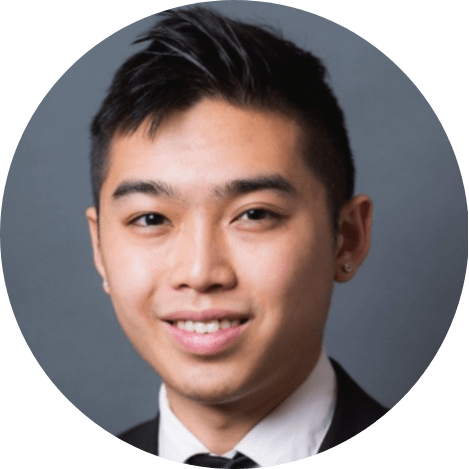 Andy is a full-time animal rescuer and owner of a toy doodle. When he's not saving dogs, Andy is one of our core writers and editors. He has been writing about dogs for over a decade. Andy joined our team because he believes that words are powerful tools that can change a dog's life for the better.
Why Trust We Love Doodles?
At We Love Doodles, we're a team of writers, veterinarians, and puppy trainers that love dogs. Our team of qualified experts researches and provides reliable information on a wide range of dog topics. Our reviews are based on customer feedback, hands-on testing, and in-depth analysis. We are fully transparent and honest to our community of dog owners and future owners.