As we know, dogs are fun and active and their playfulness can also cause injuries at times. Even the most well-behaved dogs can end up with an eye injury. Dog eye bleeding happens when you least expected it.
Rough-and-tumble play, chasing after small squirrels in the park, and playing around in a bush could all cause little scratches or more severe injuries to your dog. It's crucial to be aware of the types of damages your pet may face so that you can better respond to them and know how to treat and help your dog. The eyes are a susceptible area, and it can be quite scary when dealing with this type of injury. So we are here to give you a hand! What should you do if your dog's eye is bleeding, and what steps and precautions should you take? 
Some general information first, eye bleeding is often the result of blunt trauma or a scratch and usually requires immediate veterinary care. Itchy eyes or allergies can also have the dog continuously pawing and scratching their eyes which can cause a corneal laceration. Whatever the case may be, it's best to get it checked out immediately by the veterinarian. 
Bleeding of the Retina in the Eye
Here is a summary of the most common symptoms and causes of eye bleeding:
If the eye has a bloodshot appearance in your dog's white area of the eye, this may indicate trauma or irritation.
Eye bleeding that is accompanied by a yellow or greenish discharge can signal infection.  
Eye bleeding in one eye usually signals an injury; if it is present in both eyes, this may be due to an underlying illness. 
Eye injuries are quite deceptive. What seems to be just a scratch could be much worse, not to mention that eye injuries get infected easily and rapidly spread. Please don't put your dog in danger of permanently losing its vision. It's essential not to take this kind of injury lightly. It's always best to go to the veterinarian to have their eye monitored treated. Most vets will suggest flushing out the eye or applying a cool compress before your arrival.
Sterilizing Your Dog's Bleeding Eye
However, what if you don't have time to run to the veterinarian and need to take care of the situation immediately? This is where owners tend to go into panic mode. First, take a deep breath. Panicking will only cause you and your dog anxiety. The first step you will need to take in treating a bleeding dog's eye is to sterilize it. 
Use a sterile saline solution to flush out your dog's eye(s). Contact lens solution, even if it's saline-based will only irritate your dog's eye. As tempted as you may be to grab it off the counter never use contact solutions. Have someone help you hold your dog as you attend to their eye. Remember to be gentle since your dog is experiencing some degree of pain.
If you have a small dog, it may be best to place them higher off the ground since this tends to keep them calm, and they're less likely to run or jump. Wrap a towel around your dog and hold the eye open with one hand. Don't douse your dog's eye but instead apply a small stream of eyewash. Use a small towel or cloth to catch the saline streaming out of the eye to avoid the fur from getting matted. Afterward, make sure you take your dog to the veterinarian. 
Visitation with the Veterinarian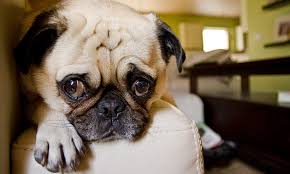 The veterinarian will do an examination and take several eye tests to look for ulcers, laceration, and assess tear production. Based on the results, the vet may prescribe your dog a simple treatment of eye medication. However, if the injury is severe, your dog might need surgical treatment and a visit to the veterinary ophthalmologist. 
Home Care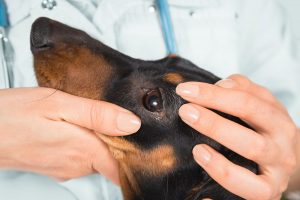 Once your dog is back home, it may seem a little daunting. To ensure a quick and safe recovery, make sure you apply eye medication precisely as prescribed. If more than one medication is prescribed, be sure to apply drops before ointments. Applying eye-drops and ointments can be tiring for you and your dog, so please don't rush through the process. It's recommended to wait five minutes between each eye medication. 
If your puppy is continuously pawing at the eye, you will want a cone or other protective measure to stop them from scratching their eye. After a few days of following the vet's recommendation, your dog should be healthy. However, we recommend that you do have a follow-up visit to a veterinarian before they start playing with other dogs or engaging in physical activity.
Conclusion For Dog Eye Bleeding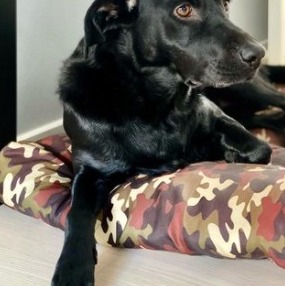 Remember, with eye injuries, what you see isn't necessarily what you get. In case the eye looks worse and your check-up is still a few days away, don't hesitate! Waiting can lead to blindness.  As a dog owner, you may be hesitant to take your dog outside again, mainly if the injury occurred while being outdoors. These things can happen, so being well-informed and prepared will make handling the situation much more manageable. Go outside and enjoy the weather with man's best friend. Make sure to keep an eye on your dog, as they keep an eye on you. 
Dog eye bleeding can happen anytime and anywhere. If you're dealing with any other dog problems, you can check out our helpful guides below:
For more information about dog eye injuries, watch "How To Treat Eye Injuries in Dogs" from Little Paws Training down below:
Garrett loves animals and is a huge advocate for all Doodle dog breeds. He owns his own Goldendoodle named Kona. In addition, he volunteers at the Humane Society of Silicon Valley, where he fosters dogs and helps animals. Garrett enjoys writing about Doodles and believes that dogs can teach humans more about how to live than humans can teach a dog.
Why Trust We Love Doodles?
At We Love Doodles, we're a team of writers, veterinarians, and puppy trainers that love dogs. Our team of qualified experts researches and provides reliable information on a wide range of dog topics. Our reviews are based on customer feedback, hands-on testing, and in-depth analysis. We are fully transparent and honest to our community of dog owners and future owners.