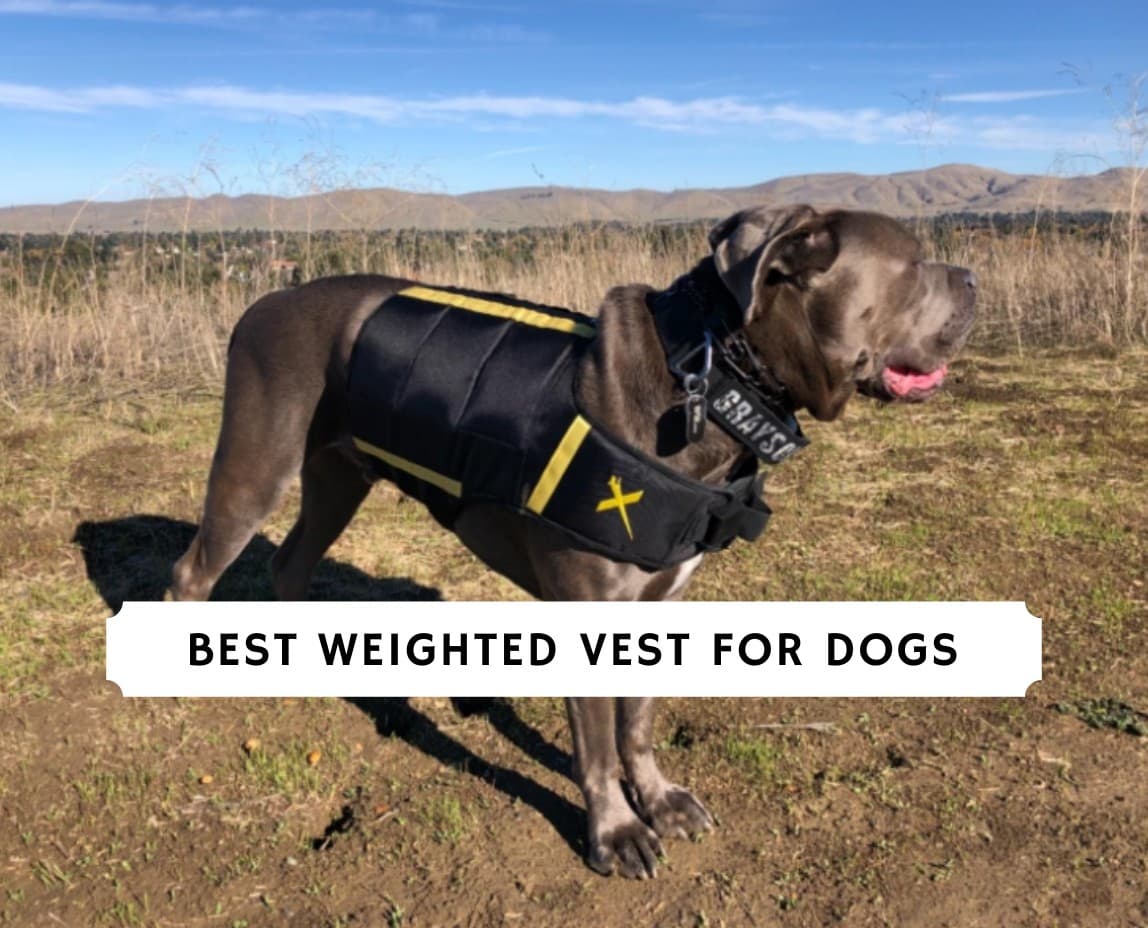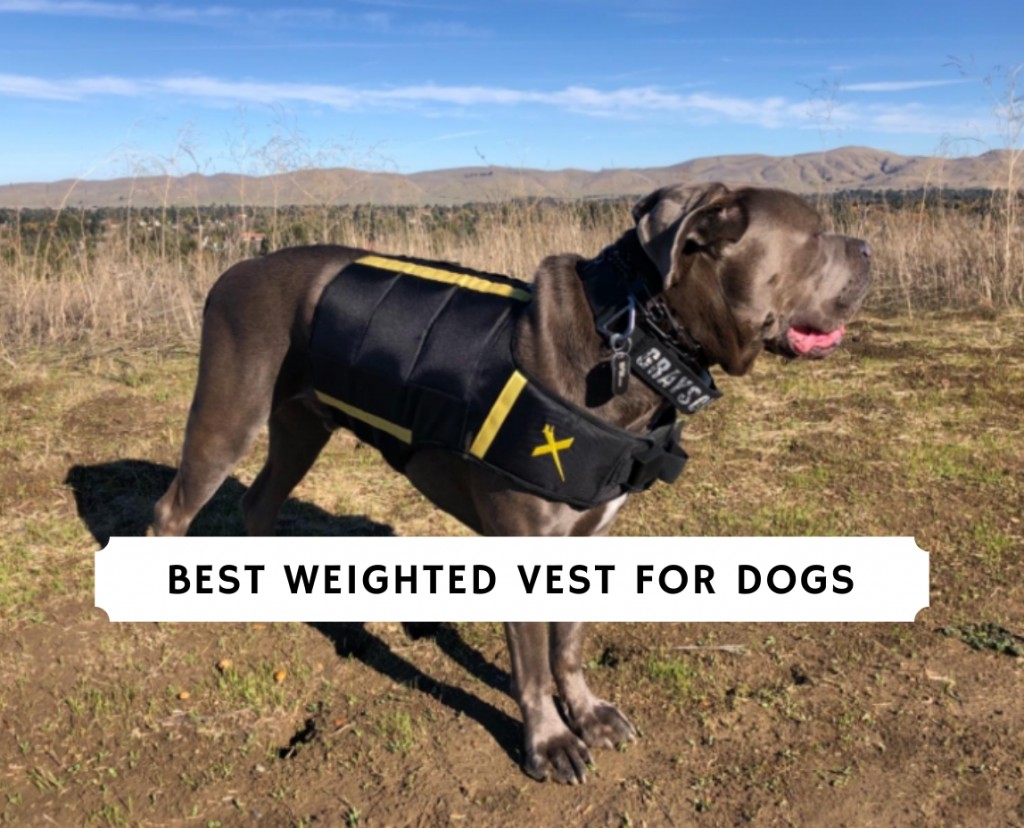 Training a dog for things like weight pulling and resistance training can be challenging. You need the right tools for the job. Weighted dog vests are designed to provide weight resistance and are great for exercise, training purposes, and building muscle.
In addition, a weighted vest for dogs is also used for anxiety and to calm a dog. Calming an anxious dog can often be a daunting task. The key is to be proactive and recognize the signs of anxiety so that you can take action before they get anxious. A weighted dog vest has the same effects as a weighted blanket for a human which makes them feel more secure and less anxious. 
Weighted dog vests are designed for exercise and training but they have a lot more uses to them. These vests can be used for anxiety as well as exercise and stress relief or even cardiovascular health.
The thing is, there are so many options out there. There are different sizes, different styles, different designs, and more. How can you possibly know which one to purchase for your dog? Well, some of that will be a matter of preference but we're here to help you narrow down the market and find a good choice.
We've sorted through several options to narrow it down to the best-weighted vest for dogs which includes our top 6 picks. You will find that our list provides a variety of options and there is a solution for every dog and every struggle.
In a hurry, here are our top 3 picks!
Image
Best Overall
Image
Best Value
Image
The 6 Best Weighted Vests for Dogs Reviewed
In this section, we will share with you our top 6 picks for the best weighted vest options on the market. We've done the hard work of digging and sorting through the options just so you don't have to! We've even tested some of these out of our dogs. Our reviews will provide a detailed overview of each vest as well as a list of pros and cons of each item.
First on our list, we have the Xdog weighted dog vest for exercise that is sleek and simple. It is designed to combat both weight and anxiety, giving your dog the means to health, muscle, and performance in an attractive vest.
This vest comes in all sizes, from XX-Small to X-Large so you can find a weighted vest for small dogs with this option as well. They also produce several color choices, including Hot pink, light pink, blue, black, green, or purple.
The vest is lightweight and comfortable so your dog can move naturally while wearing it. The weights are equally placed on each side so your dog can remain balanced. The vest could be considered stylish and looks great on all dogs. It fits securely, strongly, and is adjustable as needed. This vest stays in place like it should while in use.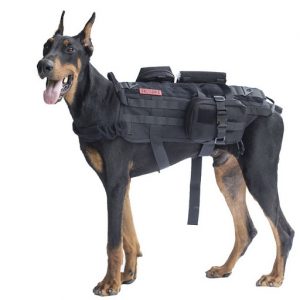 This vest is uniquely designed with pockets for weighted sandbags. It also includes weighted bags so that you don't have to figure out how to fill them yourself. The weights are on both the front and back legs to help your dog build strength, muscles, and power on both sets of legs.
This weighted vest for dogs was designed to be a weighted dog vest for exercise. The dual-weight design was veterinarian approved and was put into place to help prevent things like hip dysplasia on the back legs. It keeps all of the leg muscles and joints strong.
This weighted dog vest for exercise is again designed to build maximum strength. It has more weight than what you might use for anxiety purposes. It is a weight-pulling vest for dogs that is well-designed. The vest is designed with padding under the weights for comfort and the straps are meant to be comfortable for wear.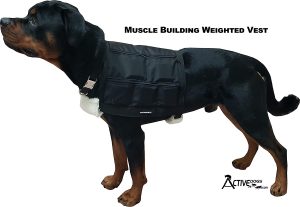 Here is another weight dog vest for exercise made by ActiveDogs. This one could also be used as a weighted vest for anxiety if needed with the design. It comes in 3 different size options and is a simple black color with white lining on the straps for comfortable wear.
This dog vest is heavy-duty so it is ideal for exercise purposes. It is made with ballistic materials that are padded and durable. It's meant to stand up against tough use. The straps are padded with sheepskin to provide your dog with the ultimate comfort available.
The upside to this weighted vest for dogs is that it is extremely versatile because it comes with weights that slip into the pockets. The weights can easily be removed or added as needed. This is the perfect weight-pulling vest for dogs for training purposes, but it is quite versatile with the adjustable weight design.
One Tigris is known for its tactical gear that looks military-grade. This weighted dog vest is no exception to the quality they are known for. This is designed for tactical training but could be used for a variety of purposes. It has plenty of pockets and pouches so you can pack necessary gear with your dog on the vest.
This vest is made with breathable nylon material and also has a mesh lining, so your dog is comfortable while working in the vest. It has double leash clips and can act as a harness for your dog as well. Everything about the vest screams quality and durability, right down to the snaps and buckles.
You can find sizes from medium to extra-large, and it comes in either tan or black as far as color goes. This one does not come with weight, but you can use the pockets to weight it down however you please, and it can be used in much the same way as a weighted vest but is more versatile.
This is an accessory that is designed to be used in correlation with the XDog training vest we previously shared. This is a parachute attachment that simply slips onto the weighted dog vest. It's a great way to train a dog for chute training but also for speed, acceleration, and resistance purposes.
This chute comes in sizes for medium or large and is available in red, pink, or purple colors. This parachute attachment is not meant for small dogs. The parachute is designed with mesh panels that will help to keep the chute from getting tangled.
The materials are high-quality and super durable so that you can train with the attachment over and over again. It is recommended to use this parachute with the XDog weighted vest, but it could be used with any vest that has a link for attaching the chute clip. 
This training harness is designed to be a weight-pulling vest for dogs. It is designed for pulling training and it is effective for the cause. Whether you're training using a dog sled or training with weight, this harness gives you options.
The harness itself is not weighted but rather gives you the attachment to add weight on your own. It straps around weighted items for pulling so you can adjust your weight for pulling as you need to. This acts more like a weight-pulling vest for dogs, but you need to add resistance to the end.
The weighted dog vest is simple yet very effective at providing exercise. It is comfortable and safe to use. The vest is also strong and durable, made with strong nylon material and reinforced stitching. The material can be used for resistance for up to 1,200 pounds. It is designed to fit large dogs that can be used for weight or sled pulling.
Weighted Vest for Dogs Benefits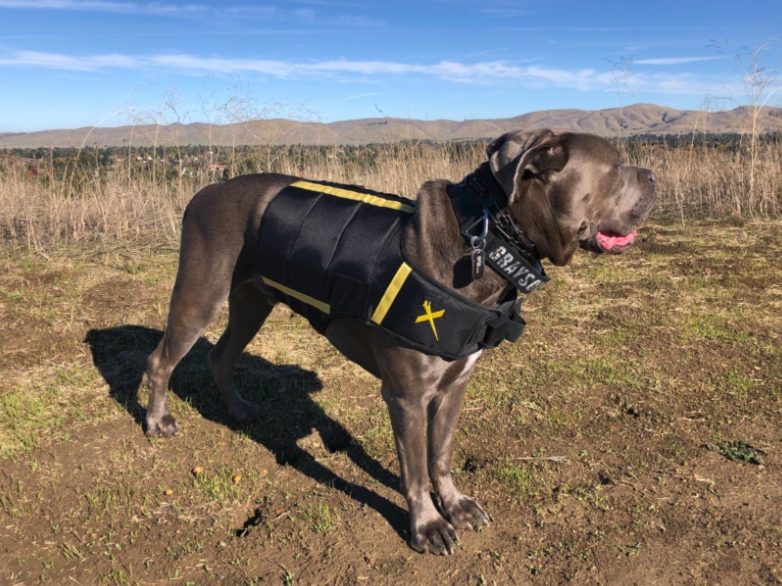 We touched on this just a bit in our introduction but we want to dig a little deeper into just what a weighted vest might do for your dog. The benefits are noteworthy and many people find that dogs that suffer from anxiety react much better with the use of a vest.
As humans, we recommend weighted blankets for people with anxiety. There is something about the weight that is comforting and calming and the vest works in a similar manner. You will find that a weight-pulling vest for dogs can be useful for this and it is one of the primary purposes that these vests are used for.
However, that is certainly not all. Give the vest credit where credit is due. It's awesome for anxiety but you can also use a weighted dog vest for exercise and muscle building.
Weighted vests can be useful for muscle fitness and exercise for your dog. Whether your dog exercises simply to stay healthy or they have a more rigorous need like training to be a police dog, these vests can be helpful.
The vests are designed to add weight in such a way that the dog builds natural muscle and tones their bodies. The vest does not hinder the balance of your dog when in use. However, it can improve their strength levels and also increase both agility and stability.
Finally, when it comes to behavior, there is typically a direct correlation between behavior and stressors for the dog. Things like aggression and destruction can often be traced back to stress or anxiety. Use the weighted vest in these cases for both calming and exercise purposes for your dog.
Choosing a Weighted Dog Vest
There are several things to consider when picking out a weighted dog vest. We already
discussed that these vests are not designed to be the same. What you need to consider is what you plan to use the vest for and how it will best work for your dog.
For starters, are you planning to use the vest for exercise and training or are you planning to use the vest to combat stress and anxiety? These are important considerations for making your decision. Some vests are not suitable for both purposes so just pay close attention to your plans and what the vest is designed for.
Consider the size of the vest and make sure that you choose a vest that is the appropriate size for your pet. The last thing that you want is to spend the money on a weighted vest only to have it not fit your dog. The vest is useless if it doesn't fit the dog securely and comfortably.
Consider the design and durability of the vest, particularly if you are using it for exercise purposes. It is essential that the vest hold up against whatever you are using it for. You don't want the vest to fall apart while you're training so look for something that will last.
Finally, you may want to consider the comfort of the vest. Your dog is going to be wearing the vest for extensive training and use and you certainly don't want to make your dog miserable when they may already be learning with some discomfort while they train.
Overall, just be sure that you pay attention to the details related to the vest and know what you are purchasing so you don't end up with something that doesn't work for your purposes.
Are Weighted Vests Good for Dogs?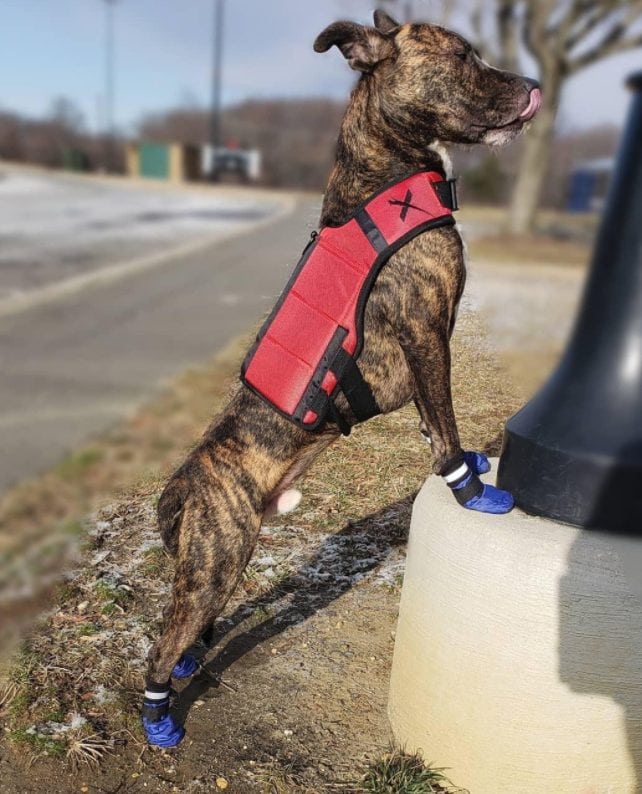 Weighted vests sometimes catch a bad reputation, particularly when they are used for training purposes. This is typical because people simply don't understand the concept of vests and the benefits that a weighted vest can provide.
You can see from our reviews that these vests can be quite versatile. They can have a lot of different uses and sometimes the vests are designed for specific purposes. We want to refer you back to the benefits of a weighted vest for this question.
Ultimately, the answer to the question is yes. A weighted vest can be good for a dog when used in the right way. Be sure that you are using the vest properly and that it is not rubbing or causing chafing on your dog.
Weighted dog vests are safe to use. Be sure to educate yourself to use them properly and understand how to properly train your dog using a weighted vest. The important part of using a weighted vest is to be sure it is used properly.
We also recommend that you work with your veterinarian, particularly if your dog has any known medical conditions that might cause suffering for your dog. Understand how a weighted vest might affect the dog and be aware of the safety precautions and proper usage.
If you notice any negative reactions or effects, stop the use of the vest and refer back to other information to be sure it will be right for your dog.
Weighted Dog Vest for Anxiety
While our focus here has been primarily for pulling and training purposes, they are becoming more and more common for anxiety use as well. You may have heard of thunder shirts or vests. Exercise is optimal use of the vest but it can easily calm a dog with anxiety problems as well or a dog prone to stress.
The vests that are used for anxiety are designed to be calming for dogs. These vests often are lightweight and compact and hug your dog tightly. They can be a single piece worn almost like a jacket. Many times, these vests can even be used underneath a sweater or jacket as well.
Frequently Asked Questions
How heavy should my dog's weighted vest be?
How heavy your dog's weighted vest should be will vary depending on the weight of your dog! Generally, it's recommended that the vest should weigh between 10% and 20% of your dog's weight.
If you don't know your dog's weight, weigh them or take them to the vets beforehand for a weigh-in. You want as accurate a weight as possible to ensure that you buy the right vest for your dog! Buying a weighted vest that's too heavy can overwhelm their muscles and joints, running the risk of long-term health complications.
For your first vest, start with 10% to 20% of your dog's weight. You can increase the weight over time if you wish, depending on your dog's needs.
If you are using the vest for exercise purposes, you might find as your dog becomes stronger, you need a heavier weight. It's worth discussing this with your vet before adjusting the weight of a vest to ensure it's appropriate for your dog or not.
Remember, no matter the weight; you still want a weighted vest that distributes the weight evenly and doesn't apply any pressure on your dog's spine or midsection. The last thing you want to do is harm your dog when you are trying to help them!
When can a dog start using weighted vests?
You shouldn't give your dog a weighted vest until they have reached maturity. The age a dog stops growing and reaches maturity does vary from breed to breed, but typically, most dogs are fully grown in two years.
While a dog is still growing and maturing, its joints are not yet fully developed. Placenta weighted vest on them during this time can damage their joints! You should start using a weighted vest once they have finished growing and reach maturity, between eighteen months to two years old.
The weight of a weighted vest can be too much for these developing joints and can overwhelm the joints. They might not develop as they should, and you also run the risk of over-exercising them while they are developing, which can damage the joints and leave your pooch with health complications down the line!
Wait until your dog has reached maturity before placing a weighted vest on them. Make sure that it isn't too heavy for them and it fits properly for the best results! Remember, if you have any concerns, to speak to your vet beforehand.
Are weighted vests good for dogs?
Weighted vests for dog anxiety are an excellent option for dogs suffering from anxiety or thunderstorm phobia. VCA Animal Hospital explains, "The vests work under the theory that pressure applied to the dog's torso causes a calming effect, similar to swaddling a crying infant or hugging a distressed person." 
There are many brands to choose from. Some options include the following:
ThunderShirt

The Original Anxiety Wrap

Mellow Shirt

Calm Coat

Surgi-Snuggly
Which weighted vest is best?
VCA adds that "When worn properly, anxiety wraps distribute pressure over the back and sides of the dog's chest, serving as a calming "hug." All the brands help decrease anxiety to troubling stimuli when a stressed-out dog wears a vest. Here are some of the best-selling dog anxiety weighted vests for anxiety brands:
Thunder Shirt

The Original Anxiety Wrap

Mellow Shirt

Calm Coat

Surgi-Snuggly
Do weighted vests help dogs build muscle?
Weighted vests to build muscle in dogs differ from those used to calm anxious dogs scared of thunderstorms or troubling stimuli. Weighted vests for muscle in dogs can help build muscle mass but must be used correctly to prevent injury. They also help with weight loss and are designed for tactical training for numerous purposes. Start with 10% to 20% of your dog's weight. You can slowly increase over time.
Are weighted vests bad for dogs?
The weights should not be overly heavy for dogs to prevent injury. Weighted vests used to build muscle are different than those used for anxiety which are lightweight. If your dog needs to improve performance and fitness or combat obesity, adding the right amount of weight may help them with strength training. 
Start slow with the lowest weight and slowly add more. You should do so after a training period so that your dog finds the weight easy to carry. Weighted vests should be easily adjustable and should feature many weight options. The weighted vest should also easily adjust to your dog's movements.
Can you put a weighted vest on a puppy?
Your dog's growth plates need to be fully developed before using weights. On the other hand, lightweight anxiety wraps like the Thundershirt can be used by pups for anxiety and to help calm them during stressful times. Dogs two years and older can safely use the weighted vest to build strength and as a means of intensifying exercise.
But, as usual, always reach out to your veterinarian for the best advice, especially when it comes down to using weight to add muscle and lose weight.
How can I make my dog muscular?
There are numerous activities used for dog muscle building. Remember that a high-quality diet, regular exercise, and swimming work well. However, you should always consider musculoskeletal problems common in dogs and try to prevent them by working closely with our vet and dog trainer. The most common problems in dogs are stiffness and lameness in the joints, as in the hips, knees, and elbows.
Dog sports like agility are also effective in keeping your dog fit. If you're looking at other options for muscle building in dogs, here's the takeaway:
Dog hiking

Dog treadmill

Swimming

Agility

Dog surfing

Doga

Spring Pole exercises
Should dogs lift weights?
You should always watch out for and try to prevent injury when working with dogs. Strength training may be suitable for some breeds. For example, weighted vests can improve muscle tone in dogs and overall fitness, but you must understand how much is too much for your dog? 
Senior dogs with hip dysplasia should not be using weights. Dogs with health conditions should not use heavy weights for muscle building and keeping fit unless your vet has approved it.
Conclusion for the Best Weighted Dog Vest
Whether you're looking for a training vest or an anxiety vest, understanding your options for the best-weighted vest for dogs is important. We hope that you will find this guide a valuable resource for understanding your options and maybe even picking out the right weighted vest for your dog.

Claudia Bensimoun is a writer who specializes in dog content and veterinary topics! Aside from writing for We Love Doodles, Claudia also writes for other major dog blogs like Fido Friendly, Animal Wellness Magazine, and the United States Dog Agility Association (USDAA). She has a ghostwritten over 50 different dog e-books. Her passions include animal welfare, veterinary research, and wildlife conservation.
Why Trust We Love Doodles?
At We Love Doodles, we're a team of writers, veterinarians, and puppy trainers that love dogs. Our team of qualified experts researches and provides reliable information on a wide range of dog topics. Our reviews are based on customer feedback, hands-on testing, and in-depth analysis. We are fully transparent and honest to our community of dog owners and future owners.