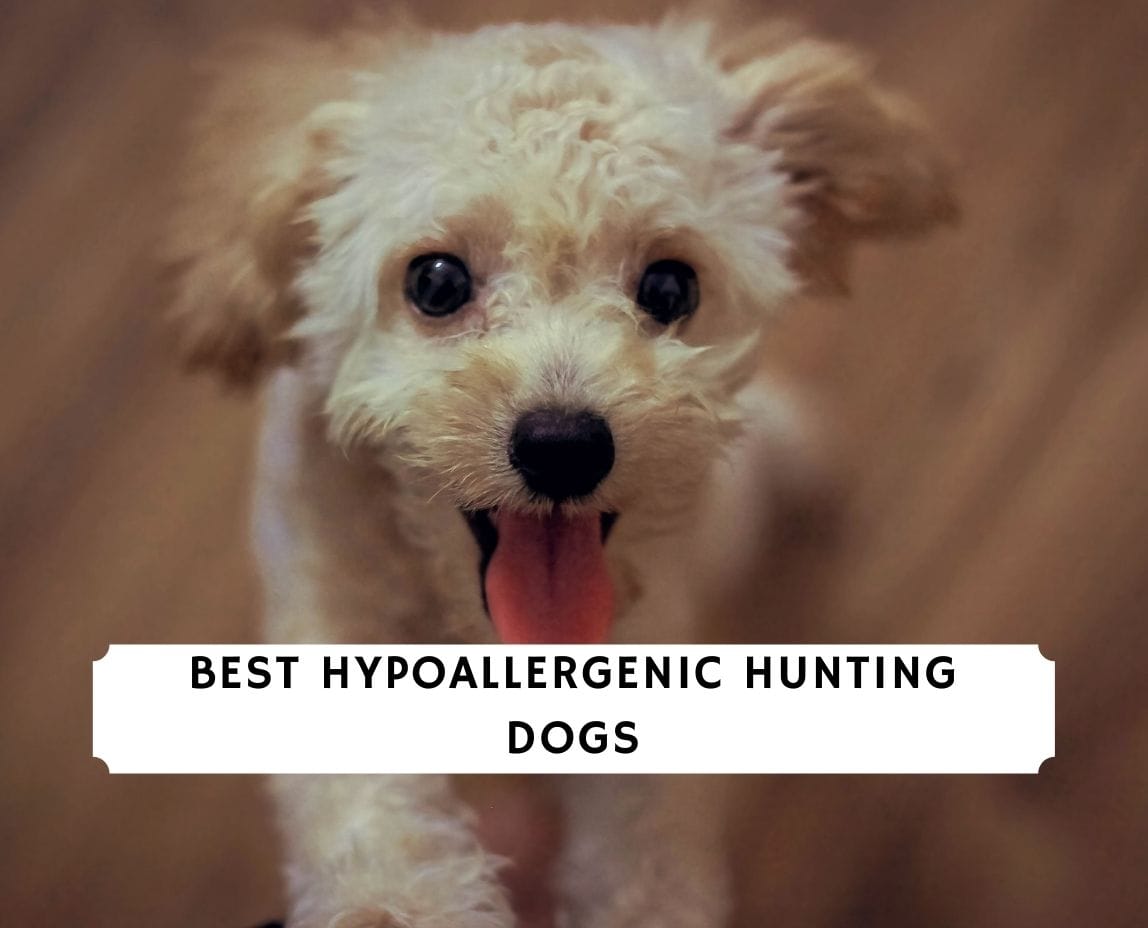 Before scrolling down this list of hypoallergenic hunting dogs, there are several things you should know. There is a long history of hunting dogs working alongside humans. Their intelligence and athleticism make them the perfect hunting companion. However, if you suffer from allergies, you might be missing out on all the fun. Did you know there are hunting dogs that don't give you an allergic reaction? Hypoallergenic dogs shed little to nothing and produce far less dander than the average dog. If you are looking to bring along a furry companion on your hunts, look no further. Our list is sure to help you find the best hypoallergenic hunting dog to suit your needs.
Other hunting dog recommendations: Best Short-Haired Hypoallergenic Dogs and Best Rat Hunting Dogs For Vermin Control
Types of Hunting Dogs
Different hunting dogs perform various hunting tasks. Below are the three main types of hunting dogs:
Scent hounds: These dogs hunt their prey by following its scent. They are fast pursuers, and the hunter has to follow by closely listening to the sounds the hound makes while on the chase.
Sighthounds: With exceptional sight, these dogs can locate their prey from a distance. Once found, they don't lose the target until they catch it.
Gun dogs: These dogs will locate your target and retrieve it too. Since they mostly hunt birds, they are known as bird dogs, but they will sometimes hunt down small animals.
Other dog recommendations: Low Energy Hypoallergenic Dogs That Don't Shed and Small Non-Shedding Dog Breeds.
1. Wirehaired Pointing Griffon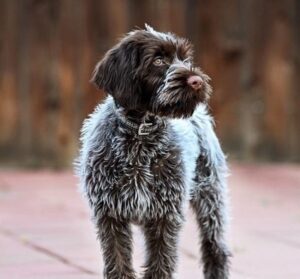 These are known as the ultimate gun dogs, and for a good reason too! The Wirehaired Pointing Griffon is a great hunting companion as it can move across most types of terrains, is easy to train, can swim, and has an excellent sense of smell. Their strong prey drive doesn't need any external motivation. They are used during search operations to locate lost and wounded people.
This is an intelligent, laid-back, and friendly dog. Wirehaired Pointing Griffons can play with children, hunt, and lounge around the house as well. They love a good workout and are in constant need of mental stimulation. Make sure to create a fun training schedule that gives your WPG an all-encompassing exercise. A large backyard, lots of hunting, and a loving family is best for this hunting dog.
Wirehaired Pointing Griffon Details
Height: 20 to 24 inches
Weight: 30 to 70 pounds
Life Expectancy: 12 to 15 years
2. Pudelpointer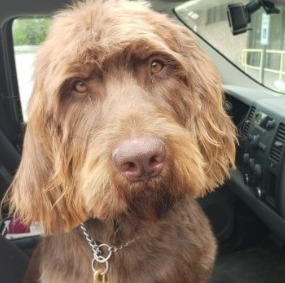 The Pudelpointer was bred to create the ultimate hunting dog. It is a great swimmer and loves to hunt the waterfowl and other water creatures. A wiry waterproof coat helps protect the dog from too much activity in the water. Training a Pudelpointer is simple because they are eager to please and listen well to their owners. Adventurous, loyal, and hard-working, they are the perfect hunting companions.
With a Pudelpointer, exercise is always about work and play. They have lots of energy that needs to be expended regularly. So, before you bring home a Pudelpointer, ask yourself if you can keep up with them. Ample space, lots of play, and a fun-loving family will keep this dog happy.
Pudelpointer Details
Height: 20 to 28 inches
Weight: 40 to 70 pounds
Life Expectancy: 11 to 13 years
3. Irish Water Spaniel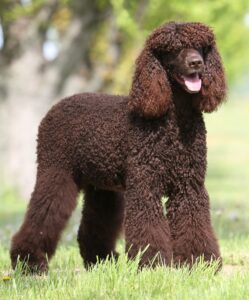 The Irish Water Spaniel loves going out and having fun. Bringing home an Irish Water Spaniel will take away any boredom from your life. As these dogs are known to be clownish and enthusiastic, they make great pets for families with children. Besides, if you love outdoor sports, including water-based sports, the Irish Water Spaniel will happily accompany you. But their fun-loving temperament may get out of hand. More experienced dog owners will likely handle this dog breed better.
Irish Water Spaniel Details
Height: 20 to 24 inches
Weight: 45 to 65 pounds
Life Expectancy: 10 to 12 years
4. Curly Coated Retriever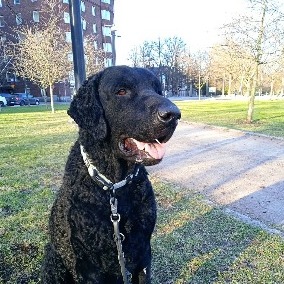 The Curly-Coated Retriever is the dog to bring home if you're in search of a low-maintenance hypoallergenic hunting dog. Distinguished by their unique curly coat, they are knowledgeable, confident, and warm. Although they are friendly around their family, their behavior tends to vary with strangers. If you want the Curly Coated Retriever to warm up to a new pet or a family member, they'll take their time in doing so and may also show aloofness in the beginning.
Curly Coated Retriever Details
Height: 23 to 27 inches
Weight: 60 to 95 pounds
Life Expectancy: 10 to 12 years
5. Italian Greyhound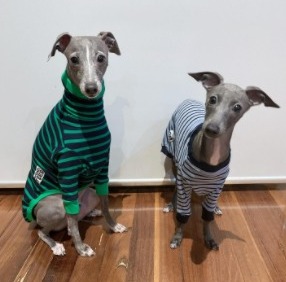 The Italian Greyhound is known as a race dog, but it was bred as a hunting companion for humans. Its exceptional sight helps it track its prey from a distance. It is common for the Italian Greyhound to run off chasing animals on its own. Training an Italian Greyhound can be a task, and you will have to make dedicated efforts. Loving, obedient, and energetic, the Italian Greyhound is more suited for an active household with a big backyard.
The Italian Greyhound can also adapt well to apartment life. If you want a loyal dog that is an attention-lover, then the Italian Greyhound is the dog for you. However, the athletic needs of these hounds are high, and they need a good amount of daily exercise. As they are fast runners, they will enjoy being in a big property. The Italian Greyhound doesn't shed much, making it an excellent hypoallergenic dog.
Italian Greyhound Details
Height: 13 to 15 inches
Weight: 7 to 15 pounds
Life Expectancy: 12 to 15 years
6. Poodle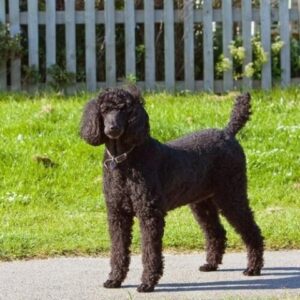 The Poodle should be your choice if you want to go duck hunting over the weekend. Best known for being duck hunters, Poodles are lively, intelligent, and confident. A big family, lots of fellow pets, and a large property are most suitable for the Poodle. They are also a good choice for first-time dog owners as they are easy to train.
Poodle Details
Height: 15 to 22
Weight: 40 to 70
Life Expectancy: 10 to 18
7. Border Terrier
The Border Terrier was used along with the hound on hunts to locate and chase their prey. The small size of the Terrier also enables it to flush out the target from tiny spaces very quickly. They are playful, gentle, and loving dogs. If you are looking for a dog that knows how to hunt prey and play with children, the Border Terrier is the furry companion you should bring home.
Border Terrier Details
Height: 12 to 15 inches
Weight: 11 to 16 pounds
Life Expectancy: 12 to 15 years
8. Dogo Argentino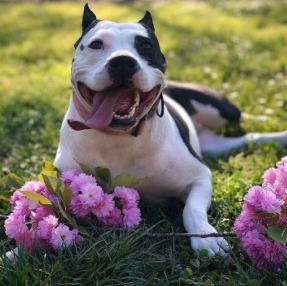 These dogs were essentially bred for big game hunting. Those interested in hunting the wider variety like a puma or wild boar would invariably go with the Dogo Argentino. They are loyal and unafraid and will pursue their target fearlessly. Dogo Argentinos also make for excellent guard dogs as they are fiercely protective. These dogs love family but not exactly playful, so keep them away from children and other pets.
Dogo Argentino Details
Height: 24 to 27 inches
Weight: 80 to 100 pounds
Life Expectancy: 9 to 15 years
9. Rhodesian Ridgeback
With a loyal, loving, and calm nature, Rhodesian Ridgebacks are outstanding for easy-going families. Know that they do not take well to children and small pets. Surprisingly, this is one hunting dog that prefers to stay indoors. Their exercise needs are also moderate compared with other typical hunting dogs. They can be good watchdogs for apartment dwellers as well. The Rhodesian Ridgeback is known for being exceptional for hunting big prey like lions.
Rhodesian Ridgeback Details
Height: 24 to 26 inches
Weight: 64 to 70 pounds
Life Expectancy: 9 to 11 years
10. Basenji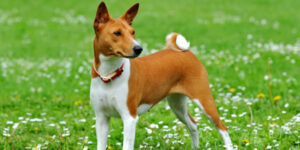 Do you want a dog that can use its eyes as well as its nose to hunt? Then you'll need a Basenji! These are intelligent, stubborn, and attention-loving dogs known to have been used for hunting lions in Kenya. Their stubborn nature means they are challenging to train, and only seasoned dog owners can effectively handle them. However, the Basenji can get along well with just about anyone as long as you don't take away its toys.
Basenji Details
Height: 16 to 17 inches
Weight: 22 to 26 pounds
Life Expectancy: 10 to 12 years
Conclusion For "Best Hypoallergenic Hunting Dogs"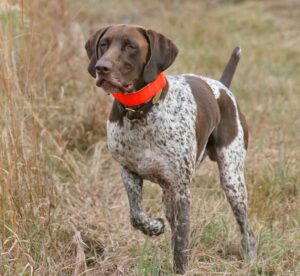 It is crucial to remember that hunting dogs are difficult to handle for first-time dog owners. Their instincts will tell them to chase down smaller prey, so you will need to establish firm rules while training and ensure that your command is strictly followed. With this list of hypoallergenic hunting dogs, you are sure to find a pet that will fit right in with your family while also accompanying you on hunts!
For more hypoallergenic dog-related articles similar to "Best Hypoallergenic Hunting Dogs," check out:
To learn more about hunting dogs, watch "Top 10 Gun Dogs" from Dogumentary TV down below: