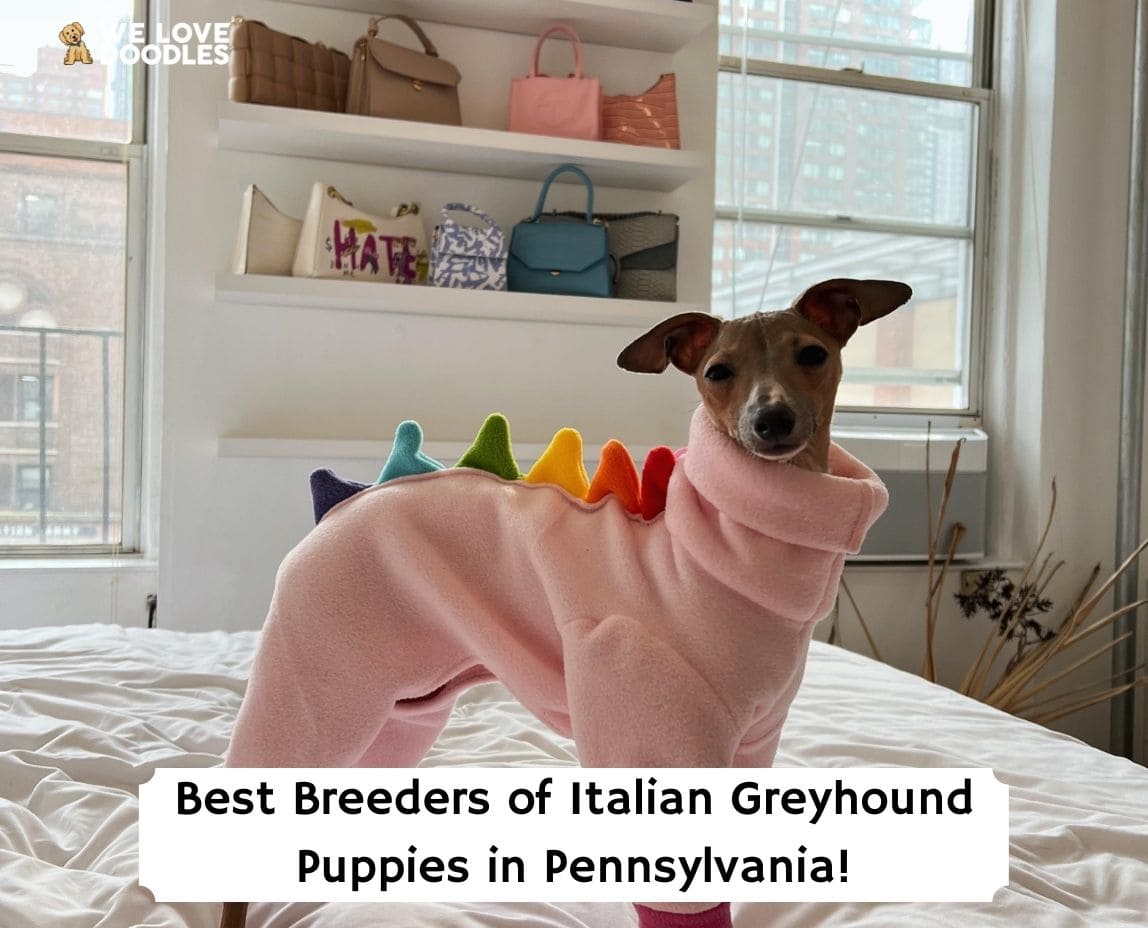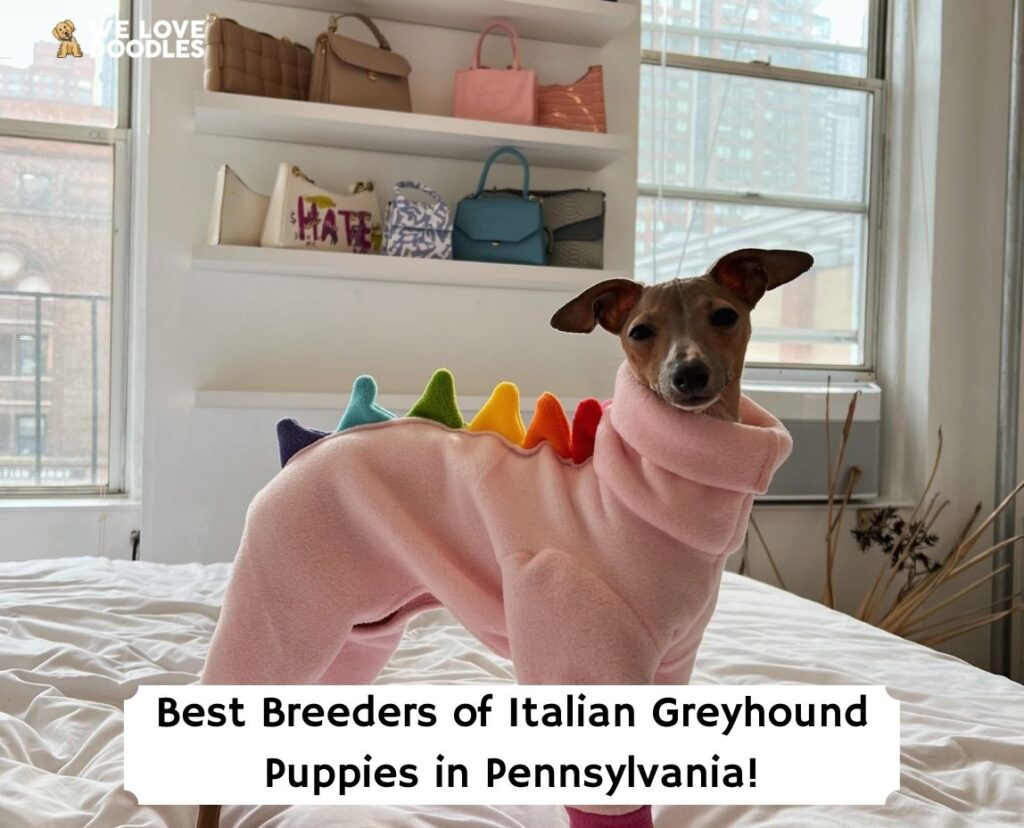 If you are looking for the best breeders of Italian Greyhound puppies in Pennsylvania, you have come to the right place. We have done the hard part for you and listed the top five Italian Greyhound breeders and all their details in this guide.
Slender, athletic, funny, enthusiastic, and lovable are the qualities that define the breed Italian Greyhound. They are perfect dogs for home and might need your special attention most of the time, or they can become shy or aggressive.
Their admirable qualities make them a perfect companion, and you will surely love one at your home. Get help from the following list and complete your search for Italian Greyhound puppy breeders!
1. Blessed With Iggies – Iggy Love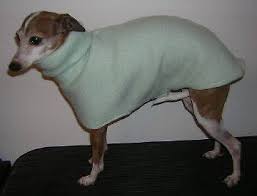 Iggy Love is a family-run kennel, breeding Italian Greyhounds for over decades. They have sincere love for dogs and puppies, and they treat their Italian Greyhounds as their actual family members.
Iggy Love does everything possible to provide the best lovable environment for Italian Greyhound puppies. They raise the puppies with their parents on-site and around children aged 5 to 13.
Moreover, they have stringent regulations to ensure their litters go to the forever homes they deserve. They do not give their puppies if your behavior seems rude throughout the process or you treat litters disrespectfully.
Their puppies are AKC or CKC registered and are bred naturally. They are against forced breeding. Further, with such intense love for the breed, you can rest assured you will get a healthy puppy to bring home.
All the puppies in their kennel have a health guarantee and a health certificate from a vet. Further, they are dewormed, vaccinated, and have had potty training on puppy pads and newspapers.
Overall, they have many Italian Greyhound puppies for sale in Pennsylvania, and you can visit their Facebook page for the latest information.
Italian Greyhound Breeder Information:
2. Mexital's Italian Greyhounds
Karen DePietro is the face behind the kennel of Mexital's Italian Greyhounds. Karen raises her litters with affection and responsibility.
Karen raises her puppies in a home environment and has been breeding Italian Greyhounds since 2009. All her puppies receive potty training and are fit for urban and countryside settings.
Furthermore, she ensures propers vaccination, health-checkup, and trimmed nails for her puppies. You will find all of her puppies are registered with the American Kennel Club.
Mexital's is one of the best breeders of Italian Greyhound puppies in Pennsylvania. That's why all their puppies get reserved fast. If you want to reserve yours, you can do so for a $200 fee.
The kennel does not entertain purchases via email and wants you to call and visit. They are also happy to answer all your questions throughout the puppy's life.
Italian Greyhound Breeder Information:
3. Buchi Italian Greyhounds
Carla Huitt and Ron Guzzino founded the kennel Buchio Italian Greyhounds in 2001. Initially, they started breeding as a hobby show dog breeder but now provide litters and adults.
They received the "AKC Breeder of Merit" certificate on August 15, 2014, showing their dedication to breeding purebred Italian Greyhounds.
This achievement recognizes their love towards the breed and asserts that they are ready to go far and beyond to ensure health, temperament, and genetic screening.
Further, they also believe a puppy should go to a responsible home, preferably where it's loved, cared for, and enjoyed.
They breed infrequently; it is best to contact them and get the updated information for the next litter.
The litters grow with the love and care of their dog parents and receive potty and basic behavior training. The kennel only breeds AKC-registered and health-certified Italian Greyhounds.
Therefore, contact this kennel if you are looking for Italian Greyhound puppies in Pennsylvania who are healthy and have been raised in a home environment.
Italian Greyhound Breeder Information:
Check out for more: Best Italian Greyhound Breeders in California! and Best Italian Greyhound Breeders in Florida!
4. Celtic Sighthounds
Do not let the name of this kennel confuse you! According to Wikipedia, Italian Greyhounds are a small breed of sighthounds. So, if you are looking for Italian Greyhounds puppies for sale in Pennsylvania, you might get one right here.
The main person behind the Celtic Sighthounds is Virginia King Kirby. At her kennel, you'll notice two crucial qualities in a litter — health and activeness. She affirms this with the tagline of her website, "Happy, Healthy, Hounds."
She ensures that the puppies grow up in a loving and caring environment with proper behavior and potty training. She uses a modern whelping system, Whelpmate, to give birth to a litter.
All puppies of Celtic Sighthounds are clean, vaccinated, dewormed, and come with trimmed nails. Furthermore, they breed for shows and puppies to find their "furever" friends. So make sure you contact them and book your puppy before you miss it.
Italian Greyhound Breeder Information:
5. James R. (Bob) Steele Jr.
James R. (Bob) Steele is last on the list of the breeders of Italian Greyhound puppies in Pennsylvania.
He is a breeder with extensive experience in Italian Greyhounds breeding and has an AKC certification in his pocket. Moreover, he was also the national and regional chairman of many dog shows, especially Italian Greyhounds.
You can understand the kind of love and dedication this breeder has for this breed. James breeds healthy puppies and raises them in a spacious kennel around dog-buddies and parents.
As there is very little information about him on the Internet, you can only contact him via call or email.
Italian Greyhound Breeder Information:
How To Choose A Breeder of Italian Greyhound Puppies in Pennsylvania
You will love your Italian Greyhound for all the fun memories you will make. However, before you contact or visit one of the breeders of Italian Greyhound puppies in Pennsylvania, make sure you keep the following things in mind to get the best puppy possible.
Are both the breeder and the kennel registered with the correct associations? If they are not, avoid getting a puppy from them.
Do they provide a health certificate of the litter?
Notice if their kennel has ample amount of space for puppies to play.
Ask as many questions as possible and notice if they are willing to treat you with satisfactory answers.
How is the hygiene of the premises — is it clean and has proper sanitization in place? If not, avoid getting puppies from them.
The Italian Greyhound puppies should have basic behavior and potty training.
Does the kennel or the breeder agree to give away the puppy before it turns 10 weeks old? If yes, it's likely they are inexperienced breeders.
Do they provide flexible payment and financing options?
Ask if the kennel or the breeder will entertain the purchase via email only? If they do, avoid buying from them.
Are they willing to provide support even after the purchase?
Don't get an Italian Greyhound puppy if the breeder does not have at least 5 years of experience.
More Information About Italian Greyhound in Pennsylvania
With the history of being lapdogs of noblemen of Italy, Turkey, and Greece, Italian Greyhounds are certainly one special breed. They are subtle, have their own quirks, and bond quickly with their owners. Their temperament is playful. And they are always alert and graceful.
If you search the Internet for Italian Greyhound puppies for sale in Pennsylvania, you will get thousands of results. But most information there is either not concrete or too vague to base your decision on.
So do not trust right away, and make sure you check out social media handles, reviews, and comments of customers to get an idea of their authenticity.
Conclusion For The Best Breeders of Italian Greyhound Puppies in Pennsylvania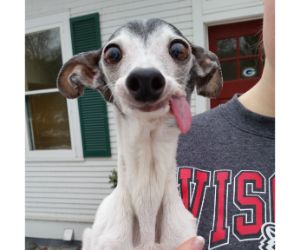 You have made up your mind to get an Italian Greyhound puppy. And now, with the help of this list, you will be able to get one. Further, it's always a good idea to call or email the breeder or the kennel before you visit their physical location.
Other than these, there may be other kennels with Italian Greyhound puppies in Pennsylvania. However, our list has only the top and reputed kennels and breeders with an extensive background in breeding. Plus, they are registered with AKC or any recognized club.
Here's to a life of happy memories with your new Italian Greyhound puppy!
You will also like:
You can also check out this Italian Greyhound Video: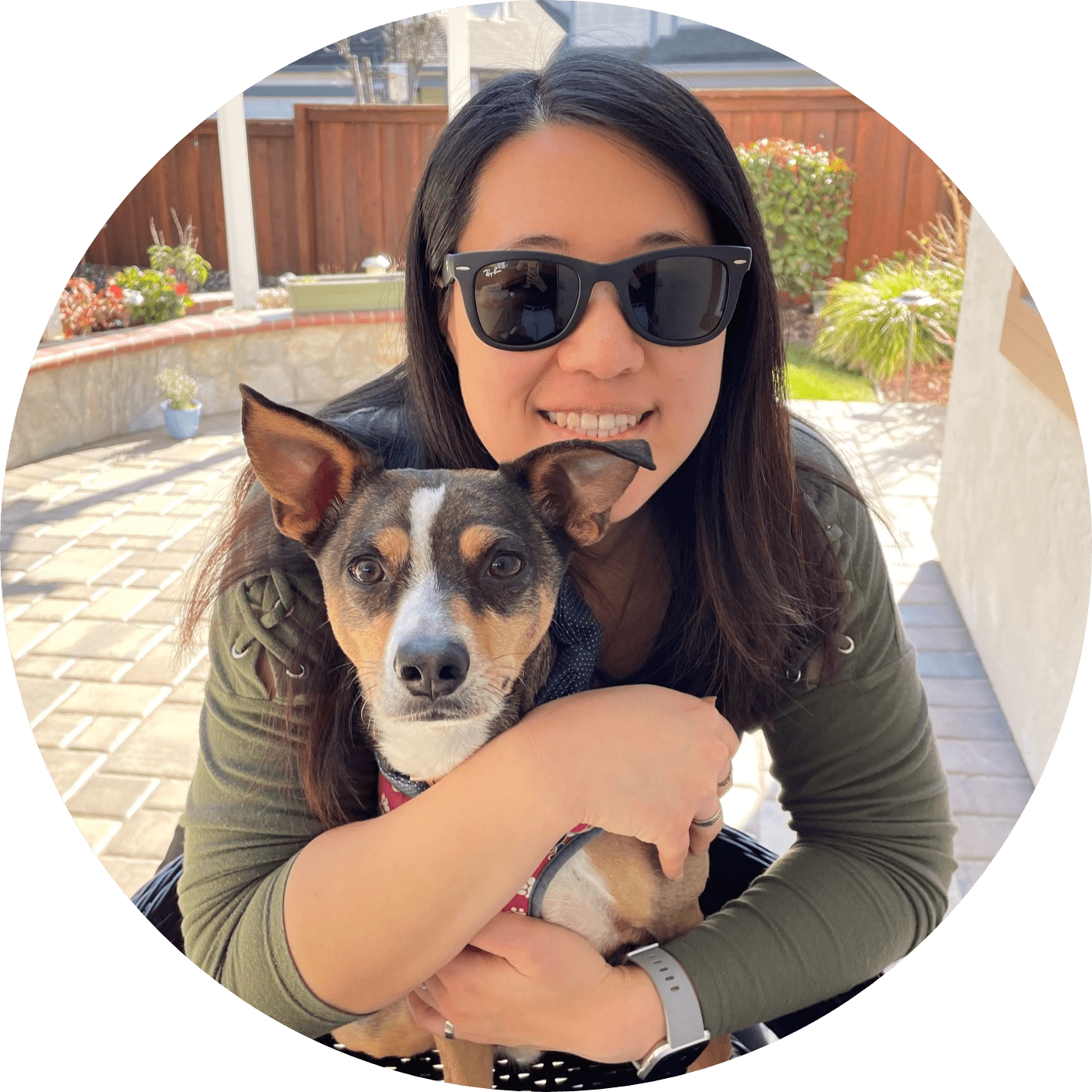 Dr. Sabrina Kong graduated from the Royal Veterinary College in England in 2016 and has been working at a small animal clinic in Northern California since then. She grew up in the Bay Area and got her bachelor's degree from Cal Poly San Luis Obispo. She also became a Certified Canine Rehabilitation Practitioner through a program at the University of Tennessee.
When she isn't in the clinic taking care of her four-legged patients, she enjoys traveling and trying new foods with her friends and her three-legged dog, Apollo. She adopted Apollo from her clinic when he was a puppy with numerous health issues. Dr. Kong truly cares about taking care of animals.