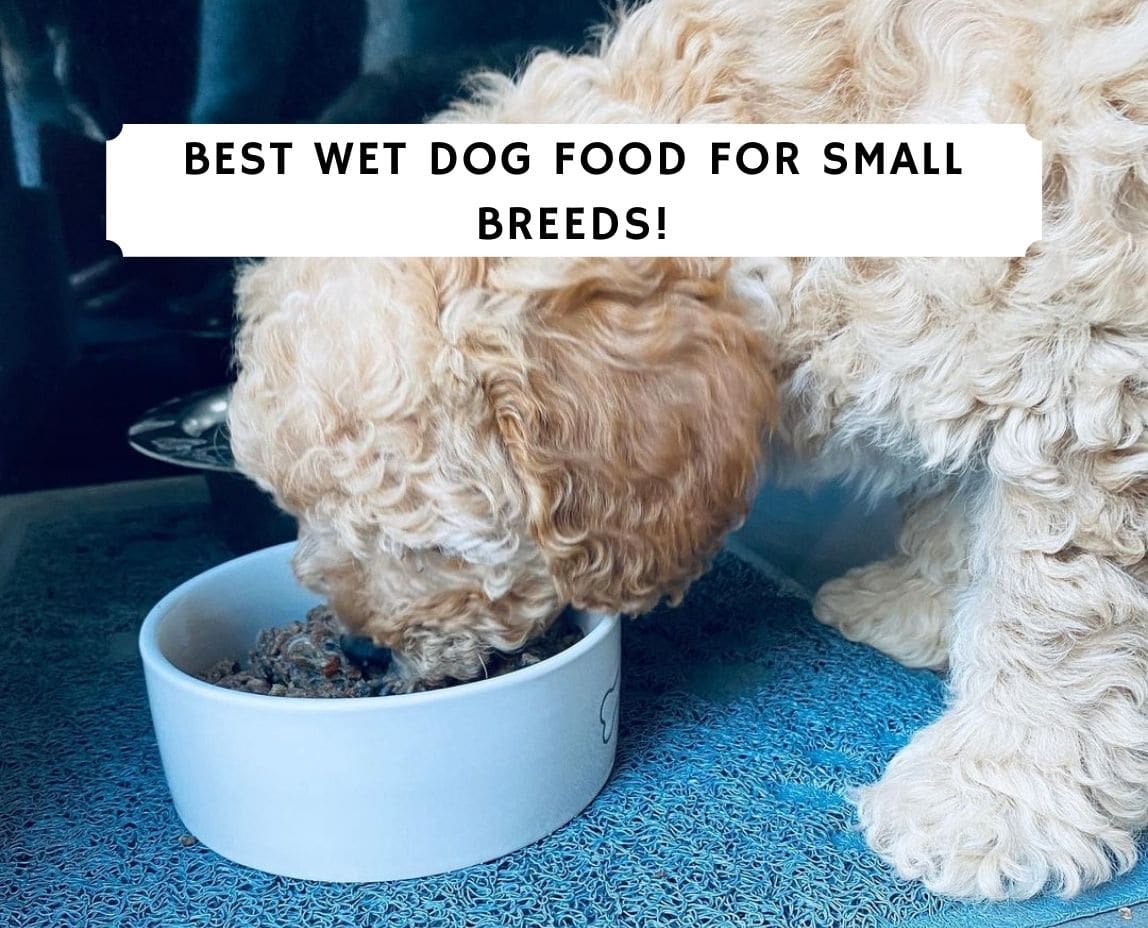 Owners of small breed dogs have to be careful when choosing a wet dog food. Small dogs often have sensitive digestion systems which requires specialized food. Additionally, small dog breeds are known to be the pickiest eaters.
It takes a lot of research into ingredients, portion size, raw, cooked, food for puppies or adults, and a host of other variables to find the food that will not only be the healthiest and most nutritious option. Luckily, we've done the research so you can find the best wet dog food for small breeds! We've tested all of them too!
Premium dog foods can be pricey, but nothing's too good for our small breed dogs.  We're sure you've paid out big dollars to try the latest and trendiest wet food for small breeds, only to find that your small puppy turns up their nose at it. Frustrating, right?
It can be even more complicated if your small breed dog has food allergies. There are many different things to consider when it comes to the best wet food for your small dog. Often it's a progression of trial and error to find the perfect choice for your special dog.
The process can be difficult and inconvenient for you and your dog. It often takes reading a lot of labels and having a lot of comparison tastings with your small dog to find just the right one.
We want to do right by our small dogs and give them nutritious and healthy food that they're actually going to eat. That's why we're reviewing the top six choices for the best wet dog food for small breeds.
In a rush? Here are the top picks!
Product
Best Overall
Blue Buffalo
Budget Pick
Natural Balance
Image
Best Wet Food for Small Breeds Reviewed
Our top pick for the best wet food for small dogs is the Blue Buffalo Natural Small Breed Wet Dog Food Cups Variety Pack.
This premium dog food brand is well-known for producing high-quality dog food with all-natural meat, vegetables, and fruit.
Blue Buffalo Natural boasts premium ingredients in single-serving cups that will meet your small dog's feeding requirements, from puppy to adulthood.
The variety packs come in Filet Mignon and New York Strip steak flavors. The product provides real meat in a hearty gravy for your dog to enjoy, particularly formulated with added vitamins and minerals for optimal nutrition for your small breed.
Real beef is the first ingredient
Natural dog food
Wholesome ingredients
Blue Buffalo Natural Small Breed Wet Dog Food boasts premium ingredients in single-serving cups that will meet feeding requirements for your small dog while reducing waste.
This small breed dog food is grain-free and contains nothing artificial that could trigger an allergy in your small breed dog. Real beef is the first ingredient and there is no poultry or chicken meal or by-products. Chicken is a common protein that is known to cause allergies.
We know you want to get the best wet food for your small dog, and we believe that Blue Buffalo is head and shoulders above their competition. This product is made in the United States and dogs love it.
We like the fact that each individual cup is appropriately portioned for a small dog breed. Most of the other wet dog foods come in a larger can that will take your small dog several meals to eat. This means that you'll have an open can of dog food in your refrigerator which can oftentimes smell bad.
That's why we chose Blue Buffalo Natural Small Breed Wet Dog Food Cups Variety Pack as our top pick for the best wet food for small breeds. At such a low price point, it's worth a try and will give your dog several delicious meals.
Purina ONE SmartBlend Canned Wet food for adult dogs gives your dog the chicken flavor he loves. This canned wet food provides a thick gravy and offers chicken and brown rice to give your dog a satisfying blend that they will devour.
Most customers love the value for money provided by the 12 pack of 13 oz. cans. This wet food is a natural source of glucosamine for your dogs' joint health and contains antioxidants that support your dogs' immune health as well.
Purina ONE SmartBlend offers balanced nutrition in a high protein canned wet food with no fillers. The small, tender morsels are the perfect size for your small breed dog.
That's why Purina ONE SmartBlend is our second place on our list. Whether you have a small breed puppy or a senior dog, this is a great option.
The Blue Buffalo name is the reigning leader in the dog food world. They have a reputation for producing premium dog food with natural ingredients that dogs will love.
Their Homestyle Recipe Natural Adult Wet Dog Food is no exception. For small breed dogs, this product provides value for the money with 12 cans that are 12.5 oz. each. Small dog breeds will be able to have several servings from one can.
Blue Buffalo products are grain-free, with real meat as the first ingredient. They do not use poultry meal or by-products. All Blue Buffalo Wet Dog Food is formulated for balanced nutrition and enhanced with vitamins and minerals for your dogs' good health.
You can trust Blue Buffalo Homestyle Recipe Natural Adult Wet Dog Food to meet your small breed dog's nutritional and flavor needs. If you're specifically looking for the best grain-free wet dog food for small breeds, this has to be one of your top choices!
Natural Balance canned dog food is another great choice for smaller dog breeds. This wet dog food gives you some great flavor choices to tempt your small breed dog. Additionally, the 12 pack of 13-ounce cans give you good value for the money.
Natural Balance Ultra Premium wet food provides balanced nutrition for adult dogs. With ingredients such as potato, brown rice, and oat bran, Ultra Premium dog food supports digestive health and provides high-quality energy sources.
This product can be mixed with kibble or used as a stand-alone meal. This is more of a pate-style wet dog food than a meat and gravy blend. However, there are definitely recognizable carrots and potatoes in the mix. The reviews support the great taste, and dogs seem to love it. After reading the labels, this is one of the healthiest canned dog foods for small dogs.
This product is formulated by nutritionists with your dogs' optimal health in mind. The very name is Wellness Complete Health wet dog food. This canned dog food has a great variety of flavors to tempt even the pickiest small breed: venison, duck, lamb, and fish flavors.
Meat is the first ingredient which means this dog food is full of good healthy proteins for your active dog. They add sweet potato and other vegetables with minerals and vitamins that support your dog's overall good health.
This company does provide a small breed dog formula which is why they ended up on our list of the best wet food for small breeds. We think Wellness Complete Health Wet Canned Dog Food is a great option for small dog owners. You can use this healthy wet dog food as an enhancement with kibble or a meal by itself.
Last on our list is the Purina ONE SmartBlend True Instinct Grain-Free Natural Pate wet dog food. This is a natural and nutrient-dense option for feeding your small breed dog.
The wet food formula boasts antioxidants to support immune health and natural sources of glucosamine for joints and healthy growth: no poultry meal or by-products and zero fillers for total nutrition for your small breed.
The wet dog food comes in 12 cans that are each 13 oz. For small breed dog owners, this is great value for money, as you can get multiple feedings from a single can.
The product is grain-free which is often recommended for small breeds with allergies or sensitive digestion.  The flavors seem to be popular with senior dogs or even puppies.
How to Choose a Wet Dog Food for Small Breeds
Now we've come to the Buyer's Guide, where you can find out more about what you should be looking for when you're shopping for the best wet food for small dogs.
Protein is the #1 Ingredient
The most important thing about shopping for the best wet food for your small dog is to read the ingredients list on the label. The brand may advertise a healthy and balanced formula, yet still contain poultry meat, animal by-products, and filler ingredients. You want the protein source (i.e., beef, turkey, venison) to be the number one ingredient in the wet dog food.
Small Breed Formula
Next, you want to be sure that you're using a small breed formula, or that any food you purchase is presented in small enough bite-sized pieces for your dog to chew. Even if they take one piece at a time, they still have to be able to chew and swallow it for optimum digestion. If your dog is not eating the food, this might be an issue.
Other Nutritious Ingredients
Dogs are omnivores, so you will do your dog a disservice if you're buying only high protein dog food and not filling out his nutritional requirements with vegetables, rice, or other fruit and veggie sources. It's great when you can buy a wet dog food for your small breed that already incorporates those ingredients. 
Allergy-Friendly
If your dog is allergy-prone, you'll want to do away with foods containing grains. Corn can be difficult for small dogs to digest, and other grains and soy can trigger allergies. The proof is in the dogs' manure. You'll know right away if any food you feed your dog affects their digestion or not. Your small dog will constantly be itching or licking its paws.
Flavor
Lastly, your dog must enjoy the flavor but remember to switch it up once in a while because even dogs who love their food enjoy some variety of flavor.
Ingredients to avoid
As previously mentioned, you should be wary of ingredients that say bone meal, by-products, or "other" ingredients that don't sound like real food. Please read all the labels on your dog's food to be sure you're not giving him grain, soy, or any of the above-mentioned items. If you have any doubts, we recommend checking out the Association of American Feed Control Officials (AAFCO), which helps people select the right dog food for their small breed.
If your dog is not eating its food, acting differently, becomes itchy, or has a skin breakout, these can be signs that your dog is reacting internally or externally to ingredients in his food, excluding any other changes in his environment.
Don't sacrifice your dog's health for convenience or frugality. It's worth it to spend a little more on healthy wet food for your dog rather than subject him to any allergy or digestive upset. These types of issues can lead to costly veterinary visits and require prescription foods to make it right.
Conclusion for the Best Wet Dog Food for Small Breeds
Be proactive and start with one of the foods on our list if you're looking for wet dog food. The best wet food for your small dog is the one that they enjoy eating and is nutritious.
In general, we really like wet dog food for small dogs because it hydrates your puppy, and they enjoying eating it. Small breed dogs are often the pickiest eaters, but canned dog food always gets them to eat!
Other articles you will like:
Check out how much wet dog food to feed your puppy!

Dr. Chyrle Bonk received her veterinary degree from Oregon State University in 2010. She has been practicing in a mixed animal clinic in rural Idaho ever since at Clearwater Valley Veterinarian Clinic. When she's not busy writing, treating animals, or working on her cattle ranch, she may be found somewhere in the Idaho wilderness with her husband and kids. Dr. Chyrle Bonk is a writer for We Love Doodles and verifies that the information we post is accurate the up to date! She is also an advisor and editor.
Why Trust We Love Doodles?
At We Love Doodles, we're a team of writers, veterinarians, and puppy trainers that love dogs. Our team of qualified experts researches and provides reliable information on a wide range of dog topics. Our reviews are based on customer feedback, hands-on testing, and in-depth analysis. We are fully transparent and honest to our community of dog owners and future owners.