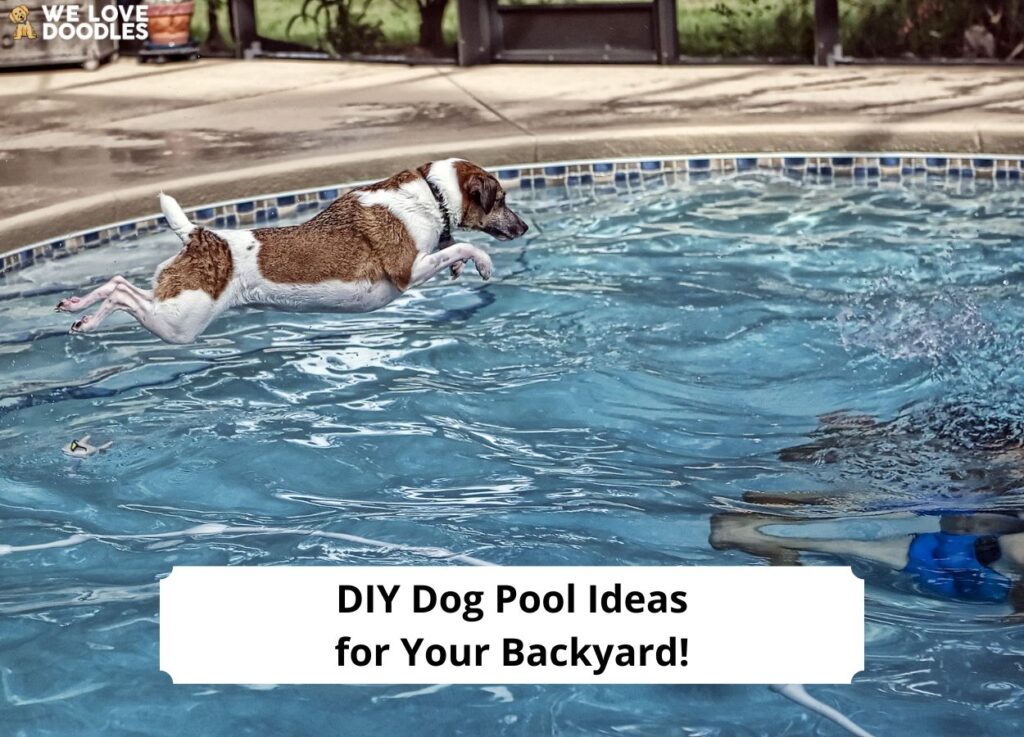 Everyone loves to splash off and cool down in the warm summer months — especially your dog! If you don't have a pool in your outdoor space, that's okay. You and your dog can take advantage of the sunny weather when you implement a few DIY dog pool ideas.
Whether you've got a large yard or just a patio on the balcony of your apartment, we've got you covered! Read through our ideas, put on your thinking cap, and create a wonderful play space for you and your dog to enjoy.
Before you scroll down this guide, "DIY Dog Pool Ideas for Your Backyard," check out: Easy DIY Dog Puzzles You and Your Dog Will Love! (2023) and How to Build a DIY Dog Grooming Table! (2023).
Dog Pool Safety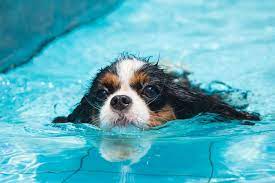 Regardless of where you choose to build your DIY dog pool, you'll need to keep safety in mind. The idea of your dog splashing and playing in your yard is appealing, but the fun can turn into a nightmare if dogs or children get hurt.
To begin, provide plenty of shade for your dog. Despite the cooling water, your dog can overheat fairly easily. Choose a spot with some shade to build your DIY dog pool or install a tent, awning, or another structure that will shadow a portion of your dog's area.
Keep fresh water available at all times, and remember to clean the bowl regularly. If left outside, for an extended period, algae and other not-so-savory stuff can accumulate.
If you have children, it's critical to remember that a baby can drown in as little as two inches of water. Keep your dog's DIY pool area fenced off, or cover water of any depth when not in use.
Finally, ensure that your dog's wet area isn't too slippery for her paws. Your dog pool should have a bit of traction, and you'll also need to provide a dry place for your pup to relax when she does not care to splash. That means your space should be large enough to accommodate both a dry and a wet area.
Ready to get started? Here are the best DIY dog pool ideas for your outdoor space!
Stone Wading Pool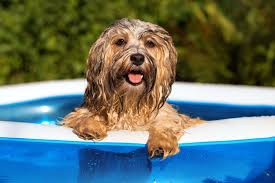 If your yard has natural hills and dips, it's easy to build a DIY wading area for your dog. Scope out a section of your yard that's recessed and clear it of sharp rocks and other objects. Lay down heavy plastic that's designed for the purpose, and cover the plastic with smooth river rocks. Lowe's, Home Depot, and other retailers sell these.
Fill your wading pool with several inches of water, then decorate! Your wading pool can be a part of your landscaping if you choose the right plants. Avoid toxic plants like hosta and water hyacinth. Instead, opt for a garden that includes water lilies or elephant ears.
You may find that you need to replenish your wading pool's water now and then. However, this natural DIY dog pool offers the benefit of being very low maintenance if incorporated into your yard as a feature.
Beach on the Balcony
If you live in a condominium, townhome, brownstone, or apartment, you'll love building a beach on the balcony. This DIY dog pool idea is simple to implement, and you can easily pack it up and put it aside when you want to entertain human guests.
If you have neighbors downstairs, it may be a good idea to place an outdoor rug down before you set up your beach on the balcony. This will help prevent sand and water from escaping through your porch slats.
Purchase a small kiddie pool for your pup — these small, foldable pools from Enenes are a wonderful option. Choose a shady spot on your patio and place the pool. You'll also need a small sandbox that will fit your space. These are available on Amazon and through local retailers, too, and can measure as small as two by two.
Finally, install or place a towel rack. You'll need to give your dog a wipe-down before he comes back inside. A foldable drying rack will work just fine, and you can easily repurpose it in the winter.
Doggy Splash Pad
If your pup has a fenced yard to play in, why not give him access to his very own splash pad? There are hundreds of anti-slip and dog-friendly options available, including this fountain playmat from Raxurt. Non-toxic materials are used to manufacture splash pads for dogs, and those designed for your pup are less likely to tear due to nail scratches.
If you don't have the space for a full DIY dog pool, or if you are concerned that your ground will oversaturate, consider a soaker sprinkler. There are adorable models available, including this little caterpillar we found from Backyard Blast. If you prefer, retailers sell options that are less "cutesy" and more ornamental, meaning you can incorporate the sprinkler into your outdoor design.
As we mentioned earlier, it's important to include a dry space for your dog to relax when she no longer wants to play in the water. Overstimulation can stress your dog out, causing outdoor play to be more irksome than relaxing.
Accessorize your DIY dog pool any way you like! Be sure to add some waterproof toys. Discs and rubber squeakers are great additions to your space. Finally, remember to move your splash pad from time to time to avoid damaging your yard.
DIY Dog Pool Ramp
Do you have an above-ground pool? Would you like to host "pool pawties" with your dog's closest friends? Well, you'll need a ramp so your pup can enter and exit the pool.
These are available in various sizes online through retailers like Amazon and Chewy. This exit ramp, for example, can help your pup get out of the water when she's had her fill of swimming.
If you'd rather take a DIY approach to your pool ramp, no problem! You'll need to take into account the size and weight of your dog when choosing your materials.
You can construct a ramp for small to medium-sized dogs using pool noodles, PVC pipe, and canvas. Use zip ties to create a ladder from pipe and pool noodles, then use the canvas to create a backing.
Larger dogs will benefit from a pool ramp that's a little sturdier. Cut two wide boards to the appropriate length: one should reach your pool's edge from the ground, and the other should reach the edge from the bottom of your pool.
Use hinges to connect the boards into an "A" shape, and cover with outdoor carpet for traction. Simply place the ramp over the edge of your pool at times when dogs are invited. Remove, fold, and store when your pup should steer clear of the pool.
Before you construct or install a DIY dog pool ramp, please check your city or local ordinances. Certain restrictions and requirements are in place for the protection of animals and children. Follow your local laws.
DIY Dog Pool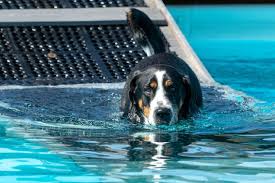 Would you like a backyard dog pool dedicated to your pup? You can create a permanent structure for your pet fairly easily, and there are a number of materials you can choose from.
First, choose the size of your pool. Kiddie pools, like the ones you'll find at big box stores and on Amazon, are a quick solution. Plan your dog's space, place the pool, then decide how your pup will enter.
You can build a platform surrounding the pool or, if you'd like, you can dig a depression large enough to fit the pool into. Surround the pool with river rock or decking material, and remember to include outdoor carpets to keep your pup's paws cool.
Do you consider yourself handy? Awesome! You can create a tiled or even a concrete pool for your pup! The possibilities are endless, you'll just need to keep your dog's comfort and safety in mind.
Include exit and entry points that are accessible to your dog. Create a surface that won't scratch or burn your pup's paws. And consider a saltwater or freshwater pool to avoid exposure to chlorine.
Again, you'll want to remember human safety, too. Enclose your dog's DIY pool with fencing, and follow your local ordinances.
Backyard Oasis
Your dog is important, but you may want to consider building an outdoor space that's relaxing for humans, too! Why not build a backyard oasis that can accommodate your dog, family, and friends?
Consider your climate and lifestyle as you choose your garden decor. Will you have time to commit to care or would you prefer a low-maintenance setup? Are you in a notoriously dry environment or does your area receive a lot of rain?
Choose your water feature, then plan around it. You can place a water fountain that you and your dog can splash in, or you can go so far as to install an in-ground pool. Include a gazebo for shade if you have plenty of room to do so.
Alternatively, select a weather-resistant umbrella and some spray-to-wash cushions for your patio furniture.
Concrete or stone pavers are easy to lay and will provide a walking surface that's quick to dry. Plant moss between the pavers to create a soft, relaxing environment. Be sure to choose a moss variety that's safe for your dog.
Once the structures are in place, it's time to plant! Dog-friendly plants that will look great in your garden include palms, Swedish ivy, aster, crape myrtle, coral bells, and roses. There are many succulents that are also pup-friendly; those of you who live in dry climates will want to explore further.
Ask for input from your family. Would they prefer a flower garden or a more wooded area? Do they want a place to swim or would they be content to simply listen to a trickling fountain? The sky's the limit!
DIY Dog Water Park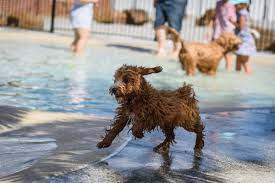 If you have an active, fun-loving pup, he'll love you for building him a DIY water park. As with any of the other ideas on our list, you can use your imagination when deciding what to install. Consider your dog's health and size when building your outdoor space.
What should you include in your water park? Well, let's start with a water slide! You'll want to keep your slide gently sloped to prevent injury to your pup. A short "slip and slide" like this Banzai slide will work perfectly. You'll likely want to include a soaker hose, too! Put a sprinkler toy on a timer to keep your pup amused and cool.
Are you handy with a tape measure? Check out these plans for a DIY water park structure from Greenwood Hardware! Your kids can be involved with the planning of the structure, and they'll have fun romping with Fluffy through the gentle water streams.
If you have the space, a kiddie pool or sandbox filled with damp sand will provide plenty of entertainment for your pup. We recommend you purchase a sandbox with a cover, as animals (including your dog) tend to use them as litter boxes. Covers can be bought separately if necessary.
Regardless of the structures and toys you choose to include in your DIY water park, you'll want to ensure that a hose and some towels are kept handy. You'll need them for your dogs and for your kids, so a storage bin or deck box is a good idea.
Frequently Asked Questions
Are dog pools worth it?
When buying a pool for your dog, consider getting a made-for-dogs product instead of one intended for kids. Kiddie pools are not strong enough to withstand most dogs.
Can a dog swim in a pool every day?
Aside from concerns with chlorine, it's generally safe for your dog to regularly swim in a pool. The water may dry out their coat and skin, however.
Do dogs need a bath after swimming in a pool?
You should give your dog a bath after the pool to help wash off the chemicals and ultimately protect its skin and coat.
Conclusion for "DIY Dog Pool Ideas for Your Backyard"
You can plan the perfect pool pawty or just relax with your pup in your own backyard. Our DIY dog pool ideas are just a sampling of the spaces you can create in your own space.
Use your imagination and pick and choose from the ideas on this list to create a soothing oasis, an exciting water park, or just a place to cool off and nap in the shade on hot summer days.
If you enjoyed this guide, "DIY Dog Pool Ideas for Your Backyard," you might like:
Learn more about DIY dog pools by watching "Can You Build a Pool for your Dog?" down below:
Garrett loves animals and is a huge advocate for all Doodle dog breeds. He owns his own Goldendoodle named Kona. In addition, he volunteers at the Humane Society of Silicon Valley, where he fosters dogs and helps animals. Garrett enjoys writing about Doodles and believes that dogs can teach humans more about how to live than humans can teach a dog.
Why Trust We Love Doodles?
At We Love Doodles, we're a team of writers, veterinarians, and puppy trainers that love dogs. Our team of qualified experts researches and provides reliable information on a wide range of dog topics. Our reviews are based on customer feedback, hands-on testing, and in-depth analysis. We are fully transparent and honest to our community of dog owners and future owners.