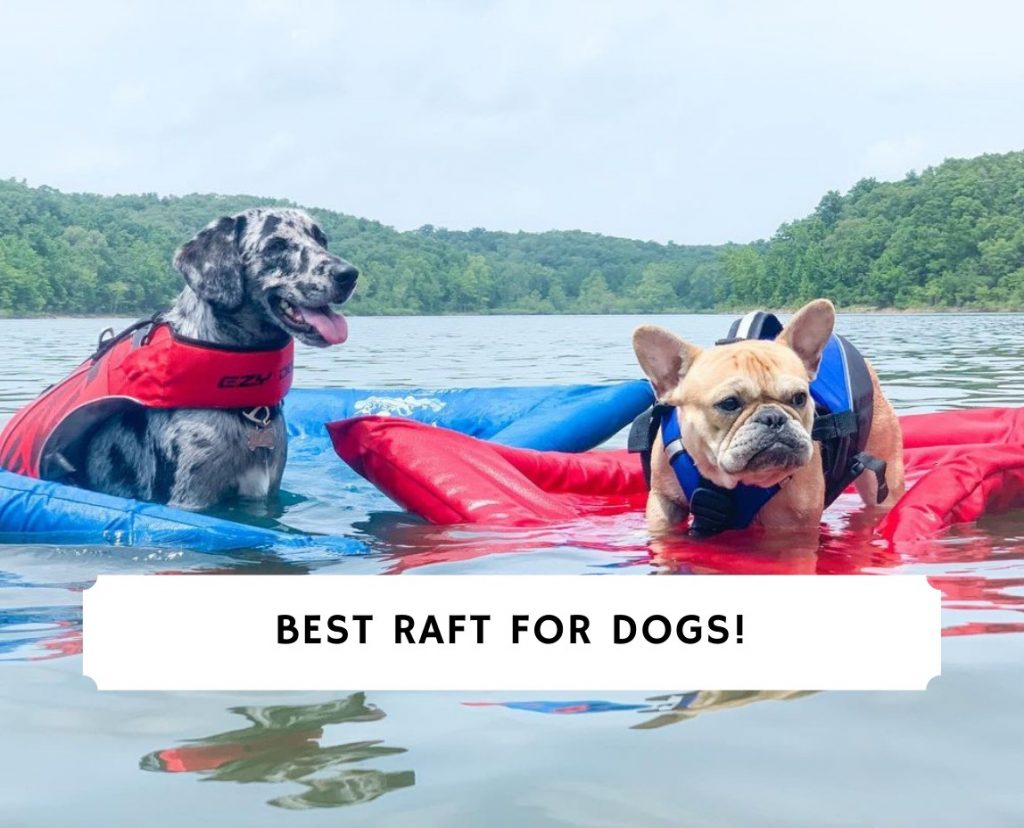 Do you spend your summers hanging out at the lake or lounging on the river? Or maybe you have a nice pool at your home. Regardless of where you're spending your time on the water, it sure would be nice if you had a solution for your dog to join you and relax on the water with you!
The good news is you do! You can buy your dog a raft and let them tag along on your next float trip or simply hang out in the pool with you. However, you can't choose just any raft. You need a raft that is made for dogs, will support their weight comfortably, and won't tear up from their nails.
In this guide, we've experimented with our dogs and found some great rafts for your dog to float on! We've searched the market to find the very best rafts for dogs and we're here to share each of them with you. We did all of the research you need and narrowed down the options to bring you our top 9 picks We will cover each raft in detail and let you know just why it might be a good option for your dog.
In a rush? Here are the top picks!
Product
Best Boat
Inflatable Boat
Budget Pick
Intex Mariner
Image
The 9 Best Raft Options for Dogs
We chose strategically to provide you with a wide range of options whether you're floating in the pool, rafting down a river, or lounging on a lake. We think there will certainly be something here that could work for you and your dog. Each review will share a comprehensive overview and a list of pros and cons as well.
This first option is a float designed for humans but it would make a really great solution for a dog raft for the river. If you're floating down the river, you can easily just tack this along with you with a rope. For the same reasons, this is an ideal dog raft for a kayak that you can just tow along with you as well.
Of course, you can use this for yourself or your dog which makes it a versatile option. The raft is red in color which is actually a special edition color for this brand and will be easy to see out on the water. It has a built-in backrest so your dog will be totally comfortable and rest easy on the river.
The float has an all-around grab rope so that you can be in control and attach your dog to another float or kayak if you need to. This is made with an airlock design to ensure it really will be airtight when you are out on the water. The material is sport gauge which means it is extra thick and resistant to punctures as well.
If you like the Intex design and durability, this could be a really great option for you and your dog. You don't worry about having to connect two rafts together with this solution. If you're headed out for a float trip, you can simply take a double raft and put your dog on the other side. There's a spot for you, your dog, and some gear or treats.
This is the perfect dog raft for river floating or hanging out on the lake. It has two different lounge sections so it's comfortable and you will each have your own individual space. The raft also has a small cooler as well as storage space and cup holders.
This is made of high-quality materials. The dog raft is loaded with heavy-duty handles as well as useful grab ropes so you can connect somewhere if you need to. The material is made to not puncture or tear easily so you don't have to worry about rocks, trees, or doggy claws.
Why worry about individual rafts when you can get aninflatable boat that works perfectly for a dog raft for the lake, river, or another water excursion. This boat has plenty of space so it could comfortably seat the whole family, the dog, and there will be room to move around and settle as well.
This particular option is considered a 5-person boat. The end seats have raised backs for more human comfort and the middle seats just have the boat sides, so that may be an ideal location for the dog to lie down or hang out.
The boat has 3 air chambers to give you plenty of buoyancy. In addition, it comes with an air pump and oars as well. This has a maximum weight capacity of 1,000 pounds. Lastly, this is made with quality materials that Intex is known for and it will hold up well against dogs and debris.
This Intex Excursion inflatable boat is sleek and modern. It comes in a nice blue color and is similar to the option from our #3 spot but with a few minor differences. This is again a 5-person raft and you will need two people to comfortably handle the paddles.
This raft for a dog comes with the complete set, including oars and an air pump. This is perfect for a small family and the dog can easily sit in the middle or lie down comfortably. There is room to move around and enjoy a day out on the lake or the river.
This raft set also comes with repair patches just in case you run into issues. The boat is designed with high-capacity quick-fill technology and also deflates quickly from the main chamber. It's lightweight and easy to work with as well.
If you want a dog raft for the pool or a dog raft for the lake that is specially made for a dog, this is a really great option. It's available in 4 different color options, including a camo color in the choices. It's a small raft but it would be large enough for most dogs and can support dogs up to 110 pounds.
This raft is made for dogs so the material is puncture resistant and works great for any environment. The material is also weather-resistant and fade-resistant so that is a nice bonus if it's going to be under the sun for longs periods of time.
The raft can also be submerged in the water just a little bit so your dog can stay cool and enjoy a bit of the water while floating around. Water can flow through without threatening the dog or making them feel unsafe on the float. It's super easy to use and you simply hang it up to dry.
Here is another doggy float made for doggies. This is the perfect dog raft for a pool and it was designed mostly for pool use so your dog can hang out with you and float with you. This is one of the top-selling dog floats for the pool that you will find.
It's really great for large dogs but can work for small to medium dogs as well, they will have extra space to hang out. It can easily support dogs that weigh over 65 pounds with no issues. This float is also paw-friendly and won't sink from dog nails.
The pool raft does not require inflation for the base but the bumpers do inflate. You can fold it up and pack it away easily in storage. When you unpack the raft, it just springs right open. The raft for your dog is easy to work with and floats well.
Here's another really great dog raft for the pool. This is a fully-inflatable raft that is shaped like a huge dog paw. It even has the paw print marking on it to make it super fun. This was designed for the pool but it could be used at other outdoor water locations and should hold up fine if you're careful.
The materials are durable and designed for long-lasting use. The material is UV as well as puncture-resistant. The floating dog raft doesn't stain or fade and it certainly won't get ruined easily from doggy paws or debris in the lake.
This raft is large and can be used for all sizes of dogs. It can hold up to 110 pounds so mostlarge dogs should be comfortable with it. The raft measures 50 x 40 inches and is even 7.5 inches deep. If you find yourself floating without your dog, you can flip it over and use it as a floating drink holder as well!
This is another Intex floating tube raft and we love it! This is a fun blue color from their Sport Lounge series, which makes it a really great option for a dog raft for the river or to tow behind a kayak as well. You can easily attach your dog for floating and it can be used for humans as well.
This has a deep seat so your dog can curl up comfortably. You also get some water from the center of the netted area so your dog can stay cool. It's inflatable and the materials are incredibly durable against dog nails. This raft was made for heavy-duty use and won't puncture easily.
You've seen similar options to this one already. The raft is lightweight and easy to work with. It has handles, grab ropes, and cup holders so you have everything you need to get out there and enjoy thewater on your own or with your dog.
Finally, we leave you with one last inflatable boat option that makes a great dog raft for the river and you can take the whole family out. This is a comfortable 4-person design. There are no backrests, just the side tubes of the boat.
This is a simple option but it certainly delivers. The raft has oar rests in the center and some pockets and storage spots as well. This has a sturdy design so it isn't likely to tear or damage easily when you're out there amongst lake and river debris.
You can inflate the keep and there are grab lines all around the boat. Your dog can comfortably hang with the family. This floating raft has a maximum weight capacity of 1100 pounds. This has durable air valves and is super easy to inflate and deflate as well.
How to Choose the Best Raft for Dogs?
When it comes to choosing a raft for dogs there are a few things you may want to consider. Obviously, you don't have to use just a dog raft but you will want to be sure that the raft of choice is going to hold up for the intended purpose. Here are a few things you may want to consider as you are picking out the best raft for dogs.
Size
The raft needs to be large enough to accommodate your dog. Most dog rafts and even human rafts used for dogs are fairly large and will hold dogs of all sizes. This is not the case for all of them though to just be sure to pay attention to detail and know that the raft you choose will work for your dog's size and weight needs.
Durability
The raft for dogs needs to be durable. Regardless of whether you plan to stay in the pool or hit the river, this raft will need to be able to hold up. Dog claws will be all over the raft and the material has to be able to withstand those nails without tearing from the pressure. Look for a durable material that isn't going to tear apart from the doggy paws.
Ease of Use
Finally, you want a raft for dogs that will be easy to use. The last thing you want is something that is going to take hours to inflate when you're ready to use it. You need something simple yet effective.
Of course, having an electric air pump is always a good option, particularly if you decide to go with a boat raft.
Conclusion for Best Raft for Dogs
If you're ready to let your dog float in the water and chill in the sunshine, you absolutely need a good raft for dogs. We hope you find these options to provide you with a solution for whatever you and your dog's needs might be. Happy floating!
Other articles you would like:
Still not convinced? Check out the video below!
Garrett loves animals and is a huge advocate for all Doodle dog breeds. He owns his own Goldendoodle named Kona. In addition, he volunteers at the Humane Society of Silicon Valley, where he fosters dogs and helps animals. Garrett enjoys writing about Doodles and believes that dogs can teach humans more about how to live than humans can teach a dog.
Why Trust We Love Doodles?
At We Love Doodles, we're a team of writers, veterinarians, and puppy trainers that love dogs. Our team of qualified experts researches and provides reliable information on a wide range of dog topics. Our reviews are based on customer feedback, hands-on testing, and in-depth analysis. We are fully transparent and honest to our community of dog owners and future owners.