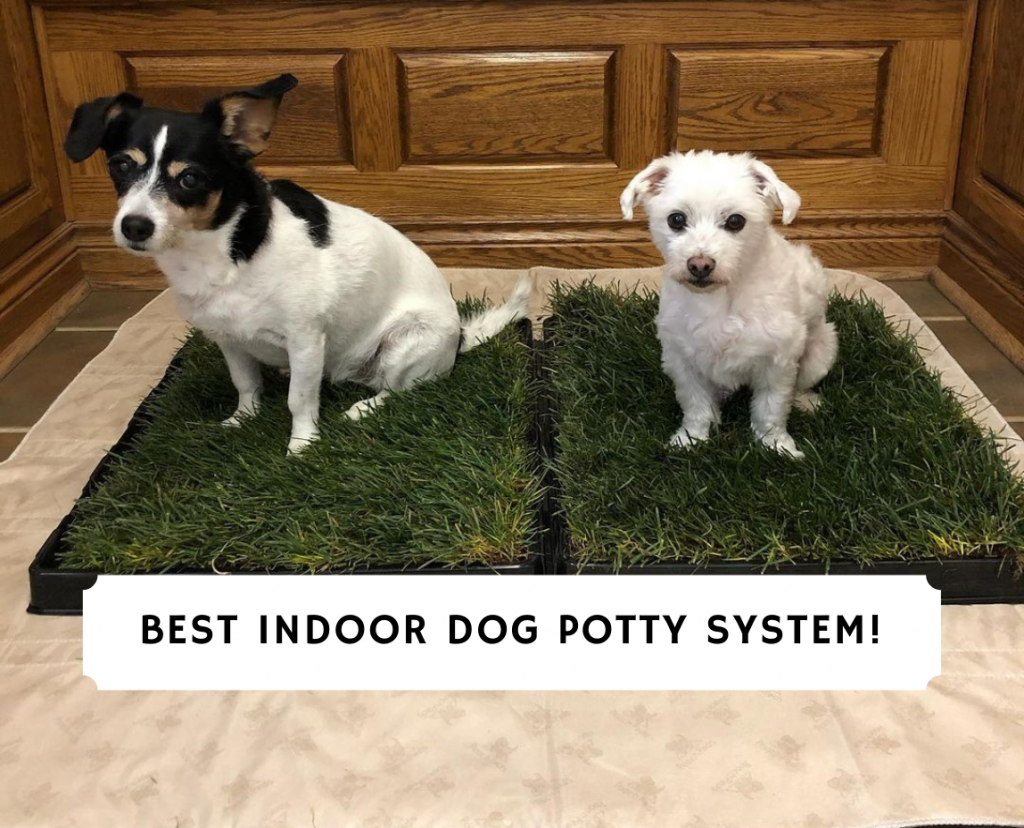 Accepting the responsibility of a dog is easier said than done and many first time dog owners don't quite understand the need for potty breaks. Whether you're in the middle of an important work call, cleaning the house, or catching some sleep, if your puppy has to go, you go.
Some dogs, especially puppies, simply cannot control their bladders properly which means you'll only get a few minutes to get ready and get outside before you have a wet carpet. Luckily, you can get yourself an indoor dog potty system and put that carpet cleaner away.
These nifty devices work as a place for your dog to go when you don't have the time to take them outside. Perhaps it's snowing outside and you don't want to risk them getting too cold? An indoor dog potty system can give them the opportunity to go comfortably.
We've scoured the market to find the five best indoor dog potty systems and listed them down below. We've also answered some frequently asked questions and collated some factors to consider before you buy your new potty system.
In a hurry? Here's our top picks!
Product
Runner Up
Downtown Pet Supply
Image
Best Indoor Dog Potty System Reviewed
If you're sick of having to clean up dog mess from your once perfect carpets or rugs, you're not alone. Luckily, we're not going to let you go any longer without knowing what the best indoor dog toilet system is.
Indoor potty systems are amazing when you have a high-quality model. Choosing anything subpar will only lead to disappointment for both you and your puppy. After tireless research and scouring the market, we are sure that we have found the best solution for you.
We have found the PETMAKER Artificial Grass Bathroom Mat to be the best option on the market today. Here are a few reasons why we love it so much, and why we think you will too:
Almost ten thousand happy ratings from customers.
You can replace the artificial grass whenever it starts to smell.
The indoor dog potty system represses odors.
It's very simple to clean quickly and efficiently.
The Artificial Grass Bathroom Mat has been widely received by its users and is a great indoor dog potty system option for small to medium-sized dogs. There is a three-layer system that ensures an easy cleanup so that you don't have to worry about spending hours cleaning after a long day at work.
This artificial grass indoor potty solution reduces odor from your dog's business and there is a collection tray below to easily store urine until you clean it. The artificial grass is short to prevent the mess from getting stuck between the grass blades and smelling up your house.
You have the option to purchase a replacement pad of synthetic grass for when the original one wears out. This means that you'll be able to use your indoor potty system for dogs indefinitely!
The three-layer system of this indoor potty solution for dogs is easy to clean and allows urine to drip through to a collection tray. The system also allows the smell to be kept at bay so that your entire house doesn't smell bad.
The grass itself is soft and mimics the feel of real grass. This will make your dog feel more at ease and make them more likely to use the potty system. Some dogs don't trust the feel of synthetic grass underneath their paws, so this is a great benefit.
There are two sizes of the potty system for you to choose from and one even has a drawer. The drawer allows you to empty the system without taking the whole indoor dog toilet system apart.
Next up is a grate indoor dog pee area, which allows your puppy to do their business without getting their paws wet. This ensures that they won't walk their business all throughout your home so that you don't have to continually get the carpet cleaned.
Grates work seamlessly with puppy pads and you can change the pad quickly and easily with this indoor potty system. Gone are the days of your dog chewing or tearing up their puppy pads – they now have no way to get to them.
This potty system is great for small dogs and puppies. The grate clips onto the collection tray which holds the pad. Cleanup could not be easier – simply wipe down the grate and collection tray!
If you'd prefer a litter pan for your puppy to do their business in, the PuppyGoHere option is ideal. There are three sizes so that you can choose the best-suited one for your dog. The tray reaches 5 inches in height to avoid litter being kicked from the tray.
Choose between eight colors to ensure that your indoor dog bathroom blends perfectly with your interior design. You'll also receive a training guide that can help you and your dog transition into the new potty system.
Litter can be replaced as many times as needed and is an excellent choice for many pet owners. This litter tray is specifically designed for dogs rather than cats, so you know that your dog is getting only the best for their potty breaks.
Last but not least we have the PetSafe Dog Potty. A sheet of synthetic grass lays over a collection tray that is ready to catch your dog's urine. The base is sealed to prevent odors from escaping and becoming overpowering by the time you get round to cleaning it.
There is a drainage spout that makes for quick and easy emptying. Simply empty before attaching a hose and letting fresh water clean the inside of the potty system. The grass mat is quick-drying to ensure that your dog's paws are always kept dry.
PetSafe offers great customer service with a helpline open six days a week. This potty training system is also a little bigger than the rest of the options on our list so it might be the best option for larger dogs.
Best Indoor Dog Potty System Buyers Guide
Some dogs are more willing to use indoor potty systems than others. Dogs can be fast learners but they can also be stubborn, so your dog won't get along with every indoor potty system out there on the market. To avoid wasting your money, we'd suggest doing your research before committing to a purchase.
Below we've included some important factors to consider when choosing the right indoor dog bathroom for you. Make sure that you read all of the points to ensure that the model you choose is the best for your dog. We can't imagine you'd be able to send a used indoor potty system back, so don't rush your decision!
Size
Now that you know which type of indoor dog potty system you want to try, you'll need to consider a few more things before getting started. For starters, you'll need the correct size of the potty system. If your dog is smaller in size they should be able to use most potty systems on the market.
However, if you have a larger dog your options might be a little more limited. Ideally, the dog's paws should be on the indoor pet potty grass
so that they know where to go. This means that if they are too big to fit their paws on the potty system, they might be more likely to have an accident and miss the correct area.
Make sure that you're opting for the correct size of indoor potty system for your dog. Choosing the wrong size might lead to accidents, an embarrassed dog, and a waste of money. Also, remember that the system has to fit inside your house so only opt for one that you have space for.
Ease of cleaning
Some indoor dog potty systems are easier to clean than others. Most have a protective pad underneath that you can remove and replace, but you'll still have to clean the system itself. Synthetic grass is the hardest to clean as you'll have to make sure that you're getting in between every blade of plastic grass.
Grates are easier to clean than this but they still require enough of your time to do so. If your dog does a number two on the indoor potty system, it will be much harder to clean than just urine. So make sure that you'll be able to clean the indoor dog pee area efficiently enough that you won't want to throw it in the trash after a few uses.
Odor control
Another important thing to consider is how smelly your indoor dog bathroom system is going to be. No one likes the thought of having a house smelling of dog pee, so make sure that you can keep the scent at bay.
Litter boxes allow you to choose an odor-controlling litter to use inside them. Synthetic and real grass have odor neutralizing properties. However, puppy pads and grates do not do anything to mask the smell of your dog's business.
This isn't necessarily a deal-breaker, but it does mean that you will have to clean it quicker than other indoor dog potty systems. Don't forget that dogs tend to do their business wherever they can smell it, so clean up before the smell has a chance to cling onto any of your furniture.
Price
The price of your indoor potty system will depend on which type you go for. One thing to consider is how likely it is that you'll need to replace the system with a new one. If you're going to need to replace it time and time again, you might prefer to opt for a cheaper option so that you're spending less money in the long run.
However, if you choose a more expensive option it's more likely to last you for a longer time. This means that if you look after it and clean it thoroughly and often, you won't need to replace it as often as you think.
Types of Indoor Potty Systems
Before you purchase your model, you should know about the different options out there. There are five types of indoor potty systems for your dog, and they might prefer one over the rest. Let's learn a little more about them.
Litter box
You might be thinking that litter boxes are only for cats, but you'd be incorrect. Dogs can also use litter boxes indoors, but you'd need a box with high walls. Dogs tend to kick with more force than cats, so you might be left with litter all over your house if the box is not deep enough.
Puppy pads
Squares of fabric and paper make up puppy training pads. These teach your dog to do their business in a protected space rather than on the carpet. You'll want to change the puppy pad as soon as it's used as the fabric doesn't do much to limit the smell of your dog's business.
Plastic grate
You can put a plastic grate over your puppy pad to avoid your dog walking their mess all through the house. The grate will keep your pup's paws off of the messy puppy pad so that they can get in and out without a fuss. The only shortcoming of a plastic grate is that it might be hard to clean.
Real Grass
This is the closest you're going to get to the outside without actually going outside. Dogs will be much more likely to do their business on a patch of real grass in your home. Real grass also keeps the odor at bay. However, you will have to replace them every time the grass dies. The grass will not keep growing back so you might find yourself paying a lot for this potty system.
Indoor pet potty grass (Synthetic Grass)
Synthetic grass is cheaper and easier to keep inside than real grass. You won't need to replace it as often either. However, fake blades of pet potty grass might be difficult to clean. Some dogs will also not be as accepting of synthetic grass straight away because it doesn't feel like grass under their paws.
Conclusion for Best Indoor Dog Potty System
There are several different indoor dog potty systems on the market today. The most popular options are definitely going to be indoor dog potty grass that is synthetic. Since it mimics real grass, it's relatively easy to train your dog to do their business in this specific spot. We hope that you found the right indoor dog bathroom!
Other articles you will like:
Frequently Asked Questions
How do you potty train a dog indoors?
This depends on what type of potty system you're trying to use. When you first get your indoor potty system, set it up, and let your dog explore it. If they're already used to doing their business on grass (and you've opted for a grass-like system) training them might be easier than you think.
However, if they're not used to puppy pads, grates, or litter, lure them in and out of the system with treats. You first want to get them comfortable with the new textures under their paws. Verbally reward your dog when they get in and out of the area.
Make sure that the system is in a quiet area of your house so that your dog can have their privacy. You might have to begin monitoring them as they use the system for the first few times, but once they get comfortable with it you can just let them get on with it.
Do dogs need grass to go to the toilet?
No, dogs don't only do their business in the grass, but that is where most of them are taught to go. The grass feels different on their feet so it's easier to potty train them with grass as they can distinguish the grassy areas from the hard floored places.
However, you can use a grate or litter box with success. It just might take a little longer to train them that it is okay for them to do their business there.
Can I train my dog to pee in the shower?
It is certainly possible to teach your dog to pee in the shower, but it might take a bit of time to do so. You will need patience and a lot of positive reinforcement to ensure that you're okay with your dog peeing in the shower.
Most dogs are taught that they're not allowed to pee in the house and therefore they might feel like they're doing something naughty if they're told to do their business in the shower. However, they will get more comfortable with it as time goes on.
One thing to consider is that once they know that they can pee in the shower, they might begin doing number twos in the shower as well – you've been warned!
Still not convinced? Check out the video below!
Garrett loves animals and is a huge advocate for all Doodle dog breeds. He owns his own Goldendoodle named Kona. In addition, he volunteers at the Humane Society of Silicon Valley, where he fosters dogs and helps animals. Garrett enjoys writing about Doodles and believes that dogs can teach humans more about how to live than humans can teach a dog.
Why Trust We Love Doodles?
At We Love Doodles, we're a team of writers, veterinarians, and puppy trainers that love dogs. Our team of qualified experts researches and provides reliable information on a wide range of dog topics. Our reviews are based on customer feedback, hands-on testing, and in-depth analysis. We are fully transparent and honest to our community of dog owners and future owners.